Have you ever spent two minutes of your time to think about the hairbrush you use? Probably not. We get the best shampoos and conditioners for our hair, with zero sulphates; in fact, the more organic it is, the better. We fuss over the quality of water in our neighborhood and obsess over the optimum quantity of oil our hair needs for nourishment; we spend endlessly on serums and mousses and creams and oils and whatnot to get that perfect, lustrous hair we've always dreamed of. And yet, we've never stopped ourselves to think about possibly one of the most important factors that influence the quality of our hair and the hairstyles we meticulously put together for hours. Choosing an optimum hairbrush for your hair can solve half of your hair related problems, and yes, we're not kidding.
A massively undervalued and underappreciated tool when it comes to hair-care tools and products, your hairbrush has a huge role to play in how your hair looks and behaves. A good hairbrush that is compatible with the texture and length of your hair can work wonders for your look and guarantee you way more good hair days than you can even begin to imagine. It helps with better hair-care and styling, reduces frizz and improves the health of your hair. Sounds fantastic, doesn't it? It's about time you brushed aside all the unnecessary hairstyling tools you've painstakingly bought and spent some time searching for the best hair brush that your glorious mane truly deserves. Don't worry, the One is definitely out there somewhere for you and we're going to help you find it.
---
Suggested read: The Ultimate Guide On Hair Color Trends For Fall 2017
---
Searching for the best hairbrush might seem like one of the easier life choices that you'll have to make, but more often than not, it can be an overwhelming task, especially if you've spent all your life being oblivious to the many, many different types of hairbrushes that are out there for your varied needs and hair textures. Don't just go for the first one that looks pretty and appealing to you. Like most skincare products, hairbrushes also have specific types and randomly picking the first thing you spot may end up doing more harm than good for your hair.
The secret to finding the best hair brush for your hair is to go for one that compliments your hair, one that perfectly does the job without causing any breakage or distress to your hair. Know what your options are, and then explore the various kinds of hairbrushes available at your disposal. They'll also be easily found in most cosmetic and makeup stores. So, looking for them won't be much of a hassle either.
Before you go searching for the best hair brush for your hair, here are certain terms you need to get yourself acquainted with for a better understanding of your purchase:
1. Shape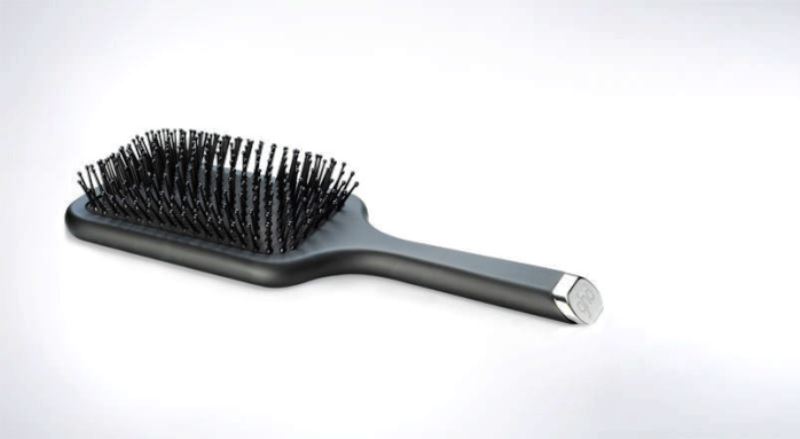 Image source: ghdhair
Ever wondered why brushes come in so many shapes and sizes? It's not to please everyone's aesthetic senses, if that's what you were thinking. Go for a flat or a round brush depending on whether you want to flatten your hair and keep it nicely tucked in its place or whether you want to add more volume to your hair. A flat hairbrush is perfect for detangling your hair and smoothening it out, while a round one will help create volume in your hair. You also have something called Paddle brushes and the Teasing hairbrush, but we'll get to that later.
2. Barrel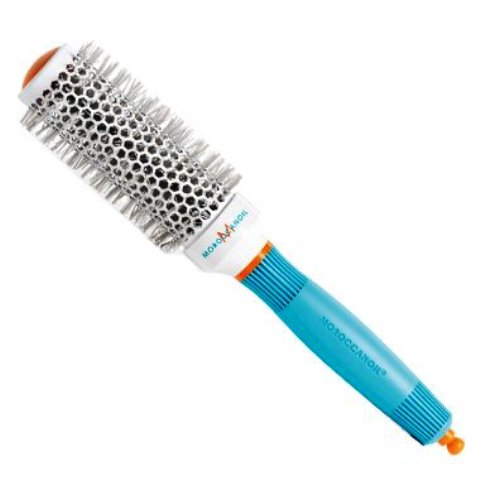 Image source: amazon.co.uk
Gerard Caruso, artistic director of RUSK (a company making professional styling products) says that the right kind of barrel can reduce the frizz in your hair and make it all shiny when you blow-dry it. Fun fact: choosing the right kind of hairbrush barrel also speeds up the drying process. There are two broad divisions of barrel types, which include- Ceramic and Tourmaline.
Ceramic is the most common and popular material for hairbrushes because it helps in faster and equal drying of both sides of the hair. The heat also helps mould your hair into a shiny and bouncy curl.
Tourmaline brushes are made from crushed gemstones that release negative ions. They help to smooth your hair when it's all charged up and also reduce static; perfect for the winter months.
There's also something called the Vent Brush, which is essentially, a hairbrush with tiny holes in the barrel. It allows hair from the blow-drier to pass right through it and thus, helps drying your hair much faster. Since you're spending less time exposing your hair to the heat from the drier, this also means less damage to your hair. Vented brushes are helpful when you're short of time and need a quick job done; but it can make you lose control over your hairstyle, several hair experts have warned.
3. Bristle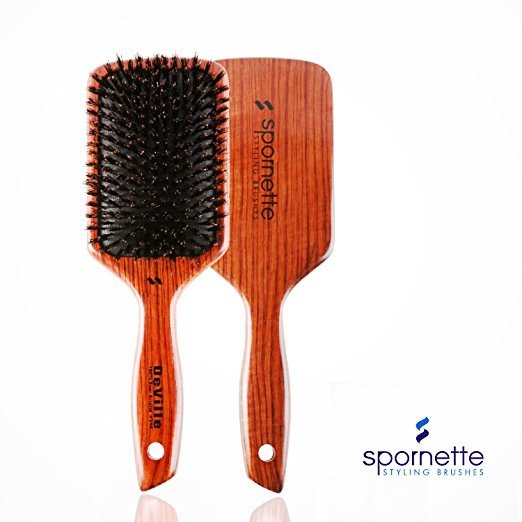 Image source: amazon.com
This might come as a surprise but the bristles on your hairbrush play an important factor in maintaining and nurturing your hair. Natural bristles, usually boar bristles, are much softer than those made with synthetic materials; these help smooth hair cuticles and evenly distribute the natural oil in your hair. Natural bristles help redistribute sebum from the scalp, and also promote hair growth. Synthetic bristles tend to break your hair, although they might work well for hair that is very thick in texture, so go for a hairbrush that is a combination of synthetic and natural bristles which is suitable for all hair types.
Mixed bristle brushes are especially good for detangling thick, coarse hair. They're the go-to hairbrushes for most salons and hair stylists since they work fine for all hair types. Nylon bristles are less expensive than boar bristles, but just as effective. The bristles are usually spaced apart, giving a medium to strong grip on all hair types.
---
Suggested read: 10 Home Remedies For Tangled Hair To Help You Get Rid Of The Problem Immediately
---
Now, that you're familiar with these basic terms, it's time to delve deeper into the finer details of hairbrush hunting and look into the various options you can choose from. Here is a list of the different types of brushes that might work out for you-
1. Paddle Brushes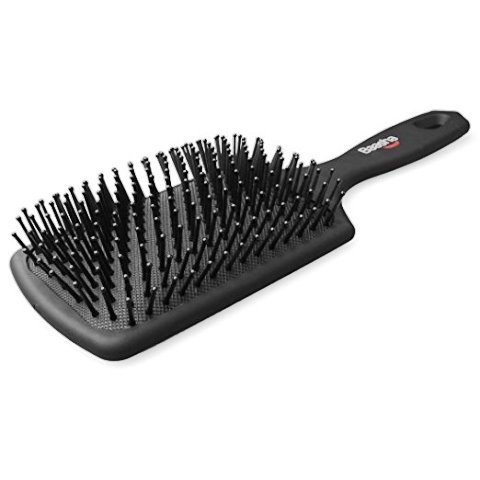 Image source: amazon.com
These brushes are usually made of nylon bristles and help to create a straight look that works on long hair and straight styled bobs as well. Paddle brushes are best used for creating volume and curl in your hair. They're great for smoothing, detangling, and flattening out frizzy hair. Paddle brushes help massaging your scalp and also release loads of shine. This can be your go-to for a quick, hassle-free daily brush.
2. Round Brushes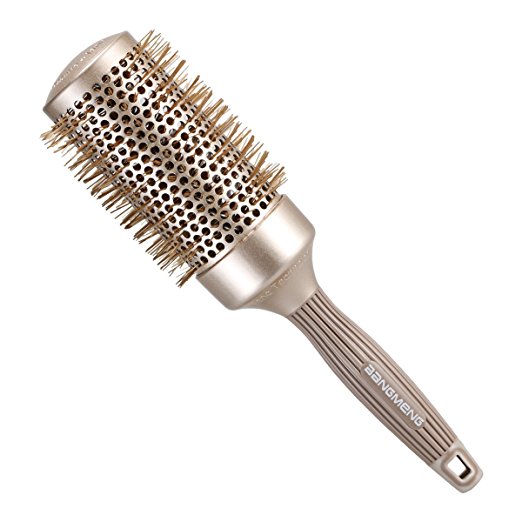 Image source: amazon.com
Round hairbrushes mostly have natural or synthetic bristles around the head of the brush. The good thing about these brushes is that they come in a multitude of sizes, so you can easily pick one that fits your purposes. If you want tighter curls, then go for a very small one. A big round hairbrush will be conducive to bigger, smoother and more voluminous curls.
Gretta Monahan, stylist for the Rachel Ray Show has a tip for you when you're going for a round brush. She says,
"The size of the barrel will dictate how much curl or volume you will achieve."
So, think carefully and examine the barrel size before choosing a round shaped brush.
3. Teasing Brushes

Image source: amazon.com
These brushes are great for daily use and also an essentially if you wish to add loads and loads of volume to your hair. Even if you have thin locks which you wish would appear thicker, this is the right brush for you. Teasing brushes are usually thin with rigid nylon or plastic bristles. They're not highly recommended for fragile hair but a decent teasing brush with boar bristles is still comparatively less harsh than a comb which might cause further damage to your hair.
4. Denman Brushes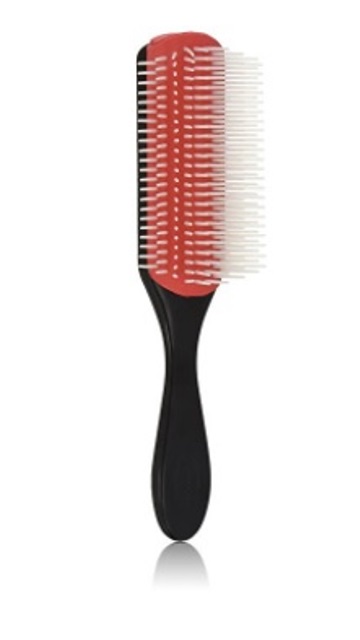 Image source: amazon.com
Hair-care experts recommend these babies for those with natural hair- the rubber base minimizes static and creates enough tension to smooth out the cuticles of your hair. Denman brushes help with quick drying of hair and also are easier to penetrate through hair, which is perfect for the thick density that natural hair usually possesses. A tip for those with textured hair – using a Denman brush while blowing out your hair will help create greater shine.
5. Wide Toothed Comb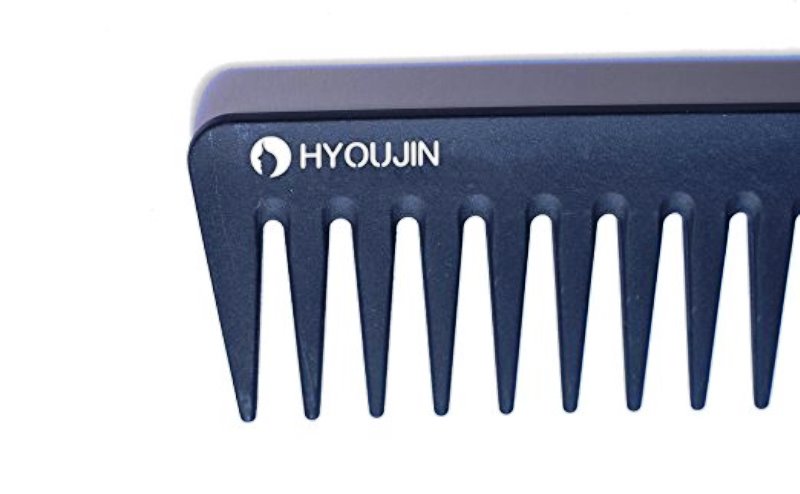 Image source: amazon.com
This is a hair-care essential that everyone must have. A wide toothed comb is perfect for combing and detangling wet hair without the risk of damaging or pulling apart your hair the way brush bristles would. The best part here is that, these are suitable for all hair lengths and textures.
You can also go for a Wet Brush with a really simple cushion if you're not fond of the way a comb feels against your scalp. These will help ease out tangles from wet hair with its super stiff bristles. A word of advice for those with curly hair- use this comb after conditioning your hair, so that every stand of your hair receives proper moisture and nourishment.
6. Rattail Comb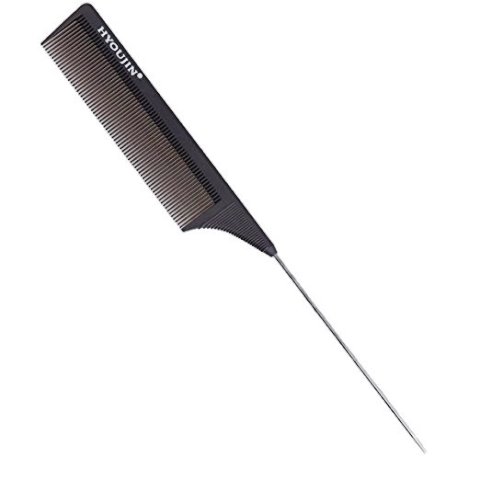 Image source: amazon.com
This fine teethed comb is ideal for smoothing out cowlicks and bumps in your hair while you're styling it. The long handles of the rattail combs make it easier to part and section your hair, so you can experiment with different kinds of braids or even a flawless set of curls.
---
Suggested read: 10 Natural Home Remedies For Receding Hairline Which Re-grows Hair Naturally
---
We hope you've been able to at least partially figure the best brush for your hair with the help of this post. However, it doesn't just stop at buying the perfect hairbrush for yourself. Remember, that hairbrushes aren't invincible. It is good to get them changed every few months, because a damaged hairbrush could actually spell disaster for your hair. Be sure to clean your hairbrush from time to time, because the dirt and residue on the bristles can make your hair become dull and lifeless. Clean them at least once a week if you have really long hair. Again, over-brushing your hair also causes hair damage and destroys the upper cuticle layer of your scalp. Remember to keep the above pointers in mind while using a hairbrush for healthy and lustrous hair; and good hair days that never seem to end.
Featured image source: Shutterstock
Summary
Article Name
Everything You Need To Know About Finding The Best Hair Brush
Author
Description
It's about time you brushed aside all the unnecessary hairstyling tools for the best hair brush that your glorious mane truly deserves.