Before you start panicking, let us make it clear that yes, you actually can wear bronzer if you have acne-prone skin, and no it won't make your skin look like the surface of the moon. Neither will it aggravate your acne-problem. Sounds too good to be true? Hold on to your seats because we are going to be telling you about the ultimate tips for choosing the best bronzer for acne-prone skin.
Before we can get into the various options that are available for you, here is a list of the wonderful things that bronzer can do you for you. You heard that right, bronzer can actually do much more than just give your skin that lovely bronze glow. Here are some of the other wonderful things that you can do with your bronzer.
You can use your bronzer as contour
Bronzer can make your face look thin
It can hide the marks and blemishes, especially if you have acne
It can lend a warm glow to your skin
If you are too pale, then it can add depth and definition to your face
Bronzer can also make you look like you have a natural tan, and not the awful burning red skin scald.
Bronzer is the secret to the perfectly natural looking sun-kissed skin
Now that you know about the multiple uses of the right bronzer, here are some ways in which you can take care of your acne-prone skin, so that you have a healthy and non-reactive base for your makeup. Here are some skin care tips.
---
Suggested read: An Expert's Tips On Finding The Best Blush For Acne-Prone Skin
---
Wash your skin often when you have acne. Buildup of dirt and dust particles can aggravate your condition.
When choosing your cleanser, choose a product which is especially made for acne-prone skin.
Do not go for oily moisturizers, as they can make your acne situation worse. Go for moisturizers which are non-comedogenic and have a light formula, so that it doesn't sit heavy on your skin.
Touch your face as little as possible, because most of the bacteria on your face get transferred from your hands.
Do not share your makeup with other people, and don't use their makeup either.
Clean your brushes as frequently as possible.
Use products which have salicylic acid in them, which can help reduce the appearance and severity of acne.
Now that we have the basics out of the way, here are some more pointers in greater detail, which should help you choose the best bronzer for acne-prone skin, so that you can look like the flawless queen that you are.
1. Know your skin tone: the first step to getting your hands on the perfect bronzer is knowing your skin tone. You might have light skin tones, olive or dark tones, and depending on that, the shade and nature of your bronzer can change. Acne appears more severe if you have pale skin tone, and much less when you have dark skin tone. However, it still affects the color and shade that your bronzer comes in. More details on that below.
If you have fair skin, then the appearance of your acne can be much greater than for people who have darker skin tones. The red blisters appear more prominently. However, instead of piling on concealer and foundation, which can aggravate your acne condition, you can make use of bold bronzer shades. Most people who have light skin tend to go for subtle shades, but if you have acne-prone skin, then you can totally look rad in bolder shades like reds and browns. Here are some out favorite suggestions.
NYX Professional Body Matte Makeup Bronzer in Deep Tan
Maybelline Dream Matte Mousse in Classic Ivory
Clinique True Bronze Pressed Powder Bronzer in Sunblushed
If you have olive toned skin, then you don't have to worry about the color of your bronzer, as much as you have to worry about your acne. Most bronzers come in colors that complement your skin because you are naturally bronzed up, but to add that extra shimmer, you should go for honeyed shades in gold and brown. Here are some suggestions we found were acne friendly.
Too Faced Chocolate Soleil Matte Bronzer
Maybelline Cheeky Glow Blush in Cheeky Cinnamon
Bobbi Brown Bronzing Powder in Golden Light
If you have dark toned skin, then you don't need to bronze up your skin because you have that rich, natural texture to your skin anyway. However, for that extra glam, flawless makeup look which will also effectively make your acne disappear, you should go for creamy chocolate shades of bronzers. It will add just the right amount of shimmer to your skin for the gorgeous sun-kissed look. Here are some skin-sensitive bronzers for dark skin that we absolutely fell in love with!
---
Suggested read: Great Tips To Choose The Best Face Primer For Acne-prone Skin
---
NARS Matte Multiple
MAC Mineralize Skin Finish Powder
Elizabeth Arden Fourever Bronzing Powder
2. Consider the texture that suits you: When you have acne-prone skin, you have to take into consideration the stuff that your product is made of, and not merely whether the shade suits you or not. Bronzers, like most other makeup, are available in two forms, namely cream and powder. Both of these have their own benefits and disadvantages on acne prone skin, but you have to figure out which one works best on you.
Powder-based bronzers are great if you have oily, acne-prone skin. They soak up the excess oil, and leave you with a wonderful matte finish which presses your entire makeup and acts like a glue for the rest of your face, so that nothing melts off. Powder matte bronzers are also available in pressed form, and are often referred to as baked bronzers, which have a natural sun-kissed effect for everyday wear. Here are some of our recommendations.
Summary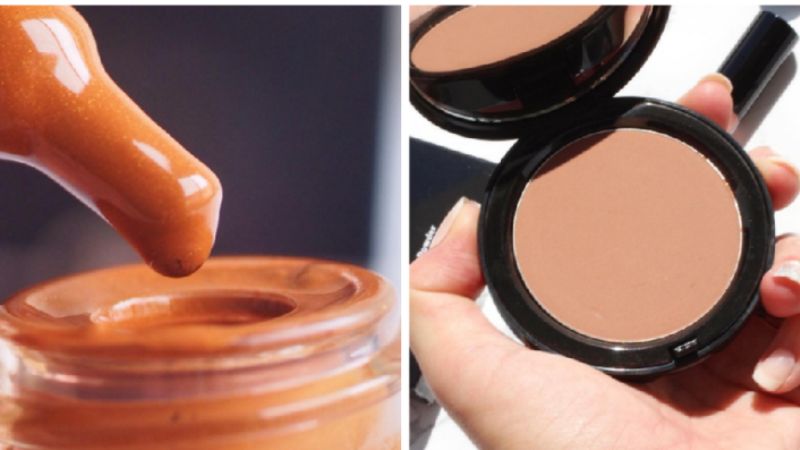 Article Name
How To Choose The Best Bronzer For Acne-Prone Skin
Author
Description
People who have sensitive skin can now buy the best makeup products with this handy guide to buying the best bronzer for acne-prone skin!
Read the rest of the article:
Next