"Failures are acceptable, but aiming low is criminal." 

-Pankhuri Gidwani's favourite quote
Pankhuri Gidwani is only 18-years-old, and she is already an internet sensation!
Why??
That's because she was crowned the second runner up at the Femina Miss India Grand 2016, and now is all geared up to make us very proud at one of the most revered and feted beauty pageant platforms, the Miss Grand International.
---
Suggested read: [India's Hottest] From rising footballer to stylish ramp model: A Goan's susegad journey
---
Gidwani will be vying for the crown at the Miss Grand International with 84 other divas from around the globe on, mark the date, the 25th of October, in the Entertainment Capital of the World (or the Sin City!), Las Vegas!
I am sure, you are already rooting for the diva, so how about getting to know her a little better? Here are some lesser known facts about Miss Gidwani who could go on to become Miss Grand International on October 25th!
Fact #1
Pankhuri is the youngest Indian beauty queen representing her country after the very famous, Priyanka Chopra!
Fact #2
Pankhuri is a student of La Martiniere Girls College, Lucknow. She is a fashion fanatic, yes, but from a very young age, all she wanted to become was an actress. Ruminating some memories, she says,
"I used to try different lip shades when I was six at my mother's dressing table."
Well, beauty pageants have presented the Hindi film industry some of the most talented actresses in the past years, and may be after winning (fingers crossed!) the pageant, Pankhuri too will follow suit!
Fact #3
Pankhuri is a trained Kathak dancer. Her love affair with this Indian dance form began 14 years ago, when she was only 4-years-old! Pankhuri acknowledges that the entire Lucknow gharana dwells within her! Her flair won her the INIFD Corporate Miss Talented sub contest Miss India, 2016.
Fact #4
Pankhuri has performed at a number of shows, the most notable of which, was at the Rashtrapati Bhawan. She participated in Indradhanush, when Dr. A.P.J. Abdul Kalam was the President of India.
Fact #5
Pankhuri is a big-time foodie, and as Julia Child had once said, "People who love to eat are always the best people." Why I am quoting Child is because Pankhuri is known to spread smiles through food. She always carries treats in her bag, which she distributes to people she comes across! Now how cute is that!
Fact #6
At school, Pankhuri was into badminton. She also weaves poetry, and is a drummer in her band, called Zest, which has performed at a lot of concerts and inter-school and state-level music contests. Not just a jenny of all traits, Pankhuri was also a topper at school. According to her impressive academic records, she has never scored anything below a 95 per cent!
Fact #7
Pankhuri won the Campus Princess, 2016, season 1. After winning the title, she got a direct entry into the Miss India contest. From Campus Princess to fbb Femina Miss India, 2016, where she competed with 21 finalists to become the 2nd runner-up, the gal has come a long way!
Fact #8
Modelling has been Pankhuri's passion for quite some time now. At the age of 16, she started walking the ramp for celebrated designers like Ritu Kumar, Kimaya, Asma Hussain and Royal Zaid, back in her home town.
Fact #9
Pankhuri, as you have figured by now, is a personification of beauty with brains, but did you know, she also has a golden heart? Pankhuri is associated with Gandhi Corner, a charity group in her school that helped the people who suffered during the Tamil Nadu floods. The members of the group aided these people by going to the affected areas and providing them with food and support. The organisation also donates handmade garments and other necessities to the poor and the disadvantaged section of the society.
---
Suggested read: A look at the Latin beauty who has won Miss Universe 2015
---
Fact #10
She is an animal lover!!! Have a look at some of these adorable pictures and a video she shared on her official Instagram page:
Though the winner of the pageant will be announced on the 25th of October, other sub-contests of the spectacular event have already started. One of them was the National Costume round, in which, Pankhuri wore a gorgeous ensemble that you need to see to believe. So here it is:
Describing her rig out, designed by Melvyn Dominic Noronha, Pankhuri wrote on her Instagram handle,
"Human Emotions are so varied and each emotion can be represented by a colour, however in life we all choose to attain our moksha, our nirvana and our pure white inner peace more precious than gold.
Coming from a multicultural country of colourful traditions and festivals, we Indians strive to be a true symbol of peaceful cultural harmony and represent our international wonder of the world, the symbol of love, the Taj Mahal. My national costume is a whimsical stage of the dance presentation of the 7 classical Indian dances with the grace of the dancing national bird, the peacock. This stage is set in my home city, Lucknow, the land of the Nawabs. Through the Hindu Muslim fusion architecture known as the Ganga Jamuni Tehzeeb, the beauty of the Nawabi culture is represented in its famous monuments. The Bara Imambara, the tomb of King Akbar, Humayun's tomb, the Chota Imambara and Begum Hazrat Mahal park. So riding on my royal chariot, like a gentle lotus which is the symbol of Indian femininity in purity, I am Nawabi Begum Pankhuri Gidwani from the grand and incredible India."
She even shared a glimpse of not only her costume but the costume of other contestants!
Now that we have shared so many facts about this Indian beauty, how about telling us why you think Pankhuri Gidwani should win the contest… I mean, apart from the fact that she is representing our country!! 😉
Sound off in the comments below!
For more on the latest buzz in the fashion world, sign up for our daily newsletter today! Ciao!
Featured image source: Pinterest 
Summary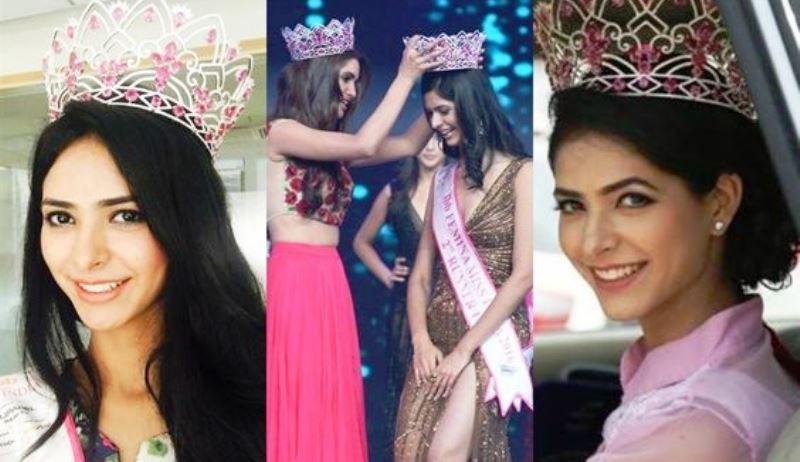 Article Name
Here's Every Little Detail About Pankhuri Gidwani, India's Pride At The Miss Grand International 
Author
Description
Crowned the second runner up at the Femina Miss India Grand 2016, Pankhuri Gidwani is now all geared up for the prestigious Miss Grand International. Here's all you need to know!