Breaking the internet was a term that was coined by Kim Kardashian when she decided to pose for Paper magazine while balancing a champagne glass on her iconic backside. She did manage to break the internet, but since then, this phrase has found a place in the urban dictionary of a lot of people, especially those are obsessed with the internet (kike me). Celebs are becoming even bigger celebs purely because of their on-point social media game, and we are always curious as to who is winning. Today, I am going to tell you about the most liked pictures on Instagram.
---
Suggested read: 12 Instagram Photo Editor Apps For An Incredibly Gorgeous Feed
---
We know that Selena Gomez is the most followed person on Instagram with 135 million followers. I mean, TBH, I didn't even know there were that many people in the world. Till a while back, she also had the most liked pictures on Instagram ever, until that record was recently broken by another celebrity. Read on to find out about the pictures that got the most number of double taps ever.
1. Kylie's Jenner baby name announcement: 17.8 million likes
I'm not surprised that this became the most liked picture on Instagram ever. Kylie Jenner's pregnancy was a trending topic of conversation for NINE MONTHS consistently, so when she finally revealed that she was in fact, pregnant and that she had given birth to a tiny nugget and named her Stormi Webster, the internet couldn't handle all this information at once.
Imagine having your first ever picture becoming the most liked picture on Instagram, all for being born. This is the kind of fame I aspire to have.
2. Kylie Jenner holding her baby: 12.8 million likes
You thought you saw the end of Stormi and Kylie? Hell no. People are obviously obsessed with this baby who isn't even 2 months old yet. Move over North, Chicago, Saint, Penelope, Reign, Mason and Khloé's unborn child. There might be a million of you Kardashian kids, but no one seems to be as ridiculously famous and sought after as Stormi.
You would think that after disappearing from the media for nine months and a hush-hush pregnancy, people would lose interest in your life. Turns out, the opposite is true because the moment Kylie posts a picture of her baby (or a bunch of blankets, who knows) she seems to be making history.
3. Cristiano Ronaldo's baby birth announcement: 11.3 million likes
Cristiano Ronaldo is undoubtedly one of the most famous people in the world. He is a great footballer, he is hot AF and he is constantly winning important awards and getting recognized by important people. However, babies seem to be the thing on Instagram, because till now, our top three posts, which have legit millions and millions of likes, all contain a baby.
People also collectively lost their sh*t when Ronaldo posted a picture with his family, announcing the birth of his fourth child with his partner Georgina Rodriguez. He has two sons and two baby daughters, who accompany him everywhere, and he religiously documents all of that on his Instagram. However, it was the birth announcement of his youngest daughter that seems to tug at the heartstrings of 'grammers all over the world.
4. Beyoncé's pregnancy announcement: 11.2 million likes
Sure, Queen Bey isn't as high up in the list as she rightfully should be, but here is another baby-related post on Instagram which made headlines for several months, and which managed to become one of the top 5 most liked pictures on Instagram ever. So the world is pretty much obsessed with Beyoncé, and rightfully so because she the Queen of everything.
So imagine their reaction when after the whole drama that Lemonade was, she decided to go all out and announce her pregnancy in the most extra fashion possible. She announced that she was expecting twins with her husband Jay-Z and her first daughter, Blue Ivy.
---
Suggested read: 15 Illustrators On Instagram Whose Illustrations Will Make You *Feel* Things
---
5. Kylie's pregnancy announcement: 10.6 million likes
I am honestly so tired of Kylie filling up this list with her baby hype, but I am also so jealous because I can't imagine how famous and how influential you have to be in order to make something like this happen over and over without any sign of slowing down. The moment she posts something about her baby, people on Instagram seem to involuntarily double tap on it.
Whether this was a genius marketing strategy, or whether Kylie Jenner is really this popular and her baby is just going to be the most famous person in the world ever, or everyone just loses their mind when something about a baby appears, I am not sure. Can't wait to see what happens when this child grows up.
6. Selena Gomez's kidney transplant post: 10.5 million likes
For quite a while, not only was Selena Gomez the most followed person on Instagram, but she also had the title of the most liked picture as well, where she was drinking coke out of a bottle that said her name. However, that is ancient history because now Selena is number 6 on this list, and it is for something much more important and much more special for the millions of people who follow her.
She has publicly spoken about her mental health, her struggle with lupus and other conditions. Recently, she needed a kidney transplant and her best friend decided to donate her kidney to Selena. This called for a highly emotional post, and the first non-baby related one at that, which made millions of people smash that like button.
7. First picture of Beyoncé's twins: 10.3 million likes
Did you think Kylie's baby reveal would make the list and Beyoncé's won't? Beyoncé has a wonderfully well-documented pregnancy unlike Kylie, and she looked like an actual goddess even though she was carrying two entire human beings inside her. When the world finally got to see her twins, obviously they had to show her how excited they were for Sir and Rumi Carter (those are really their names).
Her baby reveal picture was as extra and as dramatic as her pregnancy announcement, and TBH we can't expect anything less from Queen Bey.
8. Selena Gomez's birthday wish to Justin Bieber: 9.3 million likes
To be very honest, I am here for any Selena and Justin Bieber related news, because even though I don't know them and I don't even listen to their music, I am hella invested in their lives and what is going on in their relationship.
While Selena and Justin were one of the most sought-after couples a few years ago, they broke up and got new bae's that they doted over very publicly. They had a very dramatic, ugly breakup, but after Selena broke up with the Weeknd, they were seen canoodling together and riding bikes together, and now that she uploaded this super intimate birthday wish for Bieber, we can now believe that they are back on again, and I am happy for them. Good on you Selena and Justin.
9. Kylie randomly posing in her Bentley: 9.1 million likes
We are not sure why this is one of the top 10 most liked pictures on Instagram ever, because there are legit a gazillion pictures exactly like this on Kylie's, as well as on each of her other sisters' profiles. However, what we did notice is that this was the post she made immediately after announcing the name of her new baby, which might be why this one got this many likes.
The second picture in this post is not only random but also blurry, which makes me hella mad because I will probably get banned from Instagram if I post a blurry picture, but good for Kylie. I gotta admit though, even I am waiting for another Stormi picture, and consequently giving away some precious likes for free.
---
Suggested read: 15 Latest Food Trends On Instagram That Has The World #Obsessed And #Drooling
---
10. Khloé Kardashian's pregnancy announcement: 8.8 million likes
If you were under the impression that Kylie was the only person from that family who is an internet sensation, then you are wrong. All of the other sisters in that family have a massive following and all their likes run in the millions, but only Khloé managed to make it into this list of the top 10 most liked pictures on Instagram, with her pregnancy announcement post.
She decided not to wait till her baby was born to share the news with her fans. She put up an emotional post with her baby bump in all its glory, with her partner Tristan Thompson. We can't wait to see who she will displace from this list with her baby name announcements.
The list keeps changing with time and with news (most of which is about a baby). If you are worried about not being able to keep track, then don't worry, because we are constantly stalking your favorite celebs for the latest news and updates!
Featured image source: Instagram 
Summary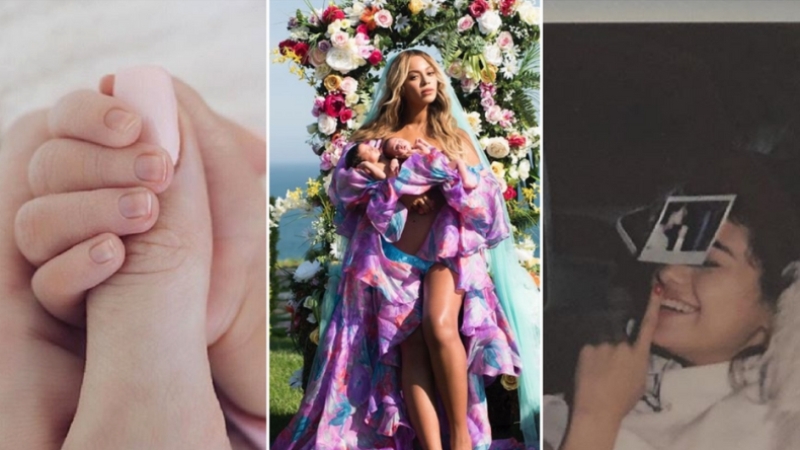 Article Name
Top 10 Of The Most Liked Pictures On Instagram Ever
Author
Description
Obsessed with Instagram but can't keep track of celeb rankings? Here is the ultimate list of the top 10 most liked pictures on Instagram ever!