Maybelline has chosen a face for their new mascara, and it is a man! Manny Gutierrez is all set to become Maybelline's first male ambassador, people!
Manny shared the fabulous news with his Instagram family through a post, saying,
"2017 you are off to an AMAZING START OMG! Honestly I couldn't be more honored… thrilled!"
---
Suggested read: 12 kickass women who are breaking stereotypes in the fashion world
---
Maybelline's slogan, as we know, is "Maybe she's born with it, maybe it's Maybelline".
It is great how Manny is challenging this very idea. Talking about how the notion of men loving makeup is seen as an abnormality, Manny says,
"Men in makeup wasn't seen as normal, especially a couple of years ago. It wasn't as open as it is now."
By announcing their partnership with a male makeup lover, Maybelline has not attempted to blur gender lines, rather it is becoming a part of the movement that is trying to expand the very idea of gender.
Like Maybelline, a number of other brands are using male models for their beauty campaigns. CoverGirl, last year, hired James Charles, a 17-year-old beauty blogger, as its "cover boy". He was the face of the brand for its "So Lashy" mascara range. Talking about this decision of using a male beauty enthusiast, the company released a statement saying,
"All of our CoverGirls are role models and boundary-breakers, fearlessly expressing themselves, standing up for what they believe, and redefining what it means to be beautiful."
Anastasia Beverly Hills, the high-end makeup brand, too, uses male models for their beauty campaigns.
Men in beauty are unfurling masculinity, which is otherwise so narrowly defined. They are attempting to include variation, more expression. They are asserting their creative freedom, because, as Manny puts it,
"It's about transforming your face to make it look a different way."
At a time when the world is having intensified conversations about gender, such a movement is necessary. When these men re-envisage what "normally" is considered "male", we are reminded that masculinity, for ages, has been confined in a rigid box. It has been considered so fragile that it should not be moved, forget reinterpreted.
People have always been told that you should strive to be perfect, which, by definition, obliterates the condition of being your own self. Finding a guide on how to be flawless or how to look perfect, is not difficult at all, right? That is because, a great amount of importance is given to how we present ourselves to the world.
This pressure to be "perfect" is usually felt by women, but it affects men too. Men are expected to act a certain way, like particular things, dislike specific things, colors, ways, hobbies etc. etc. And the sort of discourse which talks about "being a man", empowers the outmoded standards. It is high time we stop categorizing things as "only for men" or "only for women". We need to castoff the floppy marketing methods that are designed to put men and women into two separate boxes. Instead, let us all focus on making people proud of who they are, and empowering them to be their own unique self.
You might not want to wear makeup though you are a straight woman, or, you might love wearing makeup though you are a straight man, and those are just two possibilities out of a myriad of other permutations and combinations, which manifest the fluidity, which is the beauty, of gender. Wearing makeup thus is about one's gender identity, and not sexual orientation.
---
Suggested read: Making a case for blurred gender boundaries: In defense of androgynous freedom
---
The fact that the men of today do not equate makeup and femininity, ushers in a fresh perspective in gender politics. This movement of the beauty-loving boys has been compared to the movement of making drag more mainstream. However, the boys of beauty, though informed about the tradition of drag and how it has made their male-centered presentation possible, think of their craft as something totally different.
Alexander Rivera, a 26-year-old beauty boy, whose clientele includes JLo (!), says,
"Drag queens were really the trailblazers that led individuality and art. I really do feel that the current movement of men in makeup, whether it be masculine or feminine, does derive from drag makeup."
For Manny, however, it is not about the look of drag, but about the inspiration behind it, the idea of creative freedom, which is also the corner-stone of this movement.
But following one's passion has never been easy, let alone a passion where you question several standards that the society functions on. I follow Gutierrez on Instagram, and I have seen the horrid comments that he receives on his posts. "WTF? Idiot men are not supposed to DO THAT?" reads one such comment; "Not cool! This is why I unfollowed Nyx, I guess Maybelline is next," reeks another. Some people have even dubbed his pictures, "the end of the world."
Jake-Jamie, a UK-based makeup artist once told Mic, via email,
"Somehow our society decided that only women should wear makeup. We often hear phrases like 'manning up,' 'getting on with it' and being 'strong and silent,' and this has left men little space to reposition or redefine themselves in society."
But that's just society, how do these men deal with the opposition they experience at home?
Patrick Simondac, who was chosen as a color curator for a nail polish line by Formula X and has also been the brand ambassador of Formula X, says that by the time he was 20, he had started applying heavy makeup, on a more regular basis, which worried his close-knit Filipino family. He was warned by his parents to stop wearing makeup, totally. Patrick told MarieClaire,
 "My mom and dad—they love me no matter what—looking back, I think they wanted me to not get bullied. At the time I thought it was them not loving me." 
Another beauty boy, James Charles Dickinson, 17, had to confront a more critical concern. His parents started equating his passion for cosmetics and makeup with his sexual orientation. They started questioning him whether or not he was transgender. They were concerned that James wanted to transform into a woman. It was very difficult for James to explain to his parents that make up for him was an art form.
Manny Gutierrez, according to what he told MarieClaire, had to take a more proactive approach when dealing with his family's condemnation because added to his love for makeup, he was gay. He said that he blocked them on Instagram, in order to protect his interests and himself. However, as his popularity grew, his family and his church became aware of his "activities", and approached him with their worry for his career (Manny wanted to become a plastic surgeon). Manny recalls,
"They were just like, 'If you're doing this makeup online, how do you feel like medical schools are going to be? Do you think they're going to accept you into medical school?'" They didn't understand then that it was my creative freedom."
When Manny's parents found out that he was gay (he was 17 at that time), they sent him for counselling to "reverse" the process of being gay. When he saw that it was not working, and that he was growing depressed and unhappy with each session, he talked to his parents about it. They told him that all they wanted was for him to be happy, and paused his counselling.
"I got straight As in school. I was the perfect child, except this one aspect of myself. It was very, very difficult at first, but we got through it and here I am, lashes and all."
---
Suggested read: Harper's Bazaar India is covered by transgender models for the first time
---
While Manny Gutierrez, and the other men we spoke about today, have triumphed in their struggle, there are plenty of boys who are being ridiculed, criticized, and are being sent for "counselling", which promises to "cure" them. How, according to you, can we help them in their attempts to expand the idea of gender? Let us know in the comments below.
Summary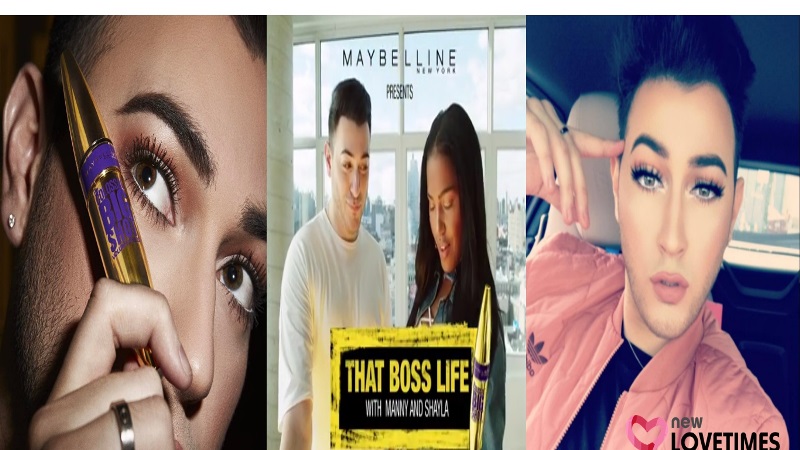 Article Name
Here's How Manny Gutierrez And Other Beauty Boys Are Making The Art Of Makeup More Inclusive
Author
Description
Manny Gutierrez is all set to become Maybelline's first male ambassador, and so, it is time we talk about the beauty boy and other makeup enthusiasts like him.