Is your chin sprouting out in all your selfies (or even groupies!) lately? Worried about how to get rid of a double chin, eh? Don't be. Neck and chin toning is totally achievable without surgery. All you need is including these 10 double chin exercises in your workout regime.
With age, our skin loses collagen and its elasticity. This causes it to sag in specific areas of our body; the part around the neck and chin is one of them. Believe it or not this process begins at the age of 20! Dr. Suzan Obagi, who is an associate professor of dermatology at the Pittsburgh School of Medicine, says that factors such as exposure to UV rays of the sun, smoking, and even a poor diet can speed up this process. These exercises will help you tone your neck and pull the overlaying skin, naturally giving you a tighter and healthier look.
---
Suggested read: 8 easy face exercises that help tone your face
---
So, how to get rid of a double chin? Follow the ten easy exercises that we have chalked out for you!
1. Tongue press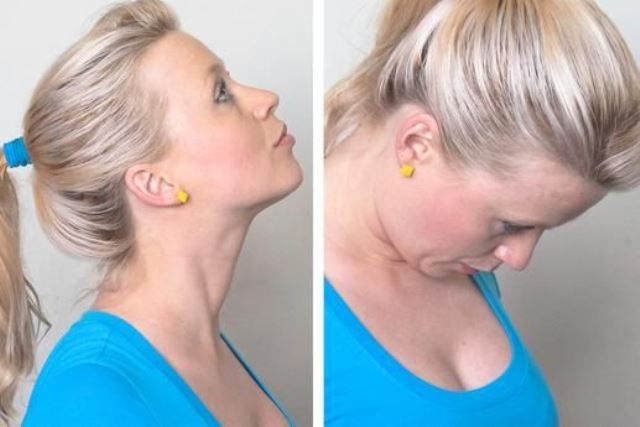 Image source: Pinterest
When contemplating how to get rid of a double chin, the first exercise that we recommend is the tongue press. Sit with your back straight. Your shoulders must be relaxed. Now tilt your head backwards so that you are facing the ceiling. Next, forcefully press the tongue flat against the upper area of your mouth. Now lower the chin towards your chest. Try to touch it but do not round your upper back in the attempt. You will feel the chin and the anterior of your neck narrow. Now relax the tongue, uncurl your neck, and get back to the posture you started the tongue press with. That's one rep. You need to complete at least 2 sets of 20 reps each to perceive some real change.
2. Pout and tilt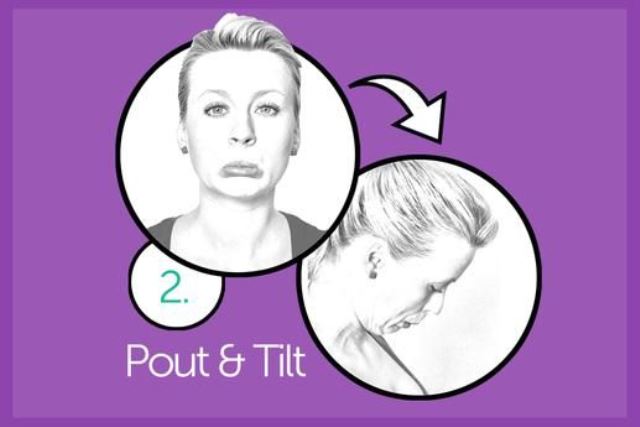 Image source: Pinterest
The pout and tilt exercise can be done in a sitting or a standing position; whichever, is more comfortable for you. Stick your lower lip out to form a pout. To check whether you are doing it right, place a finger on your chin. If the skin on your chin feels puckered and wrinkly, you are doing a superb job! Remember to stick it out as far as possible. Now hold the contraction for at least a second. Next, with the lip still out, tighten the muscles in the front portion of your neck to lower the chin so that it touches the chest. Do not round the upper back when you lower your chin to your chest. Stop and hold the pose for a second again, after which you can relax your lips and uncurl the neck. Slowly return to your starting posture. (Note: Never resume your initial position with a jerk. You don't want to sprain a muscle!) This was one rep. You need to complete 2 sets of 22 reps each.
3. Big O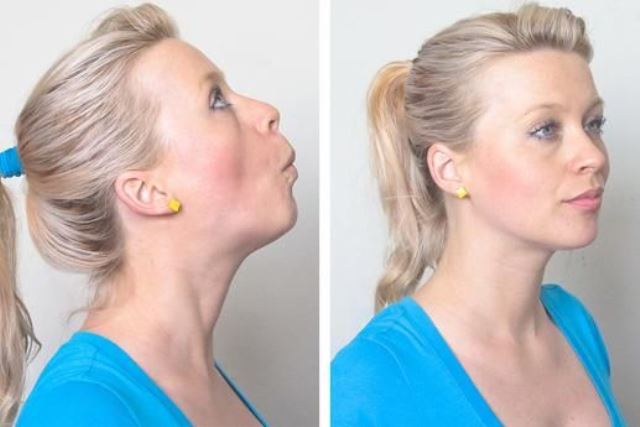 Image source: Pinterest
For the big O, sit with the back straight. Relax your shoulders and tilt your head backwards. You are looking at the roof now. Next, shut your lips so that they are together but not pushing against each other. Now keeping them closed open your mouth from the inside so that it appears to form an O. Stay in this position for 25 seconds. You will feel a contraction on the two sides of the neck. Your jawline too will contract. After 25 seconds, relax your mouth. Lower the chin and resume the starting position. This was 1 rep. Perform 2 sets of 12 reps each.
4. Kiss the ceiling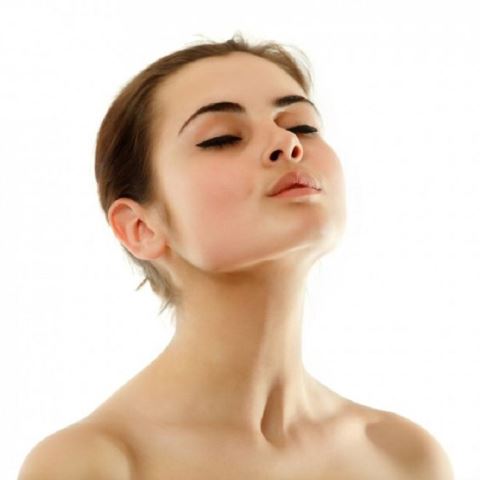 Image source: Pinterest
Stand straight. Keep your arms dangling at the sides. Now tilt your head to face the ceiling. Next, make-believe that you are kissing the ceiling. Pucker your lips and extend them away from your face (as far as possible, without actually moving from your place). You will feel a contraction in your neck muscles and the chin. Hold the posture for 10 seconds. Now relax the lips and lower your chin. Return to your starting position slowly. This is a single rep. Perform a couple of sets of 16 reps each.
---
Suggested read: 10 easy exercise tips on how to get slimmer thighs
---
5. Chin rotations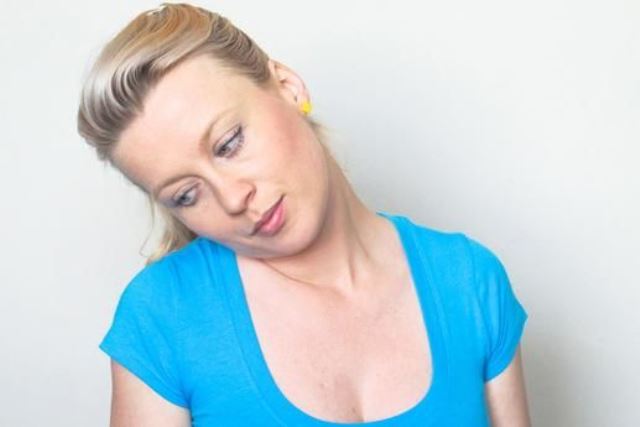 Image source: Pinterest
The chin rotations can be performed both in a sitting or a standing position. You however, have to make sure that your back is straight. Now lead your chin to gently rotate your head in slow circles. The circles should start from your shoulder, navigate through your chest, and then the other shoulder, finally returning to the previous position. In case full circles make you go dizzy, especially in a standing position, you can try semi-circles that move from shoulder to shoulder. Make certain that you relax your shoulders while making the circles. Your back, though, must be straight. This was one rep. Perform 10 circles, clockwise. Then repeat the exercise anti-clockwise.
6. Side neck stretch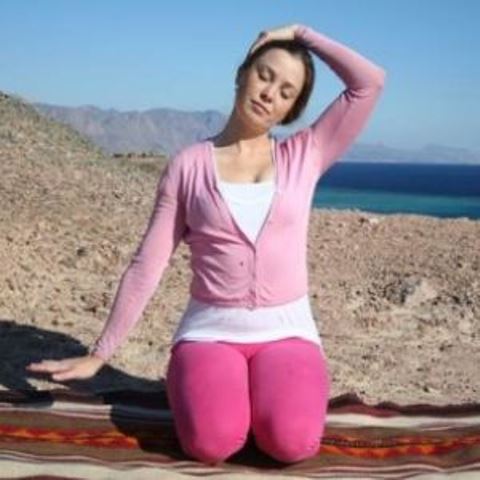 Image source: Pinterest
Sit on the floor and place one hand on it. Your fingers should be down and almost a foot away from the hip. Make sure you are not leaning or pressing hard on the fingertips. Now wrap the other arm round the top of your head, in such a way that your palms cover the opposite ear. Your head must be in a proper alignment with your neck. Now bend your head so that it moves toward the shoulder. Use your palm to softly push the head towards the shoulder. Next, move the fingers on the floor to touch the other arm. Apply gentle pressure so that you can press the shoulder downwards. Press it away from the head. Hold this position for about 10 seconds. Relax your hands and revert to the initial position. Go over the whole thing for the opposite side. This was one rep. Perform 3, at least.
7. Jaw release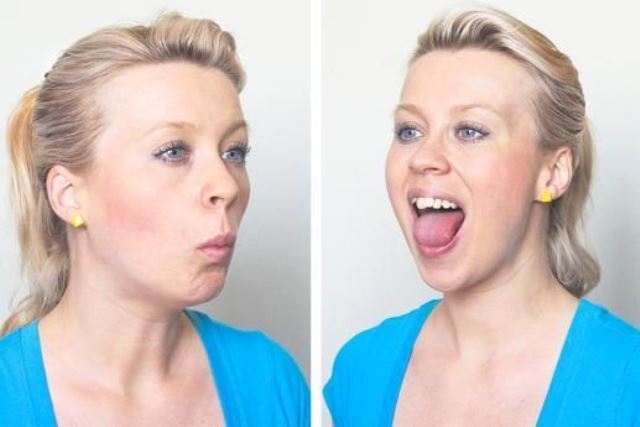 Image source: Pinterest
The jaw release too can be performed both sitting and standing. Elongate the spine to get a tall and uncurled back. Now move the jaws up and down as if you were chewing some gum. Make sure your lips are together, though you are not actually pushing them against each other. They should be relaxed. Then draw in deeply through your nose and exhale while humming. The breathing must be slow. Once you finish exhaling, open your mouth. Your lips now should be as far apart as possible. Press the tip of your tongue against the bottom teeth. Hold your position. Now inhale and again exhale with a loud "ahh" sound. The exercise, that is, one complete rep will take you around 90 seconds. You need to perform at least two of these jaw release double chin exercises to get rid of double chin.
8. Pigeon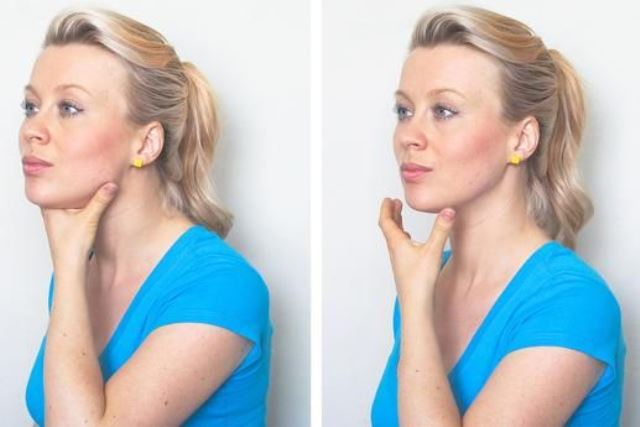 Image source: Pinterest
To perform the Pigeon, place one of your thumbs on a side of your jaw. Place it underneath the jawbone, at the point where it turns upward and extends to the ear. Now place the index finger of this hand at the same place on the opposite jaw. Holding your hand still, with your neck and head, push your jaw forward against your hand. Hold your position for half a minute. Then release your hand. Slowly move your neck to your initial position. This was one complete rep. Perform three.
9. Stick out tongue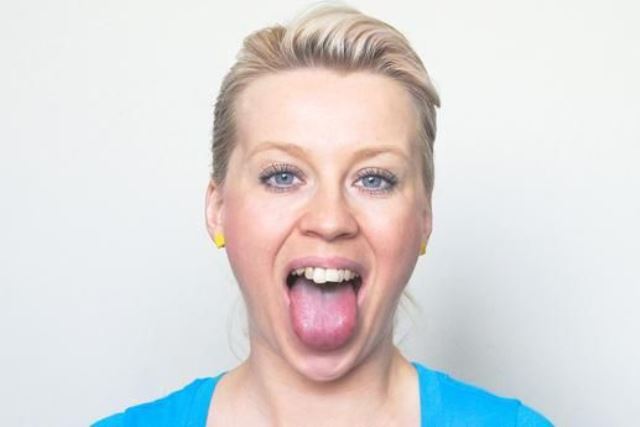 Image source: Pinterest
The stick out tongue exercise is a brilliant way to get rid of double chin. Thinking of building the chin muscles without surgery? Then this is your best bet!
Sit on the floor. Relax the muscles around your jaw. Now open your mouth as wide as possible. Next, stick the tongue out. Try to extend it as far as possible without moving your head. You will feel the contractions in your chin and neck. Hold that position and count to 12. Now revert to your previous posture and relax. This was one rep. You need to do 10 of these.
---
Suggested read: 12 effective exercises to get skinny arms in 3 months' time
---
10. Head lifts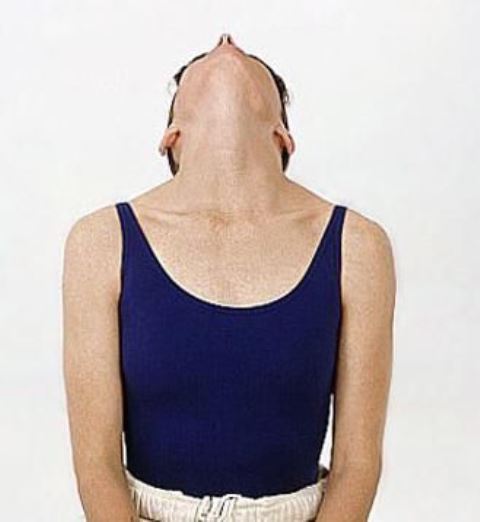 Image source: Pinterest
Lie down on your back. Now place your neck on the edge of the bed. Let your head dangle out off the side of the bed. Relax it off. Now contract the muscles in your neck (near the jaw). Slowly lift off your head and try curling your chin so that it touches the chest. While you do this, make sure your shoulder lies flat on the bed. Hold your posture for 10 seconds before you slowly let your head drop again. Be careful not to hurt your neck. This was one rep. You need to perform 3 sets with two reps each. You can sit up between each set in case you feel dizzy. If the dizziness doesn't seem to go, take sitting breaks even between reps or do the exercise on the floor. Your neck will be placed in a straight line for the initial position. Then you lift it to perform the exercise.
With these exercises coming to your rescue, you don't have to try tricks like wearing a high-neck or wrapping a scarf around your neck or even tilting your head for a picture to hide your double chin! The best thing about these exercises? They are pocket-friendly and painless!
Summary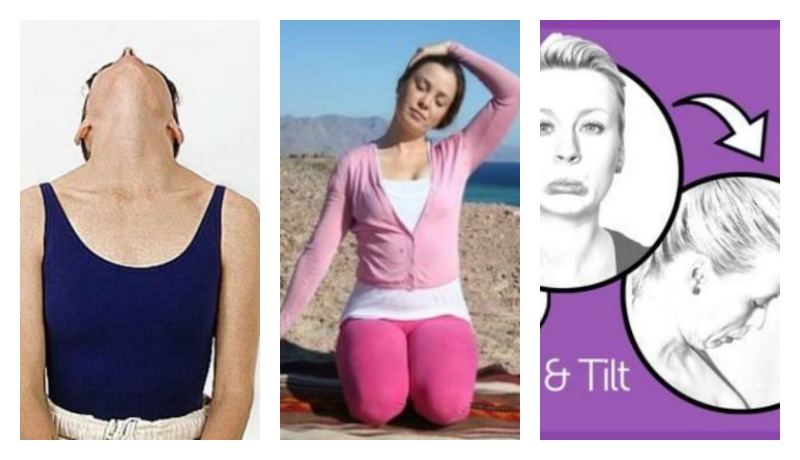 Article Name
How To Get Rid Of A Double Chin: 10 Easy Exercises That Will Help
Author
Description
Having a hard time thinking about how to get rid of a double chin? Worry no more, for we have here 10 perfectly easy, painless, and effective exercises.