Summer's fading into autumn, and it is high time you change your lip look. If you are tired of the tulip pinks or the nudes, then you need to get yourself an edgier lip shade; how about the color black? P.S.: This post is NOT Halloween inspired. Duh!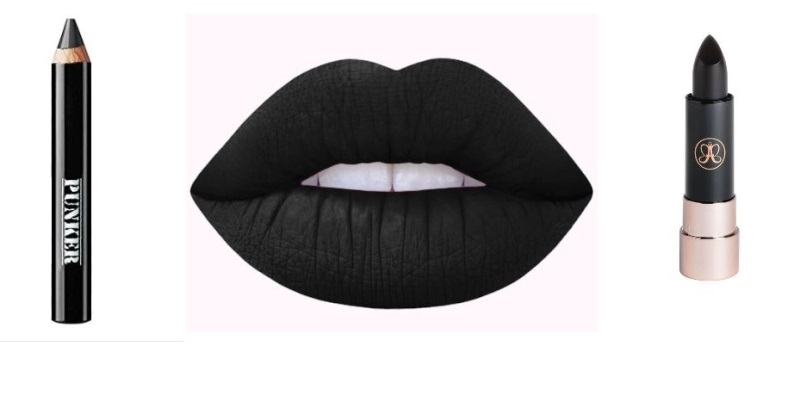 This moody hue is back in a big way, and if you decide to stay away from this, expect a major fashion FOMO moment.
Yes, the dark shade is a teeny bit intimidating, but if you know how to style your look, and how to carry it, you can even give RiRi a run for her money! No, RiRi is a goddess, so who are we kiddin'! But trust me, apply a black lip shade the way I guide you, and see how you steal the show. Here's everything you need to know on how to wear black lipstick.
To up your style game, you need to slip out of the cozy comfort zone of yours, and invest in the right black lipstick from Dior, NARS, and NYX. There are many other brands that create lip formulas that are completely worth it, and I will be telling you loads about them in the following sections. But first, let's learn about the tricks and master them well! Ready?
---
Suggested read: 13 Best Dark Lipsticks For All Occasions You MUST Own
---
1. Prepping the canvas
Your lips are a canvas, the lipstick is the paintbrush dipped in black, and you are the artist. Before you go all Picasso on your lips, it is highly recommended that you clean your canvas/your lips. Applying the black lipstick requires you to be very precise in your application, and so, it is important that you exfoliate them well first, so that you don't have a tough time applying the color.
After exfoliation, draw the lip line you desire. This will help you prevent the color from bleeding.
You will need to invest in some makeup tools/applicators. You need a lipliner, a brush for more precise application, some dry wipes in case of blunders, and some loose powder if you need to reapply the color.
2. Want major impact? Go for matte
If you want to create a statement with your black lipstick (the answer is yes, obviously!), then dodge the creamy formulas, and go for matte ones. Demi matte is also allowed. This will also ensure that your skin looks more radiant.
3. Make your lip color pop
For that to happen, you need to apply some gloss to your pout. This will also help prevent the color from looking inky, or worse, flat. Remember to apply the gloss at the center of your lips, or else, you can expect the color to feather.
4. Play it safe, or don't
How you want to wear your black lipstick completely depends on how comfortable you are with the color. Are you up for the grunge look? Or you don't want to dive right in just yet? Well, a deep burgundy or a dark purple could help you out, and ease you into the trend.
5. Less is more
To pull of the black lipstick look, you need to keep rest of the face nude. That is the key to rock this look, because you certainly don't want to look like you've dressed up for Halloween, if it's not Halloween, right!?
Additional tip: Don't just keep your face nude, but also fresh and dewy. Add some definition to your lashes though. Also, adding some warmth does help, because the black lipstick tends to suck the life out of any skin tone. While keeping the entire look Gothic, you can give it a romantic touch, by balancing the look. Warm up the cheeks by using a light bronze shade. Apply the shades around the eyes too.
No matter what you do, make sure the lipstick is the focus of the entire makeup.
---
Suggested read: Wearing Dark Lips Has Never Been This Easy! The Complete Guide On How To Apply Dark Lipstick Like A Pro
---
How to wear black lipstick
While applying the lipstick, begin from the center of your lips. Then, brush the lippie outward. Fill in the gaps in one swift motion. For more precision, pro MUAs suggest you apply your lipstick using a lipstick brush and not directly from the tube.
To make a statement, you need a second coat, as the first one acts only as a base. The second coat locks the lip color, and gives you that dramatic, intense lip look.
To bolt the color on the inside of your lips, stick your pointing finger into your mouth, and put your lips around it. Now pull out the finger in one swift motion. This stops the color from bleeding onto your teeth.
Now that we are clear on how to apply a black lipstick, let me show you some product that you should get your hands on RIGHT NOW!
1. Rituel de Fille Forbidden Lipstick in Shadow Self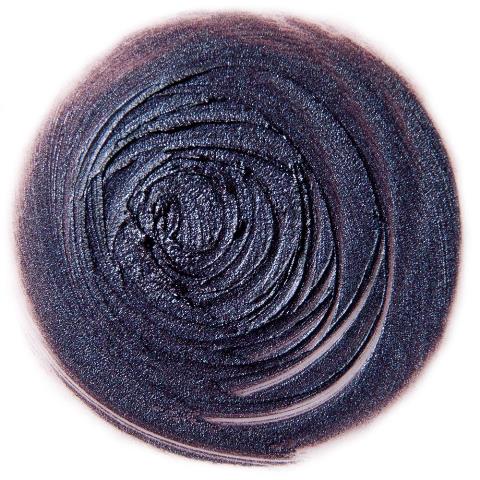 Image source: ritueldefille
Usually the biggest struggle with the color is that it looks complex and grungy in the package, but when you apply it, it does not lend the same punch. A flat black lipstick is the worst thing that could happen to a makeup junkie.
To lower the risk, go for a color that has a metallic blue-black tinge. It should also have red undertones so that you get a beetle-like sheen when there's light, and a warm and plush glow when the lights are soft.
This formula is magic, and will make you the center of attraction in no time.
2. Melt Cosmetics Lipstick in Bane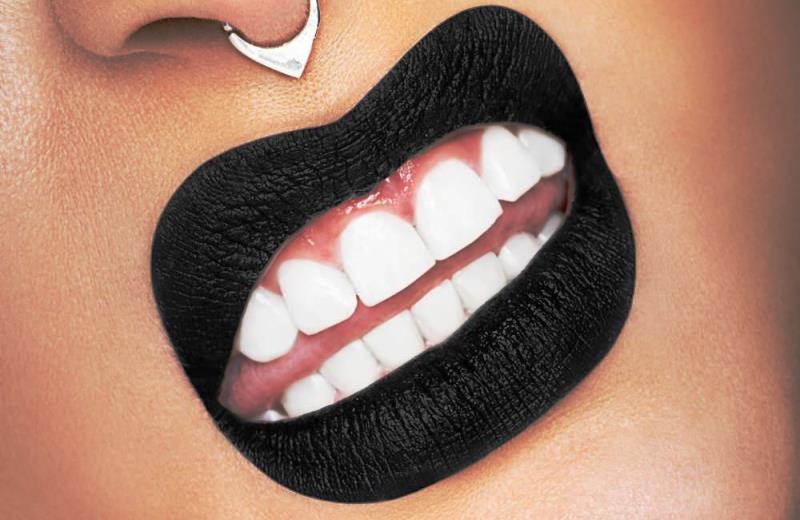 Image source: meltcosmetics
This is an ultra-matte formula and also ultra-black as you can see. If you want your lips to look as charred as possible, invest in this lippie. It will offer a warm undertone, which makes it a favorite among black lipstick lovers.
3. ColourPop Lippie Stix in Bull Chic ColourPop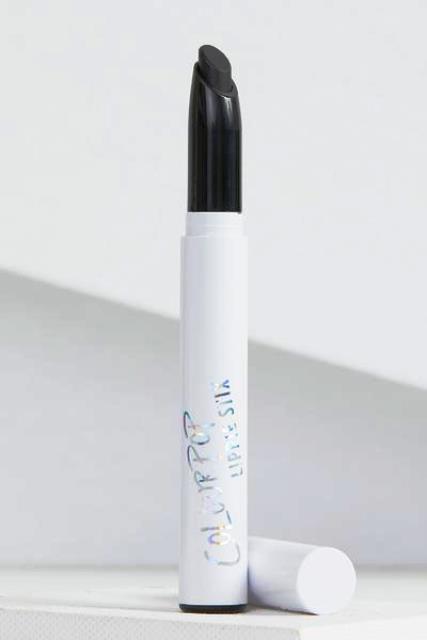 Image source: colourpop
This one's easy on the pocket, and yet, so high quality that I am calling it the lippie of my dreams! It is a wearable black that even people wanting to ease into the trend can try. It will offer a perfect opacity, if you apply a second layer. So yay!
The formula comes in a thin tube to aid application and to prevent bleeding. The lipstick glides on the lips and leaves a lovely warm black.
4. Makeup Monsters Liquid Lipstick in Darkness Prevails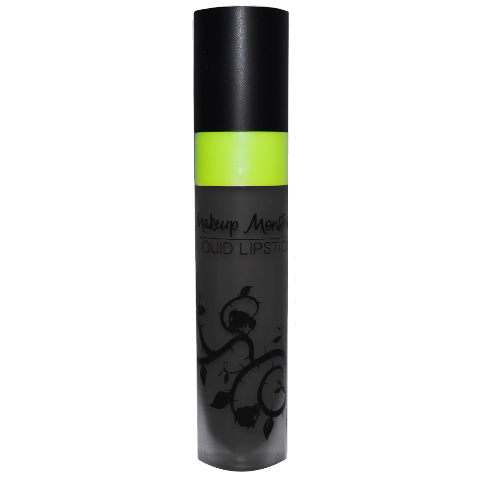 Image source: makeupmonsters
This liquid lipstick is supremely pigmented that when it dries it gives the perfect matte finish you can dream of. The packaging is amazing, so don't worry about the formula feathering in any way. This product should be in your holygrail of lipsticks.
5. Anastasia Beverly Hills Matte Lipstick in Midnight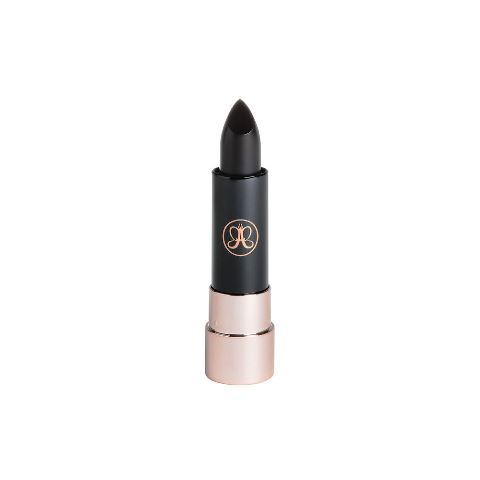 Image source: anastasiabeverlyhills
This formula is a solid black that will offer your lips a subtle sheen of metallic, while altering the sinister look to a sexy one. If you have zero tolerance for dry lips, but want a formula that lends a matte finish, then this is your go-to product. Get your hands on this one as soon as possible, because this is most of the time out of stock. Yes, everyone loves it!
6. Lime Crime Velvetine Matte Lipstick in Black Velvet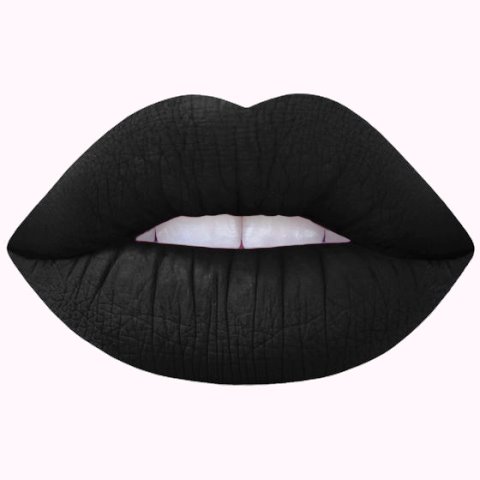 Image source: limecrime
The Lime Crime Velvetine Matte Lipstick in Black Velvet will lend your lips full coverage. Just one swipe, and you have an opaque finish. The plush matte is long-wearing, and I really mean what I say. Don't believe me, try it for yourself.
7. Illamasqua Intense Lip Gloss in Repulse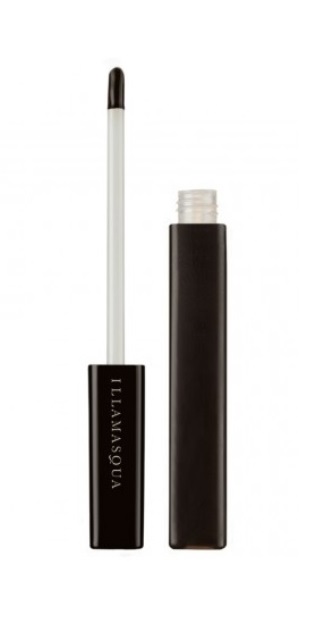 Image source: illamasqua
This one is highly pigmented and therefore seals the deal completely. The reflective black offers a shine that will not blind people but invite them closer. Also, like the previous formula, this one too is a long-lasting lippie that will be with you for hours.
8. Spectrum Cosmetics Lip Gloss in Samhain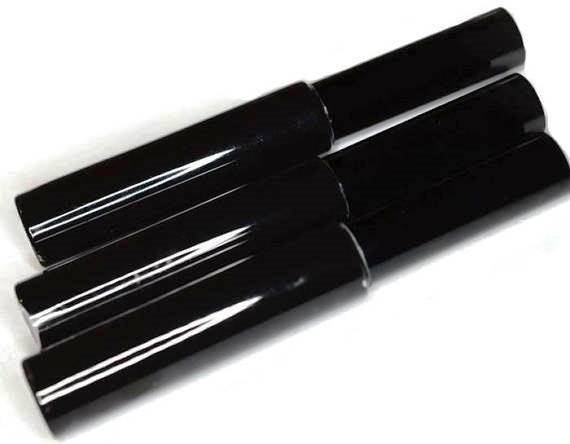 Image source: etsy
This formidable black lip gloss from Spectrum Cosmetics will give your lips the oomph to complement your personality. This one is a win on all possible beauty levels.
9. Ardency Inn Punker Semi-Goth Lip Gloss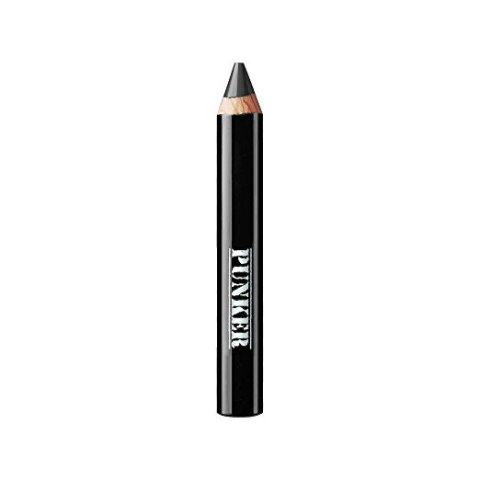 Image source: ardencyinn
From the packaging to what the formula does to your lips, this one's a keeper of a lip gloss. It looks sexy and when you glide it on your lips, it transfers the hotness to your lips. Also it will give you a gothic bruised look, which ups the dark lippie game by several notches.
Bonus:
Obsessive Compulsive Cosmetics Lip Balm Duo in Tarred & Feathered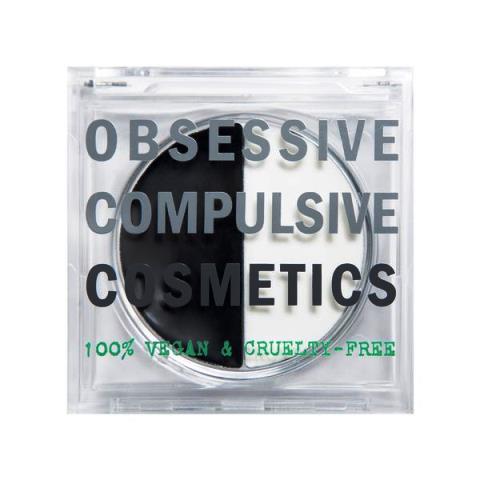 Image source: occmakeup
The last one on the list the Obsessive Compulsive Cosmetics Lip Balm Duo In Tarred and Feathered is a total darling. This is a lip balm that nourishes your lips so that when you apply a dark shade, your lips look plump and kissable.
The ingredients that go into making this product are vitamin E, shea butter, hemp oils and peppermint oils. The white part of the balm should be used to set the base for your lippie. The black of the yin-yang, should be used to deepen the lipstick shade.
---
Suggested read: Dark Lips Don't Care! A Step-By-Step Guide On How To Apply Lipstick On Dark Lips
---
That is all we have on today's post on the how to wear black lipstick like a pro. Was this helpful? Will you be recommending it to others too? If you have any makeup query that you would like to share with us, then please do so in the comment section below. Our experts will get back to you ASAP.
You can also subscribe to our newsletter to receive these articles in your inbox every day.
Summary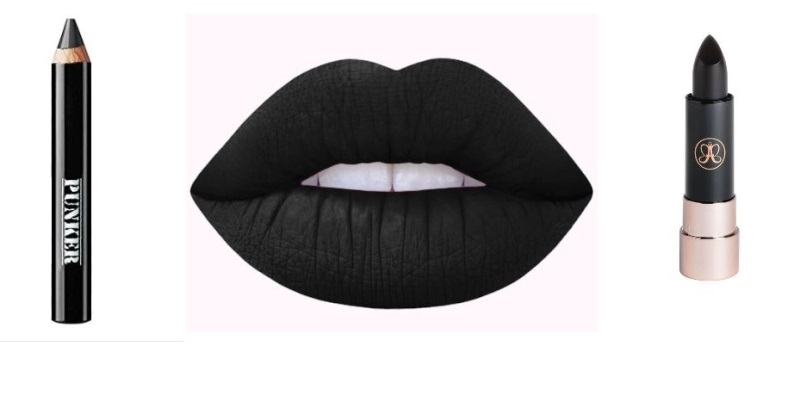 Article Name
How To Wear Black Lipstick Like Rihanna
Author
Description
Here's A to Z on how to wear black lipstick. Also find 10 lipsticks that you need to invest in RIGHT NOW to do the black lippie look right!