It is 2017, aka, not the time and place for shimmer and gloss, which are all so 2007. With the advent of a new age in fashion, it is time to be on trend and get with the times with some of the most gorgeous matte lipstick shades that are out there, waiting for you to own them.
So here is the deal: a lot of people avoid matte lipsticks, especially if they have dry lips naturally, because it can tend to dry out your lips even more. However, this usually happens when you don't know how to wear matte lipstick, or don't wear it the right way.
---
Suggested read: 15 Best Liquid Lipsticks You CANNOT Afford To Miss
---
The best time to wear matte lipstick is surprisingly, summer, and here is why- your skin is sweaty and generally moisturized in summer, so the chances of your lipstick, no matter how basic, drying out your lips is much lesser. It also gives that sexy half sweaty look to your face which basically makes you look like a queen in those sultry summer months. However, you can rock a matte lipstick in winter as well, as long as you know the basics of how to wear  matte lipstick.
Before you actually start applying the lipstick, here are a few pointers that could help you slay in that lippie.
1. Exfoliate with a lip scrub
The thing is matte lipsticks tend to highlight those fine lines on your lips, and catches on to all those dead cells and dry skin and makes your lips look cakey. The best way to avoid this is by giving your lips that luscious smooth surface by getting rid of the excess dry skin and dead cells. This can be easily done with a gentle lip scrub, which can be store-bought or DIY. This is the first and most important step to getting soft, matte-lipstick ready lips.
2. Plump up those babies
To get naturally plump lips, you have to increase blood circulation to your mouth. To get your blood pumping, which will give you naturally pink lips, you will need either a toothbrush, or an old and clean mascara wand, or a paper towel wrapped around your finger. Rub either one of these on your lips in circular motions. This will further exfoliate your lips and make them softer and smoother for a better application of your matte lipstick.
3. MOISTURIZE!!
Even though moisturizing your lips is important in general, it is especially important to moisturize your lips when you are trying to figure out how to wear matte lipstick like a pro. Whether you are using a cream or a lip balm, you have to moisturize your lips, so that the matte lipstick doesn't dry it out by sucking moisture out of your skin. Moisturizing surprisingly also helps your lipstick last longer and makes the color on your lipstick pop!
4. Concealer is a life-saver
Matte lipstick needs to pop, because sometimes it can look quiet dull and lifeless, no matter what your skin tone. To totally own that lip color, you have to apply a little concealer on your lips so that all the lines go away, and you have the best possible neutral base for the application of your kickass lipstick.
---
Suggested read: How To Choose The Right Lipstick For Your Skin Tone
---
Now that you are prepped and ready to go, check out this list of things that you must have before you start applying your lipstick. If you are confused and thinking, "But I just need my lipstick, right?" then you are wrong because you actually need a little more prep to make your matte lipstick slay. Here is a handy list of things you will need before we start on our step-by-step tutorial.
A lip liner to get a more even look with your lipstick
A clear liner to prevent your matte lipstick from bleeding all over the place
A thin lipstick brush to make your matte lipstick look the absolute bomb when you apply it like a bawse
Some toilet paper or paper towels (even though you might be super confused right now, there is an explanation, I promise, so read on)
A large makeup brush, which also has something to do with the toilet paper
Some translucent powder for after you have applied the lipstick
Some highlighter which will make your lips pop like nothing else!
The Ultimate Step-By-Step Tutorial You Need For A Perfect Matte Lip Look
Once you have all your things handy, let's figure out how to put matte lipstick like any professional makeup artist. Trust me, after this, there is nothing you would want to wear other than your mattes.
STEP 1: Lining
Use your clear lip liner to draw a heavy outline around your lips. Even though matte lipsticks tend to stick to their place and not bleed, it is always better to be safe, rather than sorry. Clear lipstick is also a handy addition to your makeup kit, because it goes with all your lipsticks so you don't have to hunt for a matching shade every time. Make sure you draw on your natural lip line, and if you are feeling confident, you can go wild and overdraw as well!
STEP 2: Filling it out
Fill out your lips with lip liner of a shade closest to your matte lipstick, so that you have a kickass base for your lipstick. This is also a precautionary measure to ensure that your color lasts all day. Make a little 'X' in the tallest part of your upper lip and three tiny lines on your lower lip. Then carefully fill them out from the centre to the outside, for a lovely, creamy subtle base.
STEP 3: Lipstick time
Lather on a generous amount of your favorite matte lipstick shade on top of the layer of lip liner that you just put on. Make sure that you are careful with your lines. If you have problem with edges, especially if you have thin lips, then don't hesitate to use your thin, angular lipstick brush. This will help you apply better, and also increase precision and make your look so frickin' good.
STEP 4: Dab on some translucent powder
After you have applied matte lipstick, let it dry for about 10 second and lightly press a paper towel or toilet paper on your lips. Take your fluffy makeup brush and dab on some translucent powder. This helps your lipstick stay on forever and helps it dry fast too!
STEP 5: Use your highlighter
Matte lipstick can be great. But why settle for great when you can be ABSOLUTELY FABULOUS. Dabbing the smallest amount of highlighter on the centre of your lower lip can make all the difference in the world. It can make your lips looks subtle and bright and plump. However, if you want to go extra with your highlighter, no one is stopping you.
---
Suggested read: Do You Know How To Use The Liquid Lipstick Right?
---
A Few Handy Tips!
Here are a few tips to help you get the most out of your matte lipstick. After this deceptively time-consuming application process, here are a couple of things you can keep in mind to make your matte lipstick look totally enviable, and easy to handle.
Apply lipstick before makeup– Matte lipsticks take some time to dry up, before which they are creamy and glossy and disappointing. Before you start with your entire makeup routine, apply your lipstick first, so that by the time you are finished with your face and hair, your lipstick will look like it is supposed to- which is awesome.
Cover up mistakes with foundation- Matte lipstick stains can be a pain to remove, which is why my advice would be to not bother with rubbing it off at all. Use your beauty blender to apply a little foundation to the area around your lips and voila, your mistakes are a practically non-existent.
Carry a lip balm- When you wear matte lipstick, make sure that you always have a little lip balm on you. If you see the color fading during the course of the day, instead of applying matte lipstick again, use your lip balm to restore life to your dull lips and make the color pop and make it last even longer.
Removing matte lipstick with Vaseline- Like I said, removing matte lipstick can be a pain, because it is just so good at what it does. When it is finally time to remove your lipstick, ditch that makeup remover and use some Vaseline on a paper towel to make the color go away without abusing your lips!
Do not forget to moisturize!
Now that you are a matte lipstick pro, it is time to try out whatever smooth matte shade you choose because the world was made for you to slay in your matte lipstick.
Feature image source: Instagram/Kylie Cosmetics
Summary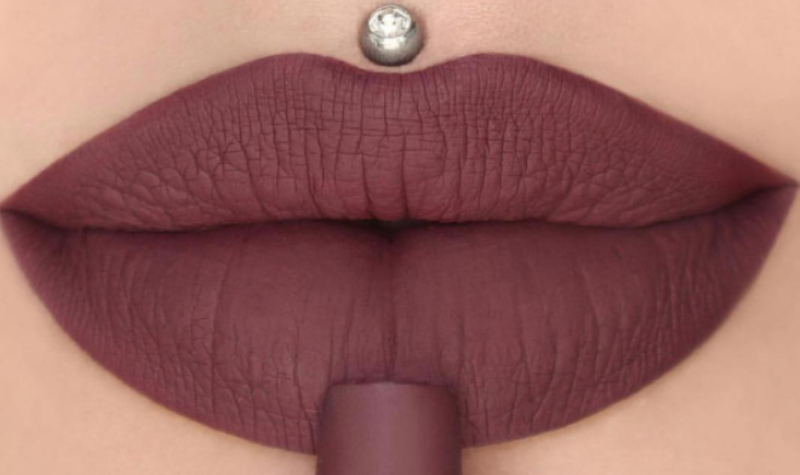 Article Name
The Ultimate Guide On How To Wear Matte Lipstick Like A Diva
Author
Description
Matte lipstick is the new in-thing in the fashion world. Here is the complete on how to wear matte lipstick to rock this look like a diva!