Lipstick is a makeup staple that everyone must have, when they are trying to increase their glam quotient. Unfortunately, the whitewashed media tends to overlook people with dark and dusky skin tones, and uses white models for swatches and lip colors. This leads to a major confusion about how to apply lipstick on dark lips. Picking the right color, applying the color right and then looking fab, all becomes a tiresome and erroneous process, which can be avoided if you read this step-by-step guide on how to apply lipstick on dark lips.
If you are not sure about how to apply lipstick on dark lips, then it is likely that lighter colors like pink and beige simply look translucent on your lips. Because the natural pigment of your lips is dark, you have to be careful about building the base to make all colors pop.
---
Suggested read: A Beginner's Guide On How To Wear Lipstick Like A Bawse
---
Once you have mastered the process, you can practically wear any color you want on your lips, no matter what your skin tone is. When you have dark lips, prepping them is infinitely more important than actually using lipstick. If you're feeling overwhelmed with all this info, don't worry because here is a great step-by-step guide on how to apply lipstick when you have dark lips.
Basic Lip Care Before Applying Lipstick
Here are the steps you need to follow for a basic lip care routine, which will help you get the perfect soft base for the rest of your makeup. Even though it is something that most people tend to ignore when they are putting on lipstick, it should be done regularly nonetheless because the more you take care of your lips, the better your lipstick looks.
Lip care gets rid of all the dead cells and the dryness and the bumps, which may interfere with the fabulousness of your lipstick, which is why you can check out the following steps, to achieve the softest, healthiest lips ever.
Exfoliating is a process by which the dead cells on your lips are removed, to reveal the new, soft skin underneath. It also removes the dry skin which causes an uneven surface on your lips. There are various ways in which you can exfoliate your lips. One of the easiest is using Vaseline and a toothbrush. Scoop up some petroleum jelly using your toothbrush and brush your lips with it in circular motions. You can also make a DIY lip scrub at home with things like jojoba oil, sugar, salt and honey, which can give you soft, kissable lips in no time!
After you have exfoliated your lips, it is time to cleanse. Cleansing helps regulate blood circulation to your lips, and make them appear plump and healthy. It also helps remove any residue of dead and dry cells that might have remained after the previous step. Even though there are over the counter cosmetic cleansers available, it is always advisable to go for natural ones like coconut oil, yogurt, rosewater, apple cider vinegar, etc. Simply soak a cotton ball in any of these natural cleansers and wipe your lips thoroughly with them.
The third and final step to your lip care routine before applying lipstick on dark lips is to moisturize them properly and thoroughly. Lipstick, no matter what kind, can tend to dry out your lips, because of their formula. It is therefore imperative to moisturize your lips before you apply them, so that the color remains intact, without leaving your lips dehydrated. There are several moisturizers and lip creams available that you can use to make sure that you have plump and hydrated lips.
---
Suggested read: 15 Gorgeous Matte Lipstick Shades You Simply Can't Do Without!
---
What You Will Need
After you have prepped your lips to look super fresh and feel super soft, it is time to get hold of all the things you will need to make sure that your lipstick looks absolutely perfect. You might be thinking right about now- "But I just need my lipstick, right?" You do need your lipstick, of course, but when you have dark lips, making the color pop on your mouth is a little more complicated that it would have been, if you had pale lips. Here is everything you need to make sure do a professional job of applying your lipstick.
Concealer
Lip liner
Setting powder
Lipstick
Beauty blender
Lipstick brush (the thin kind)
Your Step-By-Step Guide
If you are worried about the list being too long, don't worry about it. Every single thing on this list contributes to making your lips look super rad, and make that color pop on you like the sun, and yes, no matter what color it is, you can rock it if you have dark lips. Here is your comprehensive step-by-step tutorial on applying lipstick on dark lips like a boss.
1. Put concealer 
This is the first and most important step for those people who have dark lips and are also obsessed with lipstick. The dark pigmentation on your lips can change the color or the actual shade of the lipstick, which is something you don't really want. For example, it can make a bright, cherry red like Ruby Woo appear a little brown. To highlight the original color of the lipstick, prime your lips with a little concealer, so that you have a neutral base to work on, and your lipstick pops much more.
2. Setting powder
Step two is brushing your lips with a couple of dabs of setting powder. This not only helps neutralize the concealer, but it also works wonders in keeping your lipstick looking flawless for hours. Setting powder also helps things like gloss and liquid lipstick and matte lipstick dry super fast, and gives you a smooth, workable base. Use a beauty blender for the concealer as well as the setting powder, so that you have a great base for your lipstick.
3. Line your lips
The sole purpose of lining your lips is to ensure that the actual application of the lipstick is smooth and easy. If you are feeling ambitious, you can even overdraw a little to give the illusion of bigger, plumper lips. This is the advantage of dark lips, because the difference between the overdrawn line and the actual lip line is not that evident. After drawing the border, draw a little cross on your cupid's bow and then fill out your bottom lip with the liner.
4. Go nuts with the lipstick
Once you have the base ready to work with, use whatever lipstick you want to make your lips look like the absolute bomb! If you have an unconventional lipstick shade, and can't find a matching liner, just use a clear one. If you are looking for a nude lipstick to match your skin tone, go towards darker browns and beige shades, rather than the pale pinks, which are suitable for those with pale skin. The more popping and eye catching the color (like red and pinks and oranges) the more striking and bold your look will be! For easier application, you can use a thin, angular brush for a more precise and even application, if you are just starting out on your lipstick adventures.
5. Conceal some more
The final step is to dab a little concealer around your lips, so that the chances of bleeding and lipstick getting all over your face, no matter how much action you get, it totally eliminated. However, before you do that, make sure you get the excess lipstick off with a paper towel pressed between your lips which also helps your color dry faster.
Some Handy Tips
Once you get your lipstick on, and you are totally feeling those glam vibes, check out these extra handy tips to ensure that you own your lipstick every time you decide to put on lippie.
# You can wear bold colors on your lips and eyes
Since forever, people have been trying to tell girls with dark skin and lips that bold colors on your eyes and lips at the same time is a big no-no. However, that rule is now an ancient myth, because you can totally rock neon on multiple parts of your face at the same time. No matter what color you choose, you can go all out with your eye-makeup as well, and look classy.
# The trick to a popping lip color is the right concealer
To make even the lightest colors pop on your lips in their original hue, choose a concealer that is at least three shades lighter than your skin tone, so that, you have a more workable base, without the fear of changing the color of the lipstick, and making our lips look blotched.
---
Suggested read: A Step-By-Step Guide On How To Wear Matte Lipstick Like A Diva
---
# Wipe off excess product, especially when it is glossy
You can work any shade and texture on your lips, including matte, glossy and anything else that lipstick comes in. However, the moment you apply your lipstick, make sure that you wipe off, or pat off the excess product from your lips, so that it doesn't look too garish, and you can make your lipstick last longer at the same time.
Even though applying lipstick on dark lips takes a teensy bit more of extra effort, it makes you look more gorgeous and stunning, and once you master the basics of how to apply lipstick on those dusky lips, you can basically pull off any look from your style diary.
Featured image source: Instagram
Summary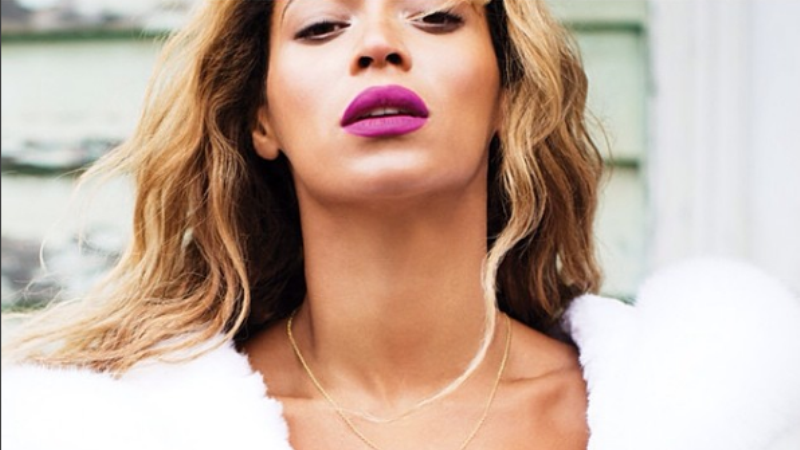 Article Name
The Ultimate Tutorial On How To Apply Lipstick On Dark Lips
Author
Description
If you have dark lips, don't worry about a drab lipstick look. Here is the only guide you need on how to apply lipstick on dark lips and rock the look!