There are a thousand rules in place when it comes to wearing dark lipstick. You can't wear it during the day, you can't wear it if you are wearing a certain kind of clothes, you can't wear it in certain places, you have to keep a thousand guidelines in mind depending on your skin color. Well, let me tell you something. All those rules can go out of the window because you can rock a dark mouth, as long as you know how to apply dark lipstick like a pro.
Whether it is during the day, or in any other situation really, you can wear dark lipstick with ease. One of the reasons people seem to stick to a basic red or pink is because they are afraid dark shades like plum or brown or rich berry would make them look goth. Even though you have a dark lipstick shade that looks totally amazing on you, you might be hesitating because you aren't sure how to get the look right. Here is the ultimate guide on how to apply dark lipstick, so that you can rock a sultry, dark lip, anytime and anywhere.
---
Suggested read: Dark Lips Don't Care! A Step-By-Step Guide On How To Apply Lipstick On Dark Lips
---
PREP YOUR LIPS
Before you can start achieving that super cool vampy look with your dark lipstick, you have to make sure that your lips are prepped for your lipstick. Dry, chapped lips can make your lipstick look patchy. This is especially a problem when you have dark lipstick, because it emphasizes the fine lines and grooves in your lips, and dry and dead cells can make your lips look all botched up. To prep your lips, here are the steps you need to follow:
STEP 1: Exfoliation
The first step is exfoliating your lips, so that all the dead skin cells are gotten rid of, and you are left with a soft base to work on. You can use an exfoliating scrub to get soft lips. You can either buy this, or make a DIY one with some sugar, olive oil and honey and vanilla. Alternatively, you can also use a soft-bristles toothbrush or an old mascara wand and rub it in circles on your lips, so that the dead cells are effectively removed.
STEP 2: Cleansing
After you have subjected your lips to so much rigorous exfoliation, it is time to  ensure that the blood circulation to your lips goes back to normal, and any residue left behind is removed, so that you are left with soft, pink lips to work with. You can cleanse your lips with a refreshing cream, or you can also use natural cleansers like coconut oil, apple cider vinegar, etc. which work wonders in washing your lips and cleansing them, with good effect.
STEP 3: Moisturizing
The third step is to moisturize your lips, which is the most important step. Moisturizing help lock in moisture in your lips, so that no matter what the formula of your lipstick is, your lips don't dry out during the course of the day. You can use over-the-counter moisturizers, or you can also dab a little petroleum jelly, which works as an excellent moisturizer for your lips.
STEP 4: Lip balm
After you have exfoliated, cleansed and, moisturized your, the final step is to dab on a little lip balm, to lock in the moisturizer and create a smooth, soft base for the rest of your makeup. If you have put on excess lip balm, take a clean paper towel and dab it on your lips to remove the excess, because a thin film is more than enough to protect your lips from the makeup, without drying them out.
THINGS YOU WILL NEED
Apart from your gorgeous dark lipstick, here are things you will need, in order to fully understand how to apply dark lipstick. Because the color in dark lipstick is so bold and sensitive, you have to ensure that you apply it on the right base and in the right way, so that the real color can pop on your face. Here are the things you will need to make your dark lipstick look super glam.
Concealer
Foundation
Lipstick brush
Lip liner
Beauty blender
Lipstick
---
Suggested read: 15 Gorgeous Matte Lipstick Shades You Simply Can't Do Without!
---
After you have gathered your paraphernalia, it is time to dive straight into the lipstick applying process, which is a little time consuming, but once you get the hang of it, it promises to be super rewarding, with impeccable results.
APPLYING DARK LIPSTICK
1. Apply concealer
Concealer is a very important step when you are trying to figure out how to make dark lipstick look dank. The purpose of applying concealer to your lips is to ensure that the natural color of your lip doesn't interfere with the pigment of the lipstick. It also prevents your lipstick from shifting around during the course of the day, so that you don't have to worry about common lipstick problems like bleeding.
2. Apply foundation
The second step is to apply foundation on your lips, the same shade as the one you use for the rest of your face. This ensures that your dark lipstick retains its original color, and also removes all the lines and creases which may get in the way of a smooth application. Even though you can kind of ignore this step, it is still an extra precaution to ensure that your lipstick looks flawless.
3. Line your lips
The most important thing is to line your lips properly. Once you have applied concealer and foundation, use a liner as close to your lipstick shade as possible. Nude lipstick and lipstick in lighter shades can do without lip liner some times because of the pale color, which isn't as obvious when it bleeds. Dark lipstick, however, needs to be regulated carefully, which why you need to line your lips. After lining the natural border of your lips, make a tiny cross on your cupid's bow, so that your lipstick has a structure. It also makes your cupid's bow look more pronounced.
4. Fill in your lips
Filling in your lips with liner is the next step in applying dark lipstick. This not only creates a stable base for your lipstick, and helps it glide on more easily, but it also makes the color more intense and beautiful. Applying liner on the plump parts of your lips also gives the illusion of making it look bigger, after which you can blend it in.
5. Put on your favorite dark lipstick
Now take your favorite dark lipstick and apply it. Start from the center of your lips and move gently towards the edges, so that you don't drag your lips too much. Follow the structure you made with your liner, for the perfect, smooth application. When you applying, make sure your lips are taut, so that lipstick gets to all the grooves and lines on your lips.
6. Blot the extra lip color
After you have applied it, press a paper towel to your mouth and take of the extra top layer of lipstick, which might shift around and stain your face or clothes or other things during the day. This leaves a layer of firm lipstick.
7. Put on your lipstick again
After removing the excess, put on a second layer of lipstick, just so that you have an extra dependable layer to make your lipstick look dark, deep and intense, even after several hours of rigorous mouth action throughout the day. When you are putting on the second layer, don't press too hard on your lips, otherwise you might get too much on again.
8. Use the finger trick to remove excess lipstick
When you are wearing dark lipstick, the chances of bleeding and staining increases manifold, mostly because it is pretty evident when dark lipstick gets somewhere else. The most common accident that could happen is dark lipstick on your teeth, so to avoid it, pop a finger in your mouth and gently pull is out, so that the excess lipstick, which would have otherwise gotten on your teeth, is now on your finger.
9. Touch up your edges
After you have your lipstick on and you are ready to go, use your thin lipstick brush to drag it across the edges of your lips, to pick up any extra lipstick that might leak or get on your face, beyond the lining of your lips. You can also use a bit of concealer to seal the edges, and make sure that your lipstick looks fabulous throughout the day!
---
Suggested read: A Step-By-Step Guide On How To Wear Matte Lipstick Like A Diva
---
HANDY TIPS FOR DARK LIPSTICK
If you want to rock a dark lipstick during the day, keep your eye makeup minimal, with a teensy bit of mascara and some liner.
Dark lipstick doesn't necessarily mean goth, and it is better if you avoid black lipstick, because that ceased to be "dark lipstick" in 2007.
Use a little translucent powder to make your lips look matte and to help your lipstick last longer.
Try to avoid adding even more lip gloss to your dark lipstick, because it would draw too much attention to your lips, and make your look slightly garish.
Now that you are equipped to handle practically any situation with your dark lipstick, there is no reason you shouldn't be rocking it in any place and time that you feel like!
Feature image source: Google, copyright-free image, under Creative Commons License
Summary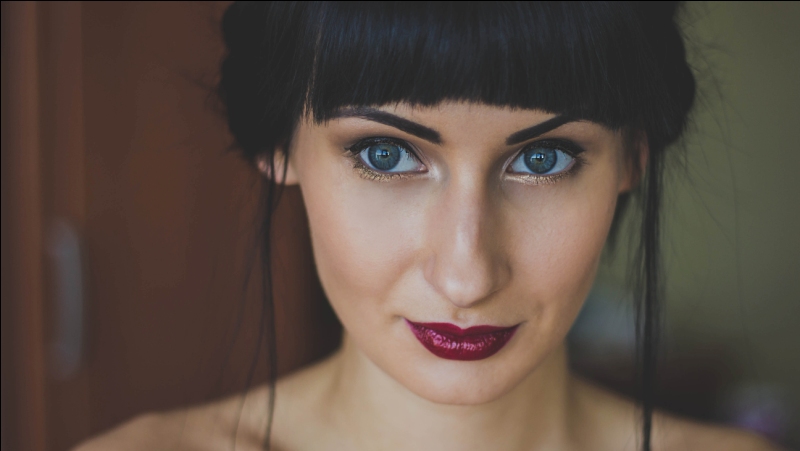 Article Name
The Complete Guide On How To Apply Dark Lipstick Like An Expert
Author
Description
Check out the ultimate guide on how to apply dark lipstick, so that you look like the queen that you are, anytime, anywhere.