A wedding dress is one of the first things that a bride shops for, lest she doesn't find the 'right' one in time. But if you are a wedding dress designer yourself, then you can design a masterpiece for yourself. That is exactly what this young bride did. Here are the details.
Cheryl McGlynn, 24, runs her own wedding dress business, Cheryl Holmstrom Bespoke. This mother of one, apparently spent more than six months to plan, design, and to finally create her true work of art wedding dress, for her wedding to fiancé Joel, 25, who is a HGV driver. Cheryl spent a whopping 200 hours to hand stitch 22,000 individual goose feathers onto her wedding dress, and the task took her about a fortnight's worth of work – day and night. The feathers apparently cost a whopping £1,200, but the result is a true stunner.
Since she didn't trust another designer to create the masterpiece she wanted to wear for her wedding, she designed and created it herself. She estimates that if she had designed the same dress for a client, it would have cost more than £7,000. And while she worked on her dress, she also managed to continue working, and designed and made dresses for other brides-to-be.
The one-of-a-kind dress has a tight corset-style bodice which was all hand-embroidered by Cheryl, which gracefully flows down to the stunning train consisting of the hand-sewn goose feathers. To add an extra personal touch to the dress, Cheryl also embroidered hers and hers husband's names in the back of the dress.
Apart from creating the amazing dress, she also made a beautiful 18th century inspired dress for her two-year-old daughter, Honey, plus three bridesmaids' dresses for her sister Geri, her cousin and friend, both of whom are called Hannah.
Cheryl said,
"I worked hard day and night without stopping for weeks before the wedding to make sure everything was right. I just hid up in my little sewing room and got stuck in. I had to hand stitch each of the 22,000 goose feathers, which I made sure I got from a UK supplier."
Speaking of her inspiration for her wedding dress, Cheryl said,
"My final piece in my Art and Design degree was based on Swan Lake and when I graduated and Joel proposed, I've been obsessed with feathers and knew I wanted to have them on my wedding dress."
She further added,
"I wanted it to be a winter wedding because Joel popped the question on Christmas Day in 2011. The dress had to have a winter theme but I wanted it to be extravagant because it reflects my personality perfectly. It is a unique piece. I don't know any other designer around here that works so intricately with feathers. I had to make my own wedding dress, it's always been my dream."
The wedding took place in St Cuthbert's church in Middlesbrough on December 5th, 2014, while the reception was held at Rushpool Hall in Saltburn-by-the-sea.
The Cleveland College of Art and Design (CCAD) graduate said,
"It was a lot of work, but a great feeling to finally get it on, I felt like a princess. It was so much work that I felt really overwhelmed when I was walking down the aisle. I was still working on my head piece the night before. But I was almost crying on the day because I spilt wine all down the front of it!"
Well, whatever happened after the ceremony, this lady has created a true work of art in her stunning wedding dress. Our hearty congratulations to the newlyweds!
Summary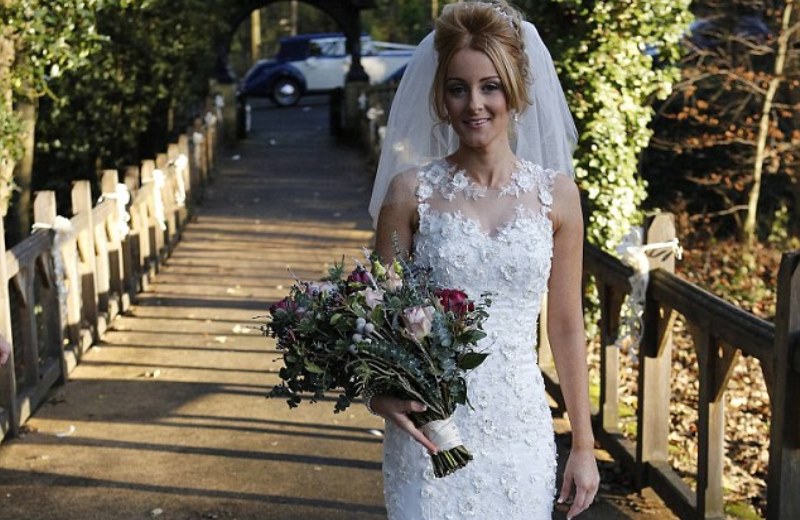 Article Name
Bride spends 200 hours creating her wedding dress
Author
Description
This bride from Middlesbrough spent a whopping 200 hours creating her masterpiece of a wedding dress. Read on to know more about the stunning dress.