The MTV Video Music Awards aka VMAs, have always been one helluva eye-popping event. The red carpet at this event always gets to see a lot of mesh, plenty of sheer, a whole lot of sequins, and the continual click clack of stilettos! This year, though, got to see a a lot of flesh flashed! And how!
From the 'Wrecking Ball' singer/host Miley Cyrus delivering her no-holds-barred promise by arriving in a chandelier loincloth to the fringed concoction that made Chrissy Teigen look double delicious, the red carpet has seen it, felt it, and is, perhaps, still sweating it out from the heat!
---
Suggested read: Chrissy Teigen Instagram: A model and foodie
---
So, without further ado, let's take a look at the bold and the bad, the wild and the weird, the sexy and the seriously(?) dresses that our favorite celebs wore to the MTV VMAs 2015. And don't forget, we are telling you which of our Desi sirens would have rocked the look in our book:
1. Miley Cyrus
Image source: Getty Images
And this list couldn't have had a better start. The most WTF dresses at the event were sported by the 22-year-old popstar who dressed as unapologetically as possible. Arriving at the event in an outfit that remained suspended by metallic silver suspenders (which, FYI, was her top), she had a crystal skirt that left little to the imagination. Not to mention the whopping 10-outfit changes throughout the course of the show – which could, very well in my opinion, be labelled 'what were you thinking!'
The Bollywood diva who could actually pull off this whacky style is perhaps, the Queen who cares little for all else, Kangana Ranaut! But seriously, Miley, what were you thinking?
And for those of you who were wondering how much more worse it could have gotten, we couldn't resist bringing you everything from the multicolored neon bolero to the n*pple tassels and everything Miley cared to put on (or drop off) in between!
Image source: Getty Images
2. Britney Spears
Image source: Getty Images
Britney sported a low-cut gold dress that seemed inches away from a malfunction similar to Cyrus' own nip-slip, for she had pushed her boobs as high as they'd volunteer to go and seemed not too worried about her bottom balls sneaking out to say Hi to the audiences. Of course, she defied the number that is her age in the number that hardly covered her form – but standing in that 'attention' position to pose for snappers was not very Britney, Britney! We wanted some more…
If there is someone in Bollywood to have pulled off this look effortlessly, it is our own 33-year-old international singer-actor-icon Piggy Chops! For who else to match Britney, isn't it?
3. Chrissy Teigen
Image source: Getty Images
For what could very well be tagged a fashionable nightie, Teigen made the risk risque, and how! The sheer tulle, lace, and fringe concoction in black was a bold way to say she's got it and knows just HOW to flaunt it. A good dose of side b**b and a sneak-peek into the inner thigh, this was the delicate naked dress that teased and gratified at once! Assuming it wasn't windy, of course. 😉
And I can think of no other Bolly-babe to have done this gorgeous number justice than the leggy lass we all love, though a tad bit less than a certain Kapoor lad, Katrina Kaif!
4. Kim Kardashian
Image source: Getty Images
Like it or not, Kim K is not to be missed. The khaki gold floor-length maternity number was perhaps, the sexiest way she could have flaunted the curves that a certain rapper has injected into her! The oversized pockets, the lattice front and the sharp shoulders kind of rev up the racy quotient by notches. Only Kanye doesn't quite make the cut for an awards night in a raggedy ole sweater and scrunched up joggers – and therefore, does well to hide behind his glam-doll wify!
As for the desi diva who can pull off the curvilicious number with oomph, I'd have to give it up for the Dabangg Sona. So, Sonakshi Sinha it is!
5. Nicki Minaj
Image source: Getty Images
If there was a golden girl at the event, Nicki Minaj was her! Looking straight-off descended from heavens, the golden beauty was a treat to the eyes, and ahem! Her sheer gown by La Bourjoisie was the perfect complement to her subtle makeup and simple hairdo. Add to it that killer expression and we bet a thousand hearts were pierced!
And there is only one woman in the industry who can be as sexy-licious as Nicki and we know her as Bebo. Kareena Kapoor Khan can slide into that gorgeous gold gown and claim the hearts of a million with one look!
---
Suggested read: Gigi Hadid Instagram: All of twenty, talents aplenty!
---
6. Gigi Hadid
Image source: Getty Images
This gorgeous beauty donned an Emilia Wickstead tangerine and looked quite the beautiful babe in that enviable tan, just the right amount of Ronseal glaze and ohh – the 'bronde' hair!! While the dress might have looked like a custardy maxi over swimmers on anybody else, this gorgeous girl of twenty pulls it off with oomph aplenty!
And the only dusky babe I think could pull off the number in our industry would be Bipasha Bipasha… okay, no singing… but Bipasha Basu it is.
7. Rita Ora
Image source: Getty Images
For a day that was booby-licious by any measure, this lady had a big hand in the tag. Baring her cleavage in a strappy top with a wide, feathery skirt slit on the side, the queen of cleavage pulled off a bold black avatar with her tight pulled-back hairdo and an exponential twist on the drama quotient with the most seductive poses for the shutterbugs!
And I would be darned if I gave this drama-TIC look to anybody else than Sonam Kapoor. She'd rock the look with perhaps, a more Gothic makeup, or at least, heightened smoky look and tower way more than Ora did in those stilettos and surprise us with additions that Ora's stylists missed out on!
8. Lily Aldridge
Image source: Getty Images
The woman took the plunge in a plunging neckline and tie-back black gown, and it seemed like she was quite the mascot of Taylor Swift's Bad Blood squad. With nude makeup and a killer smile, she seemed well on her way to a fleshdom as equal to those of her star pals at the event.
And we'd have to say we'd give this plunging neckline to Deepika Padukone! After all, after Malaika, she is the one who can flaunt it, own it, and call out the journalists who use her necklines to sell stories too! You rock, Deepika!
9. FKA Twigs
Image source: Getty Images
If Robert Pattinson were a vampire in real life, FKA Twigs would have been a werewolf girlfriend. No, wait a minute, she already is. Strike out the werewolf bit, though! 😛 Shocking one and all, as is custom for her, she came to the event in a strappy black leotard and sheer skirt with red lips and a head full of curls!
And I can think of nobody in Bollywood in a black outfit like this and red lips as these – to rock and not shock – than Jacqueline Fernandez! That girl's got it!
10. Taylor Swift
Image source: Getty Images
This was a surprise. Taylor Swift moved away from her floor-length chiffon numbers in block hues for the love of sequins and elasticated bands – but well, with those abs, the killer Cleopatra liner, and the sideswept pony, we aren't complaining.
Alia Bhatt, you could take this on, no? Although we do think you have better taste!
Bonus Lady – Rosci Diaz
Image Source: Getty Images
We spotted TV personality Rocsi Diaz sporting another flash-the-flesh black pencil number and couldn't help but notice the uncanny resemblance to the way a certain Baby Doll in the industry dresses. And hell, you know who I am talking of… so Sunny, Sunny, Sunny, Sunny, Sunny, Sunny, Sunny… Leone!
---
Suggested read: Miranda Kerr Instagram: Pretty angel from Down Under
---
Okay, okay, no singing.
Do you agree with our list? If not, tell us which Bollywood actress you think could have carried the look better? There's a comments section right below!
Featured image source: Getty Images
Summary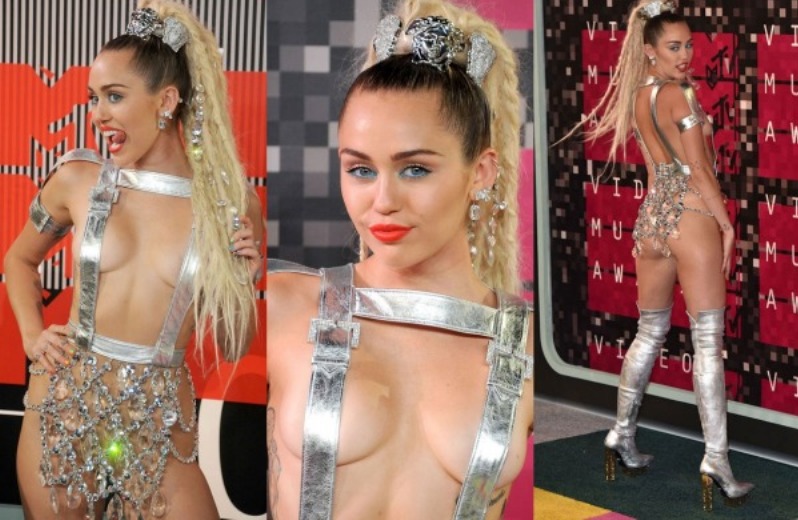 Article Name
MTV VMAs 2015: Desi Divas Who Could Have Pulled Off These Red Carpet Dresses
Author
Description
The MTV VMAs 2015 was quite the flash-the-flesh event. Celebrities dared to bare so much that we couldn't help re-imagine a Bollywood version.