Teenage physician Doogie Howser, M.D., a.k.a legen-wait for it-dary Barney Stinson, a.k.a Neil Patrick Harris, has married his partner of a decade, chef David Burtka, in a private ceremony in Italy over the weekend. As he often does, Neil took to social media to confirm the happy news.
He tweeted, "Guess what? @DavidBurtka and I got married over the weekend. In Italy. Yup, we put the 'n' and 'd' in 'husband'."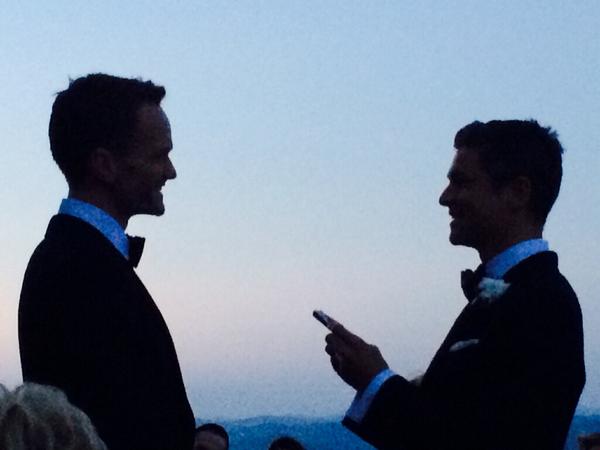 Neil Patrick Harris and David Burtka saying their wedding vows
Neil, 41, and David, 39, have been together for the last 10 years. And the couple is proud dads to three-and-a-half-year-old twins Harper Grace and Gideon Scott. While they announced their engagement in May 2011 after the Marriage Equality Act was passed in New York, apparently, the couple was engaged five years prior, and had "been wearing engagement rings for ages."
The grooms were dressed in impeccable custom Tom Ford tuxedos. And guess who officiated the ceremony? Pam Fryman, producer and director of How I Met Your Mother, of which Harris was a part of, for 9 years. And the wedding entertainment was provided by none other than the legendary performer Elton John.
The happy news was confirmed by a rep for Harris as well, stating, "We happily confirm that Neil Patrick Harris and David Burtka were married in Italy in an intimate ceremony surrounded by their close friends and family."
Neil Patrick Harris came out of the proverbial closet in November of 2006 with a statement: "I am happy to dispel any rumors or misconceptions and am quite proud to say that I am a very content gay man living my life to the fullest and feel most fortunate to be working with wonderful people in the business I love."
In September 2007, Harris attended the Emmys with his fiancé Burtka, later confirming the relationship, which he said began in 2004.
In 2012, Burtka said that they were a very "co-dependent" couple. "He's my lifeline, in an amazing way. Without him, I can't breathe," Burtka said. "The biggest thing is that he makes me laugh."
Awww!
Is there anything sweeter than this?
Summary
Article Name
Neil Patrick Harris & David Burtka say 'I do'
Author
Description
Neil Patrick Harris a.k.a Barney Stinson, has married his partner of 10 years, chef David Burtka, in a private ceremony in Italy.