The public may still be out on whether or not this Kapoor has the right acting chops but there is no opposite faction when one talks of Sonam Kapoor and style! Fashion and Sonam Kapoor are synonymous in our books and why won't they be- after all, the Kapoor diva who hails Hepburn to be her style icon- never makes a faux pas. Ever. And when there is so much gorgeousness in and around her all the time, it becomes really, really hard to not go green with envy that we aren't her! After all we want some Rhea Kapoor, some Abu Jani and Sandeep Khosla, some Anamika Khanna, some Ellie Saab love too. And more!
But alas! At least, we can pick some looks of the sexy Sonam Kapoor we really, really want – like right NOW:
1. Because when you are at the Mecca of fashion, you have to be fashion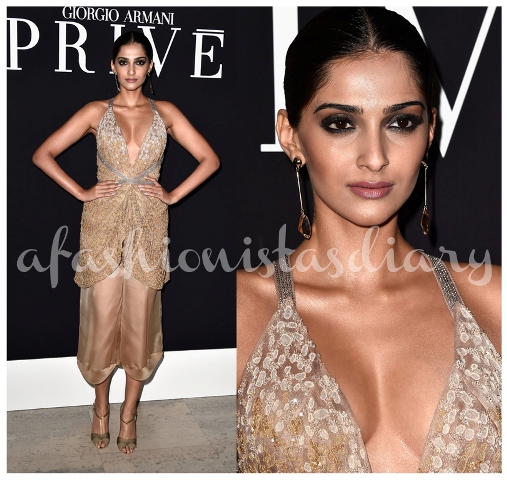 Image source: Afashionista'sdiary
Like I averred earlier, Sonam=fashion and vice versa. Proving it at one of her most recent appearances at Paris, Sonam attended the Paris Couture Week 2015 with her head held high in a front-row suit, draped in some champagne colored love from Armani's spring collection. And the proof of just how gorgeous she looked in that tulip hem dress- her meeting and consequent shoot with Vogue that hasn't stopped burning the mag stands!
---
Suggested read: Deepika Padukone, the dazzling diva who always looks fabulous
---
2. Coz traditional is good with modish vibes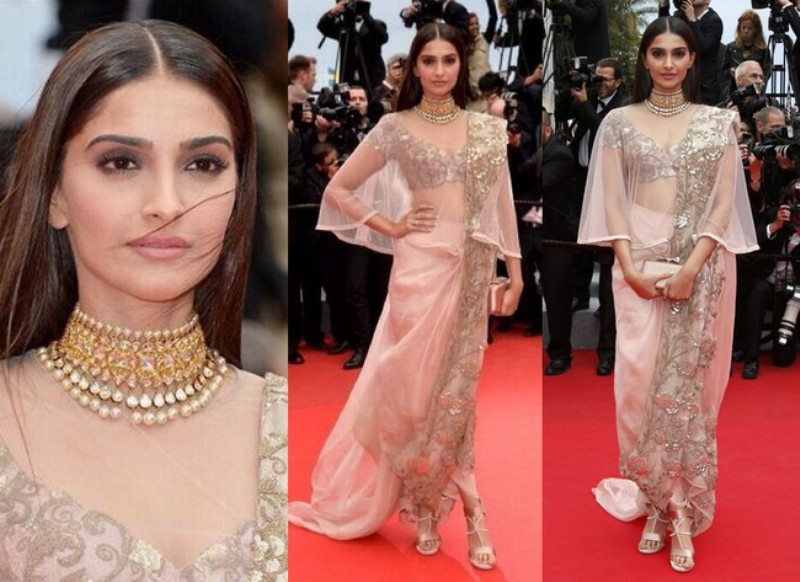 Image source: indiatimes
If there is one look of Sonam Kapoor that made me go green with envy- it was her pretty-licious avatar at Cannes last year. Draped in a modified saree by Anamika Khanna, with her tresses let straight down and just the right xing of bling in the gorgeous choker, she made me believe in how 'pretty in pink' comes alive.
3. Trust Sonam to be differenttttt!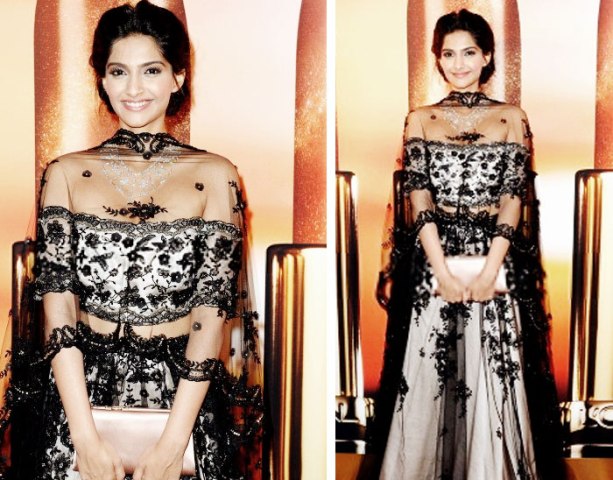 Image source: vegmomos
Just when everybody was dabbling in the theme of reconstructed Indian ethnic- putting on large nose rings and sticking to yesteryear motifs, Sonam took the soiree at Cannes in 2014 to come up with her distinctive style of going through this renaissance of sorts. Draped in a Shehlaa Khan ivory silk lehenga laced with black, she made heads turn with that sheer shrug sitting across her bronzed shoulders and those Chopard diamonds adding just the finishing touch to her picture-perfect look.
4. As pretty as pink gets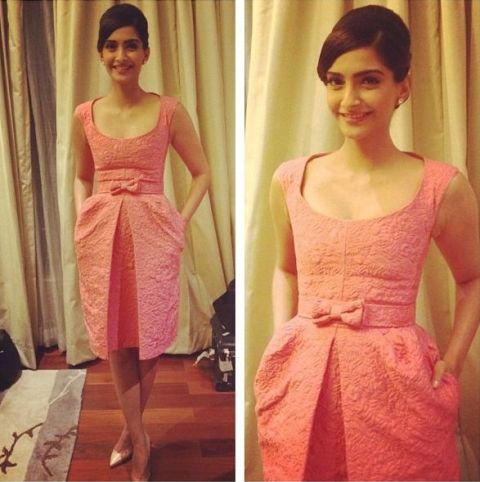 Image source: Pinterest
If cuteness were a person, she'd probably relinquish her name to this beauty here. The unbeatable prettiness of pink, the added magic of a fabulous retro hairdo and the final touch with that lovely style of hers- what is this if not a Sonam-special perfection!
5. Rewind to 2011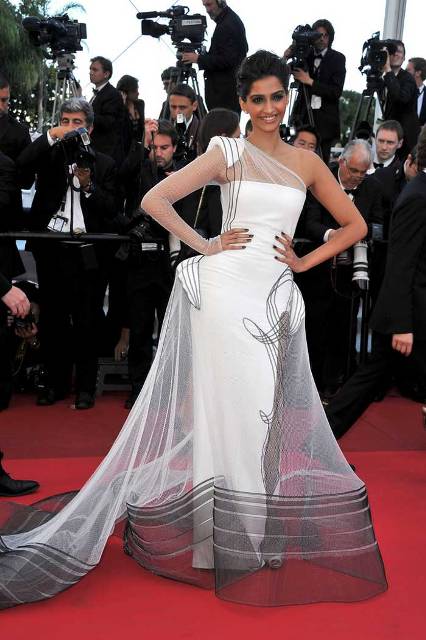 Image source: indianexpress
Look at all that panache. For a debut at a star-studded event (and yes, we are talking Cannes), Sonam stole the show walking tall and royal in that Jean Paul Gaultier couture gown. Ohh- the black and white classic beauty!
6. Bling, bling – xing!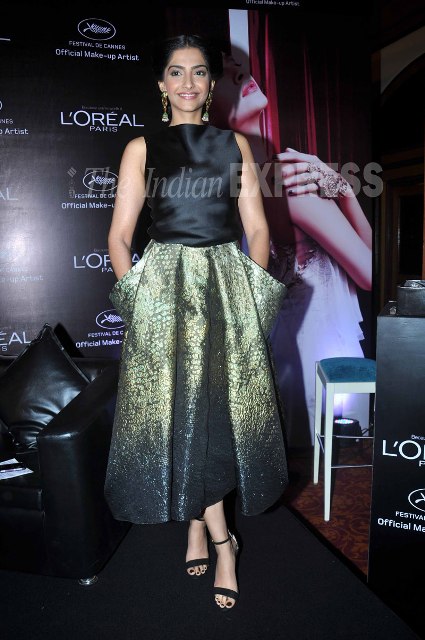 Image source: indianexpress
The Armani prive dress of the fashionista here makes you envy all the shimmer you ever collected. Coz when you pit it against Sonam's immaculate choice of a black bodice number with that radiant shimmery skirt, teamed with those beautiful earrings, you think and think and think- what the hell did you know of bling- ever?!?
7. A classic diva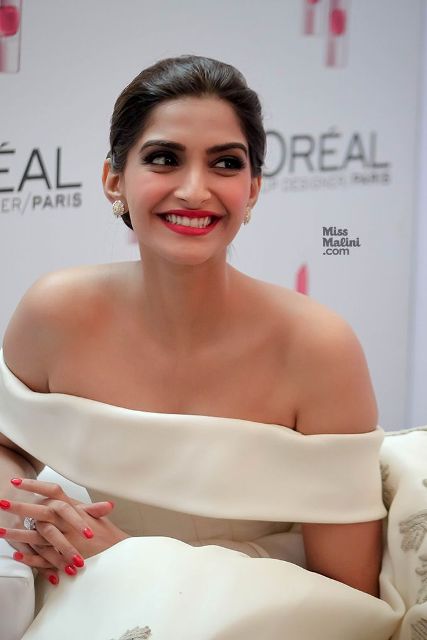 Image source: Pinterest
This beautiful glance with those smoky-dreamy eyes is one of the most perfect of Sonam looks. The way she accentuates the lovely subtleness of her dress with the vibrant red of her smile perfect lips and lovely nails, make you fall in love with the look instantly.
8. The playful magic in red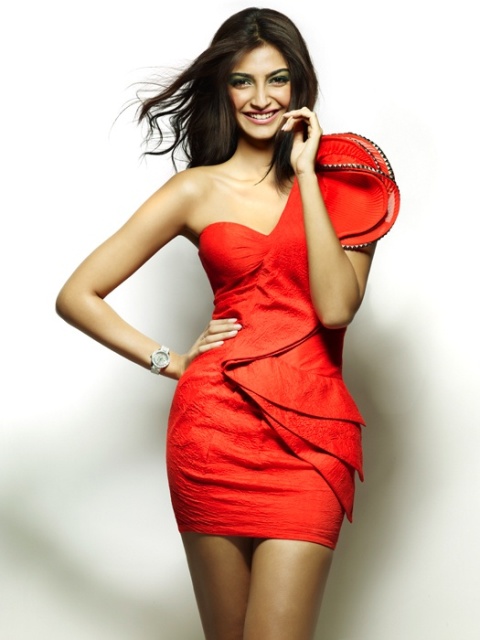 Image source: Pinterest
Just check out the playfulness with which she is carrying that awesome body-hugging red beauty. She perfects this look with that exciting green tint on her dreamy eyes and that bold move with that lovely watch doesn't go unnoticed at all! Sonam, can you give us some tuitions or something?
9. The beauty from the 60s… and not quite…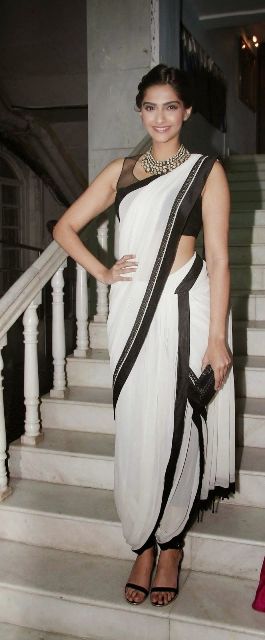 Image source: Pinterest
This outfit brought back the immaculate heart throbbing prettiness from the black and white era- with a modish touch that was all too-Sonam. The beautiful pink of her just right makeup and the way she plays her unique twist with the drape of the saree, this look is certainly a Bollywood party-perfect choice.
---
Suggested read: Kangana Ranaut's style evolution from Gangster to Katti Batti
---
10. Desi diva…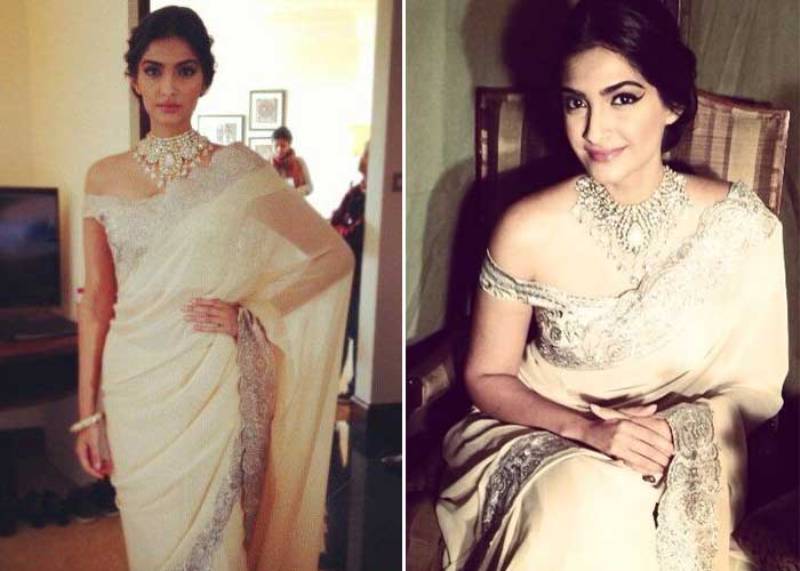 Image source: indianexpress
Coz we couldn't bring down the curtain without one 'complete-ly' traditional look of our lovely Kapoor siren. And here it is- the super-sexy and gorgeous Sonam Kapoor wrapped in a Suneet Verma saree, sporting a heavy kundan and diamond necklace set against her off-shoulder blouse. Don't miss the winged eye-liner! Is this ethereal beauty or what?
Trust me, that was a tough job! Top 10 of SONAM KAPOOR looks- Phew!
Featured image source: indianexpress
Summary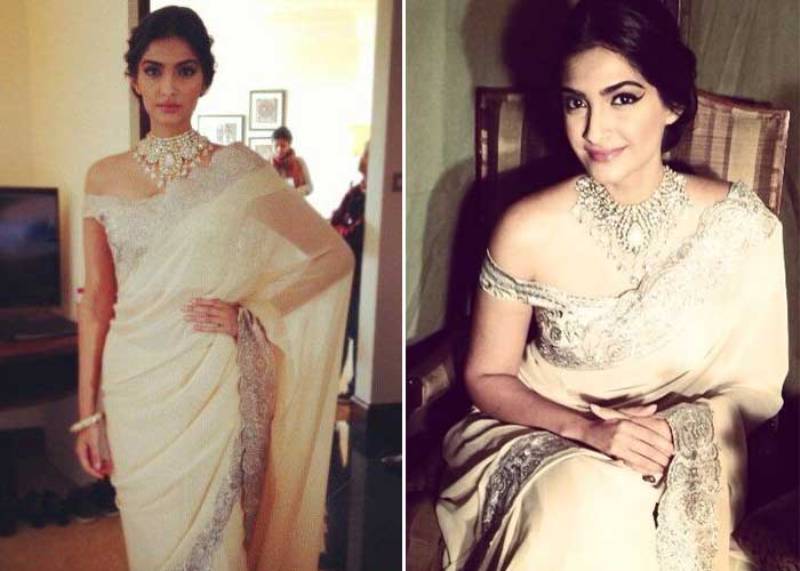 Article Name
10 Times Sonam Kapoor Made All Girls Want To Be Her
Author
Description
Sonam Kapoor = Fashion! Period!