What is Valentine's Day all about? Love, a celebration of it, a declaration of it? Well, yes, but what's more important is narrowing in on the red dress you will be wearing that day, the makeup you will be applying, and whether the final look is exactly like what you had imagined all along. Yes, that is no mean feat, and we get it. So here we are to help you with all that and more, this Valentine's Day.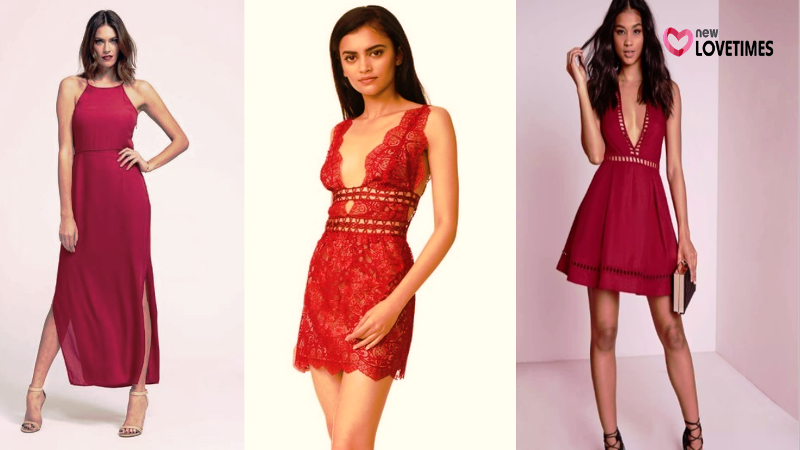 Before we get into the makeup beatdowns you can try your hands on and the 'ready-to-wear' Valentine's Day looks, for this season, let us help you pick the right red dress; yes, LBD, take a hike! From that sultry red slip dress that you can wear to an all-night-out V-Day date to the shift dress you can pick for a Galentine's evening, we have them all covered!
---
Suggested read: 15 red lingerie sets you can wear way past Valentine's Day
---
7 Red Dresses That Straight-Up Slay
1. The Paper Crown Francesca Dress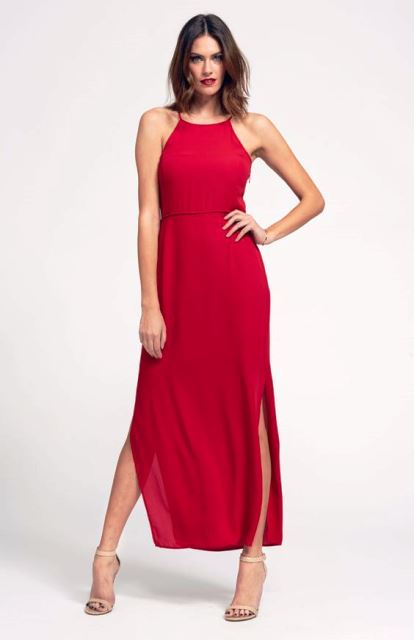 Image source: paper-crown
If you want to look like you are dressed for the Gods, this should be your pick. A red, halter maxi with side slits, shows just the amount you want him to see! 😉 Top it off with a nude ankle strap sandals, and you are ready to rock-n-roll!
2. Tobi Heart Flutters Shift Dress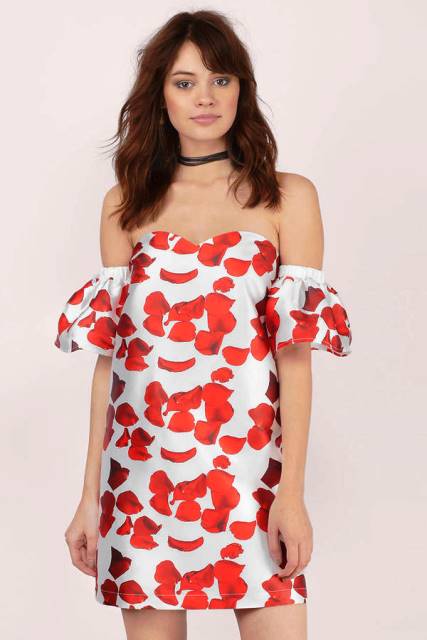 Image source: Toby
Are you the Queen of Hearts? Then, my friend, you need the Tobi Heart Flutters Shift Dress NOW. Like you can see, it has a rose petal print making it oh-so-charming! Expect it to be the conversation starter once you hit the dance-floor.
3. Forever 21 Contemporary Cami Crop TopAnd A-Line Skirt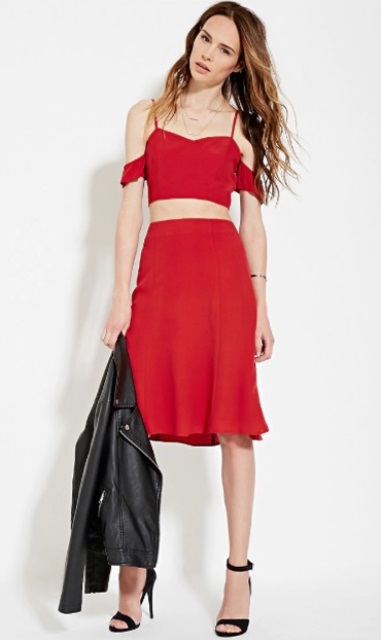 Image source: Forever21
If you want to T-Swizzle your way into someone's heart, tonight, you should put on the Contemporary Cami Crop Top and team it up with an A-Line Skirt, both from Forever 21.
Pro tip: To edge up the look by just a notch, toss on a leather jacket, and turn heads, like a goddess!
4. Reformation Slip Dress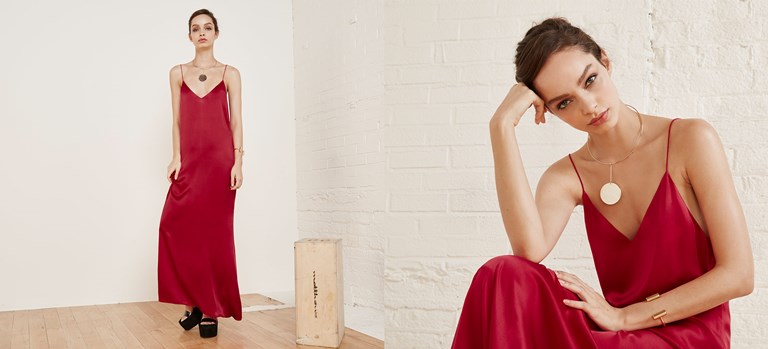 Image source: thereformation
Though V-Day is on a Tuesday, this year, we are sure you want to channelize the lazy jenny in you, and so, this slip dress helps you with lounging through the day!
5. NBD I'm Back Dress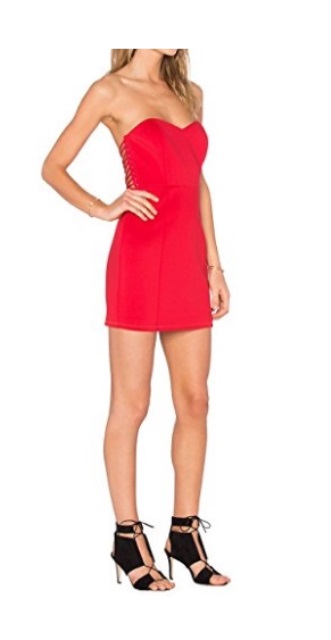 Image source: Amazon
 It does not matter whether you and your partner have been together for a month, a year or a decade for now, this strapless dress will not disappoint either of you!
If you guys are in for a hot date night, you should embrace the bodycon silhouette and show some skin at the back! To rev up the mix, throw in lace-up steppers, and take on the night!
6. Missguided Plunge Ladder Detail Skater Dress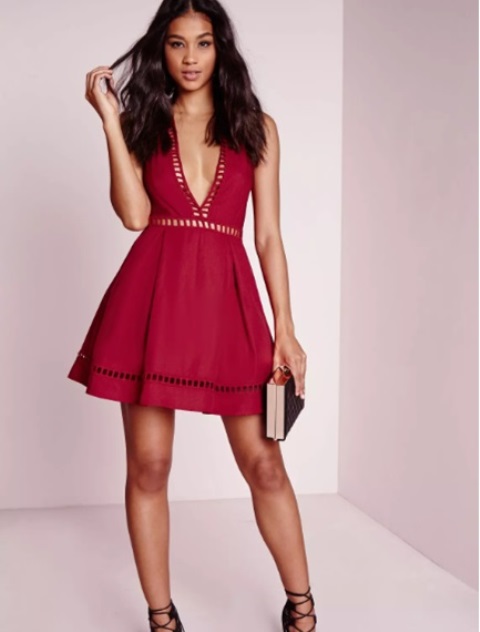 Image source: missguided
 A bubbly fit-and-flare dress sounds fun, right? Then, you should give this Skater Dress a twirl! Go easy on bling, since the plunging neckline speaks for itself; a pair of oversized hoop earrings is all you need to start the party.
7. For Love & Lemons San Marcos Mini Dress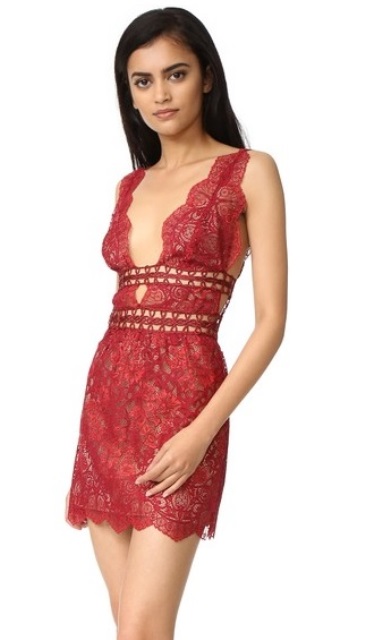 Image source: shopbop
Go (B)old with this vintage-like lacey mini dress, this Valentine's Day. To amp up the flirty peplum, you can get yourself a crystal ear cuff and a pair of classy pumps.
Makeup looks to take a crack at, this V-Day
Here are some MU looks created by professionals who know just what you need this Valentine's Day.
1. A summer romance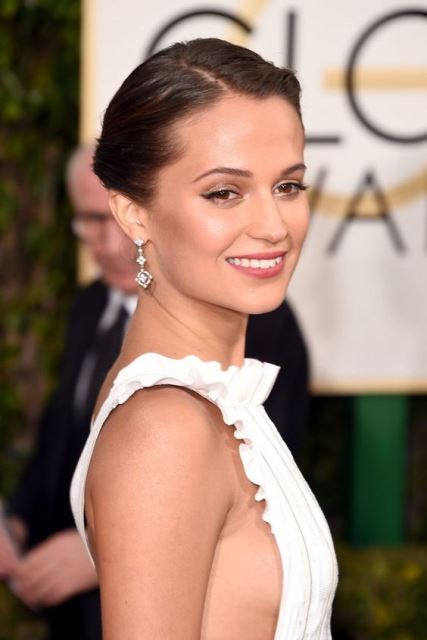 Image source: Pinterest
If subtle is your makeup game, you need to add just the right amount of luster without looking like a disco ball. Go for soft, nude shades that are close to your complexion as well as your lip color.  Apply golden taupe cream shadow on your top eyelid and the lower eyelashes and blend. Now using a black eye pencil, draw three quarters of the top lash line. You should finish the look with lots and lots of mascara. For the lips, go for a soft rose shade that complements your lip color. Our experts say that mixing Matte Revolution Lipstick in Sexy Siren and Walk of Shame can give you the desired lip look.
2. Ocean Blue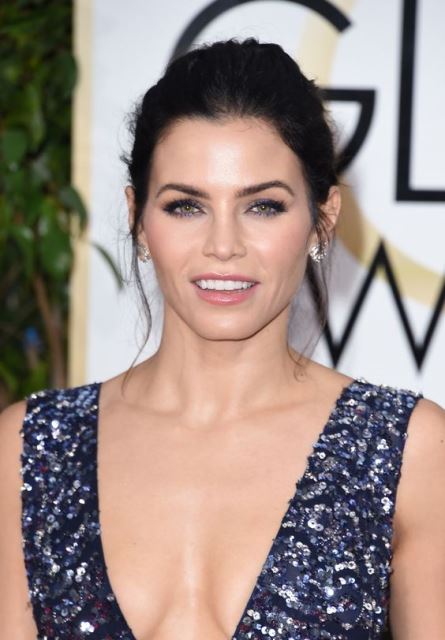 Image source: Pinterest/ StyleMePretty
To get this look, add a dash of blue sparkle to your lashes. The fluttery twinkling lash effect was created using a blue shade from Honest Beauty Eye Shadow Trio in Ocean Blue. Apply this shade on the outer half of your eye, but for the inner corner, blend a soft brown eyeshadow. If blending and buffing is too much of a hassle, use a metallic blue liner of your choice, and draw it along your lashes, top and bottom, for the Ocean Blue look.
---
Suggested read: 15 gorgeous dresses you can flaunt this Valentine's Day party
---
3. The Brigitte Bardot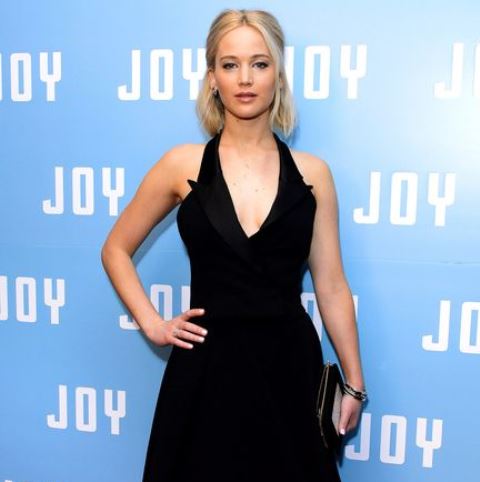 Image source: Pinterest/peoplestylewatch
To get this ultimate sexpot look, start with cleansing your face to make it as fresh as it can possibly be. Now, add some concealer to the blemishes, if any. With a jade black eyeliner, trace the top eyelashes. Wing it a little. Using a shimmery nude eyeshadow that complements your skin tone, buff it over your eyelid, and your brow bone. Top off the look with mascara. To create the illusion of fuller lips, use a muted pink blush and dab on a LOT of sheer nude lip gloss.
4. Pink-athon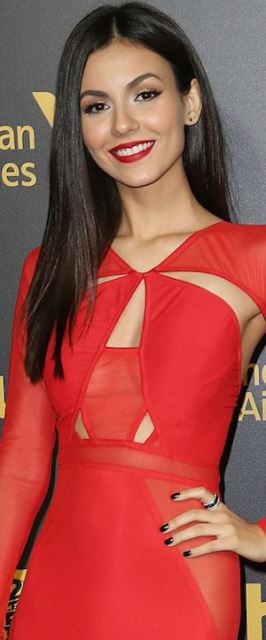 Image source: Pinterest/LOLO
This hot shade of magenta is incredibly sexy and is made of blue and red shades mixed in equal parts. To create the look, you need two products, namely, the M.A.C. Lip Pencil in Cherry and the Maybelline New York Color Blur Pen in Cherry. Once you are done with the lips, lightly contour your eyes. Use false lashes and a rosy blush to get that sass you need to rock the V-day dress you have picked for yourself.
5. Dark and lovely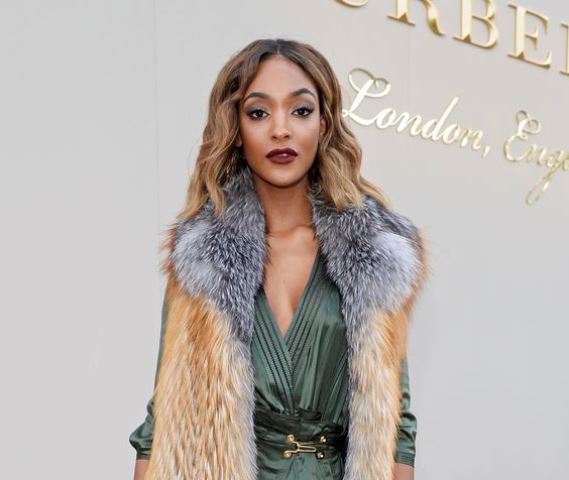 Image source: Pinterest/ Burberry 
Combine a deep berry lippie with a mauve shadow and you are ready to be the Duchess Seductress. Start by sweeping a mauve matte powder over your eyelid, and buff it up to your brow bone. Now, rim your eyes with a liquid eye liner in black. You can cut yourself a sharp wing at the edges, if you want. Add a lot of mascara to get the drama right. Finish the look with a Bordeaux lipstick, you can try an Oxblood shade from Burberry Lip Velvet.
6. Vintage Valentine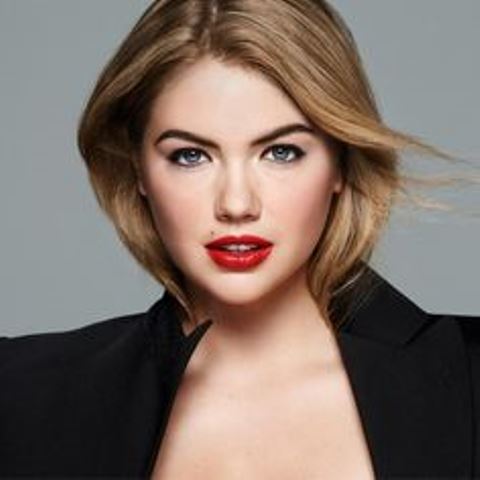 Image source: Pinterest/Her Campus
For this date night MU, start with a dewy skin (you can try a BB cream to get that right), and then, trace your eyes with black eye pencil. With a smudging brush, soften the eye line you just drew. Make it a little messy, if you can. Load up on a mascara like the Charlotte Tilbury Full Fat Lashes. On your cheek bones, spread some rosy cream blush in pink. To get the hairdo right, tie a knot that will sit at the crown of your head; it is not exactly a top knot, so be careful. Using a thickening spray, add as much volume as you possibly can. Throw up your hair into a pony, and using a dry shampoo such as Dove's Invigorating Dry Shampoo, spray the tail of your hair. Now tease it and twirl it before wrapping it into a bun and pinning it exactly where you want it.
Dress for the Occasion
Since Valentine's Day is pretty stressful business for a number of obvious reasons, the outfit should be the last thing on your mind. Guess what? We have got that covered for you! Though we have already shared the top makeup looks of the season that you can flaunt on the 14th and the dresses that are taking everyone by a storm, we have also curated 5 ready-to-wear looks keeping different kinds of date nights in mind; so we have some of the perfect Valentine's Day looks for everything from an all-night dancing date to a date where you both go bar-crawling!
1. Comedy Nights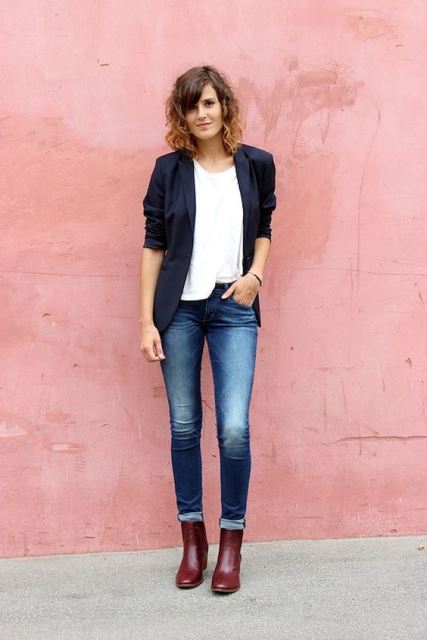 Image source: Pinterest/Who What Wear 
If you and your lover are made of funny bones alone, and couldn't think of a better way to celebrate V-Day than tickling them bones a little, this basic look should work best for you. You would like to stay in the shadows and share laughs with your partner only, so opt for what we call 'cut-the-crap' look modified with accessories that are chic, like a fur-trimmed tote.
2. Taking a Hike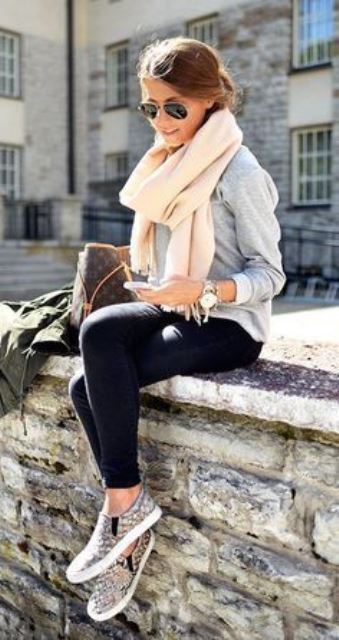 Image source: Pinterest/whachabuy
On V-day, go hiking (that's what we meant!) donning a pair of high-waist jeggings (try printed). Couple these trousers with a sports bra for a funky athleisure-ish look.
3. Painting the town red, people!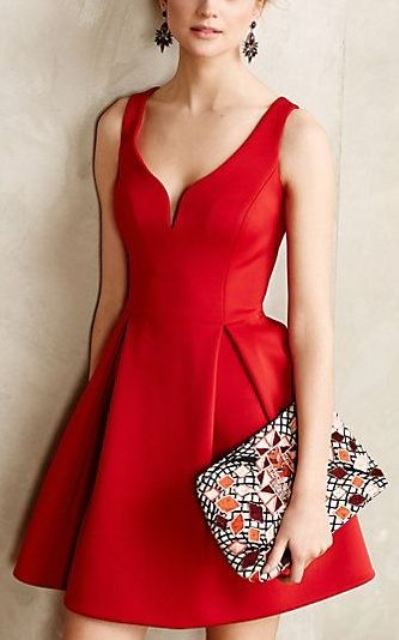 Image source: Pinterest/ Dress for the Wedding
If Valentine's Day is the holiday you wait for, through the year, you got to paint the town red, right? Okay then, slip into a sexy LBR. You can top off this look with a black coat and some heavy silver accessories.
4. Galentine's Day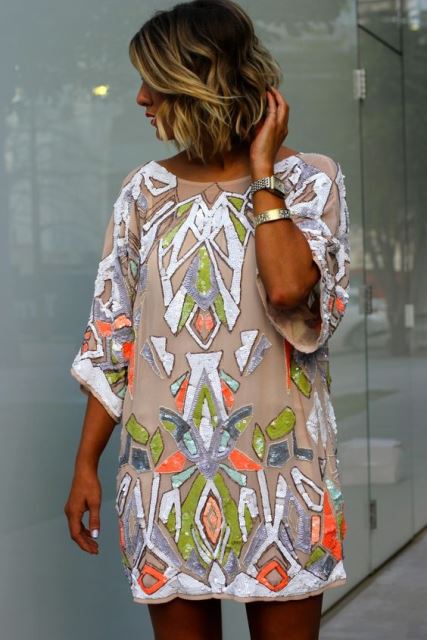 Image source: Pinterest/Glam Radar
Have you called up all the single ladies for a Galentine's night? Well, you need to dress better then! We suggest that you cherry-pick a lively outfit for the night. It is a chance to wear that gaudy outfit you bought for yourself in exchange of a kidney, from Yves St. Laurent.
5. Home (not) Alone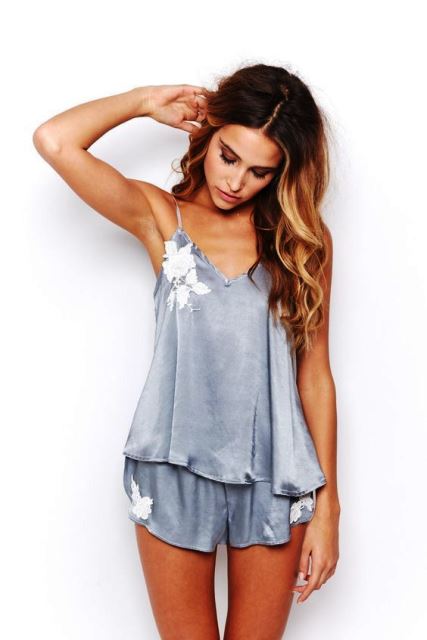 Image source: Pinterest/amzn.to
Do you want to spend your V-Day date night cuddling up on the couch? Well, you got to look good though! So, get yourself a silk pajama set (in case you don't want to get too adventurous!), and slip your feet into a pair of fur-trimmed slippers.
---
Suggested read: Move over LBD, we are now smitten with LRD or the Little Red Dress
---
That's a wrap on the Valentine's Day looks, makeup tricks and techniques, and the red dresses you can roar in, this 14th of February.
If you need any help to refashion a look for Valentine's Day or want to create a brand new head-turning look for yourself, write to us in the comment section below. Our experts will take it up from there!
Summary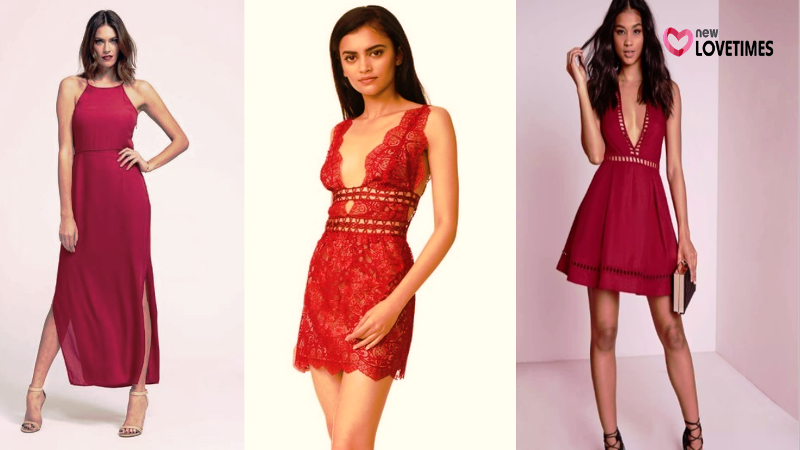 Article Name
Perfect No-Ado Valentine's Day Looks And How To Get Them
Author
Description
Here's a guide to help you narrow in on the perfect red dress to wear, what makeup to emulate and which Valentine's Day looks to try, this season of love.