The internet has been taken by a storm, with beauty gurus and celebrities bringing out their own makeup lines. But a recent research shows that over 62% of the respondents did not know how to apply their makeup, let alone knowing how to apply foundation flawlessly. Foundation application is perhaps the most important routine in your make-up, for it's basically the canvas on which all of your make up rests, and pulls together your look.
So, we've put together the Ultimate Guide on how to apply foundation flawlessly. Applying the wrong foundation can be a complete pain when the outcome is generally cakey and well, disappears after a few hours. The rest of your make up doesn't set in, and it all seems to go down together. But we've got you fully covered!
Before we begin, here's a disclaimer- this could seem like a long, arduous process, but bear with us.   It's easy and relies heavily on some tricks to make that foundation look flawless!
---
Suggested read: Here's The Best Foundation For Combination Skin
---
Prerequisites
There are certain prerequisites to this entire process, and requires you to determine the look you're going for throughout the day. This becomes important when it comes to selecting the different products for your skin. You could opt for a dewy-natural look, or go all out and aim for a heavy-duty, long-lasting wear. But more importantly, your routine will differ depending upon your type of skin, for different skin types demand different products for the same finish.
It must be understood that applying foundation is not the only step in making your makeup look flawless! It is an important layer, but your foundation reacts with other layers beneath and above it to create the perfect look you're aiming for! So, we have prepared a step-by-step guide on how to apply foundation flawlessly, and perfectly, along with prepping your skin correctly for the same.
Cleansing
Just like you clean the kitchen counter before making a meal, cleansing your skin is the first step towards flawless makeup! Not only is your skin cleared of any impediments, but the reason is oriented towards your skin-health. The bacteria living in your unwashed face could react with the makeup, and clog your pores. This could lead to a break-out and rashes, and that is the last thing you want after applying make-up!
So, beginning with a clean slate is important when you add other later layers, but for better hygiene for your skin.
Toning
Using a toner not only tightens your pores, but hydrates and balances your skin after cleansing. It acts as a binder for the primer and the foundation. The toner must however be suitable for your skin type. While there are many face toners that are suitable for all types of skin, knowing which one helps your makeup to stay for long is crucial.
If you have dry skin, using a well hydrating toner with Aloe Vera, rose, lavender and hyaluronic acid soothes your skin.
For sensitive skin, it is best to use aloe vera based toners, to prevent and cure any inflammation and redness.
The chances of oily skin breaking out into acne is highly probable, simply because of the excess oil that your skin produces. Using toners with tea tree, sandalwood and aloe vera not only reduces the oil but also balances your skin.
Gently apply the toner in circular motion with your fingertips or a cotton pad, and then slowly pat in the same.
Moisturizing 
Moisturizing your skin is the next step towards a flawless foundation application. Identify a moisturiser that best suits your skin type. Using an oil-free face cream does wonders, especially if you have oily skin, while a hydrating face cream soothes your dry skin. This is the step wherein you apply a good sunscreen.
Also, rubbing and lathering some face cream all over your face and neck is something you should avoid. It is better to gently pat in the face cream onto your skin, to improve blood circulation.
Water mist
While most people skip this step, using a water mist after applying your moisturizer has some added benefits. Using some rose water (if you want to go all natural) or some other face mist works dually- it helps to absorb the extra oil from your oily skin, or hydrates your dry skin.
The water mist blends the face cream into your skin, and prevents it from forming a layer in itself. Do let your skin dry naturally for some time after this step, before moving onto applying your makeup.
Primer
The importance of applying primer cannot be stressed enough! While most people skip this step entirely, beauty gurus swear by their primers because it is the key for to a flawless finish. By creating a barrier, it prevents your foundation from oxidizing and changing its color.
A primer acts as a bridge between your skin care and the makeup. It creates an even surface for your foundation, and prevents your makeup from highlighting your pores and from looking cakey.
Just like your toner and moisturizer, your primer must also be suited to your skin type. However, the type of primer should also be dependent on the look that you're going for.
For oily skin, using a primer which has both mattifying and pore-minimizing effects which absorbs excess oil and grease from your skin.
Normal skin does not require primers with mattifying effect- instead an illuminating primer does the job of prolonging your makeup, while giving you that dewy effect.
Dry skin requires more hydrating primers, so look for ones that are creamy and have a light texture. Make sure that the toner is slightly sticky, especially if you wish to forgo the step on moisturizing and move onto primer. The stickiness acts as an adhesive to the later layers, and helps your make up to stay longer.
Foundation
Now that you've completed all of the above steps, it's time for foundation! But before you apply your foundation, make sure that the product matches your skin by identifying the correct shade, undertone and skin type. There are different types of foundation available in the market, and serves many purposes.
Foundations can be distinguished on the basis of the look they create, but also in terms of their formulation. There are foundations that come in the form of liquid, powder, stick and mousse, and require different application techniques for different finishes.
---
Suggested read: Here's The Best Powder Foundation For Oily Skin
---
Liquid Foundation

Liquid foundations, or cream foundations, are suitable for dry-normal skin. They come in a variety of shades to suit your skin tone, and are usually build-able, that is, you can apply one layer over the other. Special versions of liquid foundations come in oil-based and water-based formulations as well.
Sheer coverage

A sheer foundation could be used for that natural, dewy finish. As the name suggests, it is a light foundation that is great for daily wear and glides onto your skin smoothly. It does not exactly cover your blemishes, so it's best to use a concealer alongside.
Medium coverage
Medium coverage seeks to mainly cover up the pores of your skin. It's a middle path between sheer coverage and long-lasting matte foundation. Medium coverage lasts for up to 14-16 hours and gives a natural finish.
Long-lasting full coverage foundation
A full-coverage foundation is usually long-lasting. As the name suggests, it's all heavy duty- it seeks to cover all scars and blemishes along with the pores. It is great for all-day events like proms and weddings.
Stick foundation
A stick foundation comes packed with formulation, and can give a cakey effect. However, the best way to use stick foundations is by drawing lines on the forehead, cheeks, and chin area before using a brush to softly blend it. You could also use a stick foundation in place of a concealer. The best part about stick foundations is that it's easily portable and great for travel!
Foundation mousse
Mousse foundation, or 'whipped foundation', is basically liquid foundation that has been whipped with air to create a lightweight, airbrushed look. Mousse foundation tends to create a mattifying effect, and is generally suitable for all skin types.
Application techniques
There are essentially three ways to apply your foundation flawlessly, namely brushes, blender sponges and your good old fingers! Different application techniques require different movements to work effectively.
Brushes
Brushes are a time-tested favorite tool used by professionals and amateurs alike. Brushes create a flawless look by evenly distributing the product all over your skin. While brushes come in different shapes and sizes, they also differ in terms of brush hair and handles.
Use your brushes with light circular strokes to blend in your foundation.
Brushes tend to use little product and are good for medium to full coverage. However, they tend to lose shape eventually, and can pile up certain bacteria over time, so make it a point to clean your brushes regularly!
Sponge Blender
The beauty blender, (or the generic sponge blender) which is essentially an oval shaped sponge, has become a recent favorite among beauty professionals, because of its ease of use, and effective blending capabilities.
To use a blender, first dampen the sponge with some cold water, and squeeze out the excess water before using it for application. To apply, gently dab the product onto your skin for coverage.
The best part about these blenders is that they give you a good amount of control over the kind of coverage you are aiming for, and allows you to build up more layers. But they tend to soak in a lot of product, thus wasting it.
Fingers
Before the existence of brushes and blenders, there were fingers. And they are quite inexpensive for that matter (you just need your pair of hands). Fingers are great for applying thick foundation, for it easily melts into your skin thanks to your body heat. However, they aren't the most reliable tools for even coverage, for your fingers could leave behind a lot of streaks and create an uneven look. But it's great for creating a light coverage.
Concealer

This step could be used before or after applying your foundation. While the common purpose of using a concealer is to hide any blemishes, scars and pimples, it also helps to lighten parts of your face, and blends easily with your foundation. You could use an under-eye concealer to brighten up your under-eye area, and also use the same on your t-zone, above the cupids of your lips, and below the chin. Using a beauty blender or a brush helps to blend in the foundation easily.
Foundation powder
While a foundation powder works well to provide a decent coverage to your face, you could also use it to set in your make-up, or rather 'bake' your face. After applying your concealer, use a foundation brush to pat in some powder on the parts your have already highlighted with the concealer, and leave it to rest for 5-10 minutes. The body heat from your face allows the make up to set in, and the powder helps it to seal it off!
Setting powder

This seems to be an additional step to setting in your foundation, but it helps to create that flawless, long-lasting make-up look! After baking your face with some foundation powder, pack in some translucent powder on a large brush, and slowly brush off the foundation powder and concealer, while applying the powder untouched by the concealer.
Setting spray
And finally, to top it off, use a setting spray to finish your look, and to ensure that your make-up wears all day! Here's a tip from famous makeup artists such as MakebyMario- after applying the setting spray, make sure to fan your face to allow the setting spray to completely dry into your skin. This makes your make-up last way longer! Setting sprays also help in toning down your make-up, and makes it appear more natural yet flawless.
---
Suggested read: These Powder Foundations For Your Acne-Prone Skin Will Alter The Way You Look At Makeup
---
If you're facing some trouble picking the best foundation available in the market, we're here to help. There are foundations that suit every budget, and fulfill every need! There are both drugstore and high-end variants, and are religiously used by makeup professionals everywhere.
Drugstore
Maybelline Fit Me Poreless Foundation
Milani Conceal + Perfect 2-in-1 Foundation
Wet n Wild Photofocus Foundation
Nyx Total Control Drop Foundation
High-end
Marc Jacobs Remarcable Foundation
Laura Mercier Smooth Finish Powder Foundation
Fenty Beauty Pro Filt'r soft matte long wear foundation
That is all we have on today's post. Let us know whether or not you found this article helpful.
Featured image source: Instagram
Summary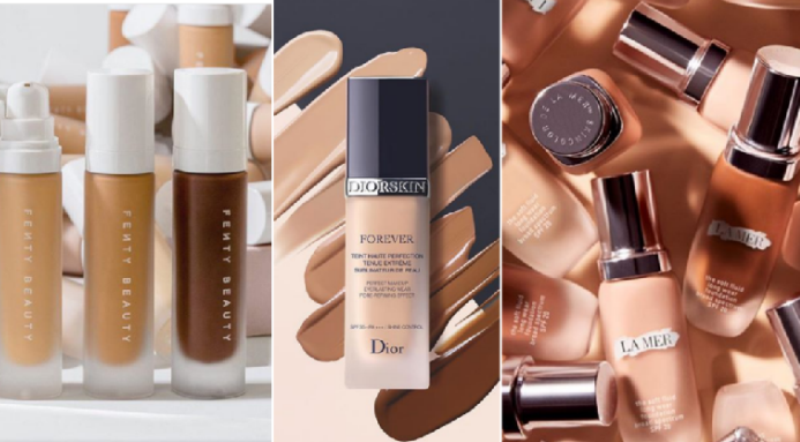 Article Name
The Ultimate Guide On How To Apply Foundation Flawlessly
Author
Description
We've put together the Ultimate Guide on how to apply foundation flawlessly. You can thank us later!