We have always wanted to look cool for our Instagram. Real life millennials have told me that their life's goal is to have a fancy Instagram. Kids a few decades back wanted to be doctors and artists and astronauts; kids nowadays want to become viral. One of the questions that we get asked most often is, how to make your Instagram look cool?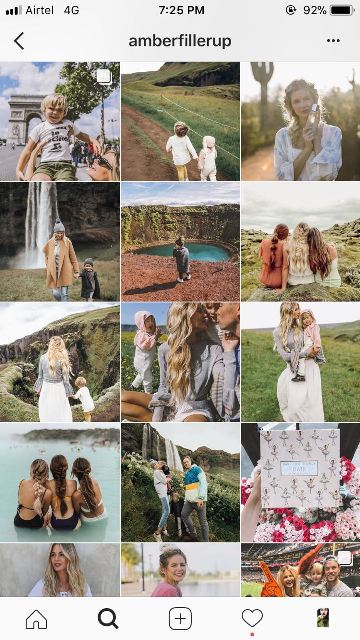 Instagram/ amberfillerup
 Cool? What is the definition of cool? How does everyone unanimously find something cool? The answer is simple. Instagram is a visual art which is attracting more and more people every day. It is a platform to showcase your identity and your personality through pictures, and the prettier your feed is, the more attractive you become as a person, gaining likes, followers, and general popularity.
---
Suggested read: 18 Hot Indian Male Models Who Will Make Your Instagram Feed (And Your Life) Infinitely Better
---
Despite the popularity of Instagram, and the various apps which are there to help make your Instagram "cool", a lot of people struggle to maintain uniformity in their feed, which prevents them from getting followers. However, if you have OCD, or you are hyper=organized and like to see some kind of congruity in the things around you, including your Instagram, then you must be looking for a way to make your feed look good as well. After extensive research, and after scrolling through about a million profiles of viral Instagram celebs and influencers, I have made for you a guide on how to make your Instagram look cool! Here are a few tips to start with.
1. Be careful of the quality of your images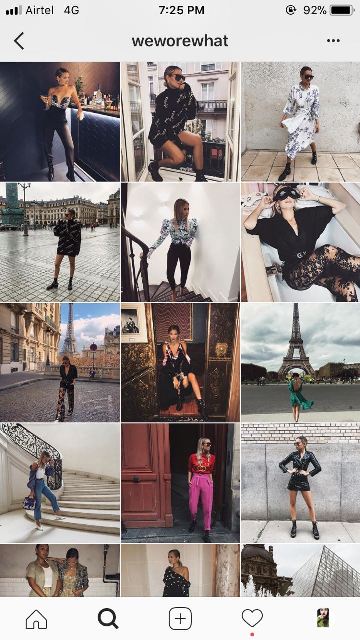 Instagram/weworewhat
One rookie mistake that people tend to make is uploading grainy pictures. Sure, everyone doesn't have an iPhone and can't take HD pictures all the time. Even if you take your pictures with a low-end phone or camera, make sure that the texture of the pictures is the same. Do not upload grainy and blurry pictures if you have never uploaded a grainy or blurry picture. Similarly, if all your pictures are blurry (you hipster, you) then make sure that all the images that you upload are blurry. The tone and the general quality of your pictures is the first step to lending some uniformity to your feed.
2. Choose a theme to photograph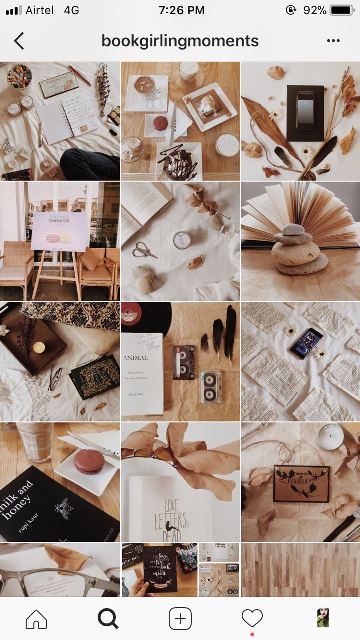 Instagram/bookgirlingmoments
The next thing you need to do is decide what you want to photograph. Some people are into books, some people into nature, others into people, furniture, lights, cats, patterns, walls and literally anything else under the sun. If you truly want to become the envy of all your friends on Instagram, pick three things that you want to photograph, and stick to that theme. This will automatically give common ground for all your pictures, and make your feed infinitely better.
3. Color-coordinate your photos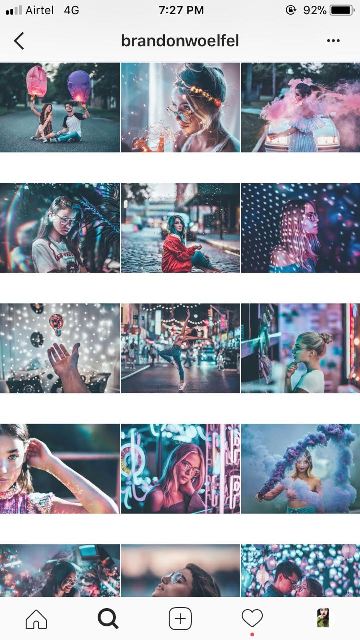 Instagram/brandonwoelfel
The moment that you open someone's feed, the first thing that strikes you is the colors. The color scheme and the general palette of a feed has the most impact, even greater than the way the pictures are taken or placed
If you are super dedicated to your aim to up your Insta-game, then you can color-coordinate your pictures, and make sure that they have some predominant color in common. For example, you can pick series of fun colors like blue, pink and white, and make sure that these colors are in all the pictures. Now, whether you take your pictures horizontally or vertically won't matter, so long as they have the same colors. You can choose pinks, beige, yellows, warm colors, cool colors, or even black and white and grey.
4. Use the same filters and edits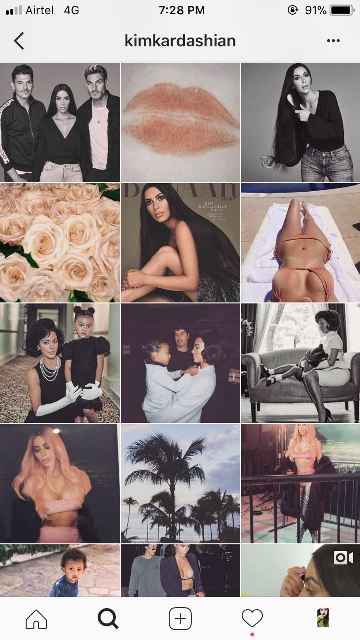 Instagram/kimkardashian
Filters and edits are the key to a cool, hipster Instagram.  If you are trying to bring uniformity to your feed, then you need to decide on one filter, and stick to it. One unsaturated photo beside a super warm, bright and blinding automatically creates a breach in the way your feed looks.
Kim K broke the internet (again) after she returned to Instagram after her robbery in Paris. However, the talking point about this was her awesome as hell feed, which was littered with family photos of her babies and Kanye in old-school Polaroid style images. All the pictures were edited the same way, and made use of the same kind of lighting, which made it one of the most trending styles for Instagram in the world.
---
Suggested read: 15 Latest Food Trends On Instagram That Has The World #Obsessed And #Drooling
---
5. Create a sequence with your photos
Creating a sequence or a pattern of pictures with your uploads on Instagram is a great way to make your Instagram look cool. Here are a couple of ideas that you can try out for starters:
Picture-text-picture: Instagram has a three-row standard grid, which means one row contains three pictures. To make your feed stand out, you can manipulate your uploads to have two pictures flanking another picture which has just text in the middle. You can even try the opposite with two text pictures on either side and one picture in the middle.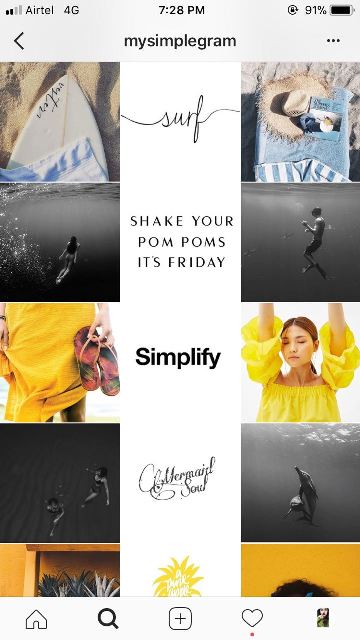 Instagram/mysimplegram
Diagonal style: I previously asked you to choose a couple of things that you would like to photograph. Arrange these pictures, so that the same element always occurs diagonally. For example, consider three consequent rows on your feed. You can upload your pictures in such a manner, so that the first picture on the first row, the second picture on the second row and the third picture on the third row all have the same element.
Gradient: Another sequence you can create is with colors. Choose a rainbow, or a color palette that you like, and upload pictures with the same color scheme, while it gradually fades into the next color. This is a little difficult to accomplish, but with a little effort, you can have a pretty cool feed.
6. Use grid-styles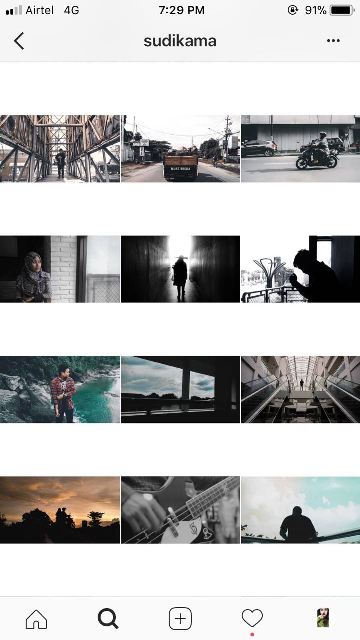 Instagram/sudikama
This is the simplest and most hassle-free way to make your Instagram look better. The standard grid that is given by Instagram doesn't allow much space between the pictures, which can make it look cluttered and disorganized. Edit and crop your photos such as that there is a uniform amount of space between each of your pictures. This is even better when the orientation of all your pictures is the same, for example, horizontal or vertical.
How To Take Your Pictures
The key to a beautiful Instagram is finding your style, and taking all your pictures in the same way. Before you take a picture, think of how it would look on your feed, and what the image can do to upgrade it. If you are more of a minimalist kind, then look for white backgrounds, a lot of blank space all around the objects that you are photographing, white light, etc. Here are some more tips you can use to take great pictures for Instagram.
Natural light is your new best friend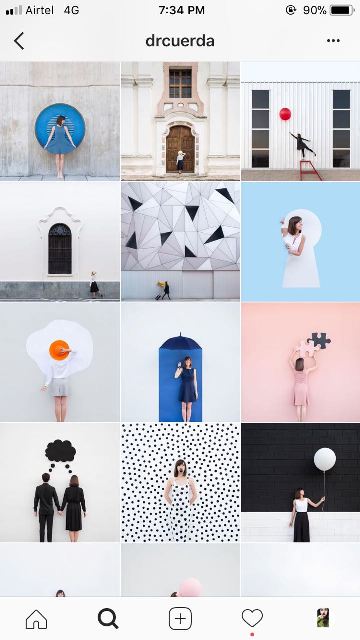 Instagram/drcuerda
Pictures that are taken in natural light come out so much better. The problem of shadows is avoided completely, and even if you have sub-standard phone that doesn't take pictures in 4k, you can make it look like it does if you have natural light on your side. Natural light also lights your pictures evenly, so that you have an even and uniform feed.
Take your pictures the same way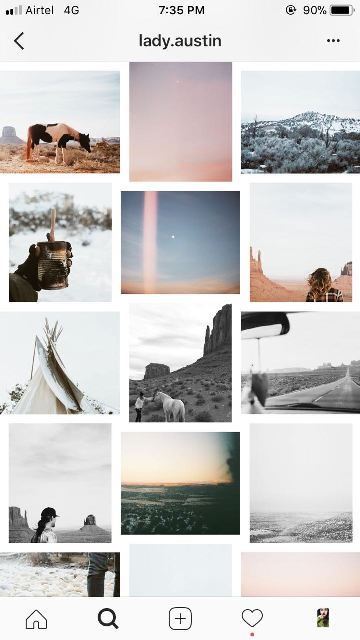 Instagram/ladyaustin
If you are into photographing people, then make sure that angle and distance from the object is the same in all your photos. If you are into product photography, use the same kind of background, or take all the shots from the top or from the front. Channel those Wes Anderson vibes which are oh-so-Instagram-worthy to click your elements. All this will add to the general pleasing effect of your feed.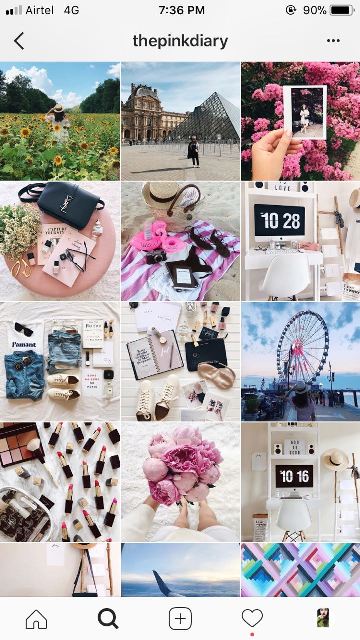 Instagram/thepinkdiary  
Do not be afraid to use accessories on your phone when you are taking pictures. If you are truly serious about your Instagram game, then you can invest in lenses for your phone and camera, so that the style of your photos is the same. However, don't be afraid to make use of apps, filters, plastic bags, glasses, flares, bulbs and anything else that you might need for that perfect shot.
Things You Can Photograph
If you are not sure what you can use to make your Instagram look cool, here is a handy list of things that you can invest in, or look out for, to ensure that you bring in those likes like rain. You can also use these as props to make your photos look even cuter.
A small plant
Colorful food
A slab of marble
A wall with patterns
Skylines
Cars in traffic
Animals
FOOD
Rooftop view of the city
Flower
A unique color (like teal)
People
---
Suggested read: 12 Summer Instagrams That Prove You Can Never Grow Out Of Your Love For The Maxi Dress
---
Apps You Can Download
Even if you are into photography and you take relatively decent pictures, it is not always possible to get that perfect lighting and angle and sharpness and brightness. A picture literally becomes a thousand times better when you know how to edit it properly, and lucky for you, there are a number of wonderful editing apps, which can make your feed look on point, no matter what kind of picture you take. Here is a list.
VSCO
Camera Noir
Afterlight
Magic Hour
MuseCam
Pixelmater
Pixlr
Overlay
If you have searched for how to make your Instagram look cool, then I am sure that you have the patience and dedication that one needs to make their Instagram game super strong. Once you do become an Insta-hipster do, don't forget to send us a screenshot of your feed!
Featured image source: Instagram
Summary
Article Name
The Ultimate Guide On How To Make Your Instagram Look Cool
Author
Description
If you have been wondering why you haven't been gaining followers and likes, worry no more! Here is the ultimate guide on how to make your Instagram look cool!