Rainbow hair has been in the hair fashion scene for quite some time now, and yet, we don't seem to have had enough. Instead we are taking the style a notch higher. Here are 8 rainbow hair color trends designed by expert hair stylists. There can be no greater hair inspiration than this!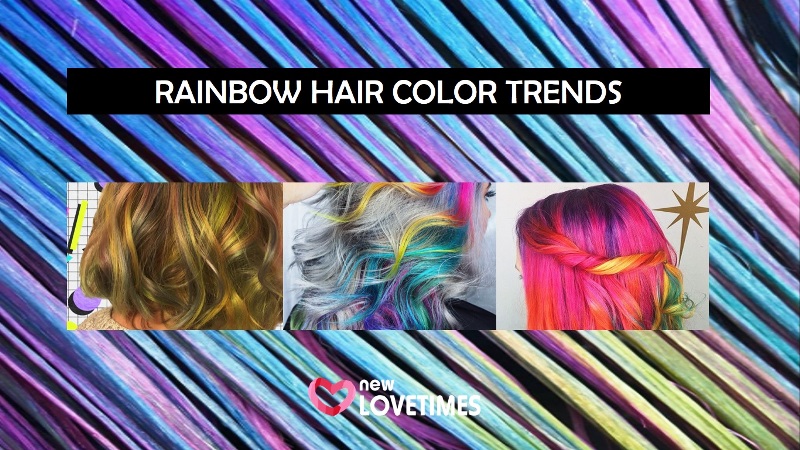 When asked what is the only things every woman needs to know about rainbow hair, Anya Goy, expert hair stylist says,
"If you need to shampoo your hair every day, or spend a lot of time in swimming pools or swimming in the ocean, rainbow hair may not be suitable for your lifestyle. These colors require special care and are best suited to those who only need to shampoo once or twice a week."
All these multi-colored creations come with instructions on how you can achieve the look, and also how you can maintain it while also enhancing the overall health of your tresses.
---
Suggested read: Everything you EVER wanted to know about temporary hair color and how to get it
---
So if you are ready to jump into the bandwagon, then here are 8 vivid and wild rainbow hair color ideas that you can try RIGHT NOW!
Rainbow hair color ideas 
1. Moonstone
To create this look, Kayla Boyer, took a beautiful moonstone as her muse. For those of you who are not aware, a moonstone looks white; however, when you move it and light falls on it, the stone reflects like a prism.
For this look, Boyer went with silver, then adding rainbow assortments in the form of lowlights.
To maintain this hair color, you need a color protect shampoo along with a sulfate-free conditioner. Make sure that the conditioner does not contain any parabens either. Also, use a heat protectant if you want the color to last longer than usual.
People with light natural hair suit the look the most. This should not, however, discourage you from sporting the look. To carry any hair trend you need to have the confidence that's all.
2. Tropical Sunset
According to its creator, this look is amazing because it fuses all the constituent hues really well. And we agree with her completely.
It is vibrant, and a nature-lover's perfect hair inspiration.
The product that you can use to maintain the look and enhance it further is a shine spray. This will add luster to your already shiny hair. Also to increase the longevity of the color, wash your hair with cold water. Never use warm or even lukewarm water on your hair. Also, always use a heat protectant.
People with warmer skin undertones give this look the complementing passion. While your stylist works on this, ask him or her to take all the time they need instead of hastening things up.
3. Dark wine roots
Just the name creates such a beautiful image in one's mind. Along with the dark wine roots, your stylist will also have to give your tresses alternated rainbows, or else why would this be on our list of rainbow hair shade ideas?!
To maintain the look, you will need a color care shampoo and a conditioner sans parabens. Since straight hair looks best with this hair shade, if you do not have a naturally straight hair and have to use a heating iron, then be sure to invest in a heat protectant. Matrix has the best protectant according to users.
According to the creator of this look, the hairstyle suits almost every single one. But if you are not ready to carry something bold yet, do not start with this look.
For those of you who don't want straight hair, the next best option is beach waves. This will add an illusion of volume, while also making all the hues pop.
---
Suggested read: The complete beginner's guide to pastel hair color
---
4. Candied hologram
Imagine your favorite colorful candy. Now imagine a hologram. These two things were the inspiration behind this look. No matter how you wear your hair, the colors will look stunning because of the way they are placed.
This one is a party color, there is no doubting that. Also the details that have gone into creating this look is awe-inspiring. It hides away the multi-colored undercut. Also, it glows under UV light!
To style the look, the creator suggests you use "IGK Car Service, along with Sexy Hair's Spray Clay, Rose Elixir, Powder Play and Get Layered!"
You don't have to worry about whether your complexion will work well with this hair shade or not. In fact the best thing about this look is that is can be customized for every single person, according to his or her needs or specifications.
5. Bright and earthy stones
If you like colored stones, then you will like this look. It is vivid and yet warm, so what more does one want?
To maintain the color, use a shampoo that does not lather up too much. Suds are not good more rainbow colored hair. You will also need a conditioner that has no sulfates, and a dry shampoo.
According to Savannah, the creator of this look,
"I personally think that anyone with the confidence to rock bright colors can pull this off. It's all about how you rock it! Don't be afraid to try a color you fear might not go with your skin tone. Maybe just change your blush color or add a pop of eye shadow to match. Anyone can pull anything off. It's all about what's on the inside that counts."
6. The hidden unicorn
This is a rather popular rainbow hair trend. If you think you are a happy unicorn, but want to hide it from everyone until you want to show off your special powers, then this is your look!
For the office goers too, this is a very good option to be a part of the trend while not losing their jobs!
If you are naturally a darker shade of blonde, then you will have to lighten your hair first, particularly for the shade of blue that one needs for this look.  The lightener you use should rebuild bonds that might get broken while you bleach the hair. This will ensure that the health of your hair is not compromised with.
To get this look, ask your stylist for a tinge of neon blue, a slice of amethyst, some wild orchid and a dash of neon green. And you are ready to rock the town!
7. Bright color melt
The bright color melt gives you a feeling of freedom, and that's why it is one of our favorites on this list.
But before you ask your stylist to give you this look, you have to tell him or her everything about how you want it. Go into details. The colors, especially, have to be chosen very carefully.
You will need colors that offer great longevity especially for the shades of blue and the tinges of pink.
If you have colder undertones, then you will need to warm up the look. Similarly, if your undertones are warm, you will have to use the colors to cool it down.
The stylist who created this thinks that one should not have a vision in mind when it comes to this color. You should just go with the flow, and dip your feet into the pool of creativity. Consider this a form of painting. More like balayage.
To style the look, go for curls. To maintain, shampoo as less as you can. Use a color protectant shampoo, of course, and a conditioner that has no parabens Also, only cold water to rinse out your hair.
8. Peacock Rainbow
According to Hayley Garratt, who is the creator of this look,
"This is a hidden rainbow look featuring pink peacock colors with mix of heavy foils and slices through the top that is toned with a vanilla blonde."
According to her, the best thing about this look is that all the bright and subtle colors are contrasted so well that the end result is ravishingly gorgeous.
To maintain the color, you will need a color freezer, a shine definer and a shine spray.
Since the rainbow is mostly hidden, your complexion is not a very defining or differentiating factor. This look suits the light skin-toned just as well as it suits the olive skin tone people.
You should wash your hair as less as possible if you want this color to last longer. Also when you rinse out your hair, apart from using a color protectant shampoo, also be sure to use cold water.
---
Suggested read: All you makeup lovers out there, have you tried these hair color trends yet?
---
That is all we have on rainbow hair color ideas. Do let us know whether or not these beautiful hues filled your lives with color. You can also use our comment section to ask questions to our hair experts or to send in some love!
If you like us here, then you are sure to like us on Facebook too. Do give us a visit, and to invite us to your "home" page, like and follow.
To receive these posts in your inbox, you can subscribe to our daily newsletter.
So long!
Summary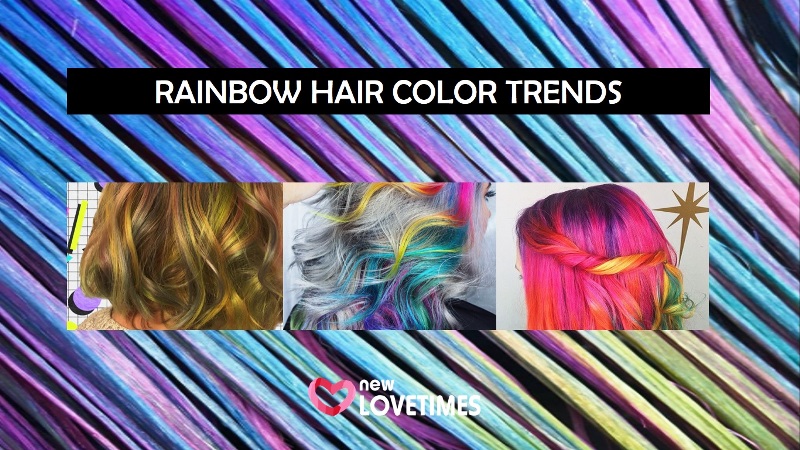 Article Name
8 Rainbow Hair Color Ideas To Fill Your Life With Beautiful Hues
Author
Description
So if you are ready to jump into the bandwagon, then here are 8 vivid and wild rainbow hair color ideas that you can try RIGHT NOW!