All acne treatments don't work for everyone. Some acne is so stubborn, that they don't even respond to the most common and effective treatment ingredients, like salicylic acid, for example. But natural face masks for acne have always proven to work, no matter how persistent the acne. Here are 10 face masks made from natural products that are lying in your kitchen closet at the moment! This guide will not only help you with making the mask, but will also teach you how to apply it for best results.
---
Suggested read: 11 super effective home remedies for body acne
---
Get ready to bid farewell to your acne! You can thank us later.
1. Cinnamon and honey face mask
Honey should not be avoided because of its sticky nature. Honey is a natural antibiotic. It kills the germs that cause face acne. Cinnamon, on the other hand, has anti-microbial properties, which interfere with the bacteria, and end it right away.  When honey and cinnamon are combined, they form one of the most effective natural face masks for acne. The mask is easy to make and easier to apply!
To make yourself a cinnamon and honey face mask, take five teaspoons of honey and half a tablespoon of cinnamon and mix until the mixture is consistent. Now wash your face with water alone, and pat in dry. Never rub your skin with the towel, since that can aggravate your acne problem. Next, apply the mask. You can either put it on your entire face, or only the spot you want to treat. Leave the mask on for at least ten minutes, and then, wash it off. Again, pat your skin dry.
2. Egg white face mask
Egg white not only helps reduce acne, but also fades out the marks acne leaves behind. It is full of protein and vitamins, which restore the health of the skin and also, help rebuild the skin cells. Egg whites also soak the extra oils produced by the sebaceous glands, which otherwise, can clog your pores, preventing the skin from breathing.
To make an egg white mask for yourself at home, take three eggs, and separate the egg whites from the yolks. Now, blend them until they form a frothy paste. Let the mixture stand for about 10-15 minutes. Now rinse your face and pat it dry. Lightly, apply a layer of the mask on your face using your fingers. Keep applying layers of the mask until it is 4-layer thick. Leave the mask on until it is completely dry. Now rinse it off, and pat your skin dry.
3. Milk/Yogurt and honey face mask
Yes, dairy products do cause acne, but when you apply milk or yogurt in moderation, they help heal outburst. They also improve your complexion. While milk treats irritated skin and softens redness, honey, because of its anti-bacterial properties, kills the bacteria that makes acne worse.
To make a milk and honey mask at home, mix 3 teaspoons of milk, at room temperature, with 3 teaspoons of honey. You can use yogurt in place of milk. Now blend well until the mixture is consistent. Next, dip a cotton pad into the mixture. Soak it completely, and dab it onto your skin. First, apply a thin layer on your face, and let it dry. Once dry, apply another layer. Leave the mask on for ten minutes, and then rinse it off with cold water. Now lightly scrub the skin using a washcloth. Massage in circular motion to get rid of dead skin cells, if any.
4. Oatmeal mask
Oatmeal, because of its therapeutic properties, is used to treat skin ailments, for years! It comforts the skin by soothing inflammation, outbursts and redness. By adding honey to the oatmeal face mask, you can lend it an anti-bacterial property.
To make an oatmeal mask, all you need is a serving of steel-cut oatmeal. Prepare it with the help of the instructions on the package. Add 4 teaspoons of honey to it, and let it cool down to room temperature. Now apply the mask evenly on your face. Leave it on for thirty minutes and then, rinse thoroughly. Pat your skin dry with a soft face towel.
5. Honey and avocado face mask
Avocado works as a coolant to the distressed skin. It is filled with vitamins and minerals, and when combined with honey, it treats the acne on your face.
To make a honey avocado face mask to treat acne, scoop out the flesh of one avocado, and squash it into a paste. Next, combine two teaspoons of honey. Blend the mixture well, and apply it on your face, gently, using your fingers.
---
Suggested read: Everything you need to know about makeup for acne-prone skin
---
6. Baking soda face mask
Sodium bicarbonate, popularly called, baking soda, has therapeutic properties. It fights off germs, bacteria and fungus. It also helps in drying up the extra oil that sebaceous glands produce. Baking soda face mask also lends a mild microdermabrasion that helps you remove dead cells from your skin.
Baking soda can be applied as a scrub or a face pack. To use it as a face mask for acne, mix baking soda and water in the ratio of 1:1 Now blend them into a consistent paste. Massage the combination onto your skin, clock-wise for about a couple of minutes. Leave the mask on for twenty minutes, after which, you can wash it off.
For a baking soda face scrub, take half a cup of baking soda in a bowl. Add one-eighth cup of water to it. Blend well. Now apply the paste on your face, and massage, lightly, for only 5 minutes, or else, you can worsen the acne. Rinse thoroughly with lukewarm water, and pat your face dry with a face towel.
7. Cucumber and oat face mask
Cucumber is a natural astringent, which makes it great for oily skin type. The oat, on the other hand, serves as a mild exfoliator, which also absorbs extra oil that block skin pores. If you want, you can also add honey to this mixture, since it is anti-bacterial in nature.
To make a cucumber and oat face pack for yourself, cut a cucumber into two halves. We will be needing only one half. Place it in a blender, and then add 4 teaspoons of oats and a tablespoon of honey. Now squeeze juice of half a lemon into the blender, and mix well. Once the mixture looks consistent, massage it onto your skin, gently. This will help exfoliate dead skin cells, if any. Let the paste stay on for about 20 minutes, after which, you need to rinse it off with lukewarm water. Pat your skin dry.
8. Orange peel face mask
Orange peel is rich in retinol that helps in the skin renewal process. It also fuels the collagen production, which in turn, repairs and rebuilds your cells' elastin fibers. Orange peel is an amazing home remedy for treating stubborn acne and also lightening the scars left behind by them.
To make an orange peel mask, you need half a tablespoon of milk and a tablespoon of dried orange peel. Mix them together to make a thick paste. Gently apply it on your face, or on the affected area. Let the mask dry completely, which should take about 15-20 minutes. Lastly, rinse off the mask with cold water. Try using this mask at least twice a week for best results.
9. Apple cider vinegar face mask
Apple cider is rich in alpha hydroxyl acid that unclogs pores and helps get rid of the dirt, bacteria and extra oil that get stuck in there. It also helps in fixing the PH level of the skin. It cures blemishes and also closes the pores so that the nutrients don't escape the skin cells. For the apple cider face mask, you also need honey, which we know, has anti-bacterial and soothing properties. Apart from honey, you also require green tea and sugar. Green tea, being filled with antioxidants, assists your skin to fight harmful free radicals. It also lends you a bright and younger-looking skin. Sugar, contains glycolic acid that is great in eliminating dead skin. It also enhances cell regeneration.
To make the face pack, you need a tablespoon of apple cider vinegar, two teaspoons of green tea leaves, 6 tablespoons of sugar, and one teaspoon of honey. Apply the mixture evenly on your face, while massaging gently in circular motion. This will also improve the blood circulation around your face. Keep the apple cider mask on for 20 minutes, following which, rinse it off with lukewarm water. Just in a month's time, you will see visible results.
10. Gram flour face mask
Gram flour works as a great exfoliator of dead skin. It also helps lighten the scars that acne leave behind, and by doing so, brightens up the face. For this reason, it is considered one of the best natural face masks for acne.
To make this at home, you need 2 tablespoons of gram flour, one tablespoon of rosewater, a tablespoon of buttermilk and a pinch of turmeric powder. Mix the ingredients in a bowl. Now apply it gently on your face or the distressed area. Repeat it once every week for best results.
---
Suggested read: 7 ways you are actually making your acne worse
---
That's a wrap from us! Do let us know whether these natural face masks helped you treat your acne or not, in the comment section below.
Feature image source: Pinterest
Summary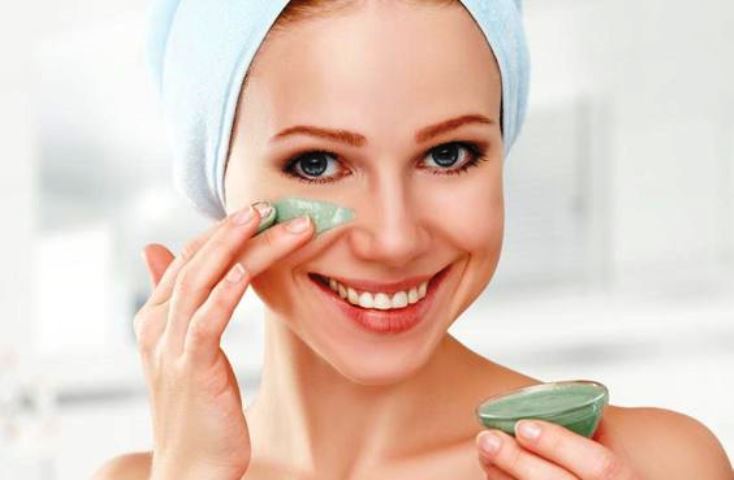 Article Name
10 Natural Face Masks For Acne You Can Make At Home
Author
Description
Here are 10 DIY natural face masks for acne. These will help you get rid of even the most stubborn and persistent acne ever. Try them to believe us!