Celebrities are notorious for being obsessed with the way they look. This almost maniacal obsession to cater to the ideal and unrealistic beauty standards of the industry has compelled a lot of them to go under the knife. While some have emerged looking better than ever, there is no dearth of celebrity plastic surgery gone wrong, resulting in a pretty horrifying shift in appearance.
---
Suggested read: 15 Celebrity Adoptions That Gave Kids Better Lives
---
Even though a few nips and tucks have never hurt anyone, some plastic surgery jobs have left celebrities practically unrecognizable, and looking at them, you would probably be thankful that you didn't have millions to spare for such disastrous plastic surgery jobs.
1. Janice Dickinson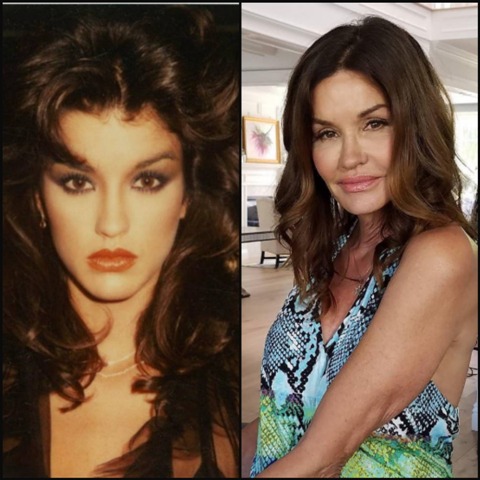 Image source: Instagram
Before the world was graced with a host of super models, there was Janice Dickinson, one of the most well-known faces in the modelling world. Well, at least, the fact that she had before she got plastic surgery was pretty well known. It is said that she got lip fillers, breast enlargement surgery, face lift, neck lift, liposuction and tummy tucking surgery. Even though she has publicly regretted getting her breasts enlarged, we don't think it is that part of the surgery that is the problem.
2. Tara Reid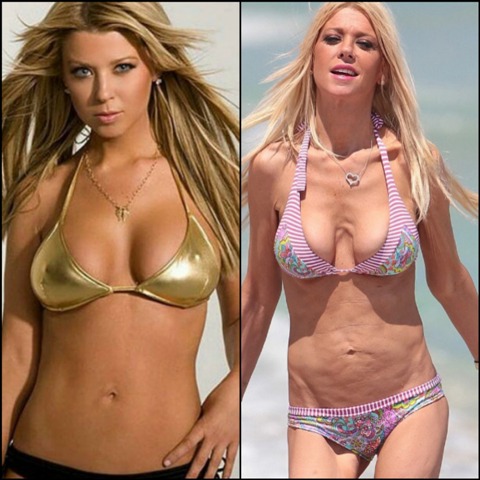 Image source: Instagram
The actress who is known for her roles in famous movies like Sharknado , The Big Lebowski, American Pie and for TV shows like Scrubs and Days of Our Lives, decided she wasn't happy with her erstwhile gorgeous body, and underwent a tummy tucking and breast enlargement surgery. As the before and after pictures show, the results weren't quite as flattering as Reid probably expected. At least she decided her face was good enough to not need surgery.
3. Sylvester Stallone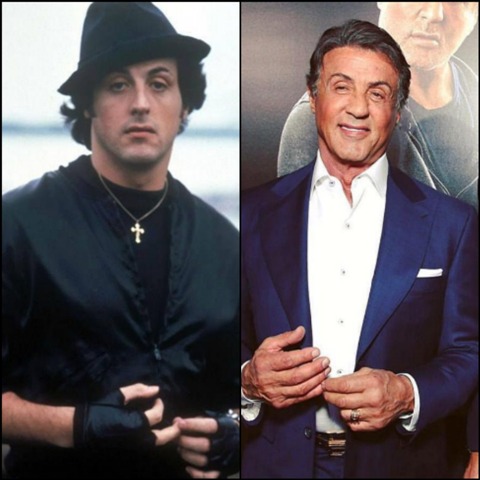 Image source: Instagram
One of the most well-known faces of American television is Sylvester Stallone, who became an international superstar when the Rocky series released. Even though he was quite a handsome young man in his youth, a series of botched up plastic surgeries left his face barely mobile. It is rumored that he has had botox, forehead lift, nose jobs and various other surgeries, that left his face practically immovable.
4. Donatella Versace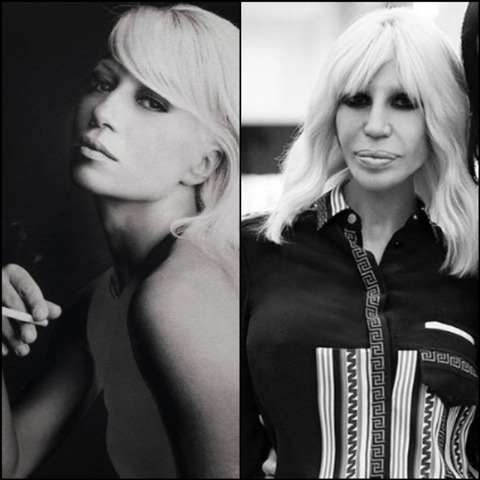 Image source: Instagram
All the who's who of Hollywood and the celeb world know and have hung out with Donatella Versace, who is the vice president of the international fashion brand- Versace. Her face has gone under the knife quite a number of times since 2002, and is a classic example of celebrity plastic surgery gone wrong. Despite being quite pretty, she decided to get lip filer (a number of them), face lift, injections in her forehead and cheeks, laser resurfacing and breast implants and is quite unrecognizable now.
5. Priscilla Presley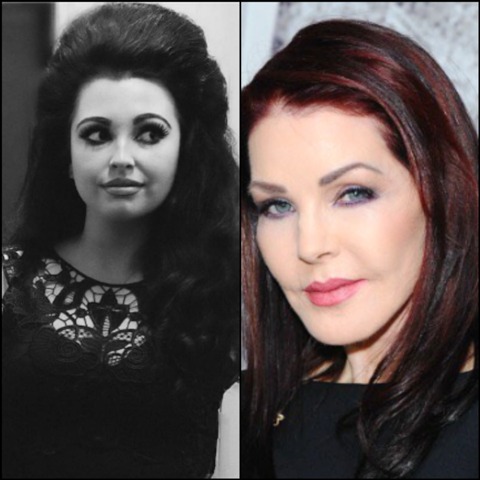 Image source: Instagram
Most people know her as Elvis Presley's ex- wife, but she is herself one of the biggest business moguls in the United States and is the force responsible for turning Graceland into one of the most sought after and popular tourist destinations in the entire country. Priscilla, however, decided to jump on the plastic surgery bandwagon in 2007. She tried to get multiple face injections, but was operated upon by an unlicensed doctor, who injected her face with low-grade industrial silicone, which has resulted in her present-day lopsided visage.
6. Carla Bruni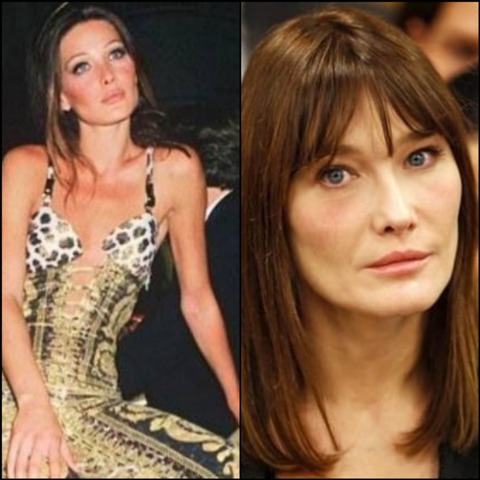 Image source: Instagram
This gorgeous French model, singer and actress, who also happens to be the former French First Lade is rumored to have had Botox done to her face, because of which she looks quite trite and immobile these days. Bruni, who made her acting debut in Woody Allen's film Midnight in Paris, is still quite a stunner, although we would she would have aged beautifully even without the Botox.
---
Suggested read: 14 Gay Celebrity Couples Who Are Relationship Goals
---
7. Nicole Kidman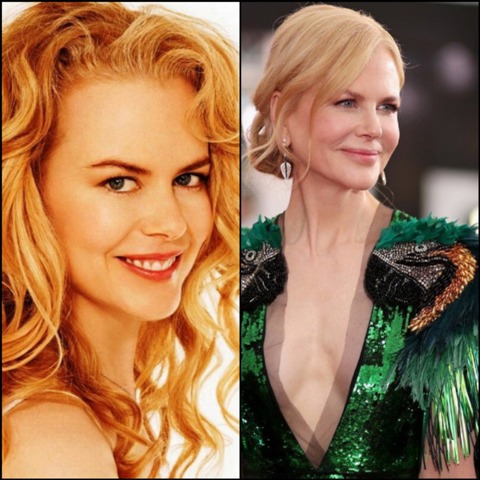 Image source: Instagram
Rumors have been rife since Nicole Kidman stepped out during the Emmy Awards a couple of years back with a very different face, than the one people were used to seeing. Even though it seems that with age, Nicole Kidman's wrinkles seem to be disappearing, we can't help but notice signs of a face lift, Botox and jaw line surgery, which has kept her face looking smooth and sharp even after all these years.
8. Lil' Kim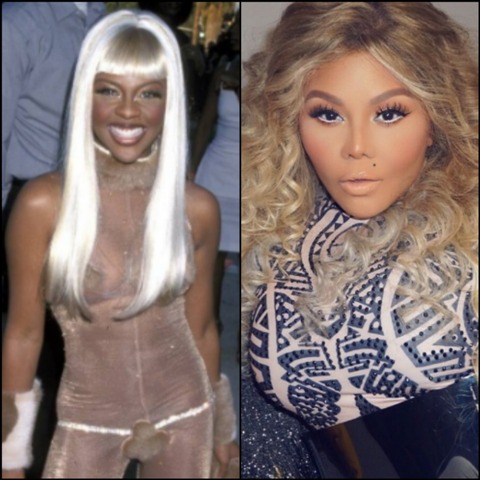 Image source: Instagram
Lil' Kim has forever denied going under the knife to tweak up her face, but the pictures sort of speak for themselves, don't they? This erstwhile rapper from the yesteryears has had some pretty drastic changes implemented on her face, and now she barely looks like the same person because of the facelifts, butt implants, breast implants, lip injections and so much more.
9. Joan Rivers
Image source: Instagram
Joan Rivers is an icon, and apart from being known for her comedy, she is also known as a prime example of celebrity plastic surgery gone wrong. She has in fact, been very open about her multiple cosmetic surgery procedures such as a nose job, breast augmentation and eye lift surgeries. She talks about all this in her book- "Men Ate Stupid…And They Like Boobs: A Woman's Guide To Beauty Through Plastic Surgery." Pretty forward, we must say!
10. Meg Ryan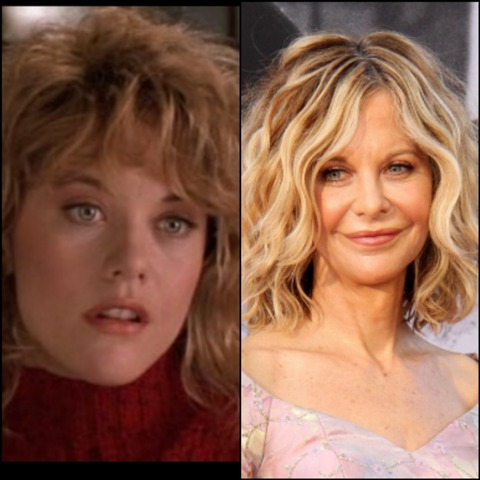 Image source: Instagram
I mean, who can really forget Meg Ryan in some of the most classic rom-coms Hollywood has ever produced? Meg Ryan, who has starred in cult movies like When Harry Met Sally and You've Got Mail recently sent the world into shock when she stepped out with quite a bit of work done to her face. She got lip implants, a face lift and Botox injections, which has left her with a stretched face and permanently pouting lips. What was honestly one of the cutest faces in the world, and which would probably have had aged gracefully is now an example of a really sad plastic surgery job.
11. Renee Zellweger
Image source: Instagram
Renee Zellweger is known for her iconic portrayal of Bridgett Jones in the iconic movie series called Bridget Jones' Diary, and also for her other roles in cult films like Jerry McGuire. She had one of the most recognizable faces in the world, except when she stepped out recently for a red carpet event, and people did a double-take at her appearance. The actress appears to have done a pretty radical job of altering the way her face looks entirely and had some pretty major eye lifting surgery (even though she has denied any claims of going under the knife).
12. Jocelyn Wildenstein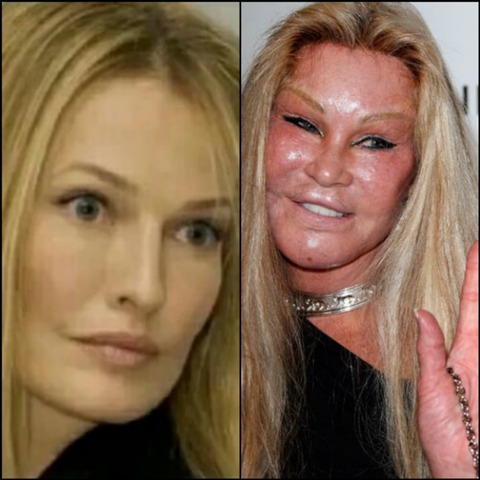 Image source: Instagram
In one of the worst cases of celebrity plastic surgery ever, Jocelyn Wildenstein managed to get herself in inhuman face, in an attempt to impress her billionaire ex husband, who had a love for big cats. After millions of dollars worth of procedures to look like a bog cat, she managed to get herself the nickname of "Catwoman", although how successful she thinks she is, is very, very questionable.
13. Kim Novak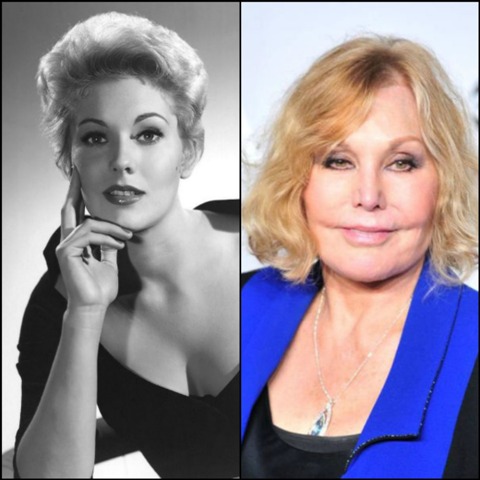 Image source: Instagram
Kim Novak was one of the most well-known faces of old-school Hollywood, and has starred in films like Vertigo and The Man With The Golden Arm. However, even though she was considered one of the most beautiful women in the world, it is pretty scary to look at her now, after several botched up plastic surgery procedures, which has left her looking almost like Jocelyn Wildenstein. She literally has trouble speaking because of how much artificial fillers have been injected into her face.
14. Courtney Cox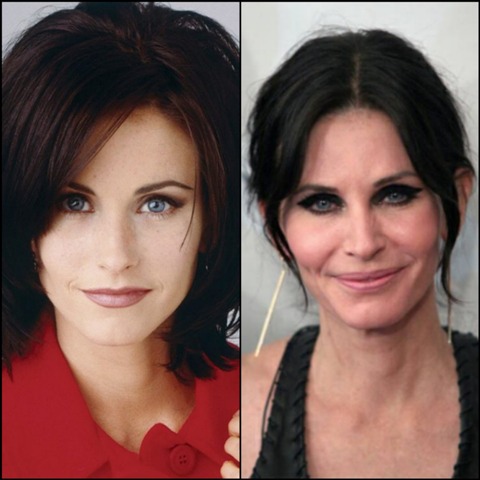 Image source: Instagram
Virtually everyone in the world knows about Courtney Cox because of her role as Monica Geller in the world's most well-loved TV show of all time- F.R.I.E.N.D.S. Because people are so obsessed with the show still, they have kept track of the actors and even though all of them have aged, Courtney did not take it well. Her botched up plastic surgery shocked everyone. She has had cheek fillers, lip fillers, and eye lift surgery, all of which has left her face looking strained and strange.
---
Suggested read: 30 Sexy Celebrity Halloween Costumes That Were Too Hot To Handle
---
15. Khloe Kardashian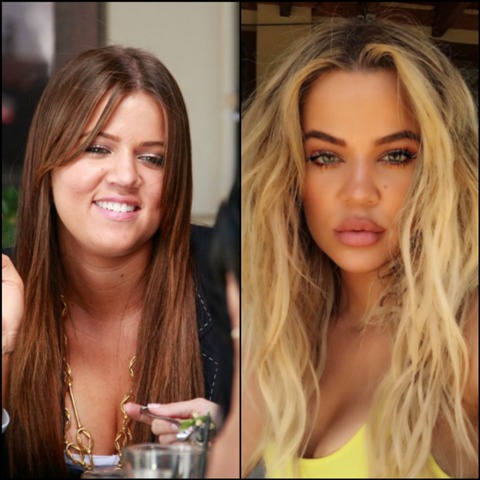 Image source: Instagram
Honestly, Khloe isn't the only Kardashian who went under the knife to tweak the way she looks. Even though she has lost a lot of weight after her well-documented workouts, she did get a number of face fillers when she looked very different from what she looks like now. Khloe herself has admitted to going slightly overboard with the surgeries, saying that she has gone to get it dissolved more than a couple of times. But is nonetheless, a drastic change we wouldn't really call a success.
Celebs have a way of going overboard with their insane wealth, which more often than not, screws up the way they look. Even though there are a number is plastic surgery success stories, we can't help but scratch our heads at some decisions celebrities decide to indulge in.
Featured image source: Instagram
Summary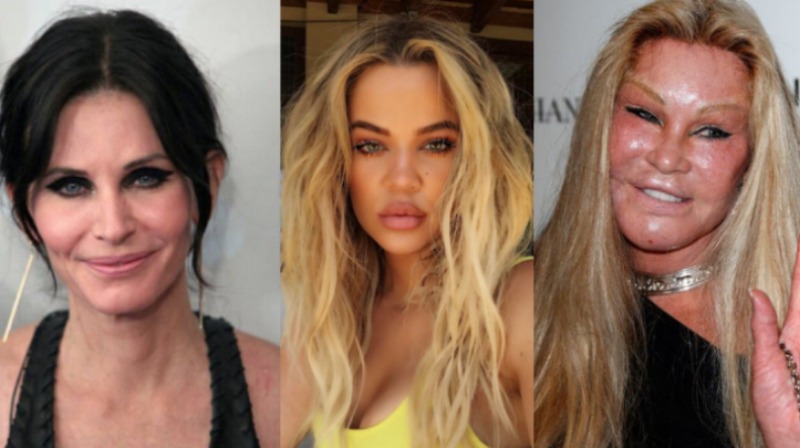 Article Name
15 Cringe-Worthy Cases Of Celebrity Plastic Surgery Gone Wrong
Author
Description
Check out these before and after pictures of celebrity plastic surgery gone wrong in the most horrifying way that will make you question everything!