While glitter makeup is the go-to option for parties, what with shimmering dresses, shoes and jewelry amping up our beauty look, glitter makeup isn't quite off the table when it comes to our everyday look book either. You can turn an ordinary look into something dazzling without the whole fussy ombre lipstick swoops and smokey eye sagas. We understand that sparkle can be intimidating, especially when you add a dash on your face. But you do not need to go all out and look like a glitter bomb exploded all over your face. All it takes is a pinch and the right tips to elevate your everyday look from the mundane onto the magical plane. So, ditch all the 'glittering' makeup mistakes from high school you'd much rather forget and take to the glitter formulas that you can go easy, breezy with. Add a sprinkle to your hair, nails, lips or eyes and learn how playing with shimmer was always 'in.'
Here's the NLT approved list of 15 easy, peasy yet grown-up ways to don glitter makeup:
---
Suggested read: A complete guide on how to apply makeup for pale skin
---
1. A dash of gold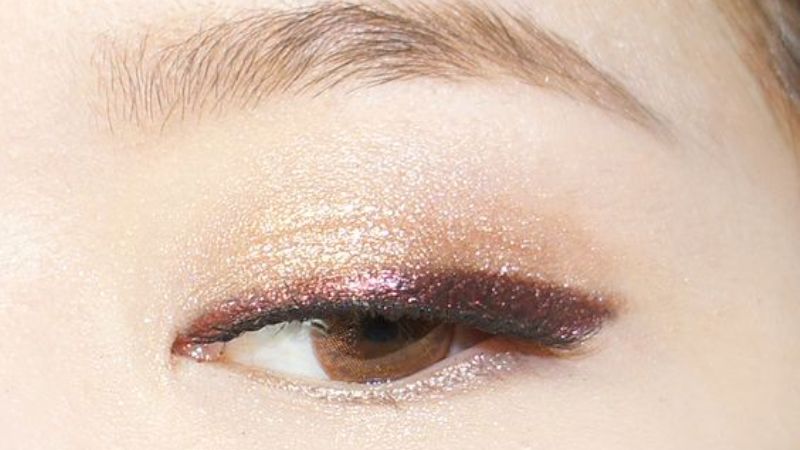 Image source: Pinterest/heyshumin
Glitter eye makeup doesn't have to be intimidating anymore. Simply, create a thick, defined line near the lash line and lessen the gradient as you move upward to create a mesmerizing ombre effect.
2. The line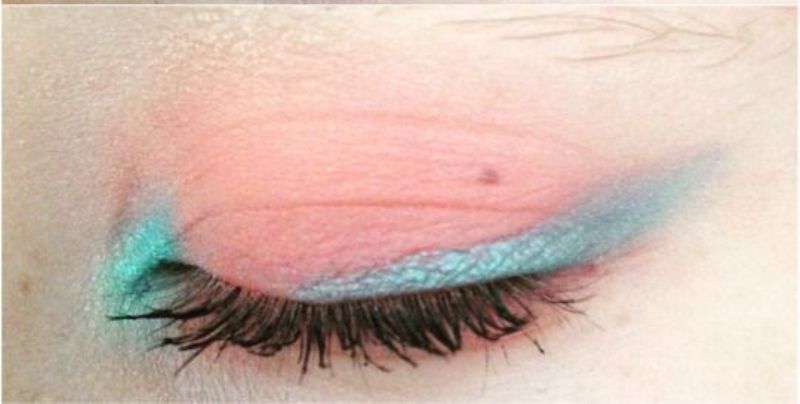 Image source: Pinterest/Tumblr
If you aren't comfortable with drowning your peepers in a swathe of glitter, simply opt for a streak of colored glitter liner over your lash line for a third quarter of the length. This shall provide just the right amount of shine for your look, without making it feel like you are going overboard.
3. For the glowing kiss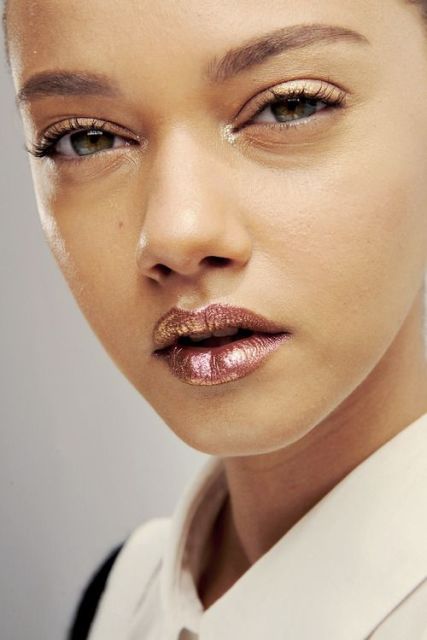 Image source: Pinterest/Tumblr
If you are a matte addict, you may find shimmer too 'out there.' However, pushing boundaries is often a GOOD thing because what you get is a shimmery statement pout to die for!
4. Beyond black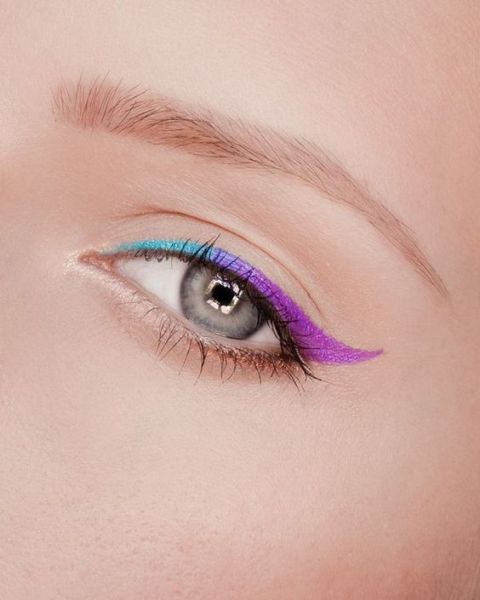 Image source: Pinterest/makeupgeek
Switch your go-to black liner with a shimmer pencil or simply, dab your brush in glitter and use it to streak your lash line with some sprinkly shimmer magic. We wouldn't go as far as to say black is boring, but sometimes the world beyond black is mighty irresistible.
5. Go down
Image source: Pinterest/Twitter
Alternatively, you could choose to add flecks of glitter underneath your peepers and give the whole look a semblance of togetherness with a contrasting glitter line on your lower lash line.
6. Lustrous lips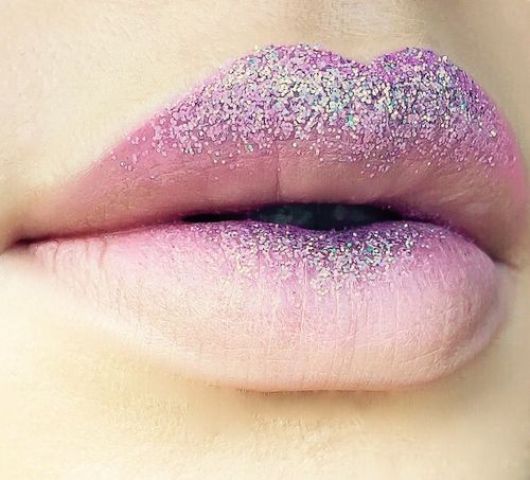 Image source: Pinterest/MonVanityIdeal
You need not have a shimmer lipstick in your bag to add some luster to your look, all you gotta do is dab your brush in some loose glitter and go in for some fell swoops over your regular shade- and voila, just like that, you'd have given yourself a new shade and look that dazzles!
7. Of silvery slivers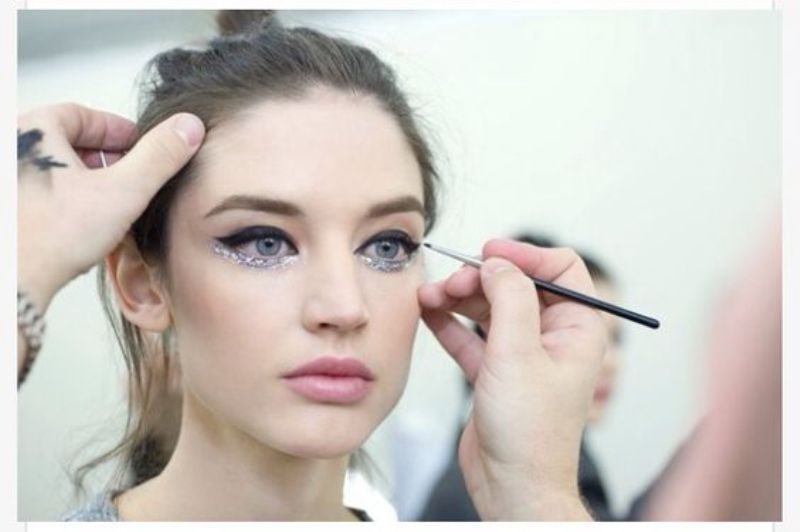 Image source: Pinterest/LauraCurwood
If you are still in two minds about all the glitzy glamour, balance it out with a classic bold black cat eye and add a sliver of silver glimmer to your lower lash line.
8. Just a touch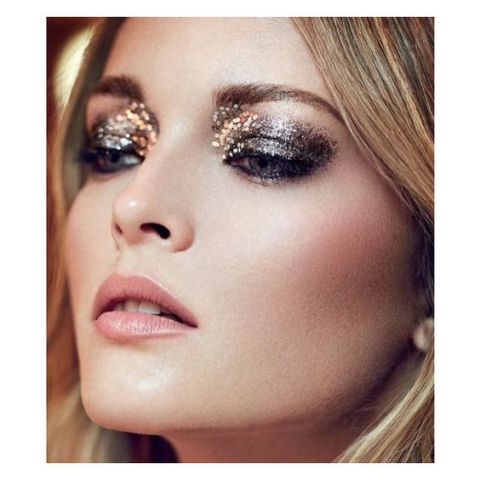 Image source: Pinterest/polyvore
If you wish to sport a dramatic look and are all for the smokey eye, go for adding glitter on the inner edges of your eye to create an additional dimension.
9. Bold brows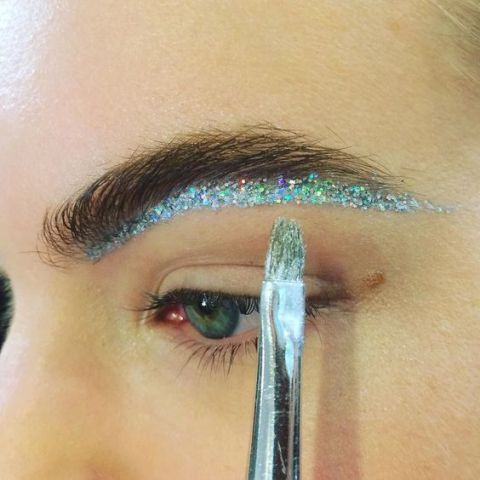 Image source: Pinterest/Youtube
If you are brave enough, ditch the powder and gel to add dimension and definition to your natural arch with a flicker of prismatic pencil underneath. Do not blend as you need the bold quotient.
10. Gleam and glow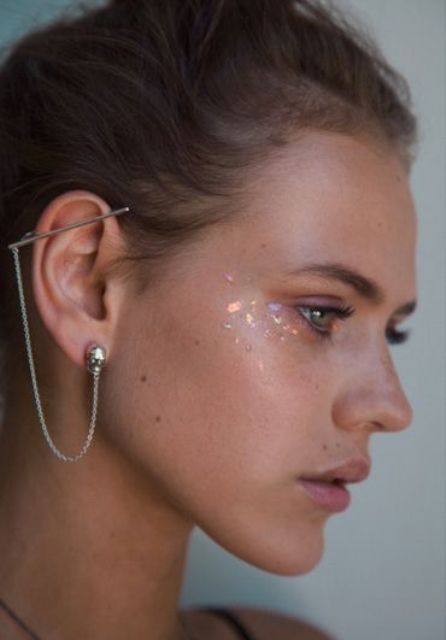 Image source: Pinterest/Tumblr
If glitter tears have splattered all over the runway to become a runaway success, use a relaxed variation in your daily look by starting at the outer corner of your eye and cascading a fall down on your cheek. It shall amp up your dramatic quotient while keeping the shimmer low-key. If you feel playful, though,  feel free to experiment with multiple colors.
11. Tressed to impress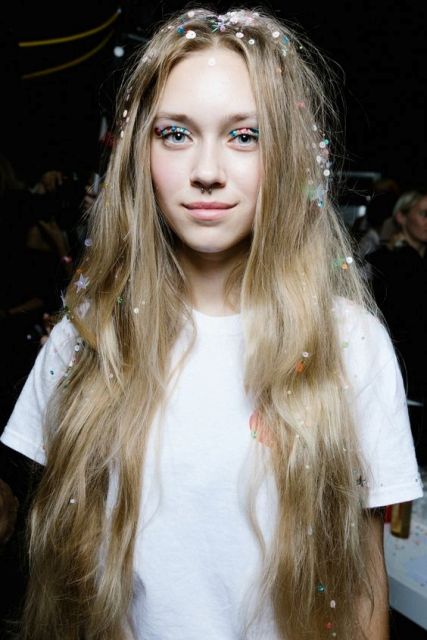 Image source: Pinterest/thelovemagazine
Adding glitter to your tresses is a surefire way to glam up your curls. Whether the reason is some festive sparkle or simple lift-me-up cheer, hair glitter is going to delight you and onlookers alike.
12. At the root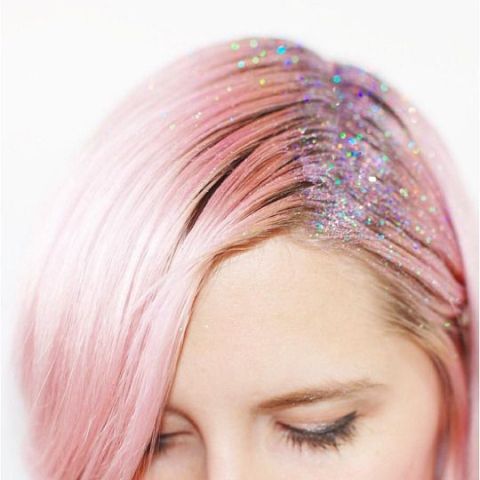 Image source: Pinterest/Tumblr
Glitter roots are also a hot favorite this season. Instead of going for the subtle highlights in different section, this one adds some glitz n'glam to your partings, at the roots, so you can lock'em all in.
13. Luster-locked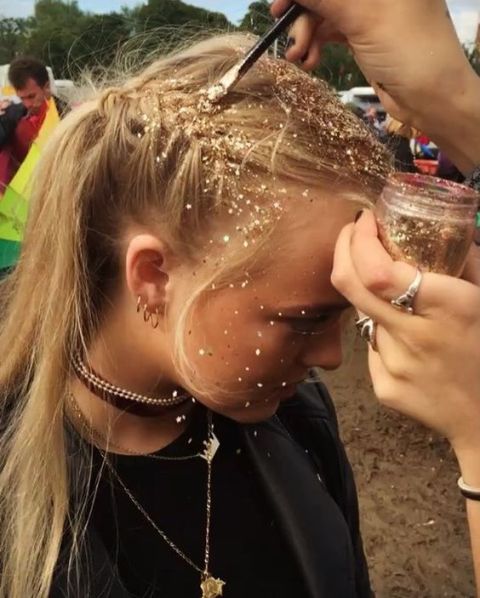 Image source: Pinterest/websta
An all-over sparkle look on your locks is going to blow'em all away. Just open a pot of glitter and sprinkle it all over your updo for a dazzling look. Keep the sparkle in place with a hairspray.
14. Festive flicks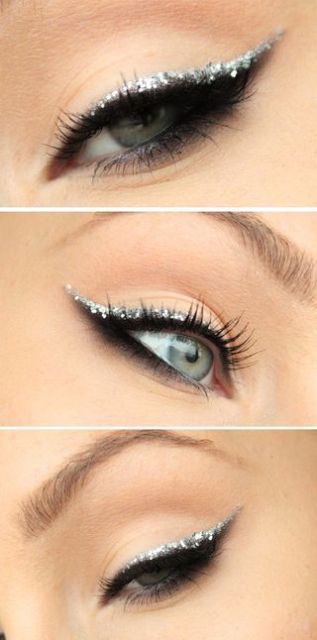 Image source: Pinterest/bloglovin
Adding some glitter to your classic black eyeliner look is an unmatched combination. Any combination looks great but we are all for the silver-black dynamic duo.
---
Suggested read: The best fall makeup looks, and how to get them
---
15. Twinkly tips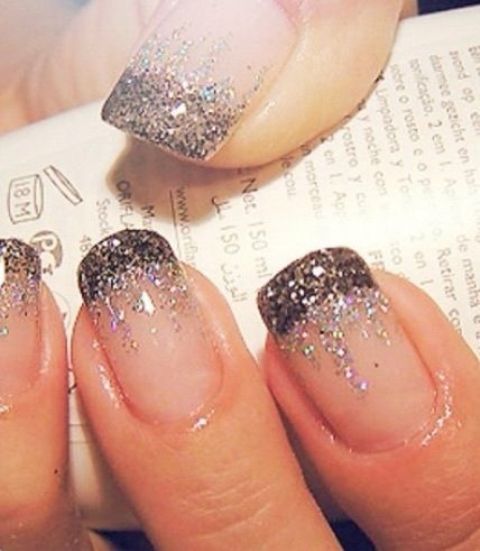 Image source: Pinterest/Lively
Add a twist to the classic French manicure by swapping the white tips with some glitter magic. You can keep the nails a nude base coat, or add some color. There's no such thing as rules here- and you are free to experiment with as many hues, shapes, patterns and designs as you like.
How are you taking to glitter makeup this cold season? Tell us in the comments below.
Featured image source: Pinterest/LauraCurwood
Summary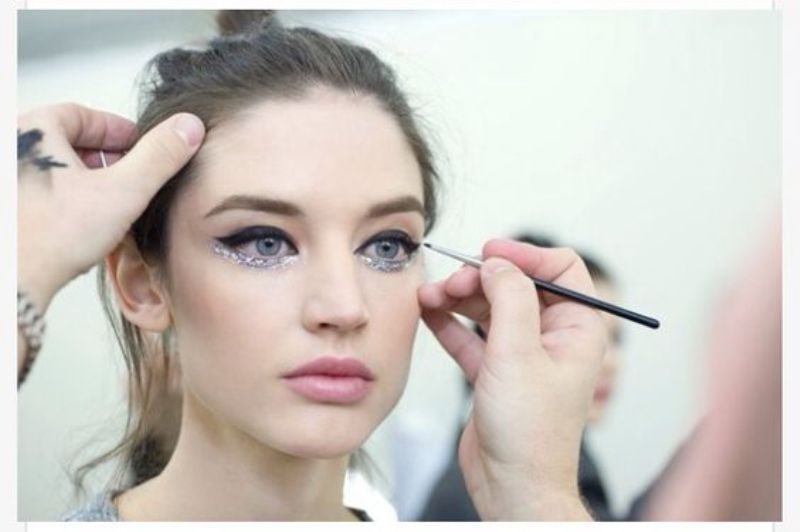 Article Name
15 Grown-Up Ways To Pull Off Glitter Makeup In Real Life
Author
Description
If you thought glitter makeup was just for parties, think again!