You may definitely want to try!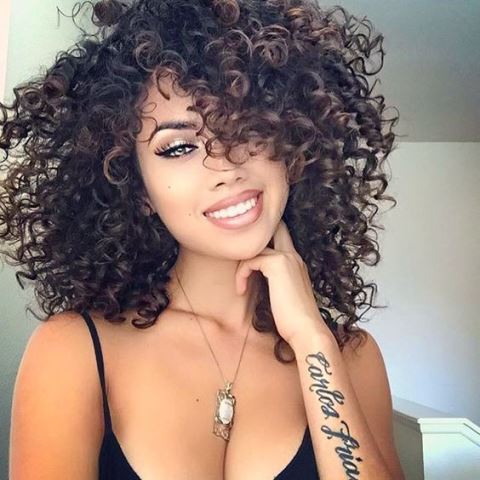 Image source: Pinterest
Given a choice, we would all go for straight hair over curly ones. Because they are easy to wash, style, and maintain. Many curly-haired babes have ironed their hair slick straight. And why not, having those thick curls require a lot of looking after; not to forget the number of items involved in making them look good. Besides, there are but a few days when curly hair looks like curly hair and not some lazily trimmed bush!
Many aspire to keep their curls from getting tangled, jumbled, and entwined. Others who have lost hope of making the perfect curls out of their hair have either cropped their hair short or have invested many a dollar in straightening them. Now, that being said, only a minority of curly-haired babes know how to set their hair and maintain them. When you have a few curly hair hacks under your sleeve, there is nothing to frown about. When tamed adequately, curls can make you look sexy.
---
Suggested read: 23 hair hacks the lazy girl in you will thank us for
---
So whether you have lost all hope of seeing your hair bounce perfectly or whether you are still trying, here are 20 curly hair hacks that will definitely make your life easier.
1. Know your curls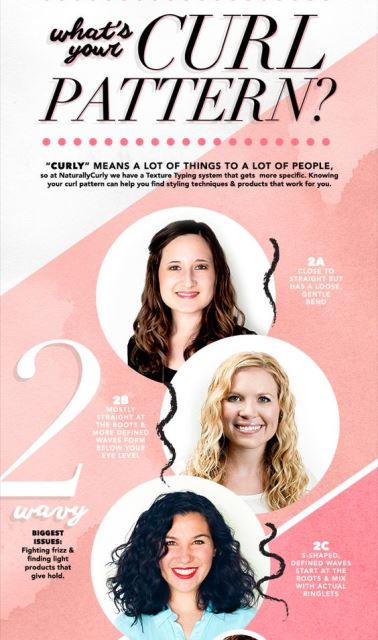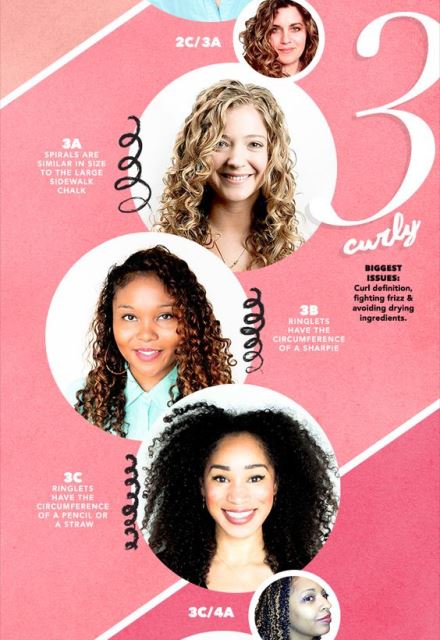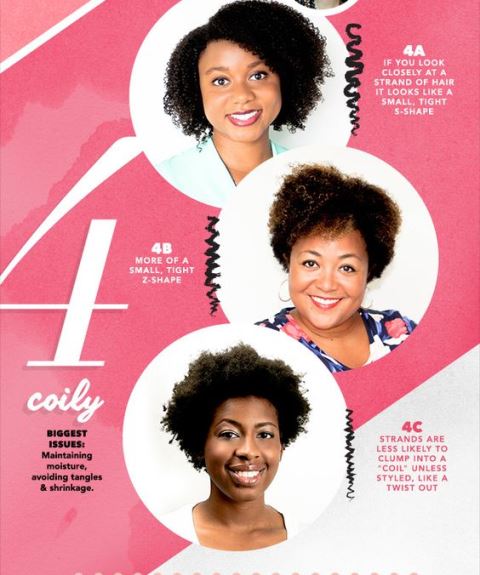 Image source: Pinterest
Identifying your curl type is the first and the most important thing you must do before experimenting with serums and shampoos. Whether they are wavy or kinky, you must know your curl type. Loose curls are the ones that hang loosely from your head. They take the shape of waves and are in the middle of perfectly straight and perfectly curly. Medium curls take a firm shape of the letter 'S,' while fine medium curls are bouncier. Kinky curls are the ones we see on African wigs.
2. Use a toothbrush to avoid frizz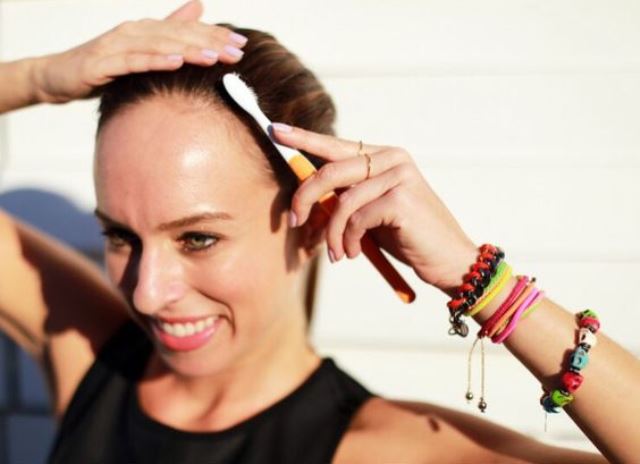 Image source: Pinterest
Many of us, me included, use a hairspray to bring frizz under control. It's easy yet difficult. Because if you use too little, you don't witness the results, and if you use too much, you end up with flat, stiff hair. To hold your curls the way you want them to, take an old toothbrush, spray some hairspray on it, and run it over your flyaways. It will keep your hair in place like a glue.
3. Use a press and smooth strategy
One thing is quite clear – the cuticles of curly hair are not as smooth as straight hair. You have to be gentle with them. A press and smooth strategy is basically applying a conditioner from mid shafts to the ends, all the while distributing them with your fingers. Once you have applied the conditioner, lock up the moisture by giving it a final rinse with cool water.
4. Pineapple your strands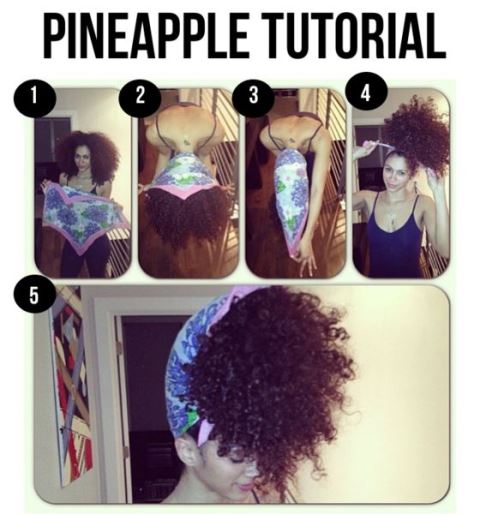 Image source: Pinterest
As the name goes, pineappling is sectioning your hair and tying each section separately. This will preserve your curls for the next day. All you need to do is make 3-4 sections of your hair and tie them very high in ponytails.
5. Use a satin pillowcase
Image source: Pinterest
Most bed sheets and pillowcases are made of cotton. Replace your cotton case with a satin one. This is to retain the natural oils and moisture in your hair. Cotton cases are quick absorbents, and hence steal away the essential oils, making your hair look dry and frizzy when you wake up in the morning. By using a satin fabric, you are making your hair less prone to breakage.
6. Detangle in the shower
Curly hair is very likely to fall dry the moment you step out of the shower. All it needs to stay fresh all day long is a magic sprinkle of moisture. It is true that hair is most vulnerable when it is wet, but it also means that it is more flexible when wet. To seal in the moisture, style and detangle your hair in the shower.
7. Use a leave-in conditioner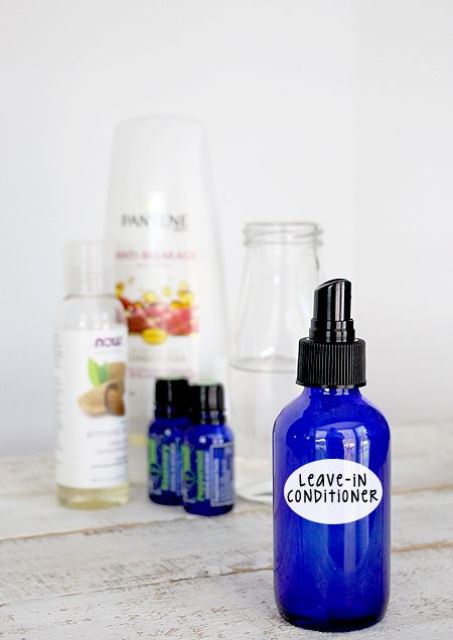 Image source: Pinterest
We all know that we must wash off our conditioner after 5 minutes of its application. But the rule does not stand legit for curlies because you should be using leave-in conditioner. Let it stay put as a cream in your hair. Don't rinse it, rather let it work its magic for days. Because when you have curly strands, you must avoid washing them very often.
8. Put oil in your products
Living a curly hair life is not easy. You have to protect your ringlets from dryness, build up, frizz, and dandruff. This curly hair hack will get rid of all your curl problems. To give those curls some extra shine, pop a few drops of jojoba or coconut oil in your shampoo and almond oil in your conditioner. It will not only rock your look but also prevent the curls from falling brittle.
9. Deep condition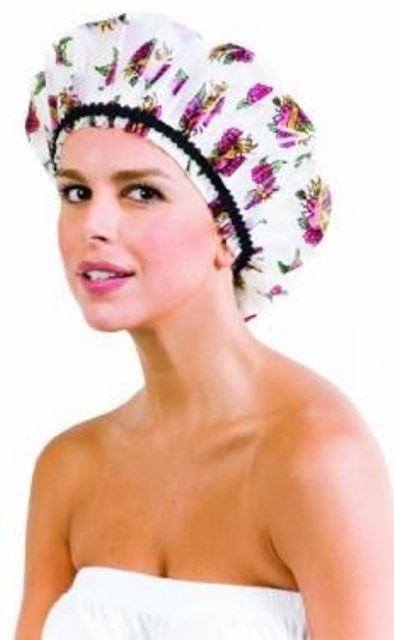 Image source: Pinterest
Our shower routine is – step in the bath, wash hair, wash body, shave, dry, put on clothes, and step out of the bath. This is the wrong way. Curly hair needs as much conditioning and moisture as it can lay its hands on. Rather than shampooing your hair and washing it right away, condition your hair first. Wear a shower cap and let the conditioner work its magic. Wash your body and do all the chores before rinsing the conditioner. This will let the steam from your shower nourish the hair shafts, penetrating them and making them softer.
---
Suggested read: 12 amazing tips on how to strengthen your hair
---
10. Use your fingers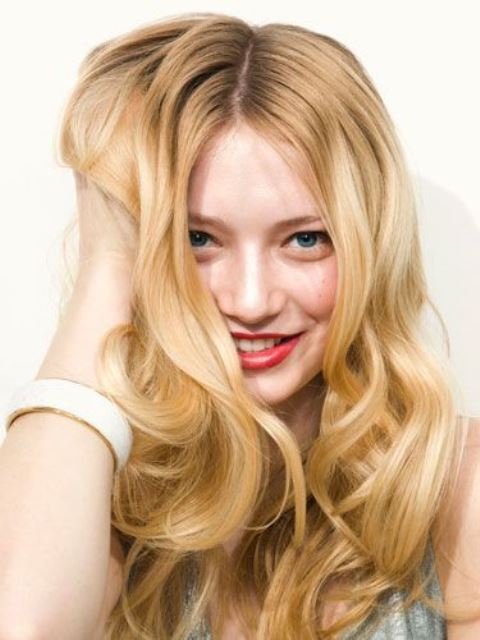 Image source: Pinterest
Ditch the brushes and use your fingers or a wide-toothed comb to detangle the stubborn knots of your hair. This curly hair hack will make them less prone to breakage and will maintain the shape of your natural curls.
11. Don't use heat products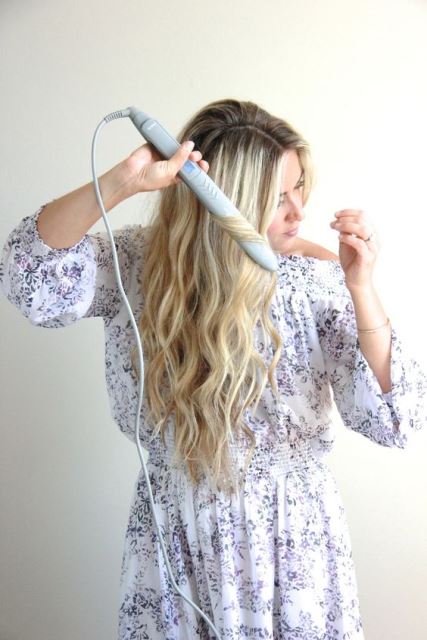 Image source: Pinterest
Curly hair gets dry naturally at the ends. On top of that, if you are using heat styling products, you make matters worse. Your hair becomes fried, and there is not a hint of shine in them. Yes, they are a great way to tame unruly hair but they are the fastest means to hair damage. And if you are using heat styling products, make sure you have a protective serum within reach.
12. Use a diffuser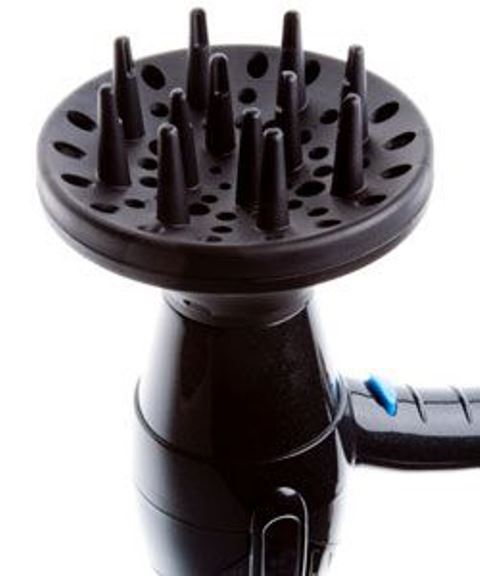 Image source: Pinterest
A diffuser is a blower-like contraption that comes along with your dryer. It is the fastest and the best way to dry curly manes. So go for this curly hair hack instead of a blow dryer that will make your curls frizzy. Let your curls form naturally with a diffuser. It also helps you in attaining the desired volume and distributes the heat evenly on your strands. If you did not get a diffuser with your blow dryer, buy one. It's worth it!
13. Bun to bed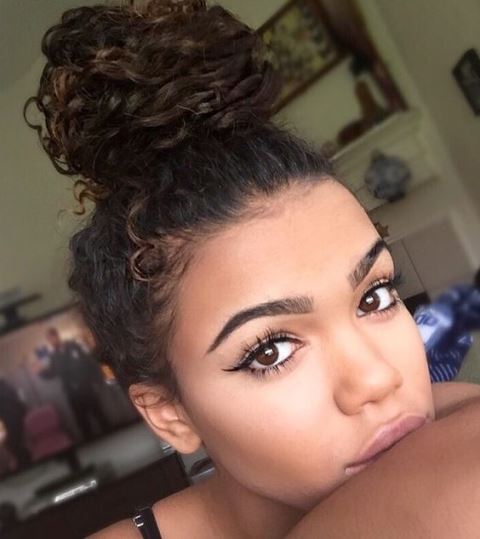 Image source: Pinterest
After a long day, curls are bound to get crushed and messed up. To save them for a few more days, pull it up, twist it, and pin it in a ballerina bun. Don't use your fingers, don't use a comb, simply pin it up. Refresh them in the morning with a serum.
14. Try a messy knot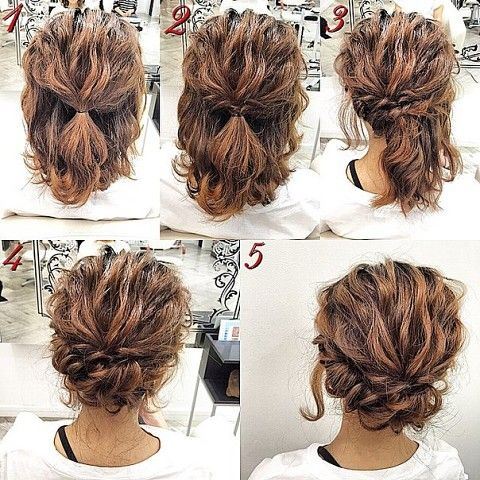 Image source: Pinterest
One way to embrace your waves and kinks is by wearing them the way they are meant to. Let a messy updo rule your day as it will make you look pretty and confident. Use bobby pins to secure your topknot and a hairspray to tame flyaways. Wear the look at date nights and parties.
15. Comb the reverse way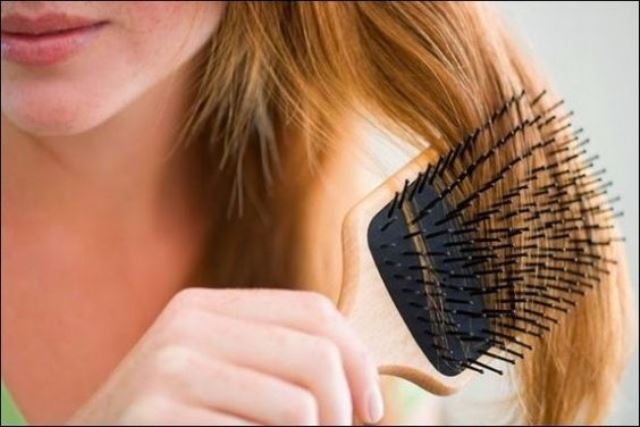 Image source: Pinterest
Instead of combing your hair from top to bottom, comb it the reverse way. Start at the ends and move gradually upwards. This will make you get rid of the jumble of entwined hair, giving it more volume and less mess.
16. Try co-washing
Co-washing is an abbreviation for conditioner-only-washing. If your ringlets are seeing bad days, skip the shampoo. Rely solely and completely on your conditioner as it will give you a second day look, that is, softer, shinier, and bouncier hair. Shampooing hair strips away the essential natural oils from your scalp. By skipping it, the conditioner will moisturize your hair and make it look perfect!
17. Instead of a towel, use a tee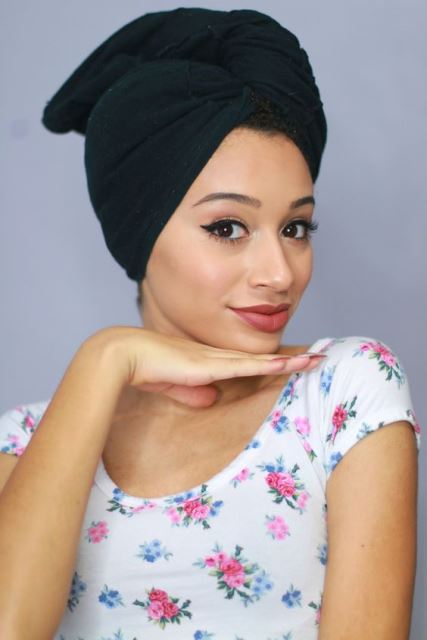 Image source: Pinterest
Instead of drying your hair with a towel, use one of your t-shirts. This will ensure the absorption of moisture that you've tried so hard to retain through conditioning. Wrapping your hair in a comfy t-shirt will provide smoothness and prevent your curls from forming knots. Otherwise, let the natural air dry your hair.
18. Use the right brush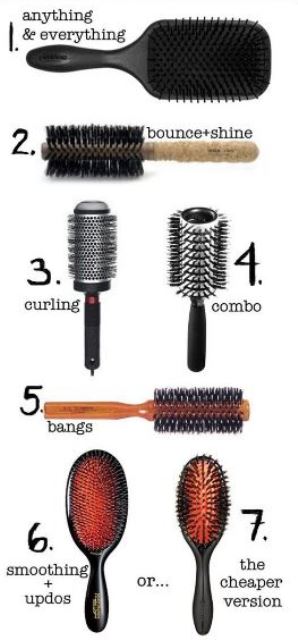 Image source: Pinterest
You must know the purpose of different brushes. Not every brush is made to detangle hair and not every comb can style your hair. Smoothen your hair with a paddle brush, bring in volume with a small round brush, detangle it with a wide-toothed comb, and distribute natural oils with a boar bristle brush.
19. Use soap like a shampoo
It is not necessary to clean your scalp with a shampoo. Most of the shampoos we purchase are not sulfate-free. So is the case with soaps. Rather than spending on a shampoo AND a soap, purchase an all-rounder soap that does both work of cleaning your scalp as well as your body. Don't go for over the counter products. Instead, fetch a handmade one that has amazing ingredients as cocoa, castor oil, argan oil, shea butter et al.
---
Suggested read: 7 routines to follow to get beautiful, lush hair
---
20. Make a DIY cleanser
Conditioning cleansers are expensive but given the right ingredients, you can make it at home. Mix your shampoo and conditioner, and voila! You're done. Besides, you have complete control over the proportions. You can also cleanse your hair by mixing water with your shampoo. This will reduce the concentration of harmful sulfates that are responsible for making your hair brittle. After working with your cleansing conditioner, make sure you condition your hair again!
Maintaining curly hair is not an overnight task but if you pamper it like a baby, nothing will stop it from blossoming. It needs utmost protection and care so ensure that you stick with the rules and these curly hair hacks, and you're good!
Featured image source: favim
Summary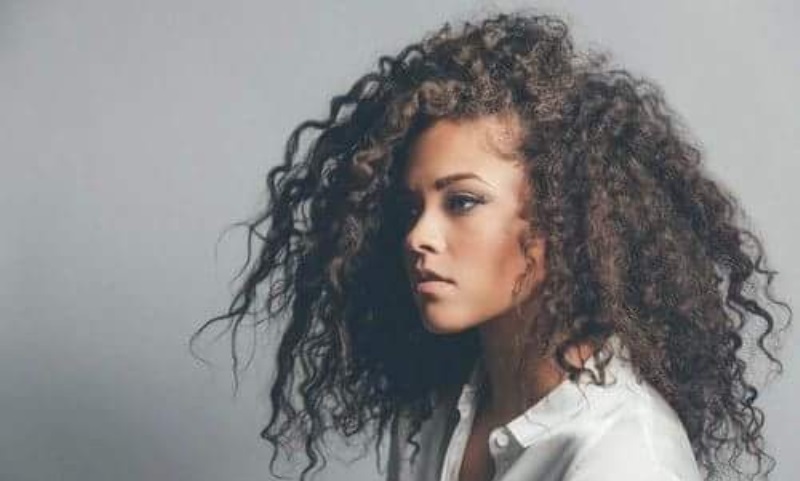 Article Name
20 Curly Hair Hacks That Will Make Your Life Easier
Author
Description
Having curly hair can be a nightmare. However, with these curly hair hacks, your life will be SO much easier!