If we were to say we are obsessed with wedding dresses that would be an insult to understatements. If we were to say that we are obsessed with Monique Lhuillier and her wedding dresses, that too would be a gross understatement because as far as wedding dresses go, she is one of the best in the business, and her dresses honestly do want to make us want to weep with joy and lust and envy and every other possible sin.
---
Suggested read: 20 of the most gorgeous dip dye wedding dresses you have ever seen
---
Here is a list of gorgeous Monique Lhuillier wedding dresses that are literally going to leave you spellbound.
1. Magical sequinned dress
This dress is basically a mass of cascading tulle and silk, all of which has been embroidered with sequins and embellishments and a lot of other really expensive things to make it look like the wedding gown that dreams are usually made of.
2. Hot pink mermaid style wedding dress
Even though this is a dress from her fall collection for Paris Fashion Week last year, it is undeniable that this would make one hell of a wedding dress. The beautiful silken texture of the pink on the body, combined with the pleated neckline and perfectly matched pleated hemline of the mermaid skirt, has us drooling.
3. Ethereal sheer lace creation
Monique Lhuillier wedding dresses are special because of their intricate details, especially with regards to materials like tulle and lace, which makes this dress an authentic Lhuillier creation. The sheer bodice is carefully crafted with lace details, and even manages to sneak in an illusion neckline which adds even more depth to the beauty of this dress.
4. Frayed and tasselled 60s style dress
Retro style wedding dresses are not uncommon. However, no one does it quite like Monique Lhuiller, as demonstrated by this stunning number, which has intricately details with sequins and constructed in a straight A-line structure.
The two halves of the dress are divided by heaps of tassel details arranged in a frayed manner, which creates a romantic, Bohemian effect. Also, we totally dig that blush color.
5. Romantic nude wedding dress
Honestly, there are very few words other than 'beautiful' that I can use to describe Monique Lhuillier wedding dresses. This blush-toned nude number is so special because of the deep-neckline which gives way to a netted lace bodice on silk, and covered with an A-line tulle skirt, which gives the dress its layers.
6. Contemporary, chic pale gold wedding dress
In typical Monique Lhuiller style, the dress is made on several layers, with the most exterior tulle layer consisting of a flowing white skirt with a split down the front, and embroidered with gold floral details. This structure is beautifully contrasted by the main body of the dress, which is pale gold and short, with an illusion neckline, long sleeves and white floral details.
7. Creamy pink silk wedding dress
One of the best things about this wedding dress is the use of contrasting materials which makes it such a masterpiece. The simple torso is covered with a sheer tulle stole with lace embroidery, which creates the effect of an illusion neckline, without hiding the sweetheart neckline underneath. The highlight, however, is the uninterrupted expanse of pale pink silk which forms the bulk of the A-line skirt, with gentle pleats to give it some drama.
8. The 'Elizabethan' gown
This incredible piece of art was introduced in Monique Lhuillier's 2015 Fall collection and honestly, if someone from any royal family in some part of the world misses out on choosing this dress as their wedding dress, then they are dumb. There are few things more beautiful than this white, nude, and dull gold dress, which has been hand-stitched with sequins, crystals, and gold thread on various parts of its tulle and silk body.
9. More blush wedding dresses 
Blush wedding dresses are all the rage right now, but no one does them quite like Lhuillier. This beautiful, romantic piece is one of a kind because of the large, bold heart-shaped sequins distributed over the body of this dreamy number, along with the frayed sleeves and wide belt to match.
---
Suggested read: 25 absolutely ethereal tea-length wedding dresses you're going to fall in love with
---
10. The most unique wedding dress ever
It is difficult to concentrate on other wedding dresses after you have seen something so pretty and intricate. The top half consists of a one-shoulder midnight blue silk piece with flower embroidery, which spills onto the skirt. The skirt then expands onto a mass of black-grey tulle which creates a smoky effect.
11. Sequined tulle stunner
This dress was aptly named 'Diamond' from the Spring 2017 collection, and it is understandable if any bride would kill to have this as their wedding dress. The entire length of this dress is littered with small silvery sequins, which makes it a spectacle to behold. The greyish blush color also adds to the mystery and romance of this dress.
12. Deconstructed wedding dress
Monique Lhuillier also does a great job of breaking away from tradition when it comes to structuring her dresses. This deconstructed wedding dress looks almost like a simple tank top and a pair of palazzos, but details like the intricate sequin embroidery and the rich ivory silk of the pants, make it a one-of-a-kind dress for your wedding.
13. Exquisite deep blush wedding dress
The color on this dress is enough to make you weep. The flowing material is only interrupted by a thin, subtle stone belt, and the overlapping neckline ensures that it is separate from every other A-line wedding dress out there.
14. The best gown ever
I make sure I include this dress in every relevant list about wedding dresses ever, because it really is the best gown ever. Even though it is slightly ostentatious, and is certainly over the top, I honestly believe those are the exact qualities you need to look like an angel from heaven on your wedding day and this dress is perfection.
15. Something blue
Monique Lhuillier took a wedding tradition to a whole new level with her Something Blue Collection at the 2017 chapter of the New York Fashion Week. These gorgeous dresses were dip-dyed and emphasized with details like shoulder-embroidery and lace capes and large black belts for a dramatic aftertaste to the romantic effect of the dress.
16. The classy mermaid dress
We love this dress because of all the drama that is going on in this seemingly unassuming number. We love the dramatic use of the veil embroidery to create a heavy effect on the body of the dress, as well as the over-exaggerated skirt to create the mermaid effect, but with a twist.
17. The perfect spring dress
If you are having a dreamy spring wedding, you now have the perfect dress for the occasion created by the master herself. The illusion neckline emphasizes the sweetheart neckline, which drops to the wide belt. The top along with the skirt with an asymmetrical hemline is embroidered with floral appliqués, making the dress absolutely flawless.
18. Sleek monochrome wedding dress
One of the best things about this dress is the asymmetrical hemline, which is a perfect combination with the descending black floral motifs, which go all the way to the hemline and the full skirt. The lack of tulle or sheer material (which is uncommon for Lhuillier) only adds to the sharpness and overall beauty of the dress.
19. Breath-taking wrap-around tulle dress
After demonstrating how Monique Lhuillier can excel in making literally any kind of wedding dress, it is time to go back to what she does best – tulle. The entire wedding dress looks like a cloud has been wrapped around the bride, which can never be a bad thing. The full skirt, which one would expect to be uninterrupted tulle and organza, suddenly gives way to large rosettes, which only enhances the beauty of the dress.
---
Suggested read: 28 gorgeous unconventional wedding dresses perfect for a non-conforming bride
---
20. Another blush masterpiece
Like I said, blush wedding dresses are super pretty, which is why they are all the rage right now. However, no one quite does it like Monique Lhuillier, who makes even the simplest styles look exquisite and ethereal. Even though this dress looks unassuming, it has been carefully created with hand-stitched crystals and embellishments, which is finished off with a large array of tulle that has been pleated in a pattern around the hemline of the dress.
When you are obsessing about Monique Lhuillier wedding dresses, you could honestly go on forever. However, these are some of the most remarkable wedding dresses that have emerged from that label, which you can wear on your wedding day to look like a dream, tbh.
Summary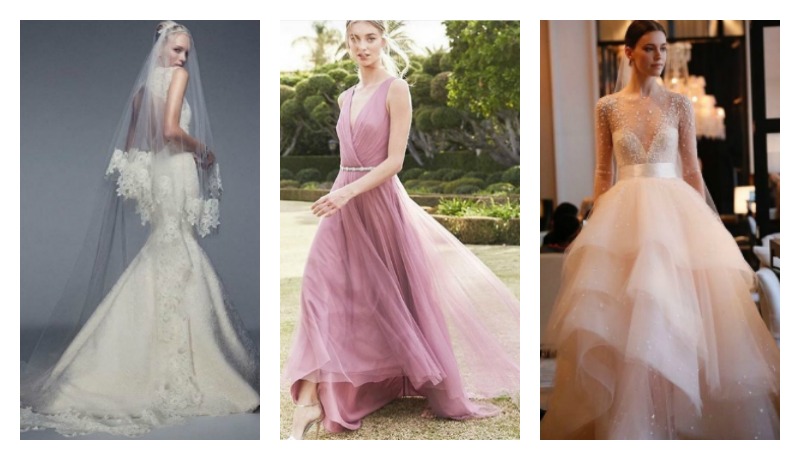 Article Name
20 Ethereal Monique Lhuillier Wedding Dresses That Will Make You Covet Them
Author
Description
Monique Lhuillier wedding dresses are special and irresistible because of their intricate details, especially with regards to materials like tulle and lace.