My heart to you is given: 
Oh, do give yours to me; 
We'll lock them up together, 
And throw away the key.
– Frederick Saunders
A moment in which you make a promise of an eternity and expect your love to share in the dream of a 'forever' of togetherness deserves all the thought that is put behind it. Gone are the days when just going down on one knee and popping the question made the cut. We usher in an era when marriage proposal planners, photographers, and videographers are making as much as neurosurgeons! And that cannot be without reason, right?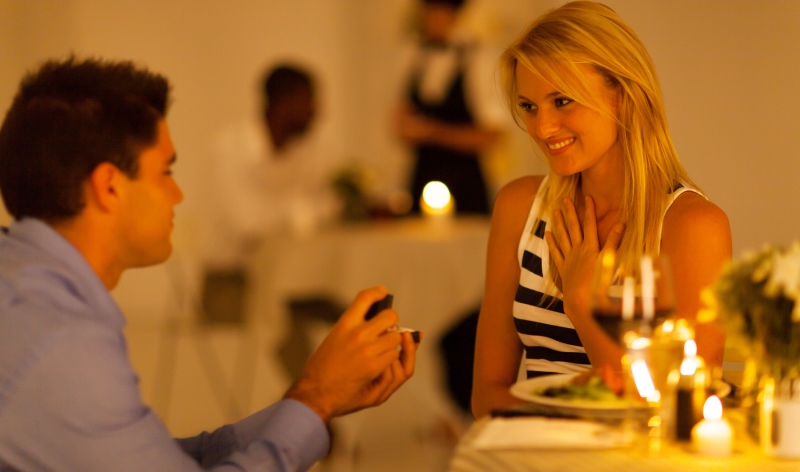 Image source: Shutterstock
More and more lovers across the globe are putting immense thought and planning behind the most important question they'd ever ask in their lives. The results?? They range from sweet, elaborate, dramatic, filmy, sentimental, tear-jerking, crazy, whacky, cool, creative, innovative to even terrifying!!! And when recording the proposal is a trend that's fast catching up coz it is an additional present for the beaming, blushing beautiful bride to use as an aid when she babbles and tears up in response to the oft-asked 'So, how did he ask?' we cannot help but make note of the several skywriters, caricaturists, divers, actors or even pugs being roped in into the 'personal' moment of an ever-lasting promise of love.
Here are the most innovative marriage proposals of 2014 – some of them heart-warming, some readying you to reach out for the tissue-boxes, some shall make you smile and others might just leave you speechless:
1. Y U No Put Ring On It
Timothy, an obvious internet meme aficionado, pops the question to his girlfriend Audrey in a series of memes visible across the glass pane of the restaurant where she was having dinner. If cute is something that has always been a part of the 'proposals' that tug most at your heartstrings, this one is 'melt, melt, melt.' An overdose of 'cute,' this one is one of those proposals that have you calling out to all to gather around your computer screen to … well, melt away!
Watch this adorable meme marriage proposal here:
2. Never too soon for the 'right' person
Ahh, the kind that puts a smile on my face. This one reverses the conventional gender norms and beautifully so! I was grinning ear to ear when I watched this one! Lu Huan from Wuhan dons a wedding dress and proposes to her boyfriend in the most beautiful way ever! The surprised and teary eyed lad says 'yes' whilst wrapping her in his arms! The best part – "Others all think I am a little too impatient, whether it is too early for us," said Lu. "I want to say, when we meet the right person, no matter how early it is, it is still too late. Do you want to marry me?" Big awwsssssss…and damnit, where are the tissues!
Watch this beautiful proposal here:
3. The best arrest
When Matt Van Vliet and Samantha Labo were arrested during their freshman year of college under suspicion of underage drinking, they were total strangers. That night in jail, however, changed that and how! That four years later, Matt enlisted the help of their original arresting Officer Edward Anderson to pull them over so that a secretly planned dashboard cam proposal could be made real!
Watch the couple get handcuffed for 'life' here:
4. Red hotttt
On August 29th, Dou Ziwang made his proposal sizzling hot by popping the big question on two massive hearts made of 99,999 red chili peppers in Jize county, North China's Hebei province. Now, who would say 'no' to a man who sure knows how to spice up the 'relationship!' 😉
Photos:
5. Hungry for love
A hot dog store brought them together and 1001 hot dogs bound them for life. 1001 days after the 'sausage saga' turned into a love story, Wang Han proposed to his girlfriend by using 1001 hot dogs to spell out 'LOVE,' whilst he went down on one knee to ask her to be his wife. We are sure she savored the seasoning on this 'sausage saga' and said 'yes' – with relish! 😉
Catch the camera captures of the 'yummmm' 'will you marry me' here:
6. Six years for the priceless moment
They say that you always 'know' if you have found 'the one' you are destined to be with. Richard just takes the idea forward to ask Samantha to marry him. How? Richard used six years' worth of photographs of them with letters that spell out 'we always knew' and just weaves magic with the last letter by transforming it into a heart-warming question of knowing if the 'knowing' merits what they had both known all along! Precious and priceless! <blush blush>
Catch the video here:
7. Painted proposal
A painting party invite and being treated to a surprise collection of paintings that depict exactly what your future married life would look like! That is exactly what this potential groom does to show his bride-to-be how he'd love to be the one to fill her life with the colors of love and bliss. Couldn't get more artsy, we say! Well painted, dude! 😀
Catch the painted signs here:
8. The mural for marriage
A hand-painted mural on Avenue A and Second Street of New York to pop the question in their favorite board game style, is what Jeff Gurwin opted for to ask his girlfriend Caitlin to marry him. The letter tiles all unravel the classic 'will you marry me' in this rather creative and thoughtful scrabble mural proposal! Of course, Caitlin says 'yes.' We hope all the scrabble tiles of their life unravel a 'forever of togetherness.' J
Catch the heart-warming video here:
Special mention
The path of love
If three years' worth of text messages are chalked onto the sidewalk you use each day and lead you to the man you love, would you be able to do anything save what this girl does? You don't have to answer that, we know the answer already. Catch the video of this man chalking his love story onto the path she treads to ask for her hand to tread the path of life together!
And you know what, she answers by chalking in the 'yes.' Aaaawwwwww!
Watch them here:
Those are our picks of the year. If there has been a proposal around you that deserves a place here or you are yourself planning one, please let us know in the comments section. Nothing delights us more than true love winning the day! J
Featured image source: Shutterstock
Summary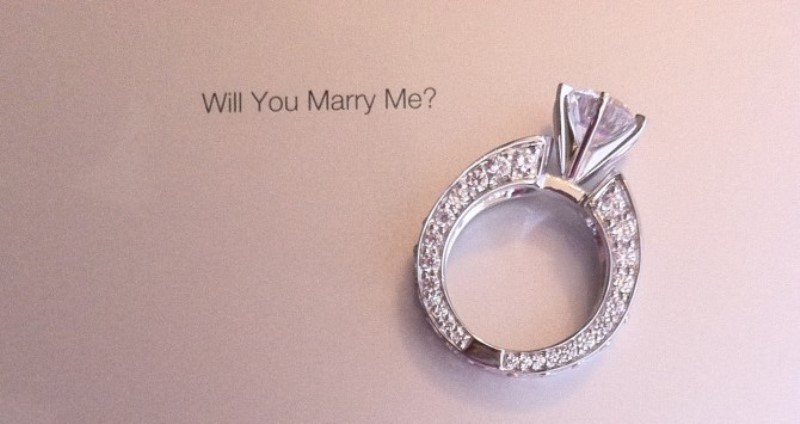 Article Name
8 most innovative marriage proposals of 2014
Author
Description
Marriage proposals are no longer a private affair - the bigger they are, the better it is. Here's a look at the 8 most innovative marriage proposals of 2014.