Everyone likes to experiment with their style. One of the most common ways that people try to change up their look is by changing the color of their hair. Coloring your hair is by no means a new trend; it has been around for ages. Some people love to experiment by trying out crazy and vibrant colors, while others go for soberer tones.
Coloring your hair can be an excellent way for you to experiment with your style, and even to showcase your quirky personality. If you are interested in coloring your hair but aren't sure what color or style you should go for then you have come to the right place.
Grey Hair Color: Why this chic hair color has become so popular in 2018
Coloring your hair gray may seem like a weird contradiction to many people. After all, most people dye their hair to hide the grey hair that may pop up as their hair starts to lose melanin. Still, 2018 saw the rise of grey as a popular choice for people coloring their hair. Looking back at all of the pastel colors which have been popular in the past, this does not come as a big surprise. But why has this color become so popular?
From Kim Kardashian, and Rihanna, to Cara Delvigne, all have embraced the grey color at some point, and have inspired many others to do so. In fact, Amazon had reported that there had been an 83% spike in the sale of grey hair dyes. Many stylists claim that the growing popularity of grey hair was a natural process. As people have started embracing color their hair shocking colors, grey was naturally the next step since no one would expect a young person to want to go grey so quickly.
Variations in the color from stark grey to other colors being incorporated into it are gaining popularity every day. People are tweaking this hair color in several different ways so to give it an extra edge. If you look at your social media accounts, you are sure to find several gray hair color ideas and inspirations which will convince you to take the leap.
Additionally, when you are not going grey naturally, it means that your hair has more gloss, shine and elasticity to it than those who are seeing natural grey hair pop-up. This means that the grey hair does not age your face at all, but rather gives you more of an eccentric and striking vibe. The natural glossiness of the hair also helps in giving your hair a silvery hue, which makes the gray color more vibrant rather than dull. Several hair stylists have also commented that seeing more and more people embrace the grey hair color may even convince people to embrace a very natural part of aging. While most people with naturally gray hair may want to cover it up as soon as possible, this hair trend may inspire many to ditch the dye and go natural.
---
Suggested read: Top 12 2018 Hair Color Trends That You Cannot Miss Out On
---
Looking for ideas? Here are some tips for you!
Well, now that you know more about why people would want to embrace coloring their hair grey, you may be looking for some grey hair color ideas. Let us take a look at some of the popular trends that have emerged
The Ombre Effect
The Ombre trend for hair color is popular no matter what color you decide on. However, with silver hair, you can extend the life of your hair color, especially if you have dark brown or black roots. As your hair grows, the ombre effect will intensify more, making your hair look a beautiful pale silver and giving your hairstyle and ethereal touch!
Fade to White
Go big or go home, right? If you want to make a bold statement with your hair, then you can opt to color the entire length of your hair a beautiful metallic grey while the tip of your hair fades into white. This style will definitely make your hair color stand out, and look great without requiring a lot of sculpting.
Silver Grey with Pastel Hues
If you want to give your grey hair a little more depth, but do not want to overpower it, then adding pastel hues may be an excellent idea for you. Blues and purples are excellent to complement silver hair color, but they still help the silver color pop and remain the star of the show.
Smokey Hair
Another popular trend is to color your hair a "charcoal smoke" color. Although this is a little darker than the traditional silver hair, it still gives you the silver fox vibe. The grey color still stands out, with a bit of smokiness added to it to make the final hair color look gorgeous.
Silver Balayage
If you are looking for gray hair color ideas to give your hair an opalescent quality with balayage highlight. Balayage is a softer style of hair color, where the transitions between light and dark shades are a lot natural than highlights or an ombre effect. The combination of metallic gry hair and pastel color in a balayage will give you an ethereal version of the mermaid hair!
---
Suggested read: 8 Rainbow Hair Color Trends An Expert Colorist Expects You To Know!
---
Stonewash Silver Grey Hair
As weird as it may sound, denim-inspired hair is also becoming increasingly popular. You can mix the trend of silver hair with the help of the stonewash trend can give your silver hair color an excellent depth. With tinges of blue in your hair, you will definitely be able o stand out in a crowd!
Silver & Gold
When you can't decide between silver and gold, why not go with both? Coloring your hair a metallic silver with light gold highlighted can have an unexpectedly beautiful outcome. Offsetting gray hair with yellow tones helps in giving your look a more neutral rather than icy tone which many people may prefer!
 As you can see, there are a plethora of gray hair color ideas for you to choose from. Tweak it any way that you like to adapt this color to suit your own personal sense of style. The gray color is versatile, and it can help you look romantic, ethereal, fairy-link while also giving you a rebellious edge! This hairstyle is suitable for all hair types and ages, just be prepared to take good care of your hair afterward!
Coloring your hair gray: Tips for your new look!
Deciding to color your hair grey is easy, but maintaining it might be a little challenging for some. With every wash of your hair, the color will fade little by little, until it wears off completely.
Coloring your hair is an arduous process, and the aftercare is essential for you to be able to maintain your look for a long time.
If you plan on coloring your hair gray, then here are a few things that you should keep in mind:
Take care of your hair before and after you decide to color it grey. Getting the silver color you desire will involve a lot of bleaching of your hair, to ensure that you do not use harsh products on it.
If you already color your hair on a more or less regular basis, then stop dyeing your hair for as long as possible before you go gray. It not only helps your hair build its strength back up, but it also helps in setting the right tone for your gray color!
Introduce moisturizing and protein treatment to your hair to help strengthen it and prep is for the intensive bleach treatment that it is about to go through
If you want you're the entire length of your hair to be silver, then prepare for uncomfortable burning sensations near your scalp. This sensation is caused due to the bleach, but don't worry, it will not harm your scalp permanently, but it might not be the most fun experience for you.
Make sure that you chose the right shade and tone for your hair, if you are fair skinned, and have cool undertones, then a very light shade of grey can make you look washed out. Consult your hair stylists to select the color which will go best with your skin color and undertone.
Use silver shampoos or just color safe shampoos to keep away the brassy tones from your hair maintain the silver hues to help you maintain the beauty of your hair in between visits to the salon!
---
Suggested read: 13 Metallic Hair Color Ideas That Will Make You Visit A Salon ASAP!
---
So, a lot of work goes into maintaining the beauty of the silver locks that you see around you. But, while taking care of your silver hair may be difficult, the end result is definitely worth all of the hard work. Think of how much cooler your selfies are going to be with your new hairstyle! With such a striking hair color, all your hairstyles are about to get a whole new depth to them.
Featured image source: Instagram 
Summary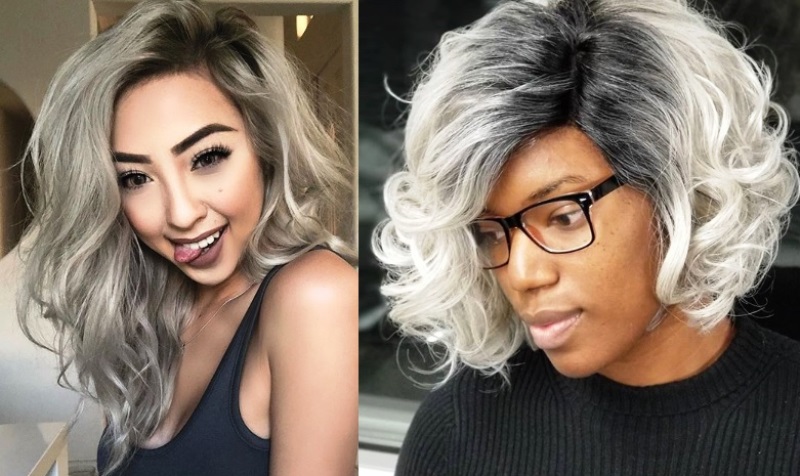 Article Name
7 Grey Hair Color Ideas That Will Help You Make A Splash
Author
Description
If you are interested in trying the grey hair color, but aren't sure what shade or style you should go for, then you have come to the right place.