A story of how a woman, displeased with being written off as "the most beautiful woman in the world," set off to invent a secret communication system, which would soon take down the Nazi submarines!
Imagine this scene: A lone immigrant from Austria, who happens to be an actress, slips off her stage attire, kicks off her stilettoes, and removes her makeup irately. She is frustrated about how she has been snubbed so far for more noteworthy roles. What is she going to do next? Is she going to cry over it? Or is she going to throw a pity party for herself over a glass of Pinot Noir? Astounding everyone, she heads resolutely to her drafting table and sits down to invent something that will change the way the world looks at communication; this is where she will  show the world how great she is, how she is more than just a pretty face!
Image source: Pbs
---
Suggested read: 14 empowering quotes for the women unafraid to break rules
---
Isn't this the recipe for an Oscar winning movie? Only that it is the real life story of the famous actress turned tech-star, Hedy Lamarr. Fascinated already? Wait, it only gets better as I tell you about all Hedy Lamarr inventions!
Posthumously recognized in 2014 by the National Inventor's Hall of Fame, Hedy Lamarr helped design a system which is used in technologies without which life today would be dull as hell: Bluetooth, Wireless, and GPS.
So what is it that makes this actress-cum-kickass-inventor such a fascinating character? We think it's because she was a beauty with a helluva lot of brains, and boy, did she put it to some great use!
Before we march ahead, let's watch the Google Doodle dedicated by Jennifer Holms to her on her 101st birthday!
"Lamarr has kind of a mythical status at Google, and I was pretty excited at the chance to tell her story in doodle form. Sketching storyboards on a yellow notepad helped me figure out how to show Lamarr in very different scenarios — movie star by day, inventor by night." (Holms, on her Doodle)
Early life
Born Hedwig Eva Maria Kiesler in 1914, Lamarr was the only child of her parents. Her father was Jewish, and mother, a Budapest native, who also came from a Jewish family. In the coming years, Hedy's power as an actress helped her rescue her mother from Austria, then under the domination of the Nazis.
Lamarr was discovered and brought to Berlin by the famous producer Max Reinhardt. After getting trained in theatre, she returned to Vienna and began working in the movie industry there. She started off as a script girl and soon rose to the position of the lead actress. In 1933, when she was only 18, Lamarr featured in Gustav Machatý's film, Ecstasy. The movie became infamous because of some notorious scenes of Lamarr in the throes of climax and also brief nude scenes of her.
First marriage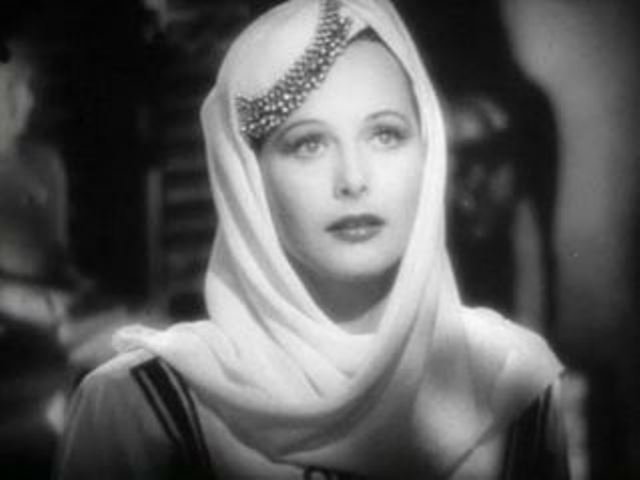 Image source: Google, copyright-free image under Creative Commons License
On August 10th, 1933, Lamarr tied the knot with Friedrich Mandl, the third richest man in Austria, then. He was one of the many who strongly demurred her simulated climax scene in her first movie. In 'Ecstasy and Me,' Lamarr's autobiography, she speaks of Mandl as a controlling man, someone who prevented her from following her dreams of becoming an actress and kept her a virtual prisoner, by confining her to a castle-like home. Though half-Jewish himself, Mandl was closely associated to the fascist government of Italy and also the Nazi government of Germany. He even sold munitions to the former. Lamarr also wrote about how Mussolini and Hitler were invitees to parties hosted at their home. Mandl would make her accompany him to meetings where he'd have discussions with scientists involved in military technology. Ironically, it was in these conferences that Lamarr was introduced to the field of applied science, a field where she would be working her magic in the years to come!
Lamarr's marriage became unbearable to her with each passing day, and so she decided to leave both her husband and her country for good. She dressed up as a maid and fled to Paris!
Trust me, this isn't a movie plot!
---
Suggested read: 15 must-read motivational books FOR women BY women
---
Hollywood career
Hedy Lamarr debuted with Algiers in the U.S., in which she was cast opposite Charles Boyer. According to Shearer, the movie created a national sensation. It was hoped that Lamarr would become the next Greta Garbo or may be Marlene Dietrich. Lamarr's beauty took everybody's breath away!
However, in the future, she was unvaryingly stereotyped as the archetypical dazzling seductress of exotic roots. Lamarr was not very pleased about this.
Brains over beauty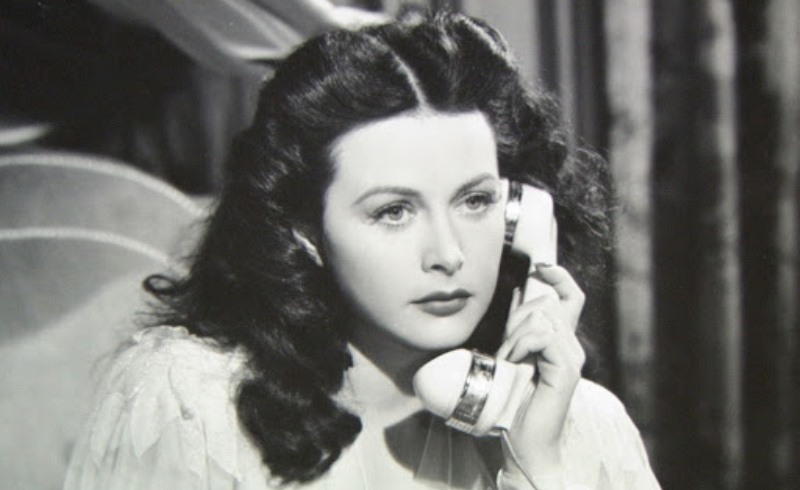 Image source: Google, copyright-free image under Creative Commons License
Lamarr played the femme fatale roles opposite actors like Clark Gable and Spencer Tracy, but she apparently wasn't the usual looks-obsessed starlet. "Any girl can be glamorous. All you have to do is stand still and look stupid," Lamarr once said.
In 'Hedy's Folly: The Life and Breakthrough Inventions of Hedy Lamarr, The Most Beautiful Woman in the World,' Richard Rhodes indicates that Lamarr's idea of having fun was discussing stuff that mattered, with intelligent friends. Hedy neither drank nor did she like to party. She loved finding something worthwhile to occupy herself with. And that something worthwhile for her was inventing!
As time went by, Lamarr realized that she had a flair for developing problem-solving technologies. So she transformed her sitting room into an innovation and invention studio, with some necessary tools and a drafting table to begin with. One of the first of Hedy Lamarr inventions was an aid to help people that have limited mobility to get in and out of a bathtub. Then she designed a fluorescent dog collar, and after that, a bouillon cube which would dissolve in water and turn it into soda. Rhodes says that Lamarr laughed off her bouillon cube invention and called it a complete flop. However, the most well-known Hedy Lamarr invention was her most passionate project, something that had serious applications in the years to come. The communication system which the actress developed along with composer George Antheil was the predecessor to today's wireless technology.
Although it was built for a completely different reason, the basic principles of the concepts of frequency hopping became the basis for the popularly used wireless technologies, which is our lifeline today.
"In the end, wireless is about dividing up the air into clear data transport lanes, modulating and moving data around in a predictable and accurate manner," says Aicha Evans, Vice President and General Manager for the Intel Communication and Devices Group. The method developed by Lamarr to transmit information over the air was just pure genius!
Live and learn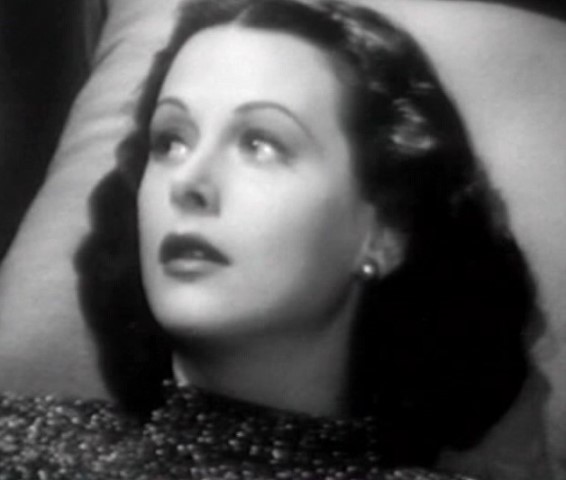 Image source: Google, copyright-free image under Creative Commons License
The superstar status in the Hollywood industry was certainly something that was not enough for Lamarr, whose fascination for science and technology was growing stronger with each invention of hers. She soon set her sights on aiding the Allies in the Second World War.
When the Nazi submarines started targeting non-military ships, Lamarr came up with a mind-blowing idea. She believed that torpedoes, which are radio-guided, can be a powerful way to retaliate for the Allies. She only had to find a way to prevent the radio signals from cramming.
The radio communication that Lamarr designed was based on 88 piano keys. It was a major success. She and Antheil even received a patent in 1942 for their work. Unluckily, the U.S. Navy overlooked this great feat for another 2 decades.
She may be gone, but she sure as hell isn't forgotten!
With the end of the Second World War, Lamarr's work could have easily rotten in a Navy file in some dusty old cabinet! In its place, the invention facilitated both military and private companies to develop on the frequency-hopping mechanism and use it during the Cuban Missile Crisis of the Cold War. In the following years, the technology became the foundation of current wireless technologies.
Although the invention did not come to the aid of the Allies the way Lamarr had intended, she realized that in life, some things have to move slowly. "The world isn't getting any easier. With all these new inventions, I believe that people are hurried more and pushed more. The hurried way is not the right way; you need time for everything – time to work, time to play, time to rest." This statement of hers illustrates my point, doesn't it?
---
Suggested read: Men who marry intelligent women can keep dementia at bay
---
It was not until 1997 that Lamarr's work was recognized by the Electronic Frontier Foundation. The latter acknowledged that 'spread-spectrum broadcasting' developed by Lamarr had helped everyday people with average resources inexpensive access to airwaves. EFF Staff Counsel, Mike Godwin said to the press, "The special award for Lamarr and Antheil is remarkable for other reasons besides its recognition of a woman whose contributions were thought to be solely in the field of entertainment. Ironically, this tool they developed to defend democracy half a century ago promises to extend democracy in the 21st century."
Now, don't you want to know how Lamarr responded to this award? It was three years before her death, and the 86-year-old did re-join with the same confidence with which she had craved a distinct path for herself. When the reps from EFF called her, her first words were, "Well, it's about time."
So we too thought it was high time we wrote about Hedy Lamarr and Hedy Lamarr inventions, because a woman with a beautiful face is much more than that!
Featured image source: pbs
Summary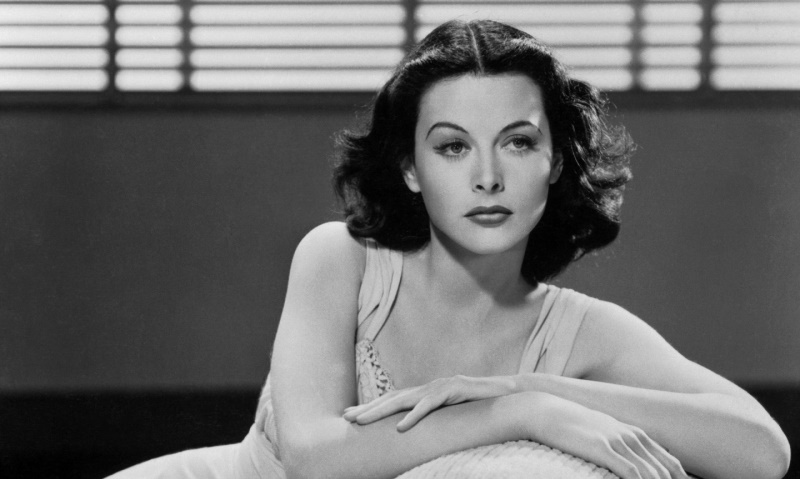 Article Name
How Hedy Lamarr Inventions Helped Wireless Technology
Author
Description
Dubbed the most beautiful woman in the world, Hedy Lamarr was a beauty with ample brains. Hedy Lamarr inventions are the proof of that.