Grief over a significant other's death is but natural. But marrying her ashes?! That's bizarre and creepy on another level!
But that's exactly what a Taiwanese man has done. Apparently, Mr Lai, as he's known, was so distraught over his girlfriend's death, that he married her ashes ensconced in an urn. The wedding, which took place in Hsinchu village, was attended by family and friends of the couple, reports The People's Daily Online.
Image source: Youtube
The ceremony is said to have been Mr Lai's expression of his commitment to his late girlfriend even after her death.
There's even a 60-second video of the ghost wedding that has been uploaded onto YouTube, where he's seen holding the black and gold urn filled with incense sticks and adorned with a frilly white wedding dress to the lower half of it. The groom is seen dressed in a white suit, white gloves, and dark sunglasses, and can be seen placing a wedding band on his finger, even as the gathered guests look on.
---
Suggested read: South African boy, 9, marries 62-year-old woman!
---
The video isn't very enlightening as to what exactly is happening or being said during the 'ceremony,' as music is being played in the background.
You can make out the priest or whoever is heading the ceremony, place a piece of red cloth over the urn. Then, a shot of the grieving friends and family is shown, all of them wearing white. Following the ceremony, Mr Lai is seen driving off in a car with the urn held by another woman.
Image source: Youtube
With the death of Mr Lai's girlfriend not being reported, it's a mystery as to the actual cause of her death. While some are speculating that his girlfriend committed suicide after finding out about his infidelity, Mr Lai maintains that he had the ghost marriage with her cremated remains to relieve his pain.
Such 'ghost marriages' are not uncommon in Asia; in fact, they are an ancient custom in China, where families buy dead female bodies to carry out a marriage service with a living or a dead man. Apparently, this weird custom is carried out in order to satisfy tradition, and also to fulfill the belief that a dead man shouldn't be without a wife in his afterlife. However, China has now made 'ghost marriages' illegal, and if anyone is caught stealing a dead female body, the offence carries prison sentences of up to three years.
Weird doesn't even begin to cover it, eh? 😛
What do you think of these ghost marriages – super creepy or following the tradition? Share your thoughts in the comments below.
Featured image source: Youtube
Summary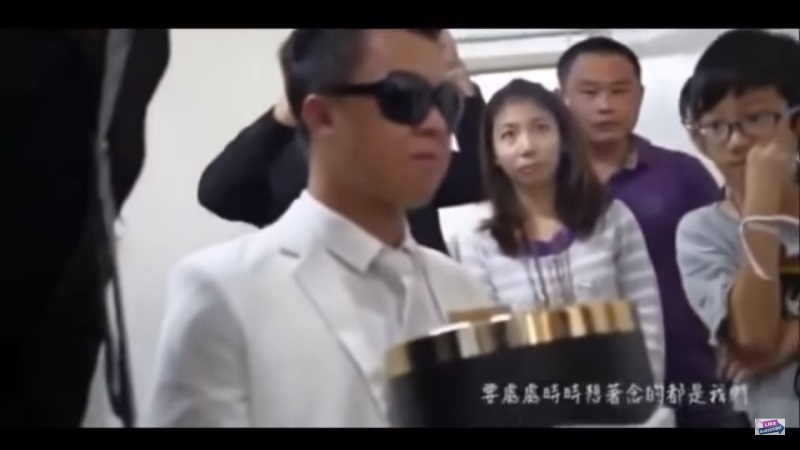 Article Name
#WTF Ghost Wedding Alert: Taiwanese Man Marries Dead Girlfriend's Ashes!
Author
Description
In a bizarre instance, a Taiwanese man got married to his dead girlfriend's ashes held in an urn! #WTF Ghost Wedding