Almost all of us have made the blunder of going overboard with our setting powder. At least, I have, and I have a lot of evidence stacked up against me in my tagged photos. Yes, it took a lot of time to realize that less is more when it comes to setting powder. Not only that, when it comes to setting powders, knowing how to choose one is also a very essential factor that people tend to avoid. In today's post, we will provide you with the quintessential guide to choosing the best setting powder.
A setting powder is the final touch that you give to set your liquid foundation. A good setting powder makes your makeup last longer. It also prevents the makeup from bleeding into the fine lines. The setting powder comes in both pressed forms as well as loose powder. A setting powder is also called a finishing powder, HD powder, blotting powder and translucent powder; they all mean the same thing, so don't get all worked up.
The first thing you have to consider when investing in a setting powder, is your skin type. The setting powder will offer you a range to choose from.
Setting powders today, offer other benefits in addition to setting the makeup. These include refining the skin pores, controlling the sebaceous glands, and lending a natural glow to the skin. The setting powder also helps lend your makeup a matte finish.
---
Suggested read: These Powder Foundations For Your Acne-Prone Skin Will Alter The Way You Look At Makeup
---
Choosing the best setting powder
Choosing the right makeup product isn't as easy as it seems. If that weren't true, then we wouldn't see so many people making makeup blunders every now and then. To get the product that will suit you best, you need to try several brands. You need to give different colors a go, because your favorite might be still waiting for you.
You need to really educate yourself about the various types of setting powders, about which setting powder with complement your complexion, skin tone and your skin type. These factors are often neglected by people while investing in products, and that's why perfect makeup is such a rarity.
Here are a few tips you need to keep in mind to stop making rookie mistakes.
Trying two different shades can work out sometimes
If you have already invested in what can be turned into an arsenal of setting powders, each of which serve no purpose, then try mixing and matching them to see if the results suit your skin. You never know what you might create by mixing two or more shades, but it is definitely worth a try.
Here is what you SHOULD NOT do
Before investing in a face powder, it is essential you learn the don'ts first. Learning them will help you duck the most common errors that people make, and help you avoid them. Here are the things to avoid:
Don't test your setting powder on your hands
People usually test their face powder on their hands to see if the shade matches their skin or not. Not many know it, but this is a blunder since the skin on our hands are not the same as the skin on our face. Not just the tone, even the texture of the skin is different, and so the results that the powder will produce on the two skins ought to be different. So testing your powder on your hands is not a very reliable method.
Don't go for a face powder that isn't a close match
This might seem like the simplest thing to do, but it isn't. Many people expect setting powder to help them change their complexion. But that isn't what a face powder is supposed. The purpose that the setting powder ought to perform is set your makeup and even out your tone so that you look absolutely natural.
So do not use a face powder that does not make your complexion or else prepare to look unnatural and unappealing.
Don't use a very dark setting powder
Using a setting powder that is very dark tends to make the skin look dirty. It gives a dingy undesirable look that you should avoid. In some cases, using a very dark setting powder can lend an orange tinge to your makeup, which resembles a pretty bad tan.
Don't use a very light setting powder
Yes, the reverse is also undesirable. Using a very light face powder, irrespective of your skin tone, can give you a chalky appearance. It makes your makeup look fake, and therefore, should be avoided.
Don't use a foundation powder in place of setting powder
Yes, there are some setting powders that are formulated to serve as a foundation. These are usually labelled as powder foundations, and you should apply them lightly. Applying them like a setting powder can produce a cakey appearance, which we know you don't want.
Don't make the setting powder noticeable
A setting powder helps set the makeup, lock the skin pores, and enhance your overall look. However, if the powder is noticeable, then all its goodness is lost. If a face powder is visible on your, then it means you have either applied the wrong shade or you have applied to much of the right shade, both of which should be avoided.
---
Suggested read: Find Out Which Is The Best Powder Foundation For Sensitive Skin
---
Here is what you SHOULD do
Now that we have discussed the don'ts, let us look at the dos that one must follow to choose the right setting powder for themselves.
Test your powder on your cheek, your jawbone or your neck
Instead of checking the powder on your hands, you should check it on your cheek, jawbones and/or your neck. Doing this will give you a better idea of whether or not the shade suits your skin. Our neck has the smoothest skin, which makes applying the powder really easy.
Do blend the setting powder well
This is the most important step in the application of any makeup product. To give the makeup a natural appeal, you need to make sure that the product has blended into the skin. You need to pay extra attention to your jawline and hairline; these are the areas where people make blending errors. If you don't want your powdered face to look like a mask, then blend it the product well.
Go for a powder that will reflect the light
While choosing a face powder, it is suggested that one should go for the shade that reflects light. You can go for luminescent face powders. These will give you a natural glow and if you are feeling tired and your skin is replicating that, this face powder will at least make your skin look radiant, and that might brighten up your mood. J
Use the face powder as a concealer
If you have freckles, acne or acne marks on your skin, and want to conceal them, then let the face powder to help you in that endeavor. However, be sure not to go for a heavy coverage product. Choosing a medium-coverage setting powder is the best way to go about hiding freckle marks and spots.
Go for loose and pressed setting powders
A setting powder usually balances the shine and sets the makeup, and so, it is applied after the foundation. You can find them in both loose and pressed varieties. The dry pressed ones come in compacts. This makes it very easy to carry them with you, and also convenient for touch ups. The loose powders are available in jars. They cannot be carried around. However, the loose powders are easier to blend compared to the pressed ones.
If you have oily skin or are living in a very humid climate, then touch ups are absolutely necessary for you, and so a pressed setting powder might be your weapon of choice.
While choosing your setting powder, pay attention to your skin tone
To make your appearance look as natural as possible, it is important you go for a face powder that works for your skin tone.
People with fair skin and pink undertones, yellow-based face powder is the go-to product. Do not overdo it though, as it can give you a very cakey appearance.
Those with fair skin and yellow or gray undertones, a pink-based face powder does the trick.
If your skin is dark because of a tan, then copper-colored face powder. Do play with it lightly to keep the makeup natural.
For medium skin tones the right setting powder is the apricot-colored powder. It evens out the skin flawlessly, enhancing the overall look.
Those with dark skin should go for copper-tinted face powders. These setting powders will eliminate the gray tinges, and thus produce a vibrant look.
---
Suggested read: The Complete Guide On How To Choose The Right Concealer For Your Skin Tone
---
That is all we have on today's post on everything you need to know about choosing the best setting powder. Was this helpful? Will you be recommending it to others too? If you have makeup queries that you would like to share with us, then please do so in the comment section below. Our experts will get back to ASAP.
You can also subscribe to our newsletter to receive these articles in your inbox every day.
See you again tomorrow!
Summary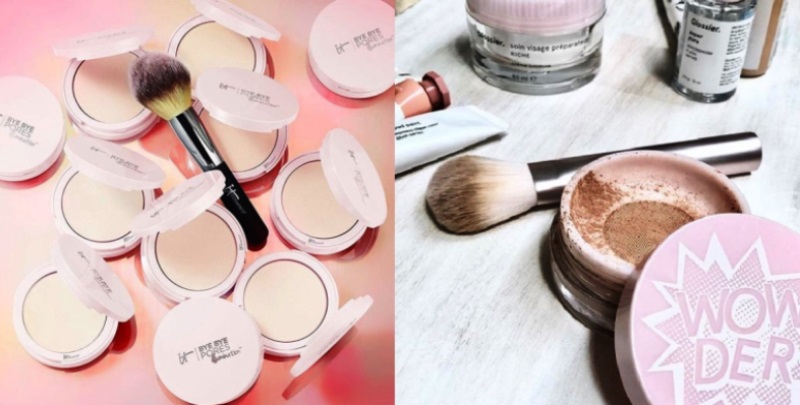 Article Name
The Quintessential Guide To Choosing The Best Setting Powder
Author
Description
Almost all of us have made the blunder of going overboard with our setting powder. Today, we'll tell you everything about choosing the best setting powder.