People pop the question to their significant others all the time. But some marriage proposals stay with us and make us go awwww, every time we watch the videos.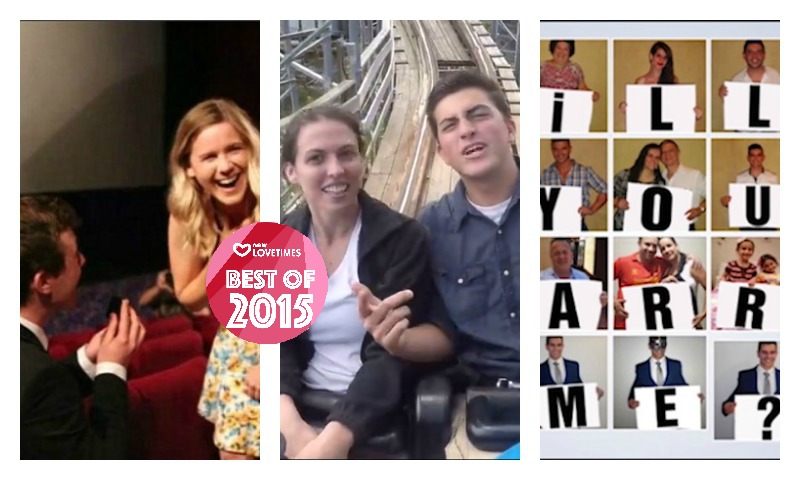 Here are 10 of the most memorable marriage proposals of 2015. Enjoy!
1. Liam and Amy's theatre proposal
This has got to be one of the cutest wedding proposals ever. When Liam Cooper wanted to pop the question to his girlfriend Amy, he rented out an entire movie theater, gathered all their closest friends and family and screened an entire music video he made with the super-appropriate song Rude by Magic playing in the background.
---
Suggested read: 10 surprising Hollywood hookups of 2015
---
2. Jorge and Kersia's super-surprise proposal
It was Jorge's 30th birthday, and his girlfriend Kersia had planned an extensive birthday surprise video, where all his friends and family would hold up letters forming a birthday wish, except she didn't know she was planning her own wedding proposal! All the photos were sent to Jorge, which he then edited to form the words "Will you marry me?" Needless to say, the bride was not expecting that, but saying 'yes' was a given. *swoon*
3. A proposal that gave us major squad goals
This one takes the cake when it comes to employing your friends for the purpose of proposing to your girlfriend. Kayli Smith's boyfriend asked his entire platoon to sing for them, as he handed her his patch with his last name on it, and then got down on one knee. The bride-to-be was so surprised that it took her some time to process, but when she did, it was epic!
4. Not your average marriage proposal
There is just so much going on with Justin and Amy! They came on a talk show on ABC Live because they met on Match.com, but after they started dating, they realized that they had gone to pre-school together and Justin actually used to have a crush on her! However, the surprises don't end there. Justin got the present kids of their pre-school to deliver a special message to her! That's right! The most amazing kind of proposal there is, that too live on national television. Now, that will be a story to tell the kids! 😉
5. The fake accident proposal that left us in tears
When Colton proposed to long-time girlfriend Taylor, he made sure she was super nervous, because he pretended to be in a hospital bed with a broken back. Needless to say, when Taylor saw him get up and then get down on one knee with a stunning ring for her, she couldn't help but breakdown because of the emotional turbulence.
6. A proposal at a wedding!
Chelsea Pulse got married to her fiancée on 25th April and she decided to make it a special day for herself, as well as her first cousin, Megan. 25th April was also the latter's 8th anniversary with her boyfriend. So instead of throwing the bouquet to symbolize who would get married next, Chelsea handed the bouquet to Megan and immediately, her boyfriend proposed to her. Talk about instant gratification!
7. Romantic farm proposal
Only happy tears could be induced from a video which shows two gorgeous people getting engaged. When Chelsea's boyfriend invited her out for a farm date, little did she know that he was about to change her life forever, and change her life he did with the most romantic marriage proposal ever, as seen by her reaction right there. The moment was captured by photographers and videographers, and thank god for it!
8. Austin and Allison's roller coaster proposal
Austin definitely knows how to make a moment memorable – by proposing to your girlfriend on a roller coaster, of course! Just as the roller coaster was gaining momentum, he popped the question, and needless to say, Allison became a bundle of emotions, so we're not sure whether she is screaming with happiness or because the roller coaster was taking a dip.
9. A theatrical proposal
Possibly one of the most dramatic proposals on the list took place when actors Garret Reynolds proposed to fellow actor Megan McGrath after their performance of Hello Dolly, in front of a cheering audience and fellow actors. Naturally, Megan was awestruck and speechless as Garret smoothly slipped the bling on her finger.
---
Suggested read: Top 10 Hollywood selfies of 2015
---
10. A proposal pretending to be a YouTube video
What could be a better excuse to record your proposal other than by pretending that you are recording a YouTube video? She has her own YouTube channel – BeautyPOP, and thought that they were recording a video for the same, when her fiancé Michael decided to present her with the shock of a lifetime. Also, "you made me ugly cry" is possibly the best reaction ever!
Summary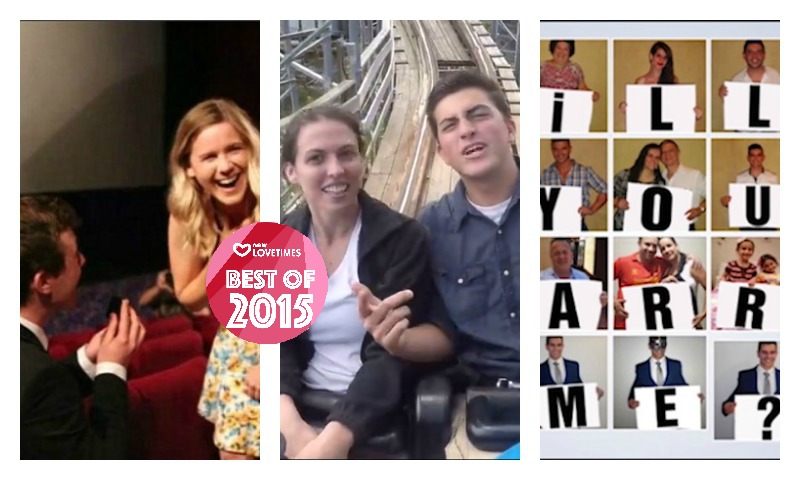 Article Name
#BestOf2015 Top 10 Memorable Marriage Proposals Of 2015
Author
Description
Every year brings with it wedding proposals that are OTT and innovative. Here's a look at 10 of the most memorable marriage proposals of 2015.