So it's the wedding invite you'd been waiting for! Your BFF is getting married in Mexico and you cannot wait to have some of the sand, surf, and sun fun at her nuptials! But do the flirty and fun summer dresses in your wardrobe make the cut to being the 'special' outfit you require for this beach wedding!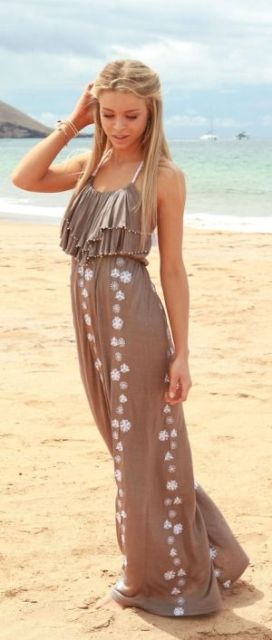 Image source: Pinterest
Nope – you need just the right combination of casual and special for a beach wedding! And since you do not want to dial the digits for your BFF, coz she's perhaps, picking out cake flavors with soon-to-be hubby, we bring you the ultimate guide to what to wear to a beach wedding right at your fingertips.
---
Suggested read: Black dresses BEST suited for WEDDINGS
---
So stop scratching your head to force some answers to what to wear to a beach wedding, coz we have got you covered. But before we throw open the door of our NLT beach-wedding closet for you, there are a few things you need to know about beach wedding outfits.
Beach wedding attire tips
Fabric: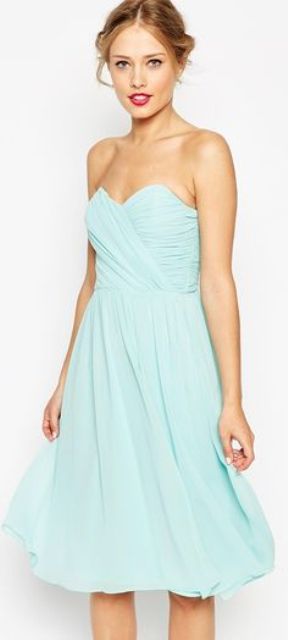 Image source: Pinterest
If you are heading off to toss about in the sand, surf, and sun, you'd do well to stick to the lighter fabrics that do not cling to the body. Linen, chiffon, organza, cotton blends or even lace can be your best bet. They are all comfy, light, and can be equally luxurious.
Colors: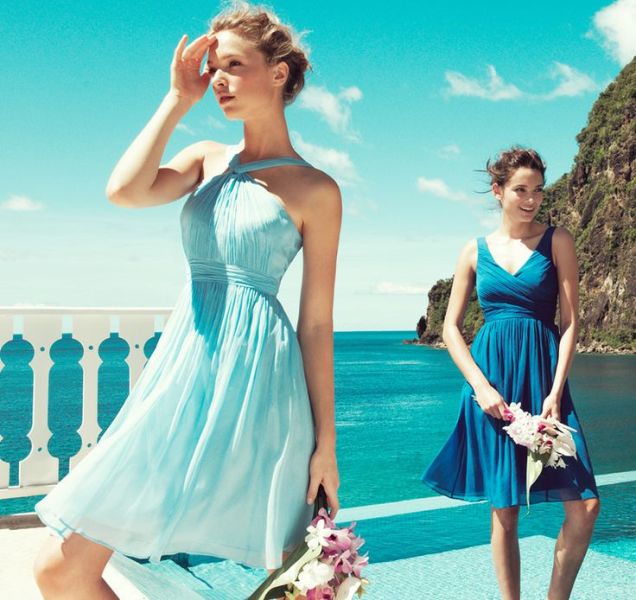 Image source: Pinterest
When it comes to beach wedding attire, we'd suggest that black, as chic and versatile the color is, isn't your go-to shade. You are heading off to a tropical zone and do not want to come out of it like roast beef! Our fashion experts suggest duplicating the tropical tones in your beach wedding outfits. Colors like aqua blue, turquoise, lime green, tangerine, fuchsia are all lovely hues to don. Adding prints or patterns to these tones will rev up the flirty and fun quotient by leaps and bounds. We love polka dots, stripes, abstract design, and of course, the timeless floral print.
Length:
While this is largely a personal choice, the formality of the event calls for the right decision in terms of the length of your beach wedding attire. While full-length gowns are your go-to option for formal nuptials, a semi-formal event calls for bringing out the shorter, tea-length dresses that can easily morph into an apt outfit for the reception at the ocean-front hotel/resort. A casual ceremony on the other hand, is your playground to try on several styles. While maxis are the most preferred outfit for the casual beach wedding ceremony, one can try mod-frocks, shirt dresses, high-low hem numbers, side-slit pieces and more! Depending on the particular time of the day, heat, and the rituals taking place – the dresses can be dressed up or dressed down with the help of accessorization – which brings us to…
Accessories:
Image source: Pinterest
You are amidst the playful waves and you'd do well to steer clear of the minaudieres, handbags, clutches and more! Chunky bracelets or earrings aren't ruled out and should compliment your outfit. The jewelry so picked should also match the formality and tone of the nuptials whilst shoes should be the easy-to-slip-on-slip-off kinds. Sandals and flip-flops are your best bet as long as they are on the dressier side of the spectrum!
And now for, what to wear to a beach wedding
Now that you are in the know of beach wedding attire tips, we can throw open the NLT what to wear to a beach wedding closet door for you, to access the choicest picks for all kinds of beach wedding ceremonies inside:
1. A short chiffon eye catcher
Image source: Pinterest
An exquisite chiffon dress, in  a pale sky blue hue. This V-neck dress, with a shirred empire waist is a sure stunner! Hop out in the sun with oversized shades or walk around with a hat or just glam it up with over-sized hair accessories in a bun updo, and this dress shall be the perfect fusion of style, grace, charm, and comfort.
2. A zippy zappy patagonia pick
Image source: Pinterest
This extremely chic patagonia dress allows you to go about chirruping as a free little birdie. A short dress, with a deep V neckline, this one is designed exclusively for the extremely animated spirits out there! Exuding a vibe of incessant enthusiasm, excitement, and fervent energy, this effervescent chipper, with its oodles of zippy-zappy vibrancy is sure to brighten up the wedding!
3. Maxed out in stripes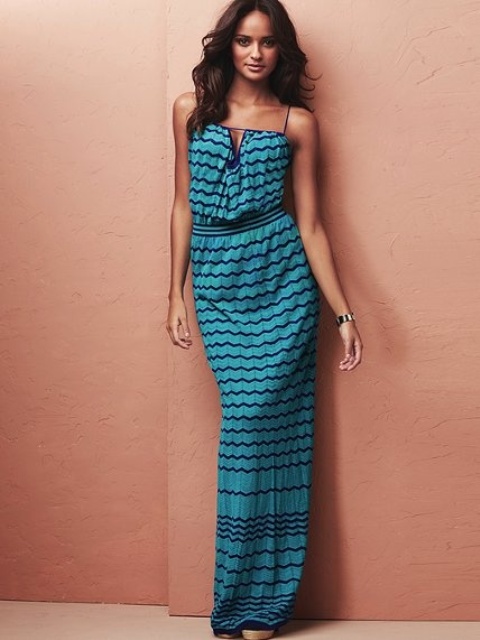 Image source: Pinterest
While we are all for traditional stripes too, this funky number in turquoise with its dent-neck, noodle straps, cinched waistline, and wavy horizontal stripes scores high on our list. It is sleek, sexy, and so-in-style! Not only is it in sync with tropical tones but it can be dressed up for a great after-party too!
4. Applique geometric stripe fusion crepe gown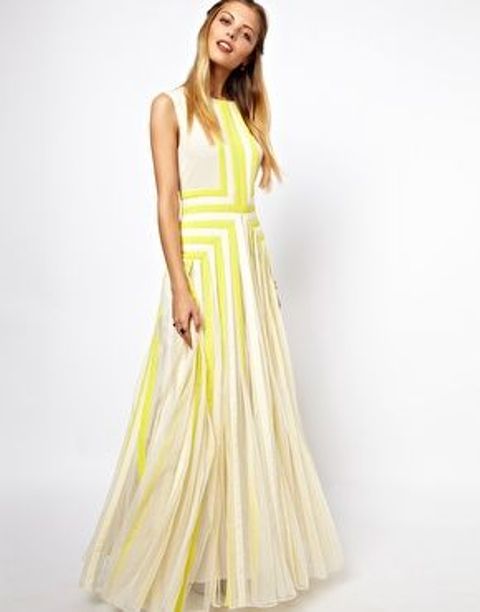 Image source: Pinterest
This one is for the formal beach weddings where a gown might be required. Pretty in its pastel hues, this sleeveless stunning crepe number combines stripes in a fused geometric pattern on the waist and upward to the round neck and has a pretty crepe gown that could well be the magician's optical illusion trick!
5. Riding the wave in ruffles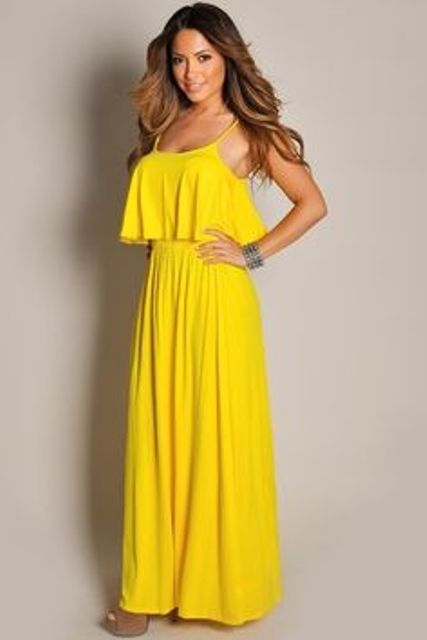 Image source: Pinterest
Sunshine yellow is always a favorite at beach weddings. This sensuous and sultry sunshine stunner is a maxi dress made in mock-jumpsuit pattern with a cropped ruffle overlay and can be dressed up or down depending on the tone and timing. While this would do well at semi-formal as well as casual occasions, we'd love to give this chic, versatile, and dynamic number a thumbs up for formal nuptials too – just as long as you can combine the maxi with the right pair of shoes, a stunner bracelet, and the right makeup!
---
Suggested read: What your wedding colors say about you
---
6. Halter pleated blouson maxi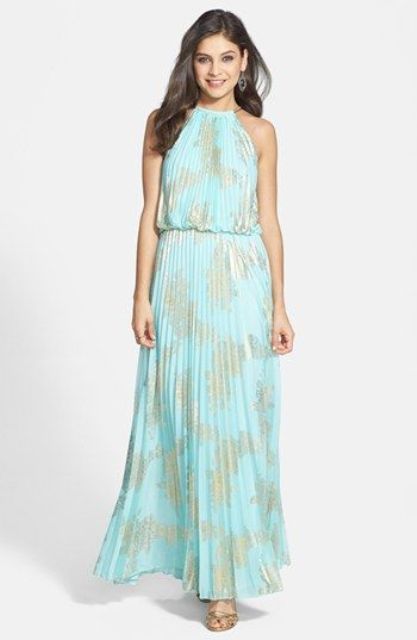 Image source: Pinterest
A light, carefree halter number in a pretty scatter-print and pleated design, this blouson maxi is peppy and snappy and snazzy! With a slight racer back and a banded waistline with a drawstring, this one can augment the clearly casual-special vibe several notches. You can wear this one to feel good and upbeat all day long!
7. The abstract beach attire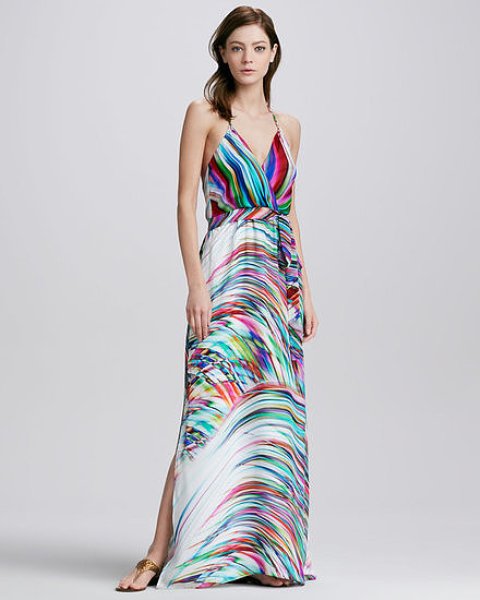 This one is a modish take on the beach maxi – with a whack-design and an a la mode form. With abstract paint strokes splattered across a base whose color is difficult to make out against the artistry of the piece, this one is bubbly and buoyant, spry and sprightly, vigorous and vibrant – a total peppy, zippy, zappy, zesty spirit, full of summer cheer number. Enjoy your carefree summer time in this lively creation!
8. Rich in hue pseudo-wrap piece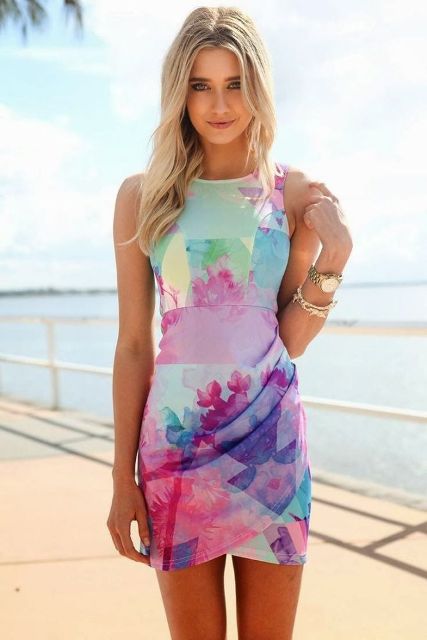 Image source: Pinterest
This pseudo-wrap effect dress is a mini-version of the abstract beach maxi, albeit in a figure-hugging form. This short dress is perfect for casual as well as semi-formal weddings as long as a little ruffling with the color code and length does not upset anyone. A lively creation, this one is as zippy-zappy as any other that brings about a flood of tropical tones.
9. The flirty flowers
Image source: Pinterest
Perfect for a casual wedding, this light floral print dress is the perfect embodiment of feminine grace and charm. Flirtatious and fun, the floral dress flares up beach-y vibes and flatters your form while taking care to keep it simple, stylish, cool, comfortable, and not to forget, beautiful!
---
Suggested read: 15 amazing wedding diet tips for a fitter you
---
10. In semi-formal fragrance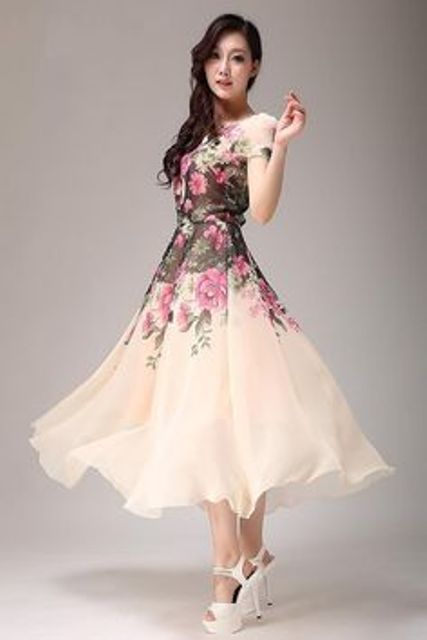 Image source: Pinterest
This is a tea-length floral print dress that shall keep that semi-formal tenor intact whilst making a striking impression on one and all. Don't be surprised if the 'beauty lies in the eyes of the beholder' adage is replaced by 'beauty is YOU' henceforth!
Happy now?
Featured image source: Pinterest
Summary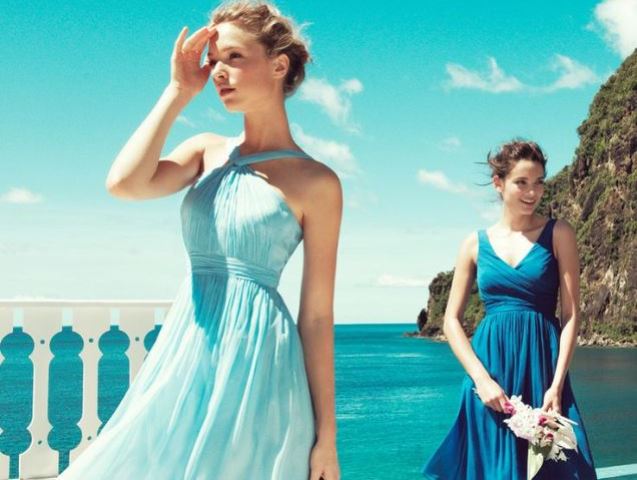 Article Name
What To Wear To A Beach Wedding As A Guest
Author
Description
Today we answer 'what to wear to a beach wedding' by opening the NLT-beach wedding closet for you! Dive in! Enjoy your splish-splash!