Winter wedding temperatures can range from pleasant to chilly depending on where and when the wedding is taking place. So keep in mind the weather and location when making your final decision about what to wear to a winter wedding as a guest.
Picking out an outfit for a wedding can be a pretty lengthy and difficult process. You have to make sure that your shoes don't overpower your dress, that your makeup is flawless and highlights your features, and that your jewelry looks beautiful and complements your dress. But your primary focus should be on making sure that your dress goes with the theme of the wedding you can't wait to attend.
Image source: Pinterest
As if this routine isn't stressful enough, brides and grooms come up with different themes for their wedding depending on the season and they want their guests to dress appropriately.
Selecting a stunning outfit for a wedding you're going to attend isn't too hard when you know what you're looking for. Have a look at your own wardrobe and check if you find something you can wear again. Dresses can be pretty expensive and if you're not looking to buy something new, borrow a dress from a friend or simply mix and match a couple of your old outfits to come up with something new.
Chances are you'll have to go through a lot of effort to narrow down your look for this winter wedding, so plan in advance because you will need sufficient time to make your decision.
---
Suggested read: 15 gorgeous dresses you can wear to your friend's summer wedding
---
To make this slightly easier for you, here are a few ideas on what to wear for a winter wedding.
1. Pastel shades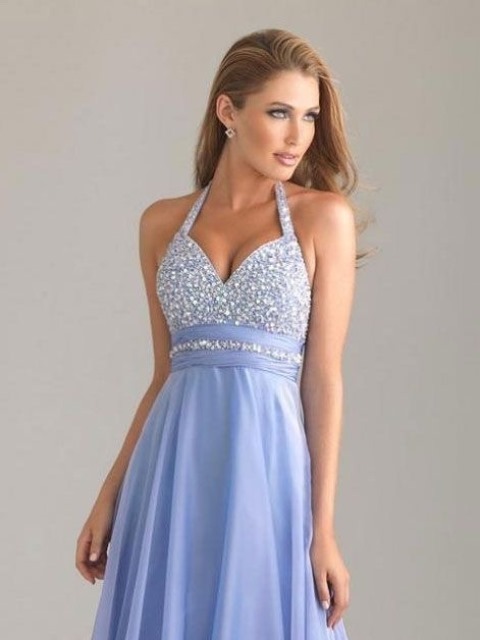 Image source: Pinterest
Pastel shades make your skin glow, no matter your skin tone and help you look lively and feminine. If you're going for an outdoor day wedding, pick out an outfit in a pastel shade and preferably something flowing. Since it's winter and you're wearing pastel shades, keep your makeup to a minimum, letting your dress speak for itself. Be assured that you're going to look fabulous.
2. Floral prints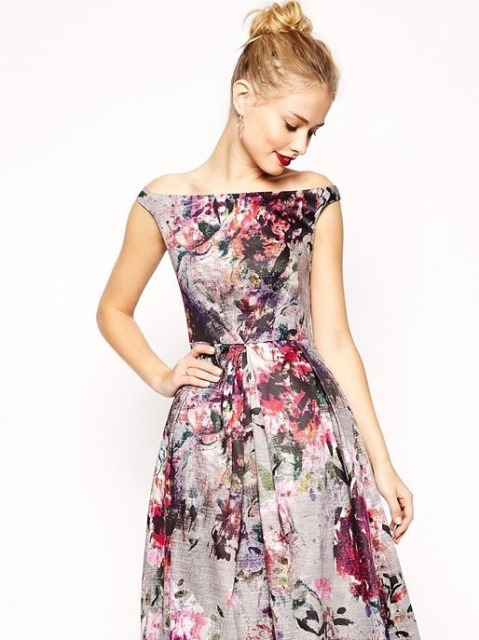 Image source: Pinterest
Wearing something floral will make sure that you'll stand out from most of the other guests at the wedding. Most women choose to wear plain designs when it's a winter wedding, because they believe it looks elegant. Florals help you look younger and they're so different from what most of the other women will be wearing. Pick a floral straight fit dress or a floral flared dress to look chic and fun for your friend's winter wedding.
3. Nude outfits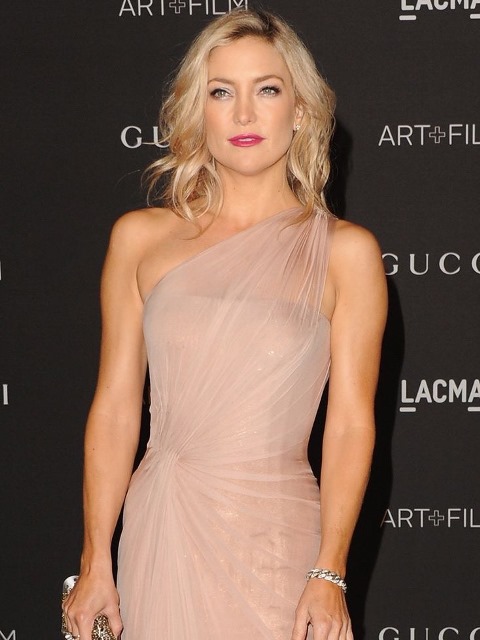 Image source: Pinterest
Instead of going for something colorful, choose a nude knee-length flirty dress or a gorgeous nude gown. Instead of utilizing color in your outfit, opt for elegant earrings. Go for light makeup on your face, using just mascara and a deep red lipstick. Wear a pretty pink color if it's a day wedding. Tie your hair in a bun at the side of your neck or do a semi messy side bun, whichever you're comfortable with. Don't forget to highlight your cheekbones and focus on your eye makeup you're opting for a nude look for more definition.
4. Glitter outfits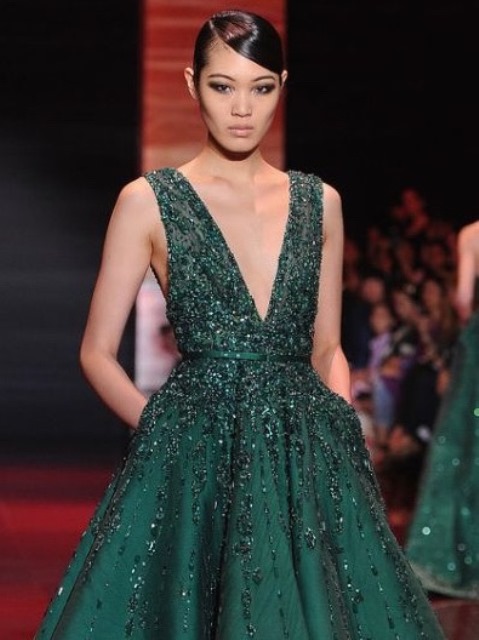 Image source: Pinterest
Glittery outfits are just the right dresses to wear to a winter wedding, provided you're extremely careful with your accessories and makeup. Keep it minimal; you don't want your makeup or jewelry to overpower your dress – that would be a disaster! You don't want to look too loud or over the top. Highlight just your eyes and put on some nude lipstick. Depending on the color of your dress, wear nude pumps and minimal jewelry, and you're all set to go. Glittery outfits look best at cocktail-hour or evening weddings.
5. Crop tops and flared skirts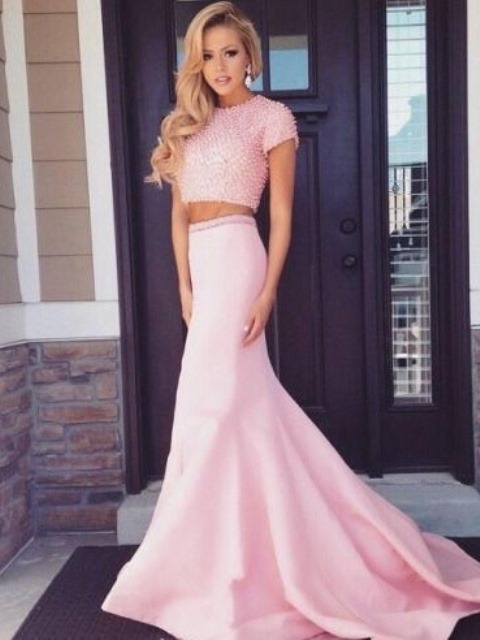 Image source: Pinterest
Crop tops, made famous by Taylor Swift in recent years, go well when matched with flared skirts, looking very different from the usual gowns and straight-fit dresses. This will be a purchase you won't regret. Look out for crop tops and flared skirts in quirky and fun prints, but not very loud colors though. Wear a bold pair of shoes along with this outfit and let your hair down. You could team this up with a bright lip color and lots of mascara.
6. Suits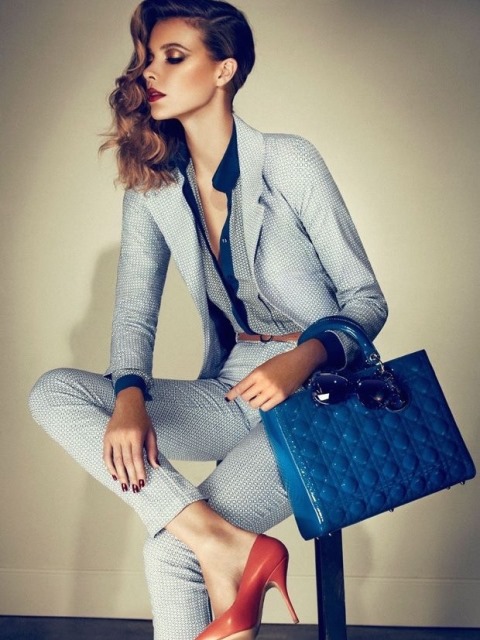 Image source: Pinterest
Suiting up for your best friend's winter wedding will be the best style decision you've ever made. Wearing a suit helps you stand out from the crowd. Wear one in any color of your choice, no matter how dull or bright. You could opt for no jewelry with this look and just wear pointy stilettos. Don't forget to wear a nice lip color, like Faces no. 7 or Candy Yum Yum from Mac, along with it. Keep your hair simple and sweet. You can't go wrong with this one because a great fitting suit looks extremely hot on any woman.
---
Suggested read: 10 easy-to-avoid wedding mistakes brides need to be careful about
---
7. Mid length dresses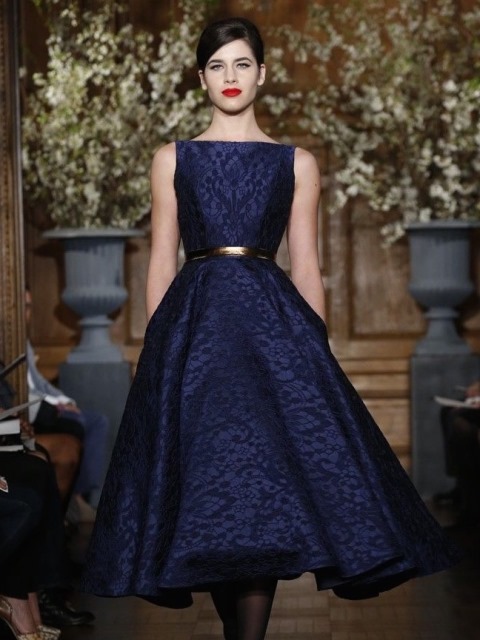 Image source: Pinterest
Personally, we are in love with mid-calf dresses this season. If you're wondering what to wear to a winter wedding, just put on a flared mid-calf dress, maybe even a silk one, and wear statement studs along with it. You could tie your hair up or leave it down, depending on what suits your face best. If you're wearing a plain flared dress, you could put on colorful or printed pumps. Your legs will be highlighted in this outfit, so wear amazing shoes and flaunt what you've got!
8. Capes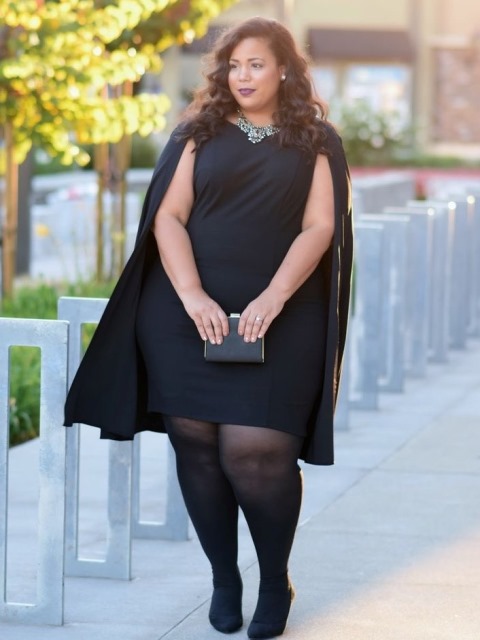 Image source: Pinterest
If you're attending a family friend or a distant cousin's winter wedding, you could wear a cape with a pretty top and stockings. This could be a fabulous option for people who don't really like dressing up. You can wear your dark-colored boots and leave your hair down. Wear a lot of kohl and mascara to complete this look. If this seems too casual, you can always wear a sequined top to add some necessary sparkle to your overall look. Plus the cape will help keep you warm and look chic at the same time!
9. Lace dresses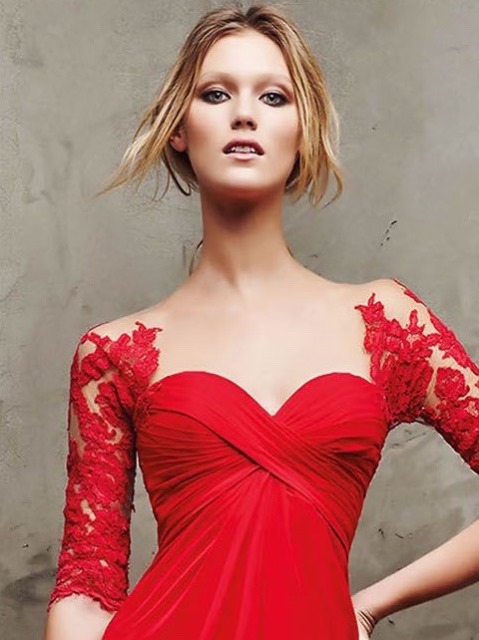 Image source: Pinterest
We'd say wear lace for every occasion. Lace makes everybody look pretty when worn the right way. Whether it's a straight-fit lace outfit or a gorgeous lace gown, either way you're going to look absolutely stunning. Go for a defined neckline or for a very deep back. You'd want to tie your hair in a pretty bun for this one! Wear a gorgeous necklace or earrings to complete the look.
10. Strapless / one-shouldered gowns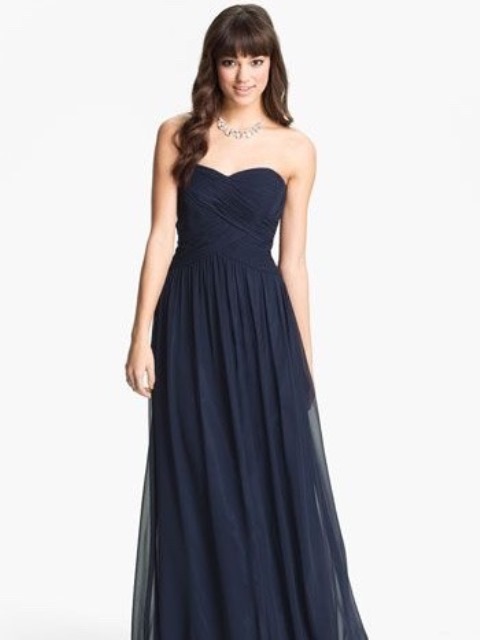 Image source: Pinterest
This one makes us want to go for a winter wedding! Every woman wants to wear one of these at least once in her life, and a winter wedding might be the perfect opportunity. Pick a dark blue or any other deep color to look flawless in a strapless gown at this winter wedding. One-shouldered gowns also look stunning on any occasion. You could also go for a lilac or a pretty green if it's an outdoor day wedding. You will need a statement necklace if it's a close friend or a relative's wedding. Lots of kohl, mascara and eye shadow, and a nude lip color will work best for this look!
11. Sequined jackets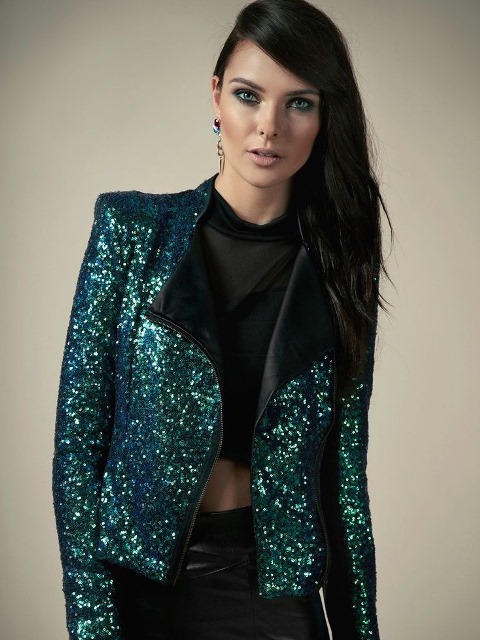 Image source: Pinterest
Sequined jackets will stand out the most at any winter wedding you go to! They are the epitome of hot and classy! Wear a sequined jacket with a straight-fit skirt or over trousers. Don't forget to complete your look with a dark red pout. The best part of sporting a sequined jacket is that any hairdo looks great with it. Tie your hair in a ponytail or in a messy bun at the side of your neck. Wear pumps that match the color of your trousers, preferably black. Sequined jackets make one of the best winter wedding outfits there is.
12. Saris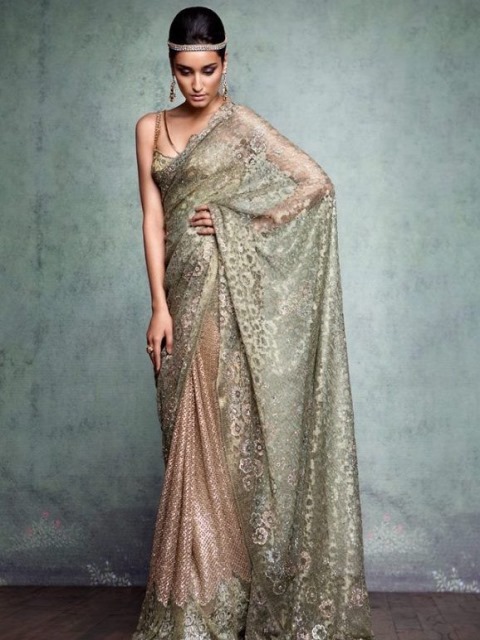 Image source: Pinterest
Even though a sari has typically been worn by Indian women, who said it can't be worn by women around the globe? Saris look absolutely stunning on every woman, no matter how curvy you are. While the rest of the guests will be wearing dark-colored gowns and straight-cut dresses, you can make an appearance in a gorgeous sari. Saris gracefully highlight your curves, even though it covers most of you. There are several patterns available for the kind of blouse you will wear with it. You could wear a sleeveless blouse or one with full sleeves, and there are other options available as well. If there's one thing we can guarantee, it's this – a sari is going to make you look utterly beautiful. Keep your jewelry minimal and apply your makeup based on the color of your sari.
---
Suggested read: What to wear to your friend's fall wedding?
---
Stop procrastinating about what to wear to a winter wedding, and pick out a dress from any of these options, and we assure you that you are going to look your best. For ideas on what kind of makeup will go best with your outfit, you can find make up tutorial videos on YouTube, they will definitely help complete your look.
Featured image source: Pinterest
Summary
Article Name
What To Wear To A Winter Wedding As A Guest
Author
Description
If you've been wracking your brains thinking about what to wear to a winter wedding that you need to attend in a month, we've got you covered. Take a look.