It is universally acknowledged that wearing glasses changes the way your face looks entirely. There are a million types of glasses and frames, and you get one according to whatever suits your face. However, as you put on different frames, your face changes accordingly. This becomes a slight problem when you have to do your makeup, without having to resort to contact lenses. Contrary to popular belief, doing your makeup with glasses is very different from doing makeup without them.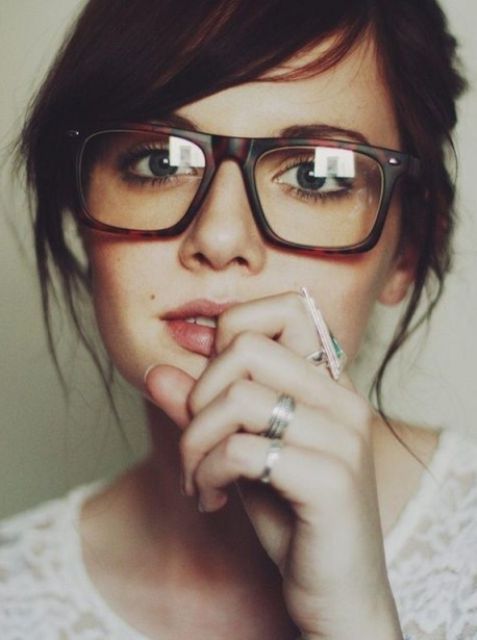 Image source: Pinterest
It is undeniable that when you are one of the girls with glasses, you have a difficult time highlighting your eyes from behind the lenses, although it does highlight your face to a great extent. Even the composition of your cheekbones change based on the kind of glasses you are wearing, and you might be surprised to find out the different makeup tricks and tips that you can use, in order to make the best use of your makeup, without sacrificing your glasses.
---
Suggested read: 10 easy eye makeup hacks for the truly lazy girls
---
Here are some examples:
1. Use makeup readers to apply makeup details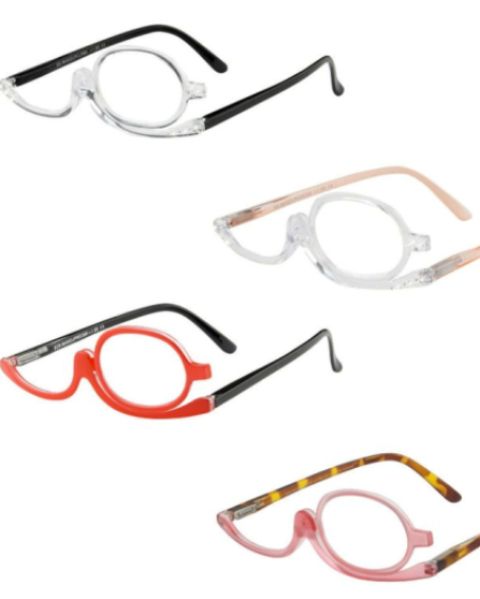 Image source: Pinterest
You need to get your eye makeup on point, but you have terrible eyesight, but you also have to take off your glasses in order to apply your makeup. There are very few situations in life when you feel as helpless as this, because of which you can now use this ingenious little invention called the makeup reader, which helps you apply makeup on one eye, while you can see through the other, and then switch the glasses.
2.  Makes your wings a little longer than usual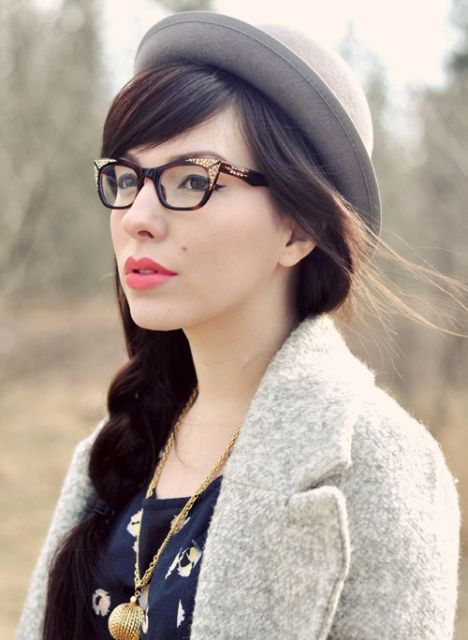 Image source: Pinterest
Winged eye liner is always a favorite among makeup enthusiasts and it is after all a classic. So when you have to apply winged eyeliner with your glasses, try to extend it a little farther than you conventionally would, so that the tip does not line up with the frame of your glasses. This way, it will still be noticeable and bold.
3. Use color in your liner instead of your eye shadow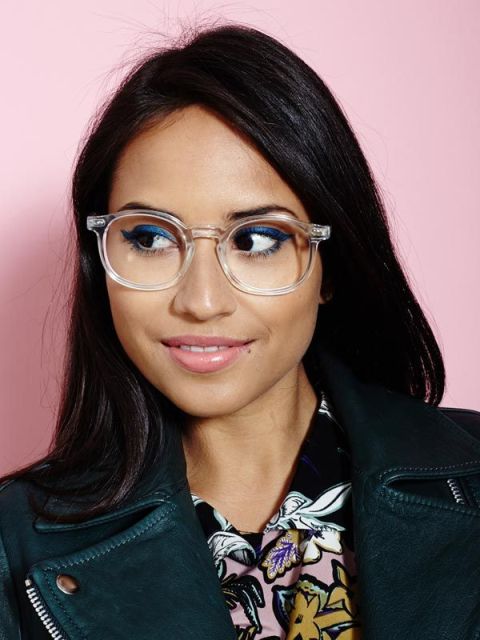 Image source: Pinterest
Colorful eye shadow is an it thing when it comes to eye makeup, but it is best if you try to avoid the use of the same when you are trying to pull off a glam look with glasses. When you put eye shadow in contrasting shades, it makes your eyes too loud and they make you look strained and clownish. Instead, stick to eyeliner which is in colorful shades, or contrasting with your eyes, unless you want to keep it simple and use all the color on your mouth.
4. Let your mascara dry before you put on your glasses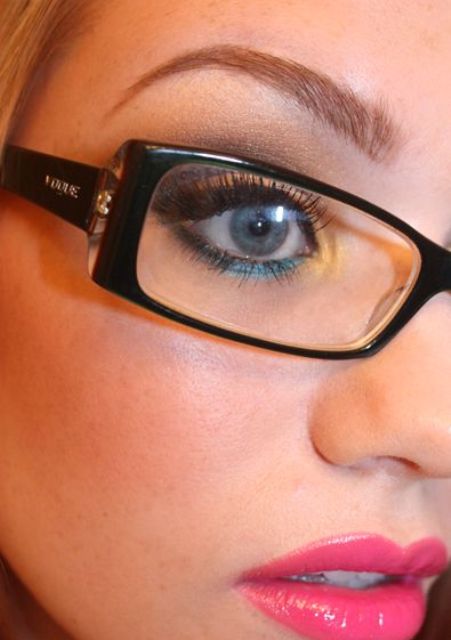 Image source: Pinterest
One of the biggest problems faced by girls with glasses who love their makeup, is mascara sticking to the lenses after it has been applied. This has convinced them that wearing makeup on your lashes is impossible if you plan to wear your glasses as well. However, one of the simplest makeup tricks is patience when it comes to problems like these. Just make sure you curl the top of your lashes and apply mascara and wait for it to dry. After that, when you put on your glasses, voila! No more mascara on those lenses.
5. The thicker the frame, the thicker your makeup, and vice versa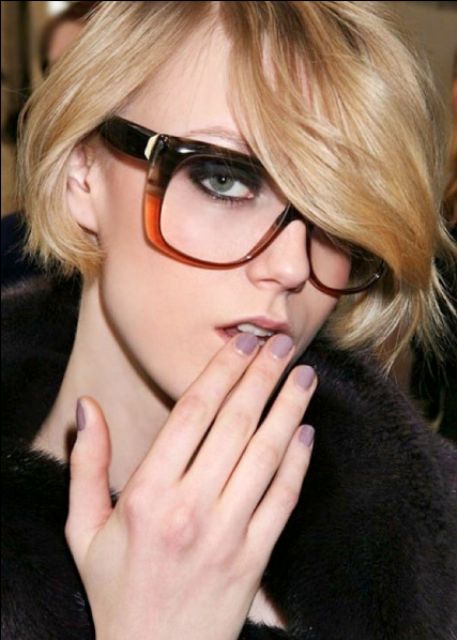 Image source: Pinterest
One cool trick that you can use when doing your eye makeup behind those glasses is, make the lines as thick as your frame. If you have wire-rimmed frames, then keep the lines thin and simple. If you have huge, thick, hipster glasses, go all out with your liner. However, it is always smart to start with less and then apply more, rather than go for more right at the start.
6. Use a primer or setting spray to prevent your glasses slipping off your face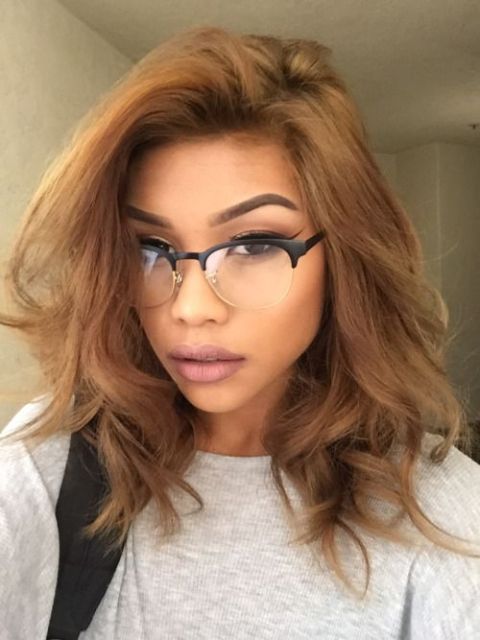 Image source: Pinterest
The whole point of makeup is to make your face look smooth. So it is likely that as a result, your glasses may slip down the bridge of your nose, and it may also mess up your makeup in the process. To prevent this tragedy from taking place, use things like an eye shadow primer on your nose or setting spray. As for your makeup, go for the smudge-proof, long-lasting, water-proof kind.
7. Hide the shadows cast by your glasses with concealer or moisturizer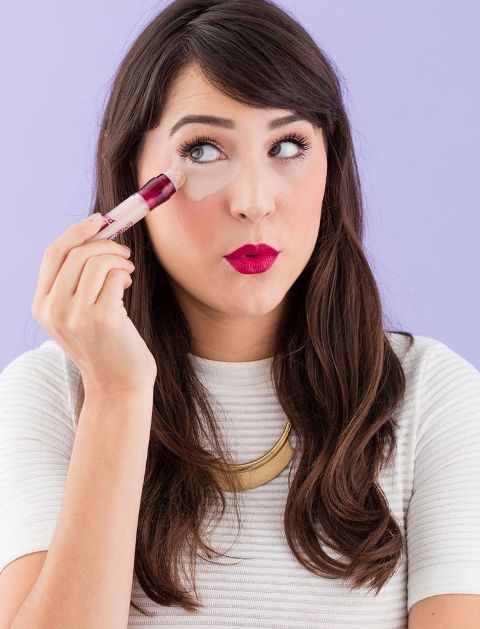 Image source: Pinterest
Sometimes, because of your glasses, you may develop dark shadows under your eyes, or even red marks around all the places that your frame touches your face. To hide these marks and get flawless makeup with glasses, you can use a yellow-tinted concealer to make the area brighter, or even a tinted moisturizer or BB creams.
8. Do not ignore your eyebrows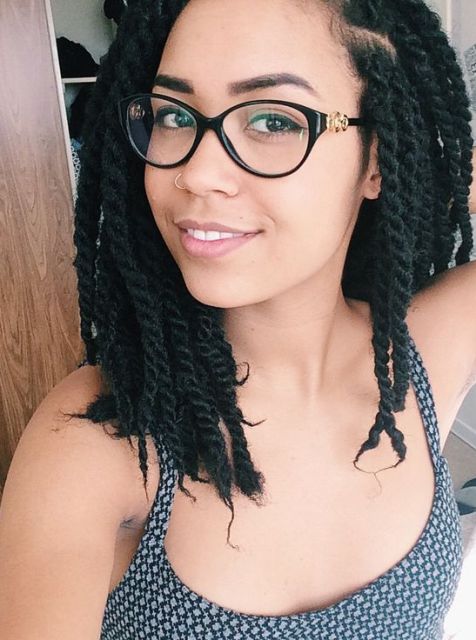 Image source: Pinterest
Eyebrows are a very underestimated part of the face, but if you plan to pull off your makeup along with your glasses without a single flaw on that gorgeous face, then you have to take care of your eyebrows, because they will be framing your glasses, and attention will inadvertently be drawn to them. Scraggly eyebrows with glasses and good makeup is not a pretty sight, so use a clear colored brow mascara to brush them, after which you can darken them with a pencil or powder.
---
Suggested read: The 12 makeup brushes you need, and their use
---
9. The bolder the frames, the bolder the lips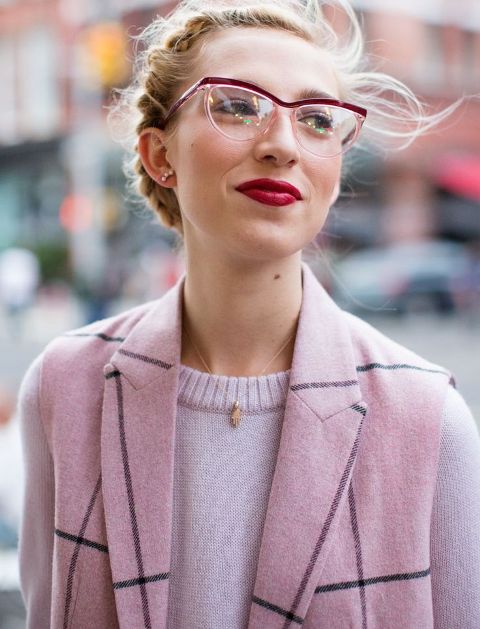 Image source: Pinterest
Now we're getting to the good part. A lot of people are worried about whether they can wear bold lipstick when they are wearing glasses, and the answer is YES! Absolutely. Instead of using all the colors on your eyes, save it all for your mouth, to make your face pop!
10. Highlight your cheeks with some blush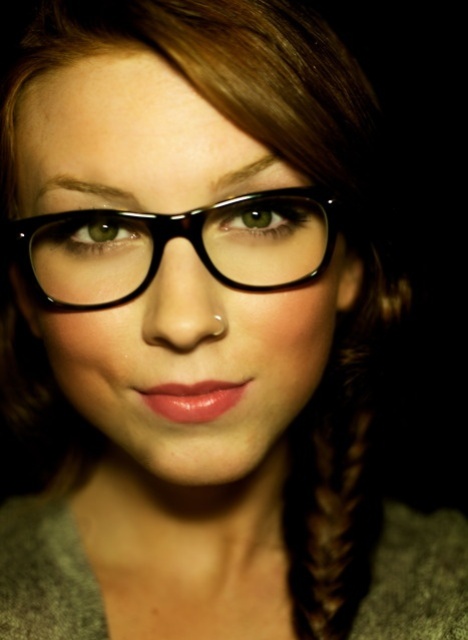 Image source: Pinterest
Blush is a very important element in your makeup routine, especially when you are a wearer of glasses, because the bottom half of your frames will highlight your cheekbones, which in turn need to be highlighted with some blush. Your frame might cast shadows otherwise.
11. If your glasses make your eyes look bigger, blend to look natural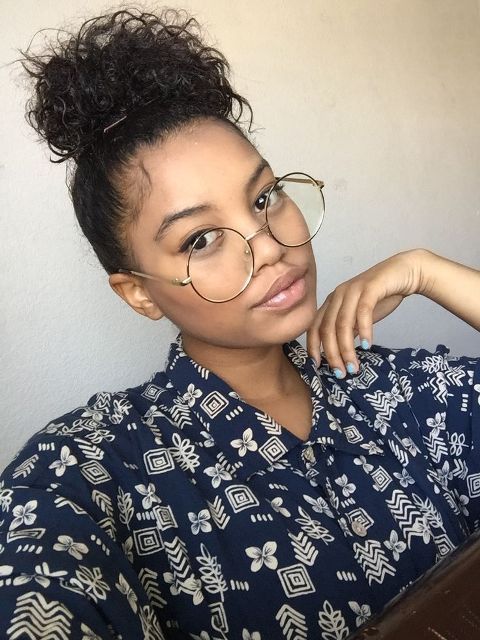 Image source: Pinterest
If you have been prescribed really big glasses which make your eyes look bigger because of your horrible eyesight, then you have to ensure that you blend all your eye makeup properly, so that you look natural and flawless. Otherwise, if you don't smoothen everything out, the little flaws and bumps and mistakes will become more apparent.
12. If your glasses make your eyes look smaller, line your eyes all the way around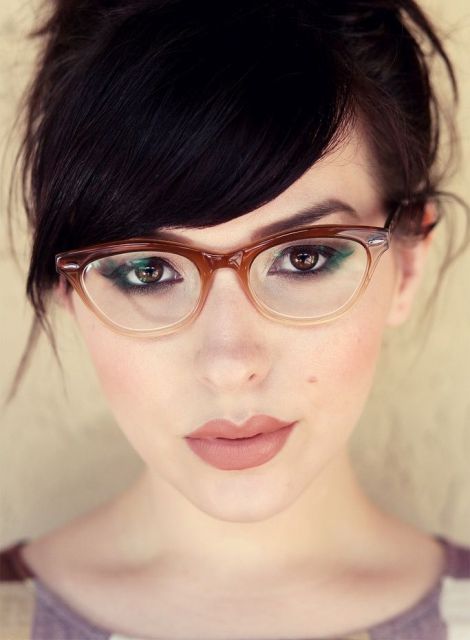 Image source: Pinterest
Most of the time, what happens is that your glasses make your eyes look smaller than they actually are, so whether you are piling on the liner, the eye shadow, mascara, or whatever else, make sure you are generous with your application, and line your eyes both at the bottom and at the top for added depth.
13. Choose your makeup products carefully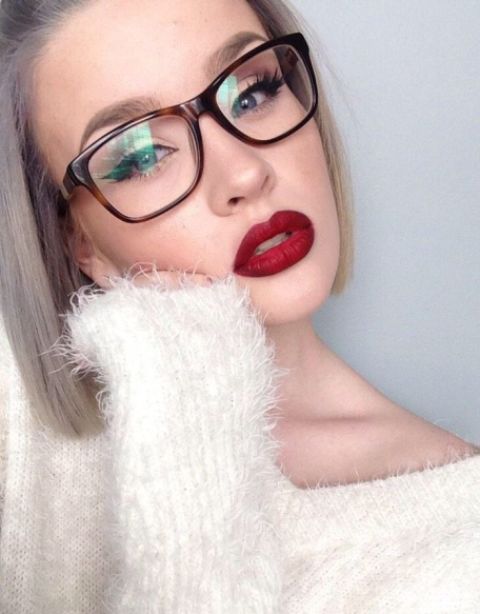 Image source: Pinterest
When you wear glasses, you have to make sure that you choose the right kind of makeup, so that you can highlight the right parts of your face in the right way. For example, when you are choosing your mascara, you have to choose the volumizing kind rather than the one which makes your eyelashes look longer, otherwise the lashes will stick to your lenses.
14. Make sure your complexion is smooth and even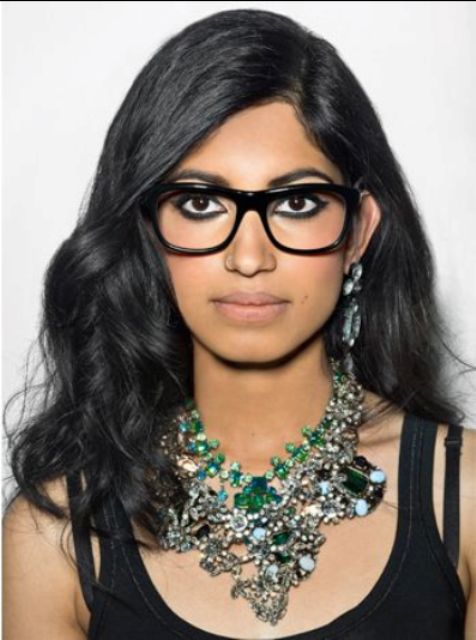 Image source: Pinterest
Another useful tip that you could use when you are putting on makeup with your glasses, is ensuring that your complexion is smooth and blemish free, for which you need to dab­ your makeup on instead of swiping it, which might make your makeup uneven. It also loosens your foundation, which will then come off and stick to your glasses.
15. Do not mix your colors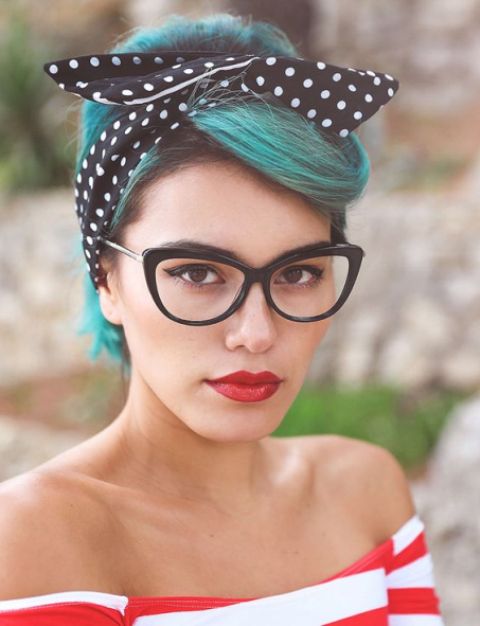 Image source: Pinterest
You have to always keep in mind that your hair also constitutes a part of your face, and you have to take into consideration your hair color also when you are doing your makeup. Thus, when you have colorful hair, and you cannot do without a colorful mouth, then to keep things balanced and attractive, keep your eye makeup as simple and minimalistic as possible. Draw attention to your eyes in other ways, like using a white liner at the bottom or doing your eyebrows with care.
---
Suggested read: 10 easy steps to get that natural no-makeup look
---
16. When in doubt, go for nudes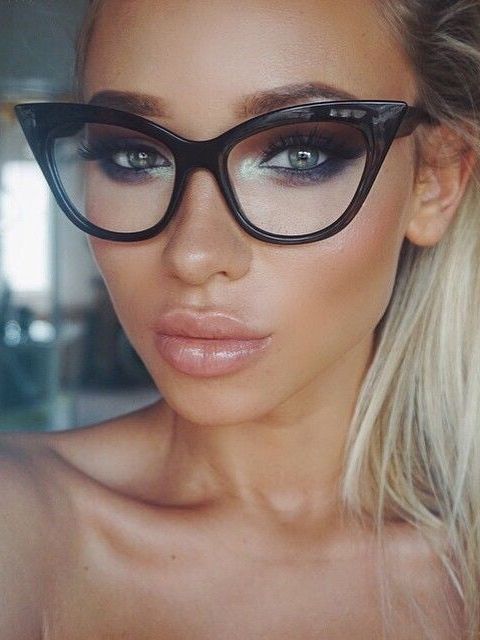 Image source: Pinterest
As is evident from the list, doing your makeup when you have your glasses on is not as easy as you thought it would be. You have to get the right makeup things, you have to use the right equipment to apply that makeup (brushes with short handles so that you don't have to stand too far away from the mirror, in case you were wondering) and you have to apply it in the right way so that your features are highlighted to the right degree, without making you look garish. You might not always be in the mood to go to all that trouble when you are getting ready, and for that, you can just resort to nude shades, whether it is on your mouth or on the rest of your face. A little eyeliner along with it is all you need to make your face look extraordinary.
Glasses can alter your face to a great extent, and you have to modify the way that you apply your makeup in order to look your best every time you step out of the house. These 16 tricks and tips are some easy cheats you can use for makeup with glasses.
Summary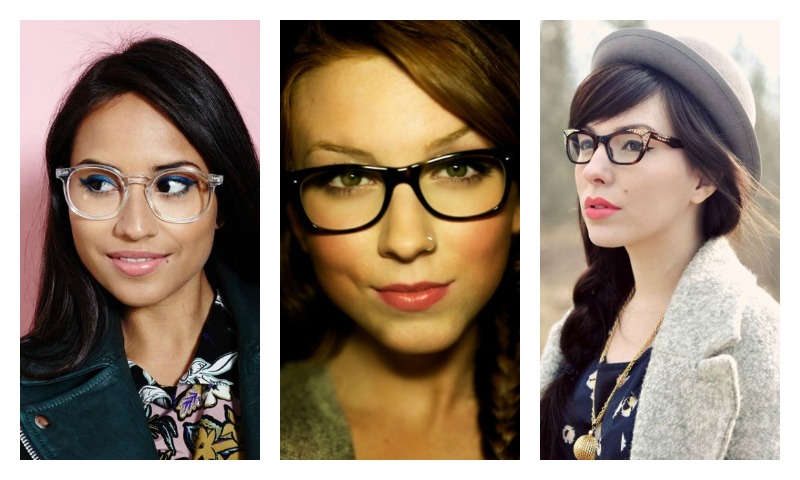 Article Name
How To Master The Art Of Makeup With Glasses
Author
Description
Girls who wear glasses need to master the art of makeup with glasses. Check out these makeup tips and tricks that help you out.