Some of us don't have luscious lips like Angelina Jolie or Kylie Jenner. But can that stop us from painting our lips and the town red? Hell, no!
A fuller pout is a trend that is not going anywhere any time soon. Every makeup aficionado with thin lips wants to match the cheeky lip look, on-point, to get onlookers "bold" over. Lip plumpers that sting you, exfoliators and scrubs, and exotic pout enhancers, can give you a temporary 'lipgasm', but achieving the ultimate lip look using makeup is way more exciting, and easily doable!
---
Suggested read: #InstaGlam Work your lipsticks to give you instant celeb looks
---
Dear Small-lipped divas, we have got you covered on how to apply lipstick on thin lips! With the right makeup products and special beatdown tricks, up our sleeves, you can feign that seductive pucker in no time.
The following steps on how to apply lipstick on thin lips, will help you with the right choice of tints and lip shades, and artistry techniques that will give you the lip, which is nothing but fly!
So, are you ready to get the Kylie J lips sans the excruciating needles? Or, may be without wasting time and energy, sucking on vodka shot glasses (who even came up with that!!)? Let's get down to business then, and master the come-hither effect. Let's create the plumpest, most perfect and runway-ready lips with these makeup hacks by experts from around the world!
Begin with exfoliation
Every makeup routine starts with cleansing and exfoliation, and the same applies to the lip. Begin by treating the pout to some much-required exfoliation ritual. A lip scrub helps you get rid of the dead skin cells and allows the lipstick and the lip liner to work in a smooth way on your lips.
A plethora of lip scrub varieties are available in beauty stores near you. However, you can also make an exfoliator at home. All you need is a spoon of brown sugar and a portion of coconut oil.
According to Hannah Hacher, Global Educator for Iredale Mineral Cosmetics,
"Make sure that you are exfoliating lips with a gentle exfoliant, nothing too harsh, to remove any flakes from the lip. This will create a smooth canvas for you to work your lip magic on, but it will also increase the circulation in the lip area, thus creating a little bit of volume and a natural flush of color."
Prime that Pout!
Once you are done with the exfoliation, prime the pucker. The primer helps keep the lippie last longer. It helps enhance the permanence of your lip color.
Applying a lip stain or powder before rubbing in the real lip color, is a great way to get bulletproof lips. It also helps setting the lip look and keeping the color in place, preventing color bleeding.
Jamie Greenberg, a revered makeup artist and the host of Pretty Little Pranksters, gives details, saying,
"Using a lip stain before a traditional lipstick adds a great layer so when lipstick wears away your lips will still resemble the color and won't look as worn out and you won't have to reapply as often."
Preventing the lip color from bleeding is essential for an impactful lip look, and so, Hannah Hatcher recommends, using a powder that not only sets the lip makeup because of its oil-absorbing elements, but also, facilitates an extreme long wear. Hannah says,
"I also like to apply a little bit of powder over the top of the concealer to set it in place for longer wear. This creates a uniform canvas on the lips which will allow you to draw the lip line on as exaggerated as you wish, and will also ensure that the lip color you apply on top will stay in place."
Conceal those fine lines
After you prime your lips, you need to conceal the fine lines around your lips. A number of reasons cause these lines, the biggest culprit being, dry skin. While you need to start moisturizing your lips and the skin around it for long-term results, dab some concealer to buff away the lines for a quick solution!
Trace the lip line
After you have exfoliated, primed and concealed the fine lines, it is time you put your lip liner to work. Your strategy totally depends on how you intend to carry the look. According to Hannah Hatcher,
"Start with your liner by selecting a color that is either nude, a pinky nude or a light neutral shade. Wearing too dark of a color can create the illusion of lips looking smaller or slimmer."
Makeup pro, Annie Marie DeMauro, who has also worked with Joan Rivers, suggests that while lining the lips, blend the color to the edges, to give your lips some au naturel look, that looks anything but in the red! She says,
"Line your lips (especially the Cupid's bow area) with a soft cream liner and blend. This helps to open up the space visually, allowing the color application to pop and in some cases be drawn a little over the natural lip line for a fuller look."
---
Suggested read: How to make your lips look fuller – Cheat codes for plump lips
---
Treat yourself to a matte base if you don't want to draw attention to your lips
Most people don't know this, but any expert MUA will suggest you to wear a matte base instead of that bold lippie. Here's why.
Using a matte base, gives you an extremely natural lip look compared to a shimmery or shiny product. Also, you won't have to overdo the lines, which runs the risks of looking artificial.
Highlight, if you want the contoured finish
Highlighting is also a great way to make your thin lips look plumper. Bailey Sessoms, a makeup guru, says that highlighting the lips is a way of bringing attractive areas of your face forward, too.
She says,
"One of the best ways to create fuller looking lips is by highlighting. It's the same principle you use when you highlight and contour your face. The darker shade makes areas recede and the lighter shade brings the areas forward."
A highlighted concealer also helps you to clean up any mess you may have made, while tracing the lip line.
Anne Marie DeMauro states,
"Clean up the outside of your lipstick application with a highlighted concealer. A clearly defined, colorful lip is less likely to get lost in your face, and will draw more attention overall."
Play up the pucker
There are a number of playful ways to enhance the lip look. And to get the dramatic and juicy lips, all you need are tools that are easily available, like the right lip shade and lip gloss.
Hannah Hatcher explains,
"To help your lips pop, use a white eyeliner pencil or a white highlighter pencil, and apply a small amount just above the cupid's bow on the top lip, and a small amount on the lower lip just below the lip line. Blend well with your fingertips so there are no obvious lines of demarcation or white around the lips. The light color around the lips creates an illusion of light, and it makes the lips stand out."
To sham a plumper appearance pronto, lip gloss becomes an essential. DeMauro says,
"After applying your base color, dab a small dot of shimmer gloss right in the center of the bottom lip. This will visually round out the lip and created a plumper appearance, as well as some glamorous pop of shine."
That sultry lip, my baby, will make him want to come back for more! An ombre effect also increases the blow of the bold and audacious lip look. Jamie Greenberg adds, saying,
"To make your lips look fuller with more shape use a darker color on the outside and a slightly brighter in the middle of the lips. The illusion you want to portray is juicy lips."
Never overdo the color
Experimenting with the lip couture is fun; taking a crack at different colors and techniques. But if you overdo it, it will kill the whole look!
According to Hannah Hatcher,
"Don't rush or you may end up looking overdone. Take your time, and play around with some or all of the methods mentioned here. Once you're more comfortable with your go-to full lip technique, try going a bit bolder with color and step outside of your comfort zone."
---
Suggested read: How to choose the right lipstick for your skin tone
---
Sidestep the dark colors
This one's tough, I know. I mean, there are tons of marvelous lip colors out there, and we want to grab them all, right? But if you have thin lips, you cannot go for something that's dark and murky.
To make your lips look plumper, you need to brighten them up and lighten the up!
Colors to pick: Peach, nude, pink, pale pink, and light beige
Colors to duck: Shades of brown, oxblood, maroon, plum, and red.
That's all we have got for you today on how to apply lipstick on thin lips. I am sure you have some tips and tricks up your sleeves too? How about sharing it with us? The comment section is all yours.
For more on makeup tricks, trends and tutorials, sign up for our daily newsletter today.
Featured image source: Google, copyright-free image, under Creative Commons License 
Summary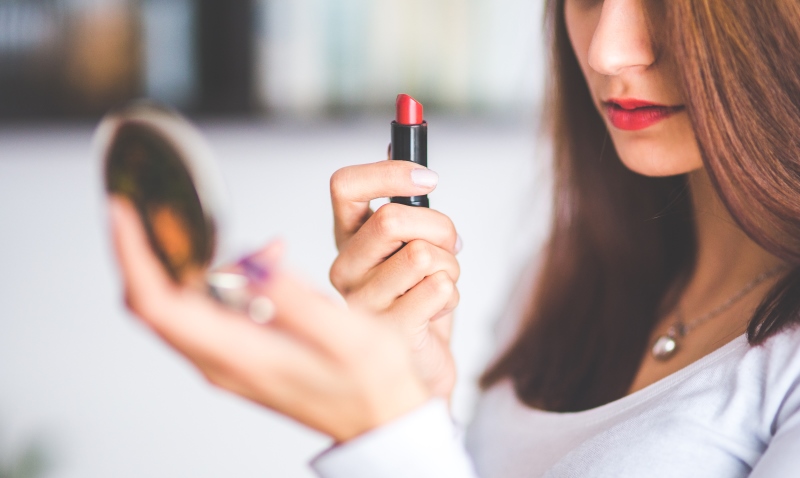 Article Name
The Complete Guide On How To Apply Lipstick On Thin Lips
Author
Description
Want to redo the cheeky lip look, on-point, to get people "bold" over? Here are the ultimate rules on how to apply lipstick on thin lips, just for you!