In recent times, we are seeing a trend of a collection of ear piercings, which go beyond the regular punctured lobe, being cultivated by fashionistas, celebs and gals like us alike. It has become a kind of a rite of passage, if I may call it that! Having a number of rings or studs or even barbells in your ears does not carry the same stigma it used to, once upon an ear-piercing, but cracking exactly what it is that you want from your professional ear piercer is as difficult as it sounds!
---
Suggested read: 14 times Sonam Kapoor proved she is unbeatable in the accessory game
---
Can I hazard a guess? I can bet that Instagram has a lot to do with the piercing bug that you have been bitten by recently. Am I right? 😉 Let us say you have "heart-ed" and then taken a screenshot of a cool girl in your feed with some hoops in her cartilage or may be a couple of dainty diamond studs trailing up her ears. Now, how would you know the exact type of piercing that she has? Fret not! Our ear-piercing guide will help you with everything you need to know about getting your ears pierced!
"Multiple ear projects: People building on their ears and getting multiple lobes, helix stuff, a rook piercing, that's really, really popular right now," according to Brian Keith Thompson, the proprietor and chief piercing officer at the LA institution, Body Electric. Body Electric has seen a number of celebs, like Rihanna and Beyoncé among others, going under the needle. Keith goes on to say,

"Overall, I think the lobes of the ear are always going to be the bread and butter—throughout time, what people have decorated are the lobes … but the great thing about piercings is that you can get pierced today and wear what's relevant right now in pop culture, and then as times change and the fashion changes and the styles change, you can change your jewelry accordingly."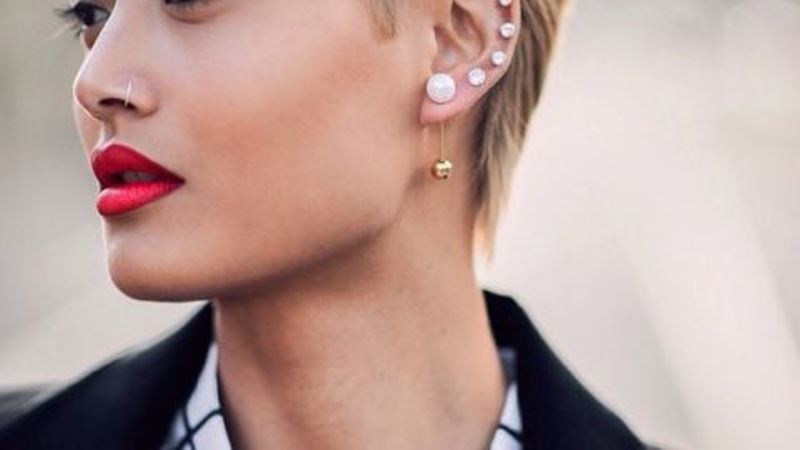 Image source: Pinterest
If you are thinking of matching Miley Cyrus' ear-piercing precisely, I need to tell you that no two ear-piercings can look identical, since no two ears are like peas in a pod. A couple of years ago a photo was making the rounds, and it sent herds of Pinterest fans to ask for triple forward-helix piercings, with three holes through your cartilage by the hairline. Now Thompson explains that not everybody has the anatomy to replicate that. Take for instance the tragus piercing: Some people can get a ring and a stud both put in, since they have enough room, while others can't even have enough space for one.
However, Thomson assures us saying,
"It's very rare that I find somebody's anatomy and I'm like, 'Yeah you just can't do it.' There is usually a way to do it. Now, it may not be exactly what you were envisioning when you came in, but there is usually a way that we can make it happen."
So that's good news, right?
On that positive note, then, here's your ear-piercing guide that will help you with anything and everything you need to know about the piercing you so badly want!
Ear piercings that have made the ripples
1. Helix piercing
In the 90s, every rebel was identified by two things: One, a tattoo, and two, a helix piercing. They then were the outcast teenagers, but today, one doesn't have to be a metalhead to get a helix piercing! But let me warn you that you do need the spirit of a rock star since this is really painful!
2. Industrial piercing
Nothing, just nothing matches the with-it quotient of industrial piercing (also called scaffold piercing). You need to get perforated on your upper cartilage for this. Then, a horizontal wire is passed through both the punctures, thus connecting them.  An earring in the shape of an arrow lends drama to the piercing.
 3. Tragus piercing
This one's slightly infamous because of its proneness to infections. You need to face the needle on the outer portion of your ear which falls to the inward side of your face. If you get it done, embellish with pretty gems!
---
Suggested read: 20 of the trendiest short hairstyles for round faces that you can try this summer
---
4. Orbital piercing
Orbital piercing is similar to the industrial perforation, except for the fact that your jewelry won't be connecting the holes horizontally, but from the front. With a blend of spark and dainty, you are a chic that cannot be passed over!
5. Snug piercing
The snug is helix's inner ear equivalent, if we can put it that way! It is also called anti-helix, btw. Since your cartilage isn't that deep, a hanging ball earring can look rad.
6. Conch piercing
In conch piercing, the ear cartilage goes under the needle. Conch piercings can be both inner and outer, and though the inner conch is trendier, the outer looks just as great. According to Grapevine, conch piercing can cure asthma. I cannot guarantee that, but what I can promise you is that you'll look hot as hell!
7. Auricle piercing
This is done at the middle of the outer rim of the ear. Since the auricles are full of nerves, this one's going to be pretty painful. But embellishing it with silver can make you forget what you went through! 😉
8. Rook piercing
Rook piercing requires great technical precision. It has to be done on two different cartilages, or more specifically, on the fold on your upper inner ear. It might get strained and swollen, so you need to be careful about the healing part of the process. A white sparkling stud should help you recover faster!
9. Daith piercing
You might think this piercing is horrendous and should be called "Death" piercing instead, but trust me it isn't as painful as the others on the list. Yet, to be on the safe side, take precautions to avoid complications and nasty irritation.
10. Graduate lobe piercing
You need two or more earrings of the same colour or design but varying sizes for the graduate lobe piercing. The graduate lobe piercing involves equidistant perforations. Pretty hoops can make you the head-turner in any part of the planet!
Thomson suggests you adorn thick black earpieces to get the rock chic avatar on point!
Key ingredients to a quick healing process
There are three key makings to a successful healing process after you have got your ears pierced. I am not going to tell you anything too far from what you have already heard your Mum yell, when you were going off to college: Get ample amount of sleep, drink lots of fluids and more importantly water, and lastly, eat three healthy meals a day. All that, and yes, one more thing: Wash, on a regular basis, with a mild soap and water. Thomson, personally, advises his clients to use castile soap since it is completely natural, and so, does not irritate the freshly-pierced ears.
If you can resist fiddling with your piercing or touching it with your hands again and again, you are sure to be completely healed in a couple of weeks. But if you are aiming something as complicated as a tragus, think three to six months for it to get cured.
You need to be extra careful, for the most part, about the way you sleep, as you will not be able to place your head down on the ear you just punctured, for quite a while. Also avoid headphones during that period of healing.
"If you get your ears pierced every now and then, you should avoid a conch piercing", says Thomson. And also, over-ear headphones don't play well with a helix piercing, he points out.
---
Suggested read: Something for everyone: 30 tattoos that will make every girl want to get inked
---
Jewelry to initially go for
Wherever you get your ears pierced, you will be shown an assortment of options on the kind of metal you would originally like to stick through your ears.  There is yellow gold and white gold, and also rose gold. You may want to go for platinum too. The list is never-ending. The tricky part when it comes to deciding what to buy depends on what works best for your skin.
Thomson says,
"Always consult your piercer prior to making the decision. But the problem is that no matter what they say, it is not possible to tell before the fact. It is metal health that matters.  The piercer can't tell if you're going to be allergic to it, so it's kind of like a shot in the dark. It's like, 'OK, let's try this, and if that doesn't work, we can try that."
He continues,
"Have you ever heard a friend say, 'I've had this piercing for like two years and it's still not healed?' Well, that's your body telling you something. It can't talk to you, but your body is like, 'Hey dude, I don't like this. Get it out of me.' If it's not successfully healing after three to five months, you need to go change the jewelry before you just abandon it and give it up."
Nickel allergies are usually the culprit of most ear irritation. The metal is found in non-hypoallergenic alloys, and that increases the possibility of allergies by 20 percent.
All that is pretty dispiriting stuff, right? So how about this: Once you find your "soul-metal", there is no looking back!
That's a wrap from us. Was this ear-piercing guide helpful? Let us know in the comment section below.
For more on everything the makes life worth living, sign up for our daily newsletter today.
Featured image source: Pinterest 
Summary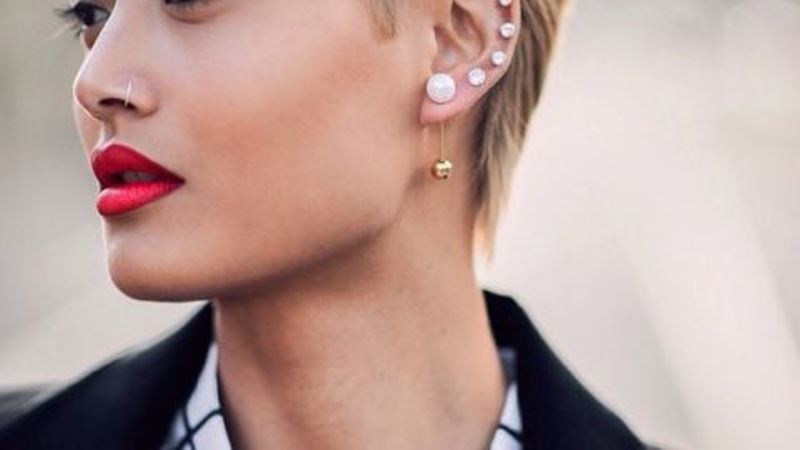 Article Name
The Ultimate Ear-Piercing Guide For Every Girl  
Author
Description
Getting your ears pierced? Here's an ear-piercing guide that will come in handy! From different types of piercings to healing tricks, it's got everything you need to know!