A lot of brides forget that choosing a wedding bouquet is perhaps as important choosing a wedding dress, because after all, it is part of your attire, till the time that you toss the bouquet to all the single ladies present after the ceremony. There are several thousand bridal bouquet ideas that you can check out for inspiration. However, the best part is that you can get your bouquet to match your theme, your color scheme, and your dress.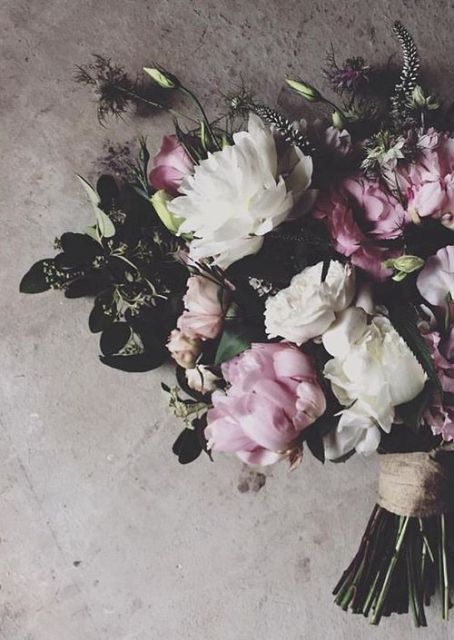 Image source: Pinterest
The flowers that you use in your bouquet can be symbolic, because different flowers mean different things. But you can also get your flowers in any form and color if you think they look pretty. But the good news does not end there. If you are not one for having flowers in your bouquet, you can choose to go with brooches, papers, succulents and several other alternatives, to make it the most attractive part of your attire, apart from your dress of course.
---
Suggested read: A-Z guide of symbolic meanings of wedding flowers
---
Here are 30 bridal bouquets you can take major inspiration from.
1. Poppies and roses in pastels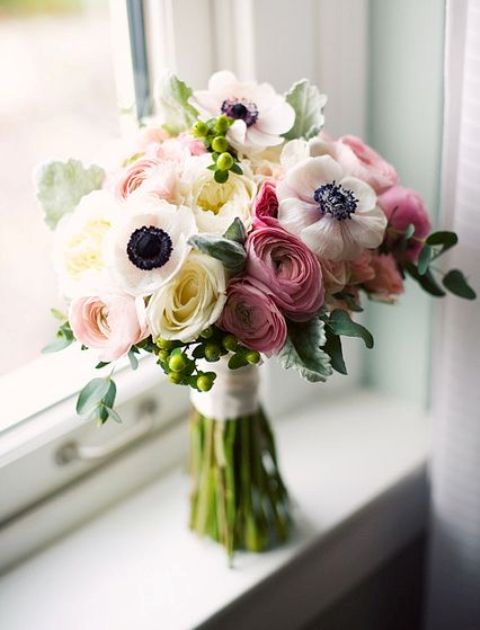 Image source: Pinterest
If you are looking to keep things simple and classy, you can make a bouquet out of poppies and roses in the softest pastel shades and buds and leaves for accessories.
2. Dahlias, peonies, and roses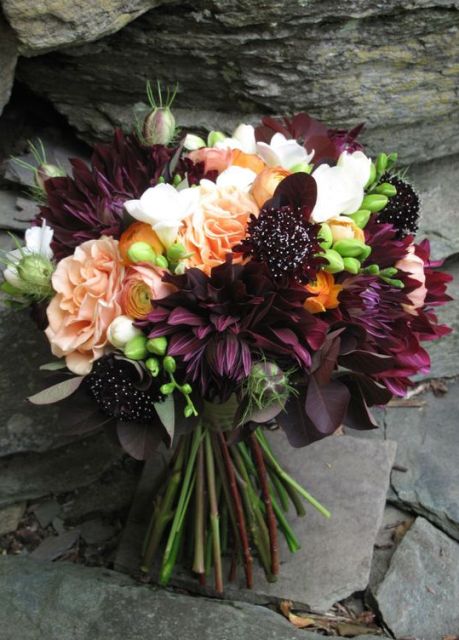 Image source: Pinterest
If you are more interested in a dark color palette, which would contrast beautifully with your white wedding dress, you can always go with dark colored dahlias, berries and leaves with sparse roses and peonies in lighter colors.
3. Rustic blue lavender vertical bouquet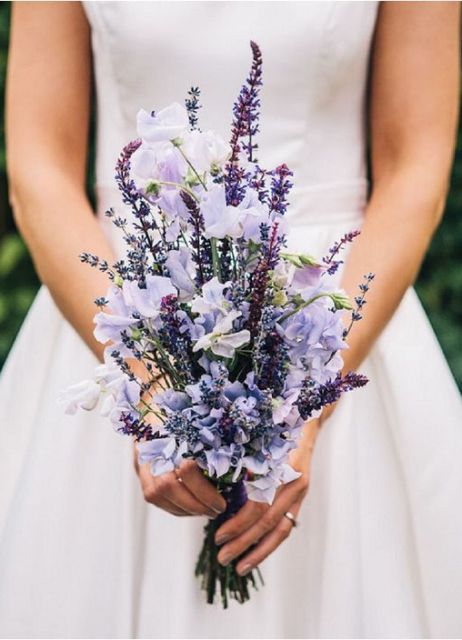 Image source: Pinterest
If you have been planning a rustic wedding, you can also opt for a lavender bouquet, and because of the shape of the flowers, you can make a longitudinal bouquet which looks pretty and rustic and elegant.
4. Navy-coral-white organized combination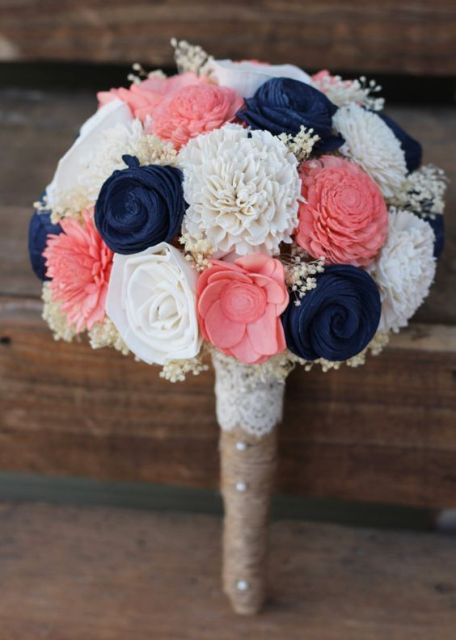 Image source: Pinterest
A lot of people don't like their bouquets to look messy and disorganized. You can check out this prim and beautiful fabric flower bouquet in a gorgeous navy and coral and white combination with fabric flowers, roses, and rununculus.
5. Cascading fiery wild rose bouquet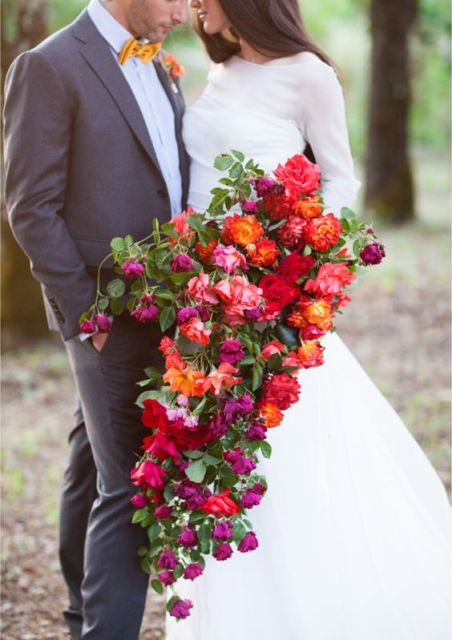 Image source: Pinterest
If you are looking for stunning bridal bouquet ideas, and you want to make an unforgettable statement with it, you can check out this cascading beauty, composed of wild roses.
6. Stunning lilac bouquet
Image source: Pinterest
If you are not very fond of having leaves in your bouquet, then you can check out rustic flowers like lilacs which make for great leafless bouquets, and also add the most attractive pop of color to your wedding dress.
7. Daisies and baby's breath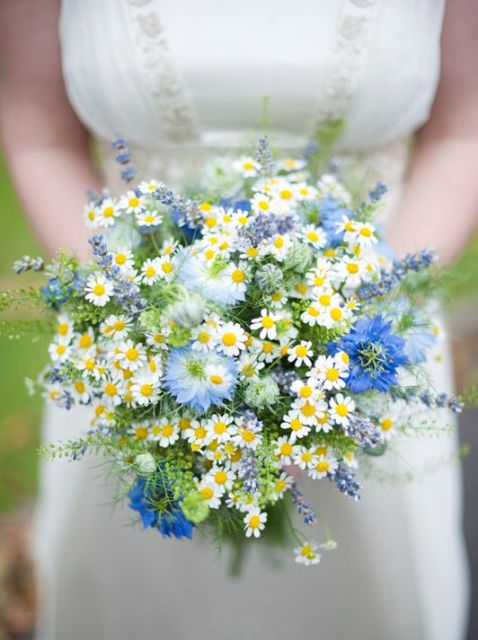 Image source: Pinterest
One of the most underrated flowers for your bridal bouquet is daisies, which are pretty, petite, and look drop dead gorgeous with your dress, no matter what kind.
8. Succulent bouquet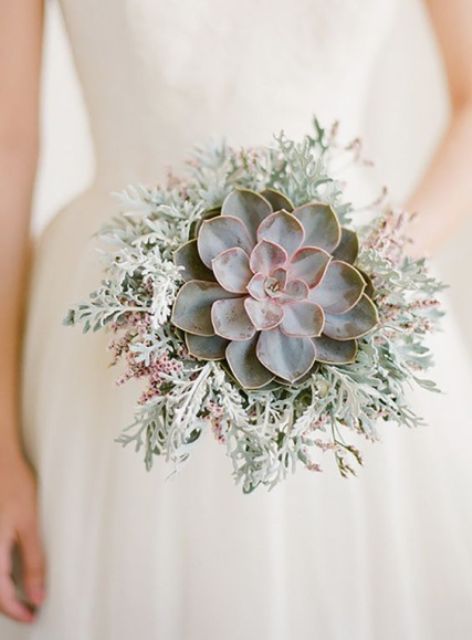 Image source: Pinterest
If you want to ditch the flowers altogether, you can go for succulents, which are basically perfect looking cacti flowers, which look good as it is, and even better with embellishments.
9. Soft colors on your bouquet for a fall wedding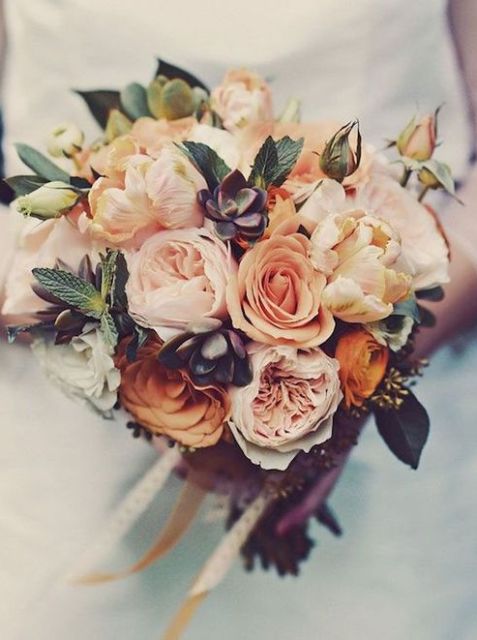 Image source: Pinterest
Fall is a favorite time for weddings, and why not make the most of the season with a beautiful bouquet which consists of the all the gorgeous, calming, embers-like fall colors with flowers like peonies, succulents, and roses?
10. Winter wedding bouquet with pine cones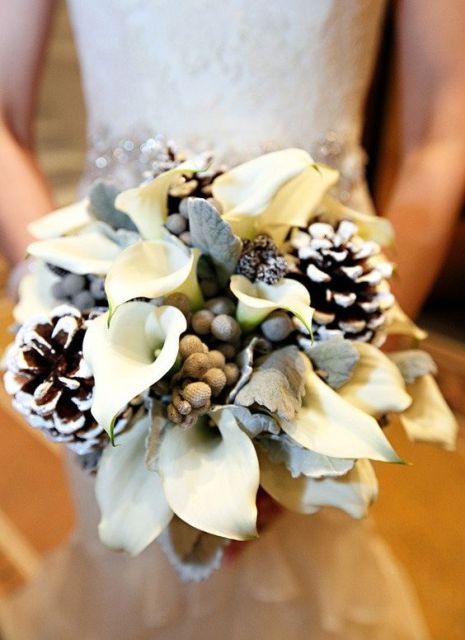 Image source: Pinterest
A gorgeous winter bouquet would consist of pine cones, berries, and any white graceful flower such as lilies and orchids.
11. Paper and burlap and lace bouquet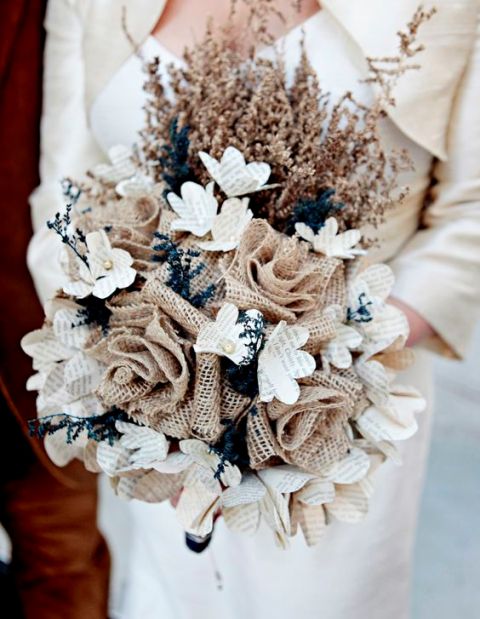 Image source: Pinterest
If you are working towards a wedding that is non-traditional and modern in every sense of the term, then there is nothing more unique than wedding bouquets that are made of burlap and paper flowers, to which you can add embellishments such as pearls and laces.
12. Large wild tropical bouquet
Image source: Pinterest
Another unconventional idea for bridal bouquet ideas would be to use flowers that are so wild and so tropical that you can't help but look fun and bright and unique as you carry it down the aisle. Also, it would look absolutely perfect for an outdoor wedding.
13. Pure white minimalistic bouquet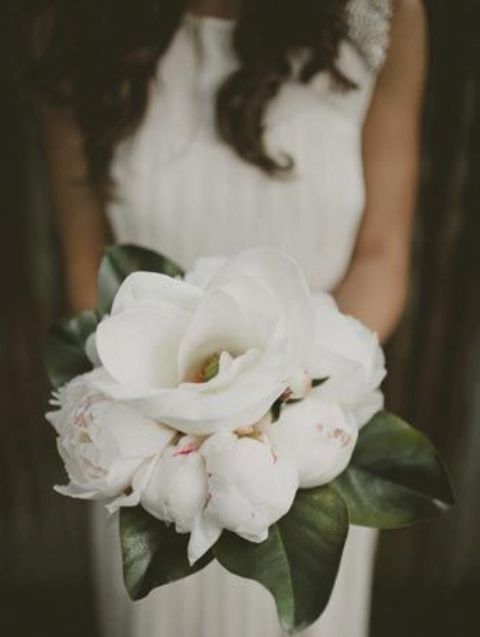 Image source: Pinterest
A lot of brides like to be minimalistic when it comes to making a simple but elegant statement with their bridal bouquets. A pure white bouquet with a round of peonies surrounding a magnolia is perfect for such a statement.
14. Bohemian wild flower bouquet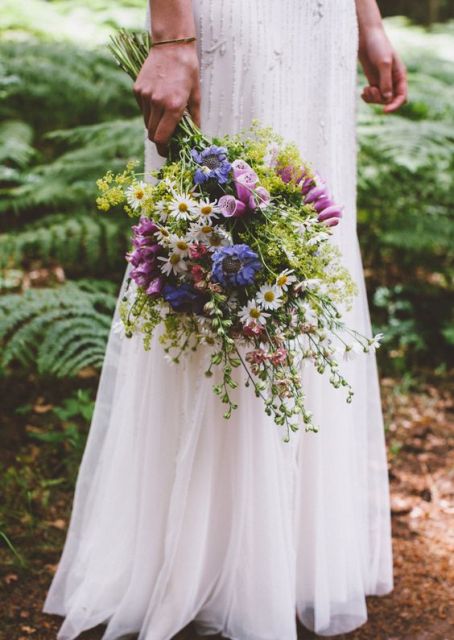 Image source: Pinterest
Choosing the right bridal bouquet for your Boho wedding might not be as easy as you think it is. However, with tulips, wild flowers, daisies, and a couple of darker shaded peonies, you have the perfect accessory to your setting.
---
Suggested read: 15 stunning colored wedding dresses to make your rethink a white wedding
---
15. Pretty in peach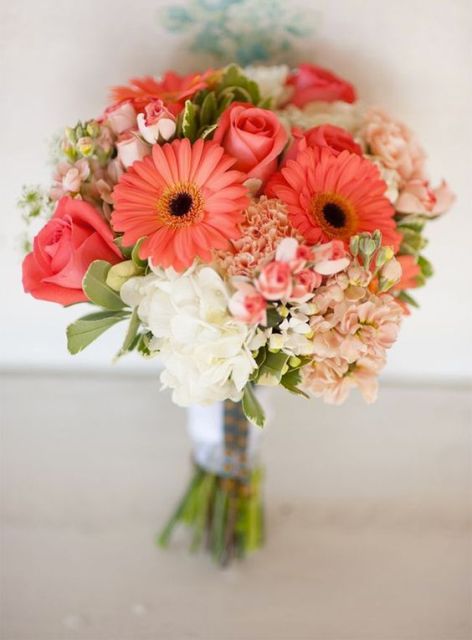 Image source: Pinterest
Gerberas are also great flowers that you can use for your wedding bouquet, because they are big, bright, and feminine, and look fabulous with pretty much any other flowers, including roses, baby's breath, etc.,
16. Petite pomanders for your wedding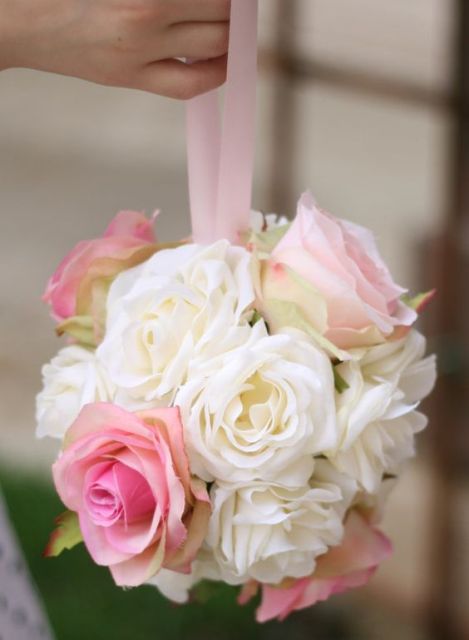 Image source: Pinterest
A pomander is a small round spongy bouquet that you can carry like a little handbag instead of holding it in your hand. This pomander is made with the most delicate of roses in whites and pinks.
17. Something blue…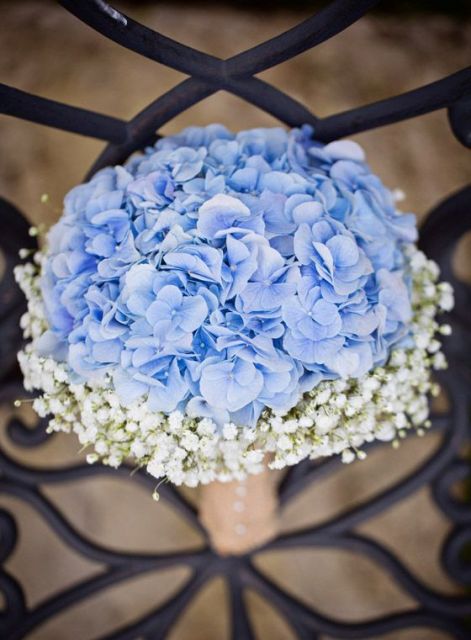 Image source: Pinterest
One of the reasons hydrangea is a favored flower in wedding bouquets is because they are pretty and they are long lasting. When paired with other pretty flowers like baby's breath, they are bound to make a dainty bouquet.
18. Teardrop lily bouquet fit for royalty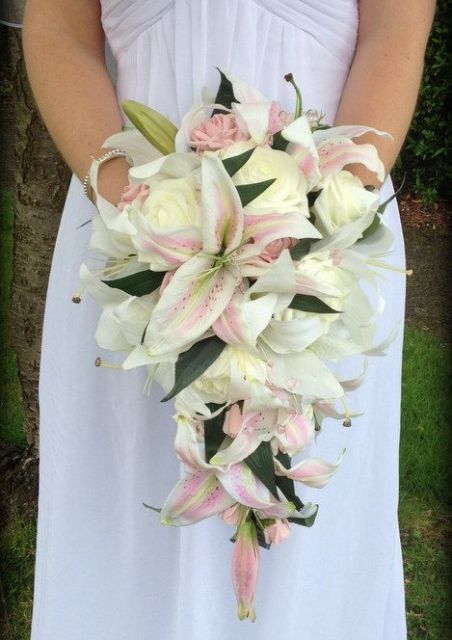 Image source: Pinterest
Most royalty opt for teardrop shaped bouquets when they are tying the knot, which is why you should also be doing the same. Some of the best flowers that complement a bouquet like this are lilies.
19. Adorable tied summer bouquet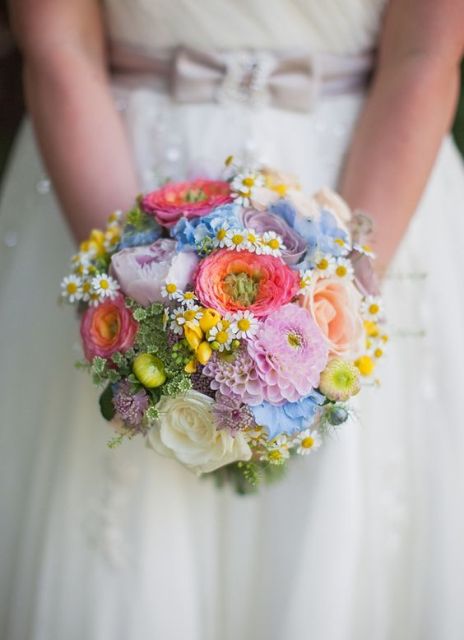 Image source: Pinterest
Summer bouquets are the best, because they are colorful, bright and they add the much needed brightness that a summer wedding needs, which might fall short because of the lighter whites in your wedding.
20. Sunflowers to brighten up your wedding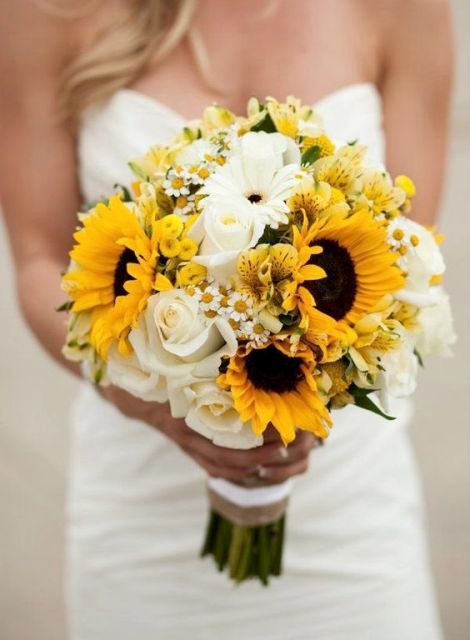 Image source: Pinterest
A dainty bridal bouquet with a unique yellow-white color scheme is exactly what you need to make your wedding dress pop, with sunflowers, white roses, and baby daisies.
21. A burst of fresh pink with lilies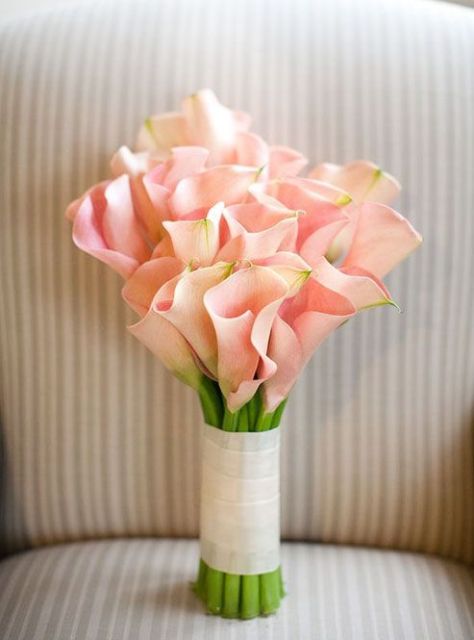 Image source: Pinterest
Calla lilies are some of the most sophisticated looking flowers out there, and one look at this neat little bunch here, and you are can't help but choose something similar for your spring/summer wedding.
22. Pink, white, and green vintage style bouquet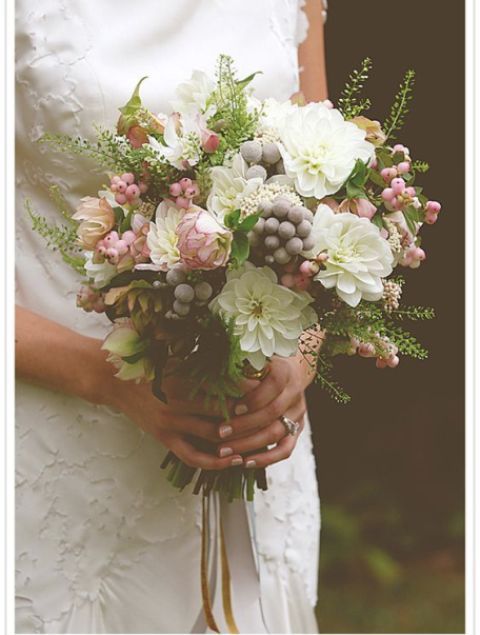 Image source: Pinterest
Sometimes, old really is gold, especially when choosing the elements and the colors with regards to bridal bouquet ideas. Pink and grey berries, along with the striking stained flowers and green foliage make for an ethereal bridal bouquet.
23. Talking of foliage…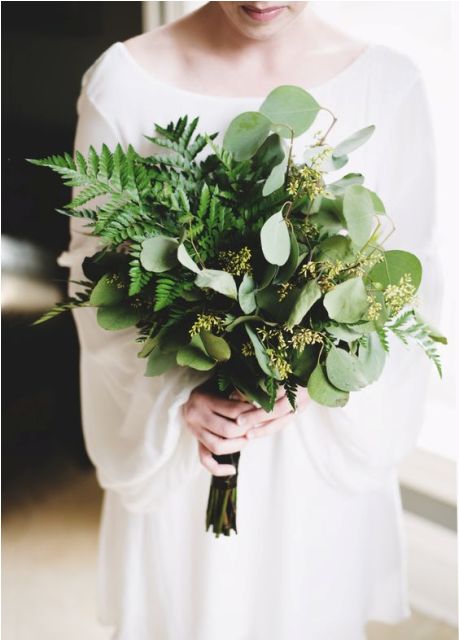 Image source: Pinterest
Whoever thought a wedding bouquet with just ferns and sparsely arranged eucalyptus would look this gorgeous? A truly elegant bouquet for the unique, no hassle bride.
24. Stunning brooch and flower bouquet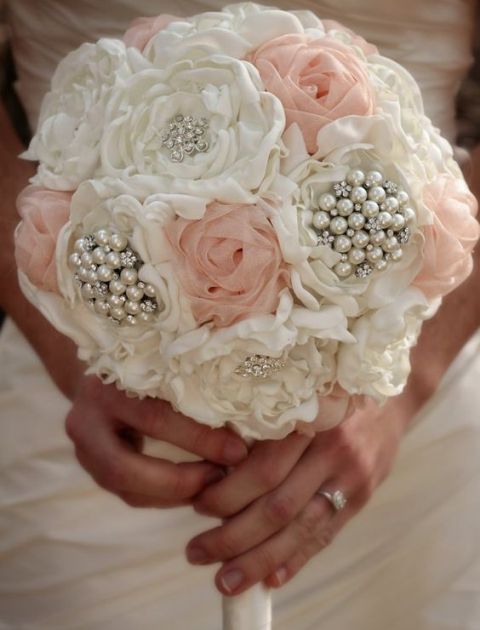 Image source: Pinterest
One of the coolest bridal bouquet ideas you can make includes mixing your flowers with other elements, for example, by making it with a number of pretty brooches that you can get your hands on. The sparklier, the better.
25. Gorgeous winter palette with berries and white leaves
Image source: Pinterest
A gorgeous white and blue combination makes for the most ethereal looking wedding bouquet, especially when you add fun elements like berries and variegated leaves.
26. Violent contrasts make for harmony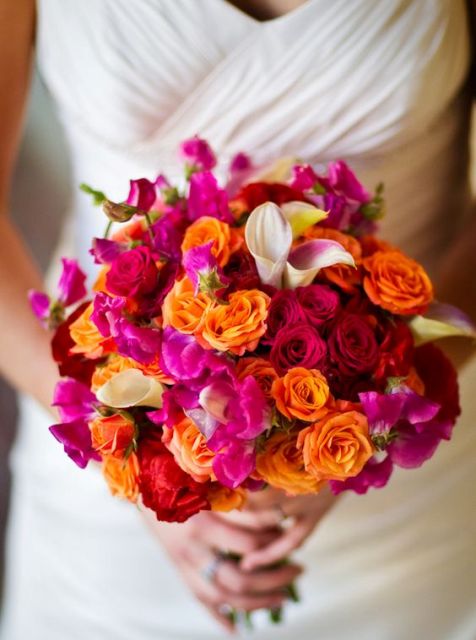 Image source: Pinterest
There aren't many takers for combinations like pink and red or orange and red, but one look at this fiery bunch and you might just become a fan of beautiful contrasts like this.
27. Burgundy based berry and roses bouquet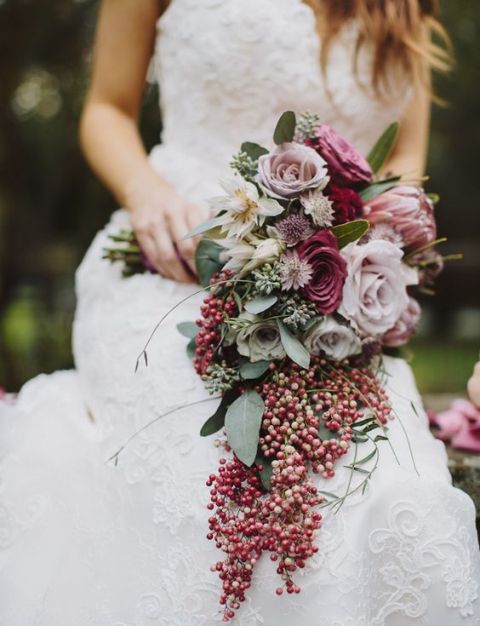 Image source: Pinterest
Berries look incredibly cute and appealing on a bridal bouquet. Also, burgundy is a color that contrasts amazingly with your wedding whites and any other color scheme that you may have chosen for the rest of your wedding. Pair it with simple, dark colored roses, and you have an ethereal bouquet.
28. Incredibly tasteful tulip bouquet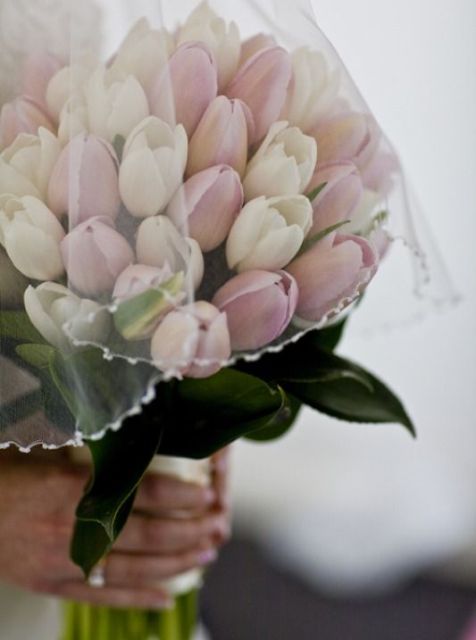 Image source: Pinterest
Tulips are gorgeous looking flowers which should definitely be considered for your wedding bouquet, such as this pale pink bundle, to commemorate the simpler pleasures of life, in the midst of all the celebration.
29. All red stunning rustic bouquet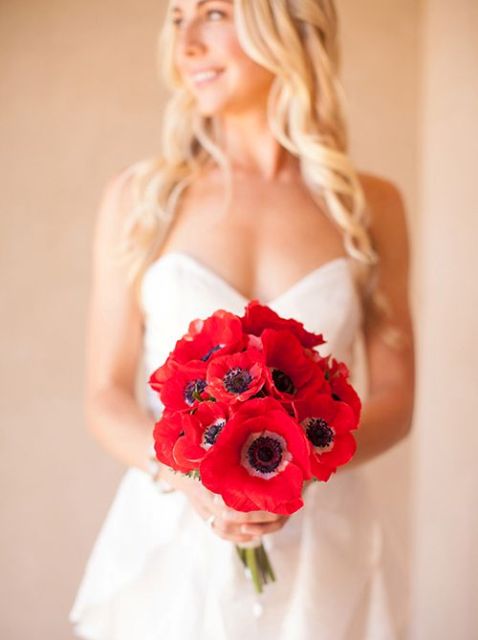 Image source: Pinterest
A lot of brides might like an all red bouquet, and the natural option to go with is roses. However, red roses might be a little too overwhelming, for which you have the mellower poppies which is perhaps a far better alternative.
---
Suggested read: 20 gorgeous yet modest wedding dresses for a Church wedding
---
30. Single bloom protea bouquet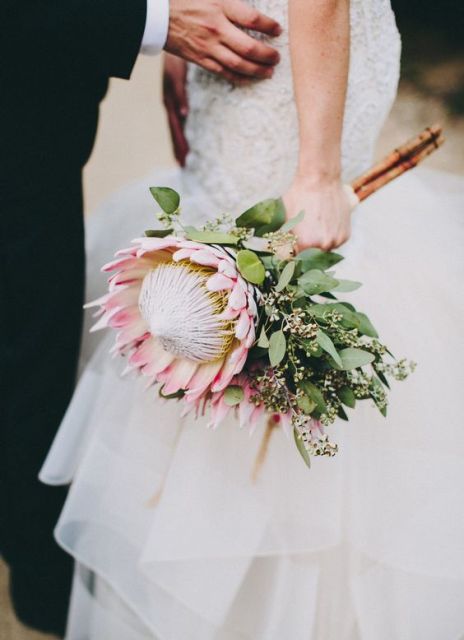 Image source: Pinterest
Proteas are the new 'in' thing when it comes to wedding bouquets and rightfully so, because they are large, single bloom flowers, which look fabulous with leaves and a few smaller additions like berries and blooms, ensuring that you look nothing but elegant and romantic as you walk down the aisle.
Apart from these 30 amazing bridal bouquet ideas, you can choose to mix and match your flowers and colors, so that you look like the perfect bride with your perfect bundle of flowers on your wedding day.
Summary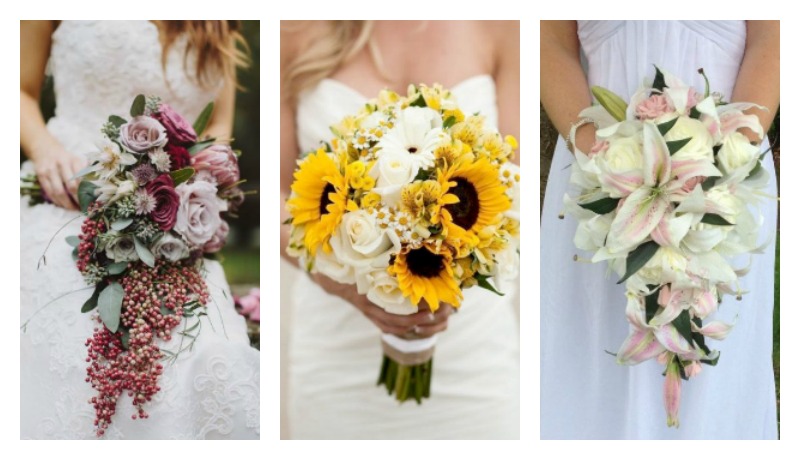 Article Name
30 Stunning Bridal Bouquet Ideas You Can Take Inspiration From
Author
Description
Wedding bouquets are a part of the bridal attire. Take a look at these stunning bridal bouquet ideas to get inspiration for your own bouquet!